Viewpoint:
Hey, is this cool or what? Okay, contractual wranglings have seen the first DVD boxset held up by over a year and a Making Of removed, but now we've finally got the discs do we really care?

I would like to see the Making Of at some point, but for now the BBC done good. A well-presented five-disc collection, with CGI and original music for the menu graphics along with an uncut version of Space Fall. With three episodes per disc, then all of the first three get a commentary each - Space Fall (Michael Keating, Sally Knyvette and David Maloney), Seek-Locate-Destroy (Stephen Greif, Michael Keating and Jacqueline Pearce) and Project Avalon (Stephen Greif, Sally Knyvette and Jacqueline Pearce). It's a shame the fourth disc doesn't get this special treatment, though having said that they're more the stuff that you'll be grateful they took the trouble to do rather than something you'd really enjoy listening to. Okay, I could go further and say they should have done a commentary for all thirteen episodes, with Paul and Gareth involved, but what we do have is not awful but a little dull, pleasant but unexciting commentaries of the "we worked together in Rep" variety. Perhaps the most amusing bit is David Maloney not realising that "Fabulous" was the name of the company and not a description of the programme when it was issued on VHS. Stephen and Jackie don't seem to realise they're supposed to talk and not just watch the episodes, making the second the weakest and incredibly sparse. However, Sally brings out a bit more of a light-hearted nature from them both in Avalon, making it the finest, with some nice good-natured jibes at Gareth Thomas's weight, amongst others.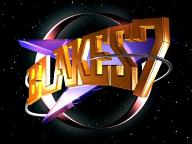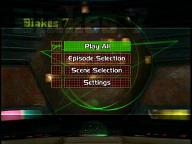 The fifth disc gets the final episode, Orac, as well as all the Special Features. What special features? Well, there are character introductions for Blake (2'21m), Jenna (2'19m), Avon (2'57m), Cally (2'15m), Vila (2'35m), Gan (3'08m), Zen (2'24m), Travis (3'08m) and Servalan (3'00m), which are compiled highlights from their first season episodes. They're okay, and are generally as interesting as the characters themselves. Not surprisingly, Gan's is the most tedious, Avon's the most enticing and Vila's the most fun. A fine extra is the "2 Out-Takes, a missing scene, 1 robot, 2 flat feet and a blooper" (7'07m), which is rare look at behind-the-scenes Blake and untransmitted material, including a very different side to Vila. "Episode Synopses" are pretty pointless text summaries of the thirteen episodes, while "Blue Peter" (7'53m) gives us Lesley Judd making a replica bracelet with cardboard and buttons on the posh kid's magazine series. Best of all though is a "Series 2 Trailer" (2'33m), which shows how the character introductions could have been by clever use of editing and music actually giving the impression that season two is an action-packed political extravaganza. It looks fresh, relevant and exciting - I can't wait to see how they sell season four. There's also the advertised "Easter Eggs", though why DVDs have dropped into the habit of publicising hidden extras now is beyond me. I won't spoil the surprise if you don't want to know, but if you do then scroll right to the bottom of this page or click here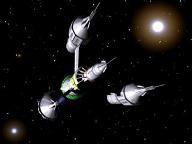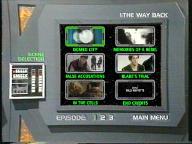 Moans? There's some problem with layer changes. I can't claim I've sat and watched all thirteen again, but Space Fall may cause some players to temporarily pause around the halfway mark. Also, minimal work has been done on restoration, which isn't a problem as the material was in good nick anyway, but you may occasionally notice the odd film sparkle that Who's restoration team would have spent days on trying to remove. Personally I can handle this, they've done a good enough job and this is the premier format for the series. When all seasons are finally released we'll be able to place the whole lot on our shelves for less than the space of five videos. It may seem anathema having such an undeniably cheap programme such as Blake's 7 out on DVD. Yet the use of fresh sequences, including an opening Liberator shot (0'35m) you can skip past, and clever utilisation of footage for the menu options, and this really does repackage the show for a whole new era. One thing they don't do, as they have done on some discs for Doctor Who, is offer alternate, modernised special effects. But in all honesty, with a series like Blake… where would you start?

Episodes:






Conversion:





Extras:






Overall:




Easter Eggs (Spoilers!)
On the second disc, use your DVD's "skip" button to get past the opening Liberator sequence and it takes you into 1'23m of what appears to be an alternate take of a scene from Orac. Doing the same on the third takes you to 1'10m of test footage for the dome of The Way Back, with the fourth disc 1'27m of model footage. Trying this on the first disc, though, only takes you to an autoplay of The Way Back.

* I've since found out more information about the Easter Eggs on the discs, and it seems that the way I was accessing them was a glitch in the system that I was able to exploit. The Easter Eggs' official location (complete with Federation logo that lights up) can be found via the Scene Selection menus. On the second disc, highlight the first scene of The Web ("Come To Us…") and then press up. For the third, highlight the first scene of Project Avalon ("Caves In The Ice") and again press up. Finally, for disc four, highlight the first scene of Deliverance ("Ensor's Ship") and again, press the up button on your control for the hidden feature. All of these play the material as already detailed above. However, there's also a fourth Easter Egg that's on there, on the third disc. Go to "Settings" and switch both the commentary and subtitles on, then leave it for exactly a minute and you'll get 2'09m of model footage from the show.