Contents:

Issue Fourteen: two single page b/w posters, scrapbook, comic strip, Paul Darrow interview, letters page, convention report, Tony Attwood interview, Programme Guide excerpt and text story.

Issue Fifteen: Scrapbook, photographs offer, comic strip, three single page b/w posters, Fan Scene, letters, Michael Keating interview and text story.

Issue Sixteen: Scrapbook, comic strip, letters, photographs offer, For The Love Of Avon and text story.

Winter Special: Interview highlights, David Maloney interview, one single page b/w poster, photographs offer, Paul Darrow interview and text story.

Issue Seventeen: Scrapbook, comic strip, letters, For The Love Of Avon, two single page b/w posters, Josette Simon interview, photographs offer and text story.

Issue Eighteen: Four single page b/w posters, scrapbook, comic strip, letters, For The Love Of Avon, Fan Scene, photographs offer and text story.

Issue Nineteen: Scrapbook, comic strip, David Jackson interview, Two single page b/w posters, Fan Scene, photographs offer, Paul Darrow Writes, episode guide and text story.

Issue Twenty: Scrapbook, comic strip, Three single page b/w posters, Paul Darrow Writes, Fan Scene, episode guide and Jan Chappell interview.

Issue Twenty-One: Scrapbook, episode guide, two single page b/w posters, Paul Darrow Writes, studio sets feature, costume feature and text story.

Issue Twenty-Two: Four single page b/w poster, quiz, letters, episode guide, Paul Darrow Writes and text story.

Issue Twenty-Three: Scrapbook, "Rebel's Refrain" song, eight single page b/w posters, comic strip, letter from Paul Darrow, episode guide, two text stories, Paul Darrow Writes, Fan Scene and Star Round-Up.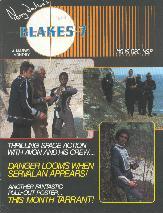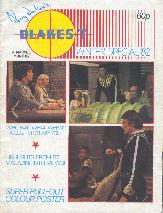 Covers: In order to keep the size of downloads down as much as possible, I've spread the eleven cover images of this range into two parts. In order to see the exact same page, but with images of Issues #19-23, then click HERE.

Trivia: The price of the Monthly continued at 45p until Issue #17, which saw a five pence increase in price. #21 saw it rise to 60p (the same price as the Winter Special), while the double issue of #23 cost £1.20.

Viewpoint:
For the final overview of the Monthly I've collected the spread of issues under the theme "The Wilderness Years". With the TV series long since passed and only repeats to bolster interest, the magazine itself acknowledged this, stating in Issue #20 that "with a promise of no further material being available we cannot exist in a vacuum." So it was announced that they planned to wrap the magazine up with a bumper-sized issue #23 (The magazine itself generating some of the confusion about issue numbers, by then going on to say "treasure their 24 copies and make them real collectors items.") Not only did the Monthly lose a focal point, but it also saw the standards slip once more - the print and quality of photos in Issue #22 is nothing short of appalling, while #21 is badly cut and pasted, and underexposed. The final 68-page issue is also notable for showcasing most of the features that were weakest about the magazine, including not one but two text stories by Ken Armstrong.

However, despite all this, some of the actual content is worthy of praise. Interviews see catch-ups with Paul Darrow, Michael Keating and Josette Simon, the first two of which thankfully see the last of the embarrassing habit of dramatised story elements to introduce the piece. Yet particular stand outs - not just of this featured range, but of the magazine as a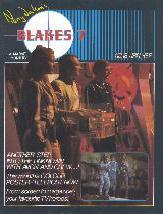 whole - has to be the two prickly interviews with David Jackson and Jan Chappell. Remarking that Cally got "a bit boring and I felt bored with her" and bemoaning fans who "could become so involved in such a show that it almost took over their lives" it may be disheartening to read. Yet with Jackson also describing "little enjoyment, from the acting point of view" then these deviations from the easy-going norm make them by far the most readable. With only half of the ten regular issues in this range featuring interviews, then this means that of the main cast only Sally Knyvette (and, if you want to be picky, Stephen Greif/Brian Croucher) failed to speak to the magazine - significant?

The Paul Darrow features and comic strips have been covered in more detail in the second part of this Monthly overview, but it's worth noting that the comic strips on display here are an improvement. While the "ruthless Avon" motif is a little overdone both here and in the text stories (and #18's prediction that "You'll laugh when you see what a coup they pulled!" is overoptimistic) these are generally a nice batch of stories, with #15's Overboard (5pp) probably the pick of the bunch. For the record, the rest of the strips were as follows: Stranded (#14, 8pp), Debris (#16, 5pp), Hunted (#17, 5pp), Hunger (#18, 5pp), Target Practise (#19/#20, 10pp) and The Omen (#23, 5pp).

Unfortunately, the text stories got even worse, with the two-part Hand of Death (#21/22, 17pp) absolutely interminable. The final issue featured two Ken Armstrong tales: Altered Image (4pp) and Probe (11pp). His other contributions were Plague (#14/15, 9pp), and The Comet (#16, 9pp, intriguingly previewed as "Cipher" in issue #15). Thankfully, a sensible decision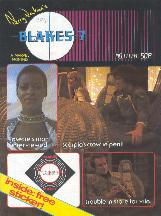 was taken by the magazine to invite readers to send in their own stories. #15 offered a £30 cash prize for printed stories not exceeding 3,000 words. What we got was, while variable, a step up from the norm that blighted nearly every regular issue. A New Beginning (#17, 5pp) was an amateurish present tense post-Blake story by Harry Waller, while better albeit still fannish was Pamela Wright's Headhunter sequel Takeover (#18, 5pp). However, the best text story in the whole run of the magazine was easily Mary Moulden's Stress Factor (#19, 4pp). While it starts with the dire description "slipped away from his grasp like a melon seed squeezed out of his fingertips" it soon settles down into a witty and amusing (best of all, original) tale.

A notable difference in the selection present is a shift even further away from child filler and more towards reader interactivity. Issue #17 came with a free "Bring Back Blake's 7" sticker, yet while #13's letters page prompted fresh questions for Ask Orac, this feature was never seen in the magazine again. Issue #15 saw the introduction of the new (atrociously named) Fan Scene, while the same issue also began offering readers the chance to buys prints from the series. As a list of fan clubs and fanzines, then The Scene isn't a great read in isolation over twenty years later, but must have felt vital at the time.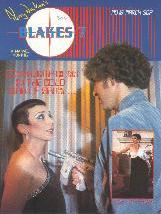 After this appearance the article ceased, only to brought back for #18 as an episode guide to the series. #19 was back to the norm, with announcements of repeats, and the episode guide retitled, funnily enough, "Episode Guide". This was a feature that took in all 52 episodes, concluding in the final issue, and ably demonstrating that they had a very short supply of pre-season four photographs available. As for Fan Scene, it ended in #19, though its real genesis could be said to have begun an issue before it truly began, with Issue #14's Convention report. You know, I'm all for freedom of speech, but seeing nerds in homemade Blake's 7 costumes really makes me want to top myself. Sorry if you were one of those nerds and all, but - you looked ridiculous!

With a three-page ad for photographs in every issue, as well as Scrapbook and black and white single page pin-ups, then there was a lot less to read in these final issues. In fact, despite it having it the largest run of the Monthly that I've covered, it took me far less time to get through them all. In another downgrading of the Monthly, the impressive colour posters were also dropped for the last four issues. Although not listed in the contents above, they were as follows: Servalan, Tarrant, Vila/Tarrant/Dayna, Servalan, Servalan (again!) and Dayna/Tarrant. (If you really need to know, then the unlisted run for issues #6 - #13 saw Soolin, Blake, Slave, the Scorpio crew, the Liberator, the Scorpio, Avon/Tarrant and Avon).

Finally, there was the "Winter Special '82", a one-off that I intended to integrate with the rest of this review, but it's so rare I wasn't even sure I'd be able to get a copy. Proving the old adage that just because something is a collector's item doesn't mean it's any good, then there's very little "Special" about it at all. The same size and page count as a regular issue, it's basically odds and sods bunged up from back issues of Starburst. The lack of care and consideration gone into making it is easily flagged up by a David Maloney interview being announced as "Part 2", despite him never having been interviewed in the magazine before, and even a "We at Starburst" footnote that escaped the editing scissors. Paul Darrow's piece fares even worse, with the original layout reproduced so that the photographs that straddled two pages are now cut in half, the two relevant pages either side of a sheet! However, while the total lack of respect for the readership saddens, these interviews are worth reading, and John Fleming proves to be much more adept at interviewing than Ken Armstrong ever was. Strangest response is Paul Darrow reminiscing about the days when men were men and women were women - "I don't like all this unisex stuff." Yeah, that's right - because Avon was really butch, wasn't he? There's also a colour poster of Avon and Vila, and the obligatory Ken Armstrong text story. Rather surprisingly, it turns out to be one of the three best stories the magazine ever ran, with an engaging - albeit contrived - plot, and inspired situations, along with sharp, true to character lines. It really is a decent little tale, though don't be too hard on Ken - everyone can have an off day, can't they?