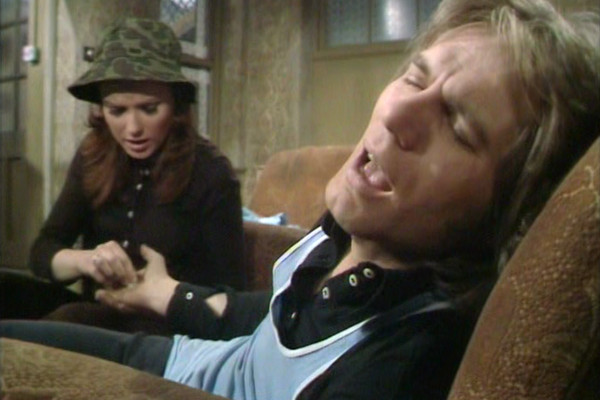 6
Louie the Ring
Is Dead and
Buried in Kensal
Green Cemetery
Although the third episode of Budgie season two is by no means poor, it does unfortunately mark the point at which the series stopped trying. Season one was full of experimentation and change of form and mood, whereas, from this point on - the final three episodes aside - season two worked entirely to formula. Although that stretch included one strong episode which is rated highly here, it was otherwise a run of eight episodes which followed the same format: Budgie screws up a scheme, Charlie comes out on top. Rinse and repeat.
     Completing a return to the status quo is the reappearance of Hazel. Although Lynn Dalby was a fine actress and likeable in the role, it tended to be a somewhat thankless, reactionary part, given to whining. While Hazel isn't the first person to stick with someone no good for them out of love, it is saddening to see her get back with Budgie, as even here, in their reuniting episode, he pushes her in the back and later threatens to hit her. For a second season, Budgie had the chance to stretch itself and try new things... instead it took the safer option.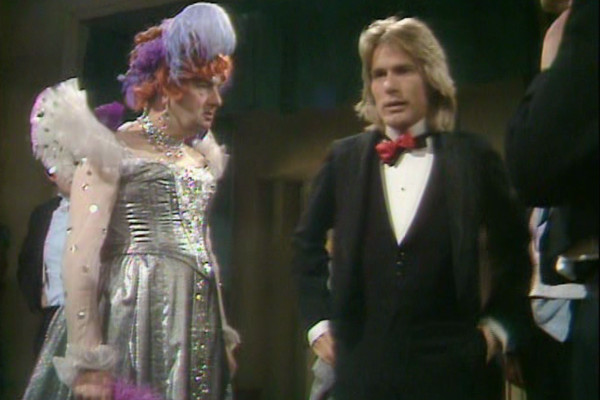 5
Dreaming Of Thee
There's a part of this episode where, appearing in a prison play, Adam Faith gets the line "I'm not bleedin' Laurence Oliver." The sentiments behind such a line would be one shared by Georgina Hale, who said of Faith on the DVD boxset's documentary: "he was never, never a great actor. Never. But he had... great presence. Great charisma. And great charm. And he was absolutely perfect for the character of Budgie." Such views were echoed by other members of the team, with producer Verity Lambert suggesting that co-star Iain Cuthbertson was often frustrated and bit his tongue over Faith's lack of technical training. Such feelings, while notable, aren't necessarily shared here at The Anorak Zone... while Adam Faith may not have been the world's greatest-ever actor, I've found his performances fine in the part. But then, I have watched a lot of cheap sci-fi shows over the years, where standards are more variable.
     Hale returns in this episode, the first of two comeback appearances as Budgie's wife. More flirtatious and sexualised than before, she takes what is a generally shallow episode into interesting new areas. What's notable here is that Budgie has quite a good life in Britain's softest open prison, only the menace of Harry Cross from Brookside beating him up while wearing a dress something to worry about. Caged and fed, Budgie is perfectly healthy... released and he constantly comes into harm. I wonder if the analogy with the bird he takes his name from was intentional?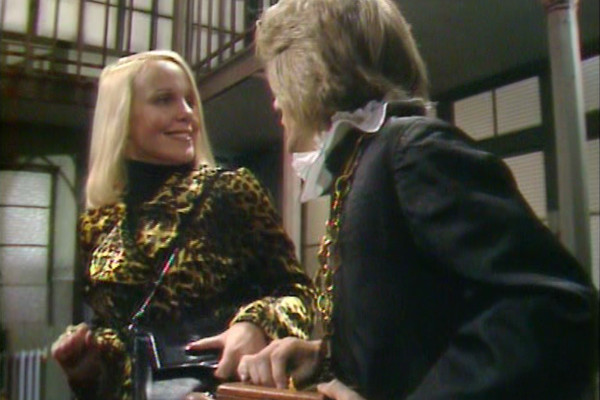 4
And The Lord
Taketh Away
There's interesting psychological depths to Budgie's relationship with his wife, and, although heartbreakingly doomed to failure, his marriage to her is almost like that of a mother and son. Complicating matters is Charlie, who reveals that Budgie is on his payroll, a payroll from which he refuses to release him. This adds a unsettling undertone to season two, in that Budgie couldn't escape his fate even if he wanted to.
     There's a disturbing moment where Budgie clips his wife around the head onscreen, and the chance to make a series with the two of them together is sadly discarded after this episode to immediately resume the series' regular set up. On a lighter note, then look out for 25 minutes in, where Gordon Jackson opens a can of lager and it goes everywhere... he partially drops out of character, but Faith ad-libs, keeping them on script. The programme, seemingly shot "as live" and with little rehearsal, features at least one line fluff an episode... this is an amusing example of a mistake being left in the broadcast.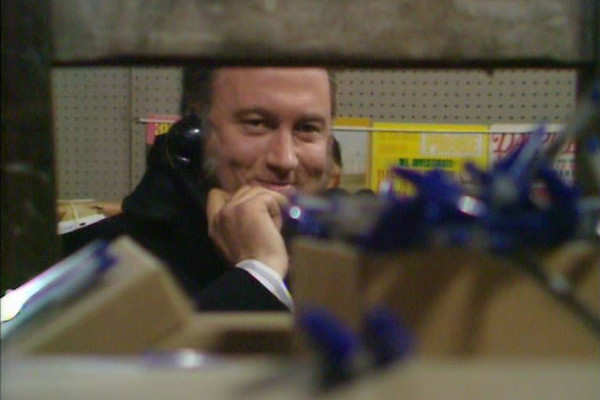 3
Twenty-Four
Thousand Ball
Point Pens
The sole episode of Canadian director Alan Gibson, this one contains such actors as Christopher Benjamin, Alfie Bass and Kenneth Cranham, talents that keep the interest high. Although ostensibly another "formula" episode like so much of season two sadly is, there's some variance to the stock situation, with Charlie, for once, being on the wrong end of a scam and Budgie going it alone. Yet what really makes it better than so many other episodes of a lacklustre second season is the tightness of the plot. Although Budgie is typically more character than plot based, this one has an involved, constantly-moving situation the requires concentration and rewards accordingly.
     As always, it's a series very much of its time, and so Charlie suggesting that Budgie's high voice may lead his friends to mistaking him for a "faggot" has to be taken as a sign of when it was made. Also of note is an element of self-awareness creeping into the programme, always a sign that genuine inspiration is running out: at one point Charlie claims that he's "stood for it", only for Budgie to exclaim "Oi, that's my line!"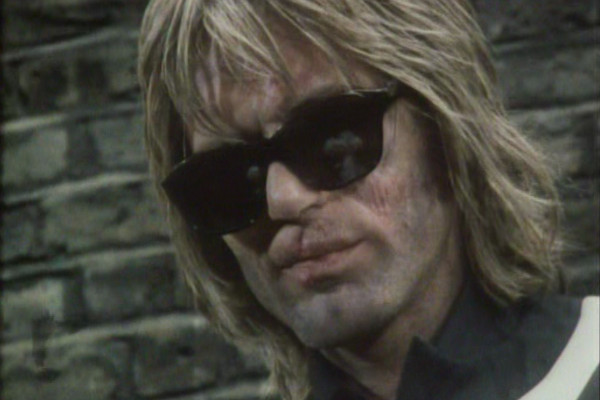 2
Brief Encounter/
Run Rabbit,
Run Rabbit,
Run, Run, Run
Another two-parter, this one to end the series as Budgie has his worst-ever day. He discovers that his mother has died, his own dad turns him in to a vengeful Charlie, a stripper he has an affair with abandons him, he leaves a pregnant Hazel as the relationship is doomed, he's completely abandoned by Charlie and he suffers a severe beating. The ending has Budgie walking out of shot, alone and with no hope. It's a fitting, downbeat ending to a generally bleak series.
     Although it appears there were no plans to continue the series, Faith did appear in a musical version many years later, a London production that opened in 1988 and closed after just three months. In television, then the character of Charlie was reprised for his own spin-off series seven years later, with Charles Endell Esquire. Sadly, ITV was beset by strikes during its broadcast and its six episodes aired over eleven months, causing it to fall in obscurity.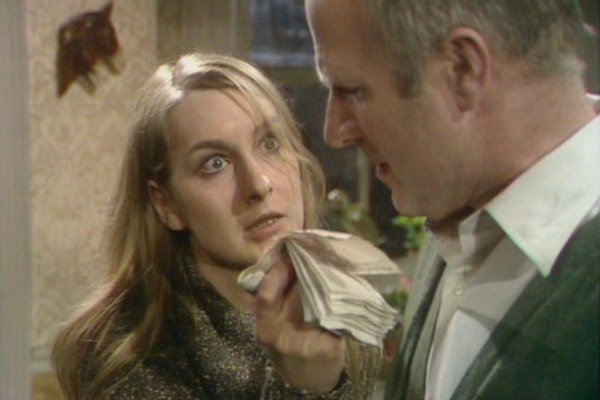 1
The Man Outside
Not to be confused with the almost indentically-named The Outside Man, which aired the week before, The Man Outside takes Budgie back into a stage-like world of developed supporting characters. Under fire by a hitman, Charlie and Budgie take refuge in a stranger's home, and what matters is not the identity of the mysterious hitman, but the relationships and embittered secrets of the family within. Although the family are to be pitied as victims, they have lots of grey areas and questionable morality of their own, their characters so developed that the episode stays with them even after Budgie and Charlie have left.
     The only episode to be directed by Austrian Herbert Wise, the director of I, Claudius, this one brings a much-needed change of events and scope to a generally weak second season. There's a change in form here, and a return to the more "suburban theatre" feel of the earliest episodes.