Arrival

Transmission Date: 20/10/1967
Episode Length: 48'57m (DVD timing)/50'58m (Blu-Ray timing)
Est. Ratings: 11.0m
Written by: George Markstein and David Tomblin
Directed by: Don Chaffey
DVD availability: Try store








Production Commenced:
September 1966

Production Credits:
An ITC Production by Everyman Films Ltd. Executive Producer: Patrick McGoohan; Script Editor: George Markstein; Producer: David Tomblin; Production Manager: Bernard Williams; Director of Photography: Brendan J. Stafford B.S.C.; Art Director: Jack Shampan; Camera Operator: Jack Lowin; Editor: Lee Doig; Theme: Ron Grainer; Cameraman (2nd Unit): Robert Monks; Assistant Director: Gino Marotta; Sound Editor: Wilfred Thompson; Sound Recordist: John Bramall; Music Editor: Bob Dearberg; Casting Director: Rose Tobias-Shaw; Continuity: Doris Martin; Set Dresser: Kenneth Bridgeman; Make-Up: Eddie Knight; Hairdressing: Pat McDermot and Wardrobe: Masada Wilmot. Made on location and at Metro-Goldwyn-Mayer Studios, Borehamwood, England.



Starring:
Patrick McGoohan (The Prisoner); Virginia Maskell (The Woman); Guy Doleman (Number Two); Paul Eddington (Cobb); George Baker (The New Number Two); Angelo Muscat (The Butler); Barbara Yu Ling (Taxi Driver); Stephanie Randall (Maid); Jack Allen (Doctor); Fabia Drake (Welfare Worker); Denis Shaw (Shopkeeper); Oliver MacGreevy (Gardener/Electrician); Frederick Piper (Ex-Admiral); Patsy Smart (Waitress); Christopher Benjamin (Labour Exchange Manager); Peter Swanwick (Supervisor); David Garfield (Hospital Attendent); Peter Brace (1st Guardian); Keith Peacock (2nd Guardian); Seamus Byrne (Rover victim, uncredited) and Fenella Fielding (Loudspeaker Voice, uncredited)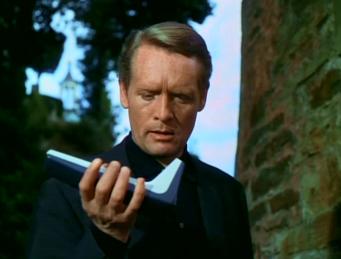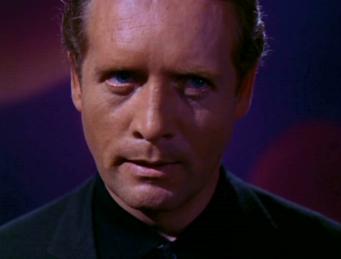 Episode Order:
With demand to get this very expensive product onto screens as soon as possible, little real thought was given to the order in which the episodes were shown. Most notable, perhaps, was a possible second episode, Dance of the Dead, being screened eighth for various reasons, including to spread out those that were filmed on location, and also because McGoohan had argued with Don Chaffey and it hadn't been completed. This guide to the series will place the episodes in a more logical order to hopefully improve your viewing pleasure. In the meantime, take solace in the fact that Arrival IS the first episode...

No.6:
A man is driving a lotus 7 (registration KAR 120C) through London and back to his home at 1 Buckingham Place. Along the way, he angrily resigns from his job of unspecified nature. Returning from his resignation, he is followed by a hearse (registration TLH 858) which follows him to the door of his house and pumps gas through the letterbox. The man awakes to find himself in a replica of his own house, but when he looks out of the window he sees a garish cosmopolitian village. He is introduced to a man who refers to himself as "No.2" and insists he will now be known only as "No.6" ("for official purposes"). His old clothes have been burnt and he is issued with an employment card, health and welfare card, identity card and free ride home in one of the village's mini-moke taxis.
Some of the background we are given about this man is that he was born at 4:31am, 19th March 1928. He has two eggs with bacon and likes lemon tea. Whatever his job was (and is generally assumed it was that of a spy, McGoohan's previous job being spy John Drake in the series Danger Man), he is told by No.2 that "The information in your head is priceless. A brilliant career, an impeccable record." We are also told that he resigned for "a matter of principle" and that sometime before resigning he had arranged to meet a "Chambers" at the Foreign Office, hoping (in No.2's words) "to persuade him before the big boys found out". The whole point, it is alledged, of No.6 being brought to the Village is to check his reasons for resigning.
In the hospital after being attacked by Rover (see seperate entry), No.6 meets an old associate, Cobb, who claims to have been there for three or four months, taken while in Germany. He commits suicide by jumping from a window.

Is No.6 John Drake?:
Apart from the obvious connections, and the fact that co-creator George Markstein said it was the same character (McGoohan, who wouldn't have been able to use the Danger Man copyright anyway, always officially insisted it wasn't), there is a scene where No.6 is asked a questionaire by Christopher Benjamin, who played one of his associates ("Potter") in Danger Man. When he asks him "any politics" No.6 gives him a knowing look and smashes his table instruments to pieces. Also of note is the photograph of No.6 crossed out in the opening credits (also used for the poster boards in Free For All) is the official publicity photo for Danger Man. Some have seen this as McGoohan's way of crossing out his past life, the whole of The Prisoner a metaphor for resigning from his previous tv job as John Drake.

In The Village:
We are told, and sometimes shown, that the Village has a graveyard, beach, stoneboat, social club, town hall, shops, restaurants, citizens advice bureau, labour exchange, hospital and a council building (with a council that is democratically elected).
Hints of a darker side to the Village are frequent, yet subtle, in this first instalment. No.2 is heard saying "In view of his extreme importance no extreme measures are to be used... yet". Cobb's friend tells No.6: "You have only so much time to give them what they want before they... take it from you", while No.6's short-lasting Maid tells him: "Sometimes people have been brought back... not always alive". The maid also claims that her parents died when she was young and that she has been in the Village "as long as I can remember". No.6 also sees the hospital's psychiatric wing, where brainwashing experiments are being conducted.
No.6 smashes his radio, only for the sound to continue automatically. A bald-headed man arrives to mend the radio. Seconds later No.6 bumps into an identical gardener. A sign of cloning in the village? Also seen for the first time are the control room where everything is monitored on spy cameras, and the bald, bespectacled supervisor. When No.6 attempts escape, he brings the village first to "Yellow Alert", then "Orange Alert"
There are no sevens on the Village Information Board. 7 is a second six; 17 a 2C; 27 an I; 37 an 8C; 47 a 5I and 57 a 3. No explanation is given for something that is only seen in passing, though this has often been thought of as religiously significant, 7 being the number of God, 6 that of man or the Devil. When pressed, the taxi (charge 2 units) arrives instantly. Finally, there is a sign saying "walk on the grass".



Rover:
The village is guarded by a round white sphere, first appearing on top of a fountain as a small ball, later the large version that we know. No explanation is given as to what it is; "that would be telling", says No.2. Later it gets to have a fight with Pat, who tries boxing it until it suffocates him and he falls unconscious.

Storyline:
No.6's escape is implemented by a friend of Cobb's at his funeral, who gives him an "electropass" to allow him access to the helicopter. (The date on the electropass is given as the 19th).

Escape:
Cobb never really died, and the helicopter has override controls by the Village, to bring No.6, in a dual meaning, back to Earth. Curiously, hints that the controllers of the Village are defectors is given when Cobb departs with "mustn't keep my new masters waiting".

Trivia: While the collection of cast lists, episode lengths et al are all my own work, one piece of research which I've borrowed are the estimated viewing figures. Featuring in the superb production guide with the Network DVD boxset (See store), these figures are rarely seen, largely due to the difficulty in compiling them when episodes were broadcast on different dates around the country. Thanks to Andrew Pixley and Network for this piece of information.



The Alternate Arrival


Restored for the 40th Anniversary Boxset in 2007 (see store for further details), it's a little unfair for this to be classed as an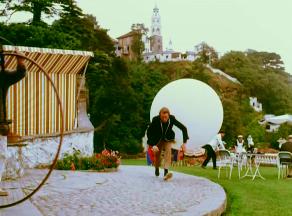 "Alternate" Arrival. Running 1'36m longer at 50'35m, what the "Alternate" episode actually is is a sloppy working cut of the finished product. There are some additional sequences that will delight completists, such as the addition of six (!) cut lines from the first taxi sequence, including McGoohan's deliciously sexist "this is an unusual job for a girl." Yet most of this stuff got cut or rearranged for a reason, and whether it's seeing out of character mania in the opening credits, hearing the frankly rubbish original theme tune or watching scenes without incidental music or tight editing, then it's an inferior product. And while the globe on the end credits is cool (though again, they were right not to use it) overall there's not enough of a difference between it and the real thing to justify any real excitement over it. One last major difference - Rover. Seen here without his trademark roar or "submerged face" attack, he comes over more as a beachball suffering from asthma. Of particular interest is the final shot where, farcically, he squishes McGoohan.



2017 Update:
The reviews on this site were written for the series' 40th anniversary and so, while the factual information in this guide might still be of value, opinions change. A fresh series of reviews for the series' 50th anniversary has now been launched, please click the image below to read them: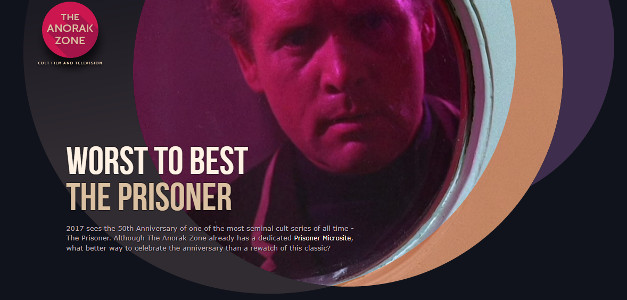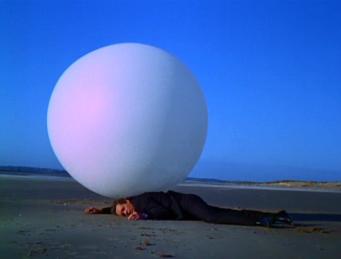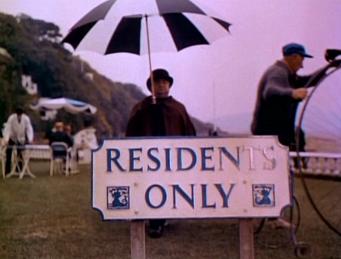 "What's it all about?"



Viewpoint:
From the moment Patrick McGoohan enters the doors marked "Way Out", he takes us into a surreal action spy thriller that is part Danger Man defiance, and possible reactionary comment on the Common Market.

Though possessing the requisite ITC action filler, The Prisoner is a series that made viewers think. Always intense, sometimes outlandish and occasionally pretentious, it's a bold, audacious concept shot lovingly on film. It's that production quality, combined with the relevancy of its subtexts that keeps the show fresh even forty years on. It would be exaggerating to say The Prisoner changed the world as it was, largely, a commercial flop, and an expensive one at that. It saw its star go from household name to relative obscurity and the series run curtailed to cut losses. But… it was, above all things, brilliant.

The opening episode plays games with the convention of editing, and drops in now obsolete science fiction with the introduction of cordless phones. Sure, there's bits that need tightening up – the guy with sunglasses getting choked by Rover when it's clearly McGoohan's face, or the smoke going backwards down the chimneys at the climax could have been avoided – but this is radical new television that even today carries a punch.