Starring:
David Calder (Nathan Spring), Erick Ray Evans (David Theroux), Trevor Cooper (Colin Devis), Linda Newton (Pal Kenzy), Jonathan Adams (Alexander Krivenko) and Sayo Inaba (Anna Shoun).


Guest-Starring:
Brian Gwaspari (James Bannerman/Albi) and Nitza Saul (Chamsya Assadi).


Technical Personnel:
Chris Boucher (Series Deviser); Ian R. Wallace (Production Associate); Gary Downie (Production Manager); Karen Jones (Production Assistant); Penny Norman (Assistant Floor Manager); Robin Lobb (Video Effects Supervisor); Mike Kelt/Malcolm James (Visual Effects Designers); Reg Poulter (Technical Co Ordinator); Doug Watson (Studio Camera Operator); Charles McGhie (Graphic Design); Chris Ferriday (Properties Buyer); Dennis Collett (Videotape Editor); Julie Mann (Vision Mixer); Peter Catlett (Studio Lighting/Director); Chick Anthony/Gerry Borrows (Studio Sound); Lynda Woodfield (Costume Designer); Jill Hagger (Make-Up Designer); Justin Hayward (Theme Composer/Theme Sung By); Justin Hayward/Toni Visconti (Incidental Music); Joanna Willett (Script Editor); Dick Coles (Designer) and Evgeny Gridneff (Producer).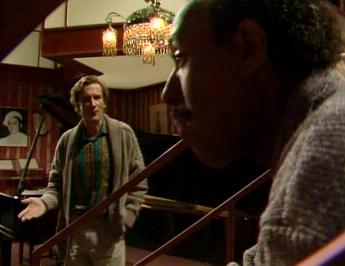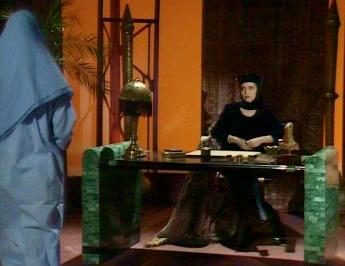 Character Development:
Krivenko is an Opera Buff, while Theroux is knowledgeable about Classical music. Krivenko's father was also a geneticist. Kenzy confirms she has no children, while Devis, a policeman for ten years, claims he never felt the need for a religion. (Theroux also has a ring on the ring finger of his left hand - does this make it canon that Theroux is married in the show?)
Working on Earth, Star Cops enlist the help of Colin's "friends from the Met(ropolitan policeforce)" to help guard a suspect.


Future lives:
Moonbase relies quite heavily on private investment, including quite considerable sponsorship from Madam Assadi. A billionaire related to the Saudi Royal Family, she owns many companies including Samson Mineral Holdings, Surefirm Metals, Assadi Chemicals, Assadi Retail, Assadi Industrial Mint, Unicert Domont and Manburys Futurefacts. Assadi is undergoing nuclear transplantation to fertilise embryos from her late husband.
James Andrew Bannerman is a classical pianist, composer and conductor born 5/5/1995. The illegitimate son of the geneticist Cyrus Teil and the Opera singer Marguerite Bannerman, he spent time with charges in Scotland, where he attended the Rannoch boarding school until the age of eighteen.


The Crimes:
Madam Assadi's embryos are stolen from Moonbase and are being dissolved one by one by an unknown kidnapper for the ransom of fifty million pounds. (A nice touch is the box where the embryos are stored and the swipe exits are Chandri products, relating back to episode three). All the evidence points towards the famous concert pianist James Bannerman.


The Solutions:
Bannerman had a genetic clone made without his knowledge when he was just a baby. Bannerman's father created Albi, who in turn stole the embryos to avenge his father's death. His father was murdered by Assadi for pulling out of a deal to help her have children.


Things to look out for:
Box's computerised image of James Bannerman begins to enlarge the second time before Nathan says "and again". And while not exactly a mistake, it's curious to note that the coffees Colin hands out in the episode (To Nathan and Anna respectively) are only just over half full. A new 21st century craze we're yet to discover?
The episode also marks a rare appearance of a Star Cop other than the regulars: early on a dark-haired man with an American badge, whose name reads "Watton" serves tea to the main cast. He is referred to by name for the first and only time the following week. (See Other People's Secrets). Lastly, Moonbase has at least sixty exit points.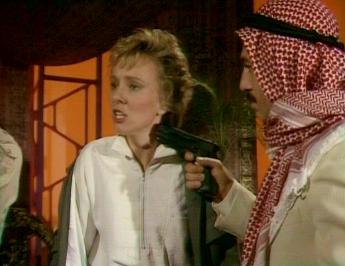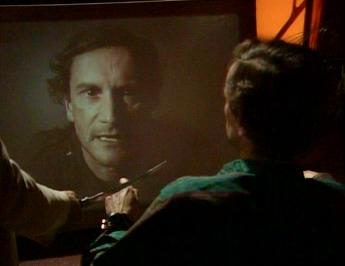 Viewpoint 2017:

"You know, if your understanding of English were better you'd recognise a joke when you heard one."
"If you were more sophisticated, I might share your sense of humour."


The cheapest and silliest episode of the run, one where the customary cash-scraping of the BBC is all on screen, and there's not enough wit in the script to overcome such problems. Amazingly when this site was launched, I reviewed it as "one of the very best Star Cops episodes". I guess I enjoyed it when I first saw it as a teen, and the nostalgia value carried it through...








Average Rating:

A Double Life has averaged 3.4 over the five times it has been reviewed on this site.