Starring:
David Calder (Nathan Spring), Trevor Cooper (Colin Devis), Linda Newton (Pal Kenzy), Jonathan Adams (Alexander Krivenko) and Sayo Inaba (Anna Shoun).


Guest-Starring:
Roy Holder (Daniel Larwood), Nigel Hughes (Andrew Philpott), Lachelle Carl (Susan Caxton), Wendy Macadam (Operations manager), Bridget Lynch-Rose (Co-pilot), Kenneth Lodge (Pilot), Peter Neathy (Customs officer), Phillip Rowlands (Outpost controller) and David Janes (Surveyor).


Technical Personnel:
Chris Boucher (Series Deviser); Ian R. Wallace (Production Associate); Kevan Van Thompson (Production Manager); Sue Card (Production Assistant); Jim Thomson (Assistant Floor Manager); Robin Lobb (Video Effects Supervisor); Mike Kelt/Malcolm James (Visual Effects Designers); Reg Poulter (Technical Co Ordinator); Roger Goss (Studio Camera Operator); Charles McGhie (Graphic Design); John Charles (Properties Buyer); Dennis Collett (Videotape Editor); Julie Mann (Vision Mixer); Chris Townsend (Lighting Director); Chick Anthony/Gerry Borrows (Studio Sound); Lynda Woodfield (Costume Designer); Jill Hagger (Make-Up Designer); Justin Hayward (Theme Composer/Theme Sung By); Justin Hayward/Toni Visconti (Incidental Music); Joanna Willett (Script Editor); Malcolm Thornton (Designer) and Evgeny Gridneff (Producer).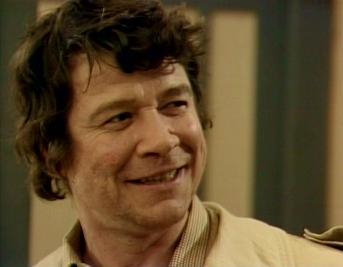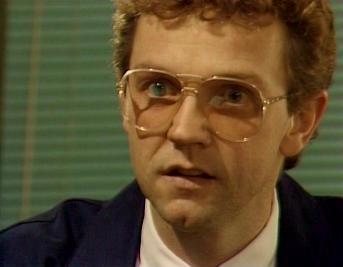 Character Development:
Nathan is preparing to leave for Mars duty for roughly a two-year period. Nathan also claims he has subscribed to several drug rehabilitation centres, which is probably a flippant remark, but it does seem a very strange thing to say.

Kenzy studied art, including the history of Mayan sculpture. As a student radical she met Daniel Larwood, now a journalist for Atlas News. It is implied Kenzy and Larwood had a relationship, though he betrayed her by writing a story on her anti-climatic anarchist activities with fellow students. (Of note is that most of this characterisation would have belonged to Theroux, but Erick Ray Evans couldn't make the filming - see Trivia)

Box can scan, take visual records, project those records and also give off alarms. Theroux is on Earth Rest for the episode's duration.


Future lives:
Alcohol is against regulations on Moonbase. There are news channels called Cosmopolitan News and Atlas News. There is also no video link between Moonbase and the Mars colony.


The Crimes:
Two pilots turned up on Moonbase and were killed in accidents when they should have been flying a shuttle from Mars. Meanwhile, a Martian artefact has been found on Mars's surface.


The Solutions:
The artefact was in reality a Mayan sculpture, hidden there by smugglers to be conveniently "found" when the time was right. With the people behind the plot standing by to cash in, their plans were complicated with the appearance on Moonbase of the journalists Daniel Larwood and Susan Caxton. As a result, all the evidence was destroyed, save for a picture of the "Martian sculpture", hidden in a duplicate I.D. of one of the dead pilots.


Nathan and David's Movie-Buff Challenge:
Almost completely absent this episode, as is David. Though as Linda Newton got most of his lines, I feel sure it would have been Theroux that was originally scheduled to liken Larwood to Pat O'Brien.


Trivia:
Erick Ray Evans was unable to appear in this episode - working title "Information Received" - as he had measles. Most of his lines were given to Linda Newton, though for an idea of how it may have originally been plotted then see Chris Boucher's novelisation of the episode.


DVD Commentary Highlights (Chris Boucher):
"Talking of aliens... Anna Shoun was... not my... creation, for want of a better word. I knew nothing about... this is not a criticism of the actress. But the character was introduced without reference to me in any way, shape or form. Which, fair enough, except that it isn't. And... if I was going to introduce a new character, it wouldn't have been a Japanese character. Not because I've got anything against Japanese characters, it's just that I knew at the time... knew nothing about Japan, and nothing about Japanese society."

"My relationship with the producer of this series was a very fraught one. He and I... didn't really understand each other. I walked into his office on the, sort of, first day, to be greeted with 'all these scripts will have to be rewritten.' I didn't respond well to that, I have to say."

"I suspect, if this had gone to a second series, I could have divided up the group and introduced some more policemen. And then had episodes set on Mars [...] and episodes on the Moon, and on the big wheel colonies and so forth."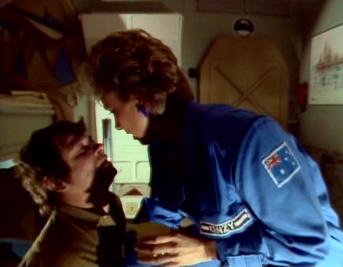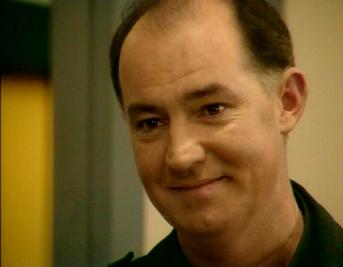 Viewpoint 2017:

"Drugs, you sure?"
"No. But it's a lot of trouble to go to for powdered beef casserole."


One thing that really helps modern appreciation of Star Cops is that it's now firmly tipped over into "archive television". Thirty years in, and some iffy - albeit still quite impressive for the time - special effects no longer register as "not good enough for an attempt at realism" but now become "of the time". This is especially notable here, an episode that not only features a slightly shaky rendition of "Mars", but Nigel Hughes in shoulder pads and glasses the size of satellite dishes.

With fourteen credited cast members, as well as extras, this is the largest cast assembled for a Star Cops episode, and contains quality operators like Roy Holder. (Note that Holder, along with Bridget Lynch-Blosse and Trevor Cooper, had acted under director Graeme Harper before, in Doctor Who... Harper actually recommended Cooper for Star Cops after his work on Revelation of the Daleks).

Like all Chris Boucher episodes, the dialogue is sharp and witty, if, at times, a little too "written". One line about "I'm a surveyor, not a Saint Bernard" has Chris chuckle along on the commentary track, stating, with tongue not entirely in cheek, that "there are occasions when I just love my dialogue... it's in fact all occasions."

With Erick Ray Evans absent due to real-life measles, the team does feel a little sparse in this one. The observant might note that Anna Shoun, brought to the forefront in the previous three episodes, gets little to do, and doesn't even appear until over 14 minutes in. This is probably explained by this site's Chris Boucher interview, where he confesses: "If we're being brutally honest and since you asked the direct question the direct answer is that I hated the theme song and the character."

A very good episode ends with a stagy action scene and people standing around delivering exposition to one another, but overall this stands up as a decent piece of television.









Overall Verdict 2017:

I made this site purely because I loved the series, and there was very little else out there about it. Yet in the three previous reviews of the programme, I've always given the series overall just average marks. As it now enters its thirtieth anniversary, it's actually aged quite well. Sure, it's not without faults, I'm certain even the biggest Star Cops fan wouldn't deny that.... The music doesn't work, some of the acting is questionable, it needed a much bigger budget, etc. But with most of the central cast and a strong set of scripts, it's a rewarding piece that pushed for intelligent SF and didn't get the audience it deserved. In 2017, for the first time, I give it...









Average Rating:

Little Green Men has averaged 3.6 out of 5 in reviews since this site was launched. The overall rating for the series - which wasn't thought up as an idea until 2001, so has only been done four times - has averaged out at 3.25.