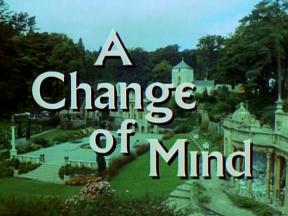 A Change of Mind

Transmission Date: 15/12/1967
Episode Length: 48'20m (DVD timing)/50'17m (Blu-Ray timing)
Est. Ratings: 7.5m
Written by: Roger Parkes
Directed by: Patrick McGoohan (Under the pseudonym Joseph Serf)
DVD availability: Try amazon.com









Production Commenced:
January 1967

Production Credits:
An ITC Production by Everyman Films Ltd. Executive Producer: Patrick McGoohan; Script Editor: George Markstein; Producer: David Tomblin; Production Manager: Bernard Williams; Director of Photography: Brendan J. Stafford B.S.C.; Art Director: Jack Shampan; Camera Operator: Jack Lowin; Editor: Lee Doig; Theme: Ron Grainer; Musical Director: Albert Elms; Assistant Director: Gino Marotta; Sound Editor: Wilfred Thompson; Sound Recordist: John Bramall; Music Editor: Eric Mival; Casting Director: Rose Tobias-Shaw; Continuity: Doris Martin; Set Dresser: Kenneth Bridgeman; Make-Up: Eddie Knight; Hairdressing: Pat McDermot and Wardrobe: Masada Wilmot. Made on location and at Metro-Goldwyn-Mayer Studios, Borehamwood, England.

Starring:
Patrick McGoohan (The Prisoner); Angela Browne (Number Eighty-Six); John Sharp (Number Two); Angelo Muscat (The Butler); George Pravda (Doctor); Kathleen Breck (Number Forty-Two); Peter Swanwick (Supervisor); Thomas Heathcote (Lobo Man); Bartlett Mullins (Committee Chairman); Michael Miller (Number Ninety-Three); Joseph Cuby (1st Member of Social Group); Michael Chow (2nd Member of Social Group); June Ellis (Number Forty-Eight); John Hamblin (1st Woodland Man); Michael Billington (2nd Woodland Man); Fenella Fielding (Loudspeaker Voice, uncredited) and Robert Rietty (Voice of No.2 in titles, uncredited)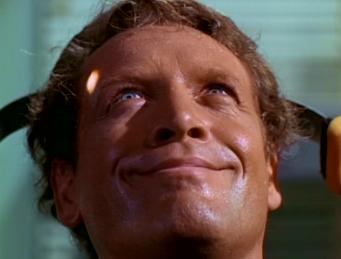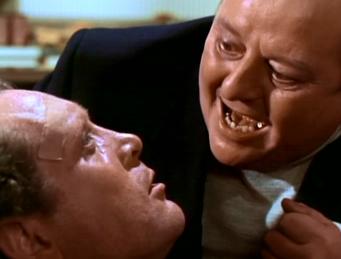 Episode Order:
Screened twelfth in the original run, a decision to adhere more to the production order (not the post-production order) sees this one moved forward to tenth place.

No.6:
When the subject of his resignation is brought up in this story, No.6 claims he needed "time to think". He also has a first-rate pass in a medical, is skilled in hypnosis and is deemed "unmutual" by the Village Committee.

In The Village:
The Village has a new method of dealing with Prisoners, which involves a unit containing quartz crystal activated by a variable magnetic field from high voltage condensers. The crystal then emits ultrasonic soundwaves which are bounced off the parabolic reflector to conduct brain surgery without insertion, ie. lobotomies.

Rover:
A cut scene would have perhaps made more sense of the somewhat messy ending, and saw Rover (now presumably reactivated after events of The Schizoid Man) chase No.2 away. However, the creature can still be glimpsed for a fleeting moment, appearing behind some bushes and causing No.6 to walk back the other way at the climax. Very brief and easy to overlook, this moment is presented in the bottom right hand image. Rover does, in fact, also make a full cameo in this story - a film sequence from Checkmate is used in a repeated cycle as part of aversion therapy.



Storyline:
No.6 is deemed unmutual by a social council, and subjected to "isolation of the aggressive frontal lobe of the brain". A placid No.6 is then prompted by No.2 to tell him the reason why he resigned.

Escape:
No.6 had never really undergone brain surgery, he had been drugged with an interdermal injection of mytol and the whole operation staged. He was to be kept placated by constant doses of mytol. However, after tipping away his first cup of mytol-spiked tea (which No.86 makes incredibly obvious it was spiked by staring into the cup afterwards in No.6's full view), he then swaps cups so that No.86 drinks the second 8gm dosage. He then hypnotises her so that as the town clock strikes four, she will declare No.2 to be "unmutual" and the Village will overthrow him.

Trivia:
In the foreward to The Original Scripts Volume Two, writer Roger Parkes recalls McGoohan as an "egomaniac" who said the only way the episode could work is if he sacked the original director Roy Rossoti (which he duly did, after just one morning) and took over the duties himself. A notable quote from McGoohan was "for a start, we cut the kissing."
The actor to play No.2 in this episode is listed here as "John Sharp"... his real name. He was erroneously credited as "Sharpe" on the actual episode. With the drug theme in A Change Of Mind, it's perhaps no wonder they gave him an E. (insert groan here)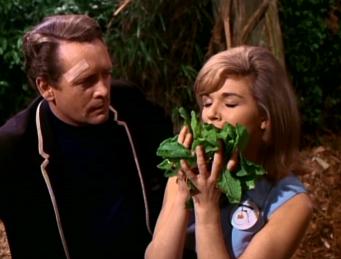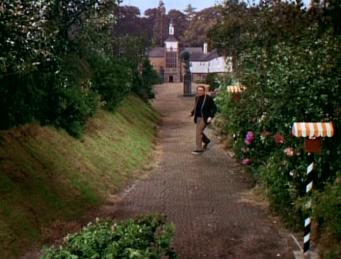 "You still have a choice. You can still salvage your rights to be individuals. Your rights to truth and free thought."



Viewpoint:
Another unlikely script – the Village fool No.6 into thinking he's lobotomised, but he, errr... isn't – falls to effectively engage in the way It's Your Funeral partly does.

Writer Roger Parkes noted the action scenes were "pedestrian and bitty", and it had to be said that if Fall Out was McGoohan's directing zenith then this is his nadir. Most of the scenes are rigidly blocked on a small scale with little sense of ambition.

Of the episode, then it's one I've stood up for in the past: an under-regarded episode with plenty to say. However, this time around I concede that it really doesn't come together, and the minor subtext of No.6 criticising radicals and counterculture does make him as "reactionary" at they state, rather than our anarchic hero.

Of note here is that Robert Reitty was brought in to do a generic No.2 voiceover for the opening titles for when the identity of the real No.2 was supposed to be a secret (eg. Many Happy Returns). However, rather cheaply this is reused several times when it doesn't need to be. At this stage – Colin Gordon episodes aside – this is the fifth episode running where Reitty's version has been used. It smacks of penny pinching, as does the increased studio mock ups of the Village. The perfect companion to It's Your Funeral in this regard, it even contains another stereotyped Jew in the form of George Pravda.

In regards that plot then it makes little sense in terms of dynamic tension. We know right from the start that No.6 hasn't really been lobotomised, so… what's the point? The rather silly hypnosis and anti-climatic resolution also go nowhere. Quite why No.2 would believe that No.6 has decided to confess when he's just watched him trick No.86 into taking her own drugs is beyond me. Quite why one woman shouting "unmutual" at No.2 would turn the whole Village against him is beyond me. How John Sharp loses three stone and grows hair in some long shots is beyond me.

A Change of Mind is an episode that contains some interesting ideas, and one that I've praised in the past. But on reflection is has to be said that none of the ideas are adequately developed and it really doesn't work. One of the three weakest episodes.