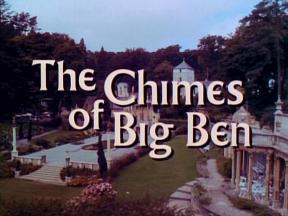 The Chimes of Big Ben

Transmission Date: 6/10/1967
Episode Length: 48'20m (DVD timing)/50'15m (Blu-Ray timing)
Est. Ratings: 10.1m
Written by: Vincent Tilsley
Directed by: Don Chaffey
DVD availability: Try store









Production Commenced:
September 1966

Production Credits:
An ITC Production by Everyman Films Ltd. Executive Producer: Patrick McGoohan; Script Editor: George Markstein; Producer: David Tomblin; Production Manager: Bernard Williams; Director of Photography: Brendan J. Stafford B.S.C.; Art Director: Jack Shampan; Camera Operator: Jack Lowin; Editor: Spencer Reeve; Theme: Ron Grainer; Cameraman (2nd Unit): Robert Monks; Assistant Director: Gino Marotta; Sound Editor: Wilfred Thompson; Sound Recordist: John Bramall; Music Editor: Bob Dearberg; Casting Director: Rose Tobias-Shaw; Continuity: Doris Martin; Set Dresser: Kenneth Bridgeman; Make-Up: Eddie Knight; Hairdressing: Pat McDermot and Wardrobe: Masada Wilmot. Made on location and at Metro-Goldwyn-Mayer Studios, Borehamwood, England.

Starring:
Patrick McGoohan (The Prisoner); Leo McKern (Number Two); Nadia Gray (Nadia); Finlay Currie (General); Richard Wattis (Fotheringay); Angelo Muscat (The Butler); Kevin Stoney (The Colonel); Christopher Benjamin (Number Two's Assistant); David Arlen (Karel); Peter Swanwick (Supervisor); Hilda Barry (Number 38); Jack Le-White (First Judge); John Maxim (Second Judge); Lucy Griffiths (Third Judge); Robert Rietty (Voiceover for Christopher Benjamin/Interrogation Voices, uncredited) and Fenella Fielding (Loudspeaker Voice, uncredited)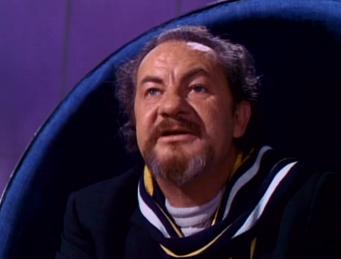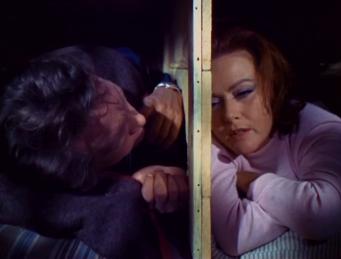 Episode Order:
Never intended as a second episode, The Chimes of Big Ben was nevertheless slotted into that place on original broadcast and released onto videos and DVDs the world over in that form. The three episodes before this in my alternate order all contain references to No.6 being new to the village. In contrast, Chimes contains such lines as "It's quite like old times, isn't it, No.6? Do you remember your first day?" and the revelation that between his disappearance and the events of this episode there have been "a gap of months". This is clearly an episode that takes place after a length of time has passed in the Village, and was produced after the four that preceed it here.

No.6:
No.2 makes several additions to No.6's file in this episode, speaking them into a dictaphone. We never get to hear the last one, which No.2 states as "Section 42, Subsection 1, Paragraph 1 - back to the beginning". However, the three we are privy to are:
Section Forty-Two, Subsection Six, Paragraph Three: "Sense of humour; strong and unimpaired".
Section Forty-Two, Subsection Six, Paragraph Four: "On the other hand, persecution complex amounting to mania. Paranoid delusions of grandeur".
Section Forty-Two, Subsection Six, New Paragraph Five: "Overweaning sense of own self-importance. While here, his egomania has, if anything, increased".
Details of No.6's past life are hinted at here, as we meet two old colleagues of his, Fotheringay and the Colonel. (The same colonel mentioned in Dance of the Dead?). The Colonel describes No.6 as having had a "post of the highest possible secrecy in this country" and that he "refused to give your reasons" for resigning. No.6 begins to state his reasons here, but breaks off as he starts: "because, for a very long time..." He also states it was "a matter of conscience". The Colonel claims this episode takes place a "gap of months" after he went missing. The notion that the reason why he resigned is all the Village are interested in is scotched here as No.2 claims "if he will only answer one simple question the rest will follow; why did he resign?" Hints are given that No.6 is being primed for something greater, and that the Village doesn't want to permanently damage him.
Asked by Nadia if he is married, No.6 tells her he isn't. Asked if he is engaged, he replies "go to sleep". We also learn that at the age of fifteen, No.6 was top of his class in woodwork.

In The Village:
Nadia Nakovsky is introduced to No.6 as the new No.8. (Apparently the last one "vacated the premises". There was no funeral for him as "it's not always possible... you need a body"). She is Estonian and used to work for the government. She is also an international swimmer and was an Olympic Bronze medallist at the age of seventeen. She tells No.6 that the location of the Village is Lithuania.
The episode opens with the Village declaring an arts and crafts competition, six weeks from the date. This means that the episode takes place over an approximate six-seven week duration. The exhibition opens free of charge to all, open every day from 9:30 - 7:30. No.6 enters an abstract piece (really a boat in pieces) entitled "escape". He wins the special merit award for the work, with a prize of 2000 work units. In what some fans of the series claim is a religious reference, Patrick being a Catholic, the boat's main section is disguised as a church door. When asked by a judge "why the crosspiece?" he quickly replies "why not?"
Sharp tools are not allowed in the Village, while No.6 claims the statues that occupy the woodland have visual though not audio capabilities. How he has come to know this information is not made clear. The Village has television monitoring up to two miles searange, from thereon it's radar only.
Non-alcoholic drinks are freely available, non-alcholic whiskey costing 24 work units, vodka 16 work units and scotch 24 work units. Interestingly, No.2 seems to imply that he does not know who No.1 is during the course of this episode.

Rover:
Rover again splits into three during this episode, as with Free For All. I say "splits" this time, as the graphics involved do seem to clearly indicate a division of the main, er... blob. It is shot at by Nadia's aide (see "Storyline", below) and the bullets seem to adhere to its "skin".

Storyline:
No.6 joins forces with Nadia, and uses the cover of the Arts and Craft exhibition to make a boat. With help of Nadia's aid, they get delivered in a wooden crate by lorry, boats and plane to an office in London.

Escape:
No.6 has arrived back in a mock-up of a London office, built in the Village. The whole thing was planned, with Nadia working for the Village the whole time (thus we must discount all we learnt about her in the episode, though her accent doesn't change). She tells No.2 that it was a good plan and that she'll "stress it in my report". Hints that British Intelligence could be working covertly with the village occur when No.2 tells Fotheringay to get back to London "before all sorts of awkward questions are raised".

Trivia:
Of note is that this episode - along with a couple of occasions in The Schizoid Man - is the only one to use "wipes" to change from scene to scene. Though it doesn't happen continually, the effect - most famous in the Star Wars movies - is an odd addition to the episode.




The Alternate Chimes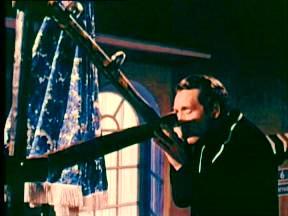 It's rumoured that there may be more than two rough cut edit episodes, but so far only alternate versions of Arrival and Chimes have been found. Chimes is the more desirable of the two, because there's a completely new scene within it. Spliced into the narrative almost without purpose, there's a 22 second sequence where No.6 uses a Greek telescope set-up (a "trirequm") and a star background half-inched from 2001 without Kubrick's knowledge to locate the Village's position. An odd scene, it was rightfully excised (like all "deleted scenes" features and their ilk, there's usually a very good reason why they were deleted) but it's an interesting curio in itself, as is the too trippy by far "POP" ending. Running 2'18m longer than the completed episode at 50'38m, you might also notice differing takes and dubbing, and it's certainly worth seeing, if only the once.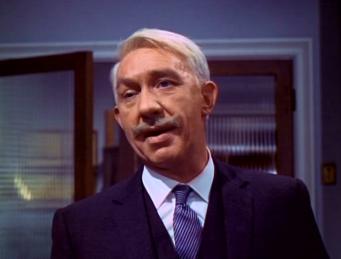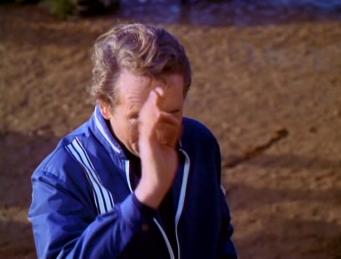 "I'm going to escape, come back, wipe this place off the face of the Earth, obliterate it and you with it!"



Viewpoint:
Even after repeat viewings, this rather obvious "escape-no-it-isn't-an-escape" story entertains by virtue of Leo McKern's performance. Along with Mary Morris, McKern is my favourite of the No.2s, his theatricality a wonderful counterpoint to Morris's ambiguous understatement. His delivery and empathy with such lines as "I don't want a man of fragments!" transcend the material.

Of note in this particular episode is that it opens with multiple zoom ins, a technique that is antiquated in contemporary terms. However, the fact that the entire concept driving the series is that of No.6 being artificially observed means that this is not only acceptable in today's climate but actually a bonus.



Another point is that this is the episode most geared towards Euroscepticism. With the abolition of internal tariff barriers just around the corner in 1968, it sees No.2 suggest that the Village is the vision of the future, "an international community". With its architecture of multiple countries and multiple races as villagers, the Village is the very blueprint of a common market Europe. "The whole Earth..." muses No.6 sardonically, "... as the Village?" Adding to this is his insistence that Nadia – despite telling him she's Estonian – is Russian. That said, we must remember that No.6 was a spy. Finally, while it meant nothing at the time, it's interesting that the modified Albertus font used in the series means its "E"s look like the euro symbol.

Production wise, then this is the first episode to mildly disappoint. From the body double for Nadia (actress Nadia Gray did no filming in Portmerion) and subsequent awful continuity, to the stock footage of falling trees and studio mock ups of exteriors, there are some required stretches of incredulity to be made here. Also a disappointment in the episode is the normally reliable Kevin Stoney with his clichéd Colonel character. However, despite such minor detractions, this is one of the most charming of all the Prisoner episodes, with an ending that is genuinely heartbreaking and leaves No.6 looking close to breaking point...