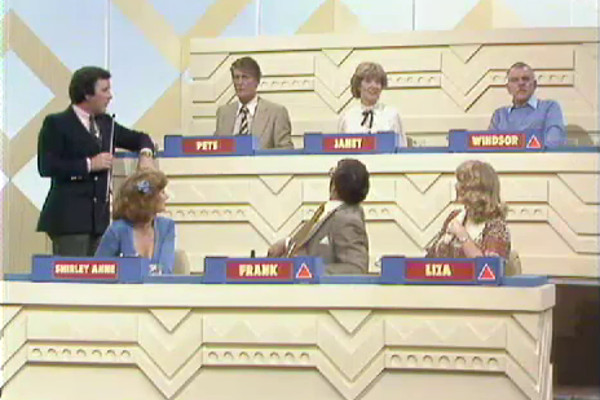 12
Episode Ten
Guest Panellists: Pete Murray, Janet Brown, Windsor Davies, Shirley Anne Field, Frank Carson and Liza Goddard.

One problem with developing an unexpected Blankety Blank fixation (watching over 100 episodes in three months) is that you become aware of how much repetition is involved. Terry does tend to have stock phrases he draws on - "smart as paint", "you'll probably be too clever for this crowd", "we give you a choice of A or B, but there's no difference", and more - but then, he can't really be blamed. After all, this isn't a complex, mulit-faceted quiz, and there's only so many ways to introduce the same components.
     Perhaps more importantly, Terry Wogan was presenting this for a 1981 weekly TV audience, with not the slightest suspicion that forty years in the future the entire world would be seized by a pandemic, and some nerd, driven half crazy under lockdown, would be watching old episodes on a daily basis. Which goes to show what a lack of foresight Terry had.
     This is a solid episode, with Frank Carson on good form, even if it's a little harsh that he tells a male contestant that the last time he saw a nose like his, it won a photo finish. Look out for Janet Brown talking about the upcoming July wedding of Charles and Diana, causing Terry to quip that it's "been over for some months" to cover the difference between recording and broadcast dates.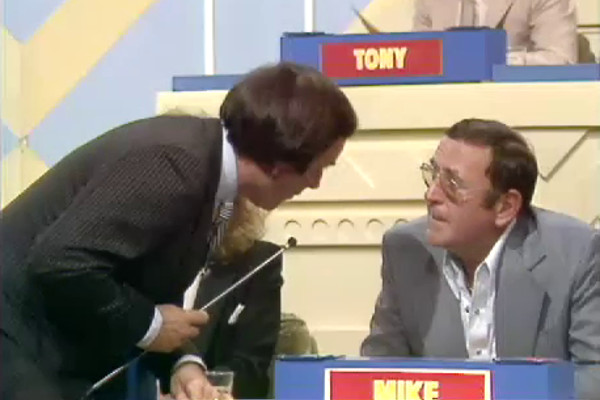 11
Episode Eleven
Guest Panellists: Tony Blackburn, Dinah Sheridan, Leslie Crowther, Carol Drinkwater, Mike Reid and Lorraine Chase.

The debut of three new panellists, as Tony Blackburn, Leslie Crowther and Mike Reid join the show. All returned, though Reid the most prominently, with six return appearances. As Les Dawson referred to him as a personal friend when he was hosting, it's perhaps no surprise that all six returns were with Les. In terms of the diversity of the times, then this episode marks the first non-white contestant on the show. Unfortunately for Anthony Kelly, Terry's "good old Irish name" gets a laugh, and he seems quite shy throughout.
     One moderately irritating/distracting thing about Blankety Blank at this stage is that they'll often edit out mistakes, but show the reactions, letting TV viewers know that something has been removed. Look out for just over 24 minutes in, where the studio audience burst into laughter while the panellists write down their answers. Whatever has amused them isn't shown, but we know that something has, by the response. It's better to edit out the section before broadcast, or, preferably, show what the audience are laughing at. But, as occurs a number of times in this fourth series, the audience at home aren't privy to this information, making chunks of the show seem "in jokey" and indulgent.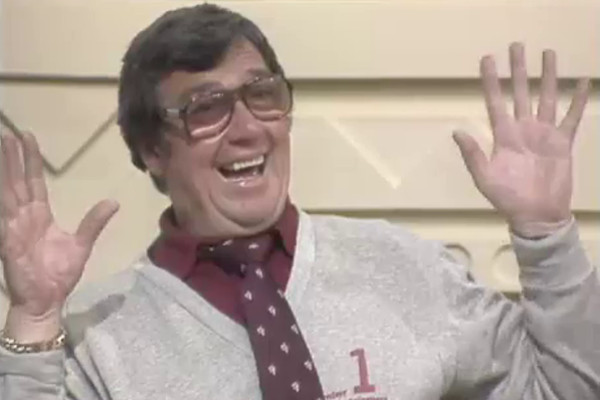 10
Episode Five
Guest Panellists: Norman Collier, Ruth Madoc, Patrick Moore, Anita Harris, Frank Carson and Madeline Smith.

It's perhaps forgotten just how many pros of the 70s and 80s, household names, sprang from TV talent shows. They weren't always "unknowns", as most of them had done the route of working men's clubs and just used series like Opportunity Knocks or New Faces as a springboard to wider exposure. Names like Lenny Henry, Jim Davidson, Freddie Starr, Paul Daniels, Les Dawson, Bonnie Langford, Roy Walker, Michael Barrymore, The Chuckle Brothers, Victoria Wood, Gary Wilmot and Les Dennis.
     Frank Carson had already appeared on Irish television, and had successfully made the transition to UK TV with appearances on The Good Old Days. Whatever your views on Frank's machine-gun delivery and whether it makes you personally laugh, it's hard to argue that he's not a consummate pro at what he does, and came to Opportunity Knocks "fully formed".
     He makes his Blankety Blank debut here, alongside Ruth Madoc. Like Frank, Ruth would go on to become something of a regular, with both of them eventually putting in ten appearances each. (In Ruth's case, one was part of the Lily Savage revival.) Frank is, true to form, relentless on the show, but it doesn't feel "forced", as it's his default setting, and was, by many accounts, his off-screen persona, too.
     Lastly, there has been discussion on the notion of suspected "professional laughers" sometimes placed in the audiences of BBC shows, with both Kelly Monteith and The Young Ones occasionally blighted by it. Blankety Blank, a show which gets laughs consistently, has never been in need of one before, at least audibly, but here a very distinctive "hah-hah-hah-hah-hah" can be heard every other minute, an unnecessary distraction from a pretty funny show. As the exact same laugh, without variation, appears not just here but also in several other BBC light entertainment shows (most prominently in the shows of Paul Daniels and Little and Large) it becomes clear that it's canned, presumably papering over dead laugh areas. Although not the most prominent example, you can hear this distracting laughter in the video below: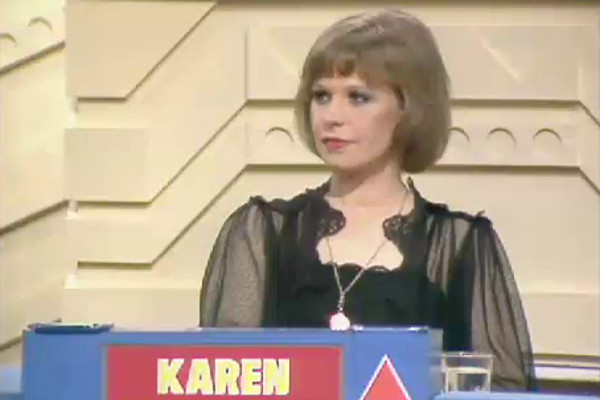 9
Episode Eight
Guest Panellists: Cyril Fletcher, Beryl Reid, Henry Cooper, Karen Kay, Bernie Winters and Lorraine Chase.

Since beginning these Blankety Blank articles, I've been lucky enough to have some rare light entertainment shows shared with me for further research. I try to shy away from postscript edits in these Blankety Blank articles if at all possible, so one piece of "supplemental research" unable to be used as I received it too late was that I was given copies of the programme of Jerry Stevens and Lennie Bennett, panellists from the show's early years. So the bad news is, I wrote up the first three series of Blankety Blank without having sat through The Lennie and Jerry Show. But the good news is... I wrote up the first three series of Blankety Blank without having sat through The Lennie and Jerry Show.
      A laughter tonic - as in a tonic from the curse of laughter - it's an exceptionally ropey variety series, where the listless antics of Lennie Bennett and Jerry Stevens would make laughing gas wear off in seconds. One thing that can be confirmed is that Blankety Blank series three guest Albert Pontefract, a regular on The Lennie and Jerry Show, is funnier than both of them put together.... a feat that, granted, isn't exactly one of the labours of Hercules.
     However, in terms of Blankety Blank trivia, then Lennie and Jerry episode 2.3 (pre Show in the title) sees Lennie Bennett claim he was one of the people asked to do Blankety Blank before Terry Wogan, and describes Terry as having "the personality of a poached egg". It's not entirely clear how serious Lennie is being, though some newspaper sources do suggest up to six individuals recorded pilots before Terry. Speaking of Terry, he joins the two men for a good-natured song and dance routine in episode 3.5 of their series, so it can't have been too tense between them.
     All of which leads us to another performer who I've been lucky enough to get to see more of: Karen Kay. A mediocre impressionist at best, and probably a below-par comedienne, where Kay does have considerable talent is in her ability as a singer, and as a singing impressionist. Watch her in programmes like The Bob Monkhouse Show, or, indeed, The Lennie and Jerry Show, and she has a range and ability that isn't even glimpsed in the confines of a panel game. Sadly, her sole series four appearance sees her stuck in the familar holding pattern, sat in the bottom left desk doing impressions of... well, who can really tell?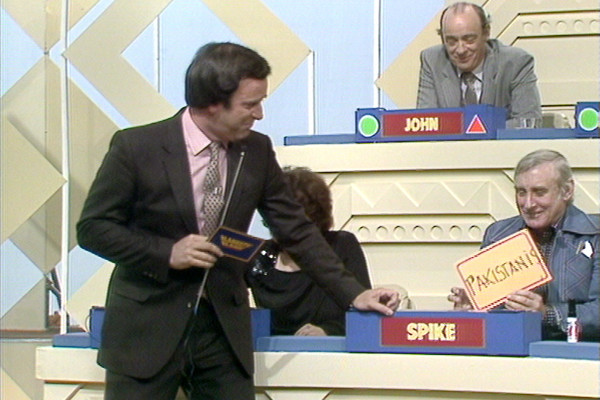 8
Episode Four
Guest Panellists: John Junkin, Beryl Reid, Arthur English, Dilys Watling, Spike Milligan and Sandra Dickinson.

Spike Milligan makes his first of three appearances on the show, and he may be an acquired taste for many, particularly those who take the quiz element very seriously. His decision to write ludicrous non-sequiturs as answers to the various "blanks" would frustrate some, though in fairness, as he does it for every question, it creates a kind of "equal non-opportunity" that sees neither contestant disadvantaged by his behaviour.
     Beryl Reid appeared again with Spike in the following year's Episode 5.5, but had appeared alongside him in other shows, such as Celebrity Squares. In her much-quoted autobiography So Much Love, she recalled of working with Spike that it: "can be either a wonderful or a dreadful experience, because you never know what he's going to do. He's totally unpredictable." It was a take that Terry Wogan agreed with, noting in a Q & A in The Independent in 2001 that: "Spike Milligan was always difficult. He was a good friend of mine and, as any of his friends will tell you, Spike could come and go. He was a manic-depressive. If you got him when he was manic, he would drive you mad. I think I preferred him when he was depressed."
     The most notable point about this episode is the third question, about two [BLANKS] living in a deep freeze. Spike's answer sees both Terry and a contestant say that it's "terrible", with much shocked laughter from the audience. The answer shown is "women", which was actually Spike's answer (and, seemingly, unused footage spliced in) for the first question. However, as pictured above, a brief shot where Spike is putting down his answer card is shown, where it can glimpsed that he'd really written down "Pakistanis".
     Those who have been reading the articles as we go along may recall the mystery raised in series two's ranking, where Beryl Reid had claimed the shows were rehearsed without any of the other panellists involved. Now, the mystery is not why you'd need to rehearse writing down inane answers on a piece of card when the answer is obviously "willy", but how it's mathematically possible for no panellist overlap when they only recorded two shows at one time.
     The chance to dig a little deeper was gained here, with the revelation that this particular episode (and so, presumably, others) had eight "stand ins" hired for the panel. These "stand ins" were actually reasonably well-known names, at least within the capacity of people who would have bit parts in things like The Two Ronnies or uncredited roles in Doctor Who - in other words, in 90% of the programmes that this site covers.
     The likes of Jimmy Mac, Iris Fry, Terry Sartain, George Ballantine, Sheila West and Steve Ismay made up the stand in set, though none of them ever appeared on the show proper. It's curious to wonder how they felt about this, being paid to take part, but not being considered to have the star quality of Fred Housego to actually appear in front of the cameras. And, with this fresh information perhaps raising more questions than it provides answers, then what exactly would a Blankety Blank "stand in" do? Keep Beryl Reid's seat warm if she's got too overexcited with her "little man"?
     Lastly, Felix Bowness (Fred Quilley from Hi-De-Hi!) was the warm up man, and it was recorded relatively near to the transmission date - shot ninth in order, the studio filming of the 2nd August was reasonably close to its 24th September broadcast, which may explain the sloppiness of that edit...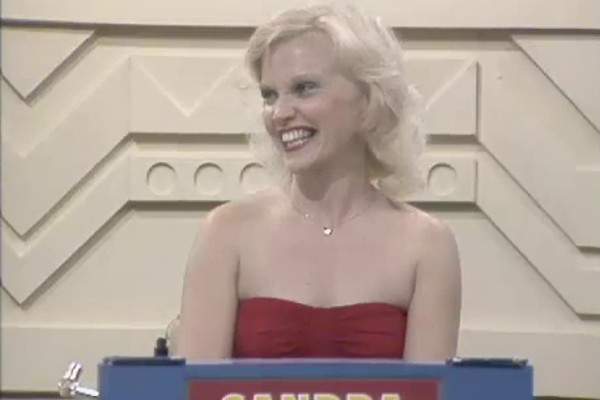 7
Episode Thirteen
Guest Panellists: Barry Cryer, Anna Dawson, Patrick Moore, Michele Dotrice, Kenny Everett and Sandra Dickinson.

A pretty lively, amusing edition of the show, with some funny moments. Perhaps the standout are the two female contestants, who go on to compete in a tiebreaker to get to the final game, but get so caught up in a personal conversation that they stop paying attention to the quiz entirely. When the winner goes through to the Head To Head, she's distracted by Terry's constant commentary (or "blarney" as every tabloid newspaper called it for seemingly every single edition of his chat show) that she tells him "I'm trying to think, Terry, just a minute", which gets a huge laugh and a round of applause.
     Kenny Everett makes another appearance, making a big deal of the fact that he won't bend Terry's microphone this week, but instead sprays him with beer, before putting on a cartoon mask. It's okay, but there is an unfortunate self-aggrandising nature to Kenny's appearances on the show, less the "Cuddly Ken" from his own sketch series, and more just someone who doesn't want to play and is only there for his own ego. More fun is Sandra Dickinson, who at one point, after being teased by Kenny and Terry about her voice, puts on a lower register with an English accent.
     Incidentally, I suspect I'm not alone in spending years wondering if it really was Sandra Dickinson's voice, or it was put on. While she may camp it up a bit, all available evidence suggests that, yes, she really does, or did speak that way. However, a search for further information has uncovered the following revelation from an interview Sandra did with The American: "when I was on Blankety Blank and they started scripting my responses I began to feel like I'd slept with someone I shouldn't have! I wasn't being true to myself, giving myself room to breathe. I just needed more variety."
     At this stage we're exactly halfway through Sandra's sixteen appearances on the show, and during Les Dawson's time on the series she dropped from a regular and into someone who'd just appear once a year. Whether this coincides with her responses being scripted is not yet known, as I checked with her on Twitter and she replied that "I recall it happening more on Celebrity Squares than on Blankety Blank." A mystery for another time, perhaps...