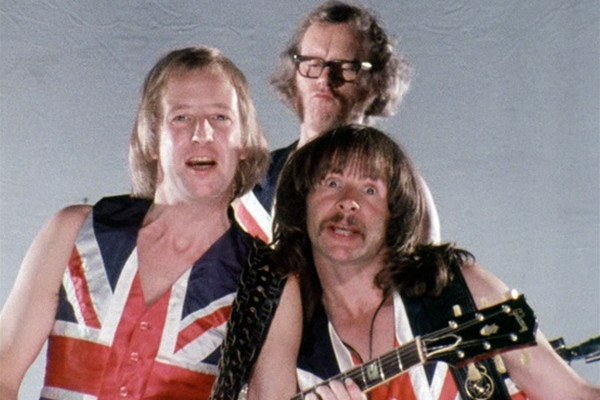 The ratings also increased hugely, particularly on the minority channel BBC2 which saw the premier of their episodes. From the origins of season one, where some episodes didn't even reach a million viewers, here they were breaking 12 million, even out-performing BBC1 and ITV in its timeslot. Join me as I rank the entire fifth season from worst to best...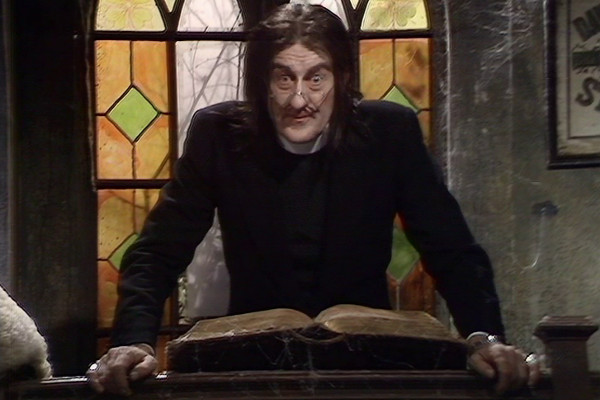 14
Wacky Wales
An episode that sees Jon Pertwee guest star, reacting well to the audience, but generally in a noisy and somewhat thankless part. The majority of the episode is one long mickey-take of the Welsh (stooping as low as to make an obvious pun on "leek") and can be wearing with multiple variations on a single theme.
     The cruellest critics of the series cite The Goodies as "Monty Python for Kids", and while such allegations are unfair, Wacky Wales would be Exhibit A for the prosecution. The Goodies doing various stage routines to an indifferent audience, as pictured, is basically Confuse-A-Cat revisited, while the Ecclesiastical Rugby Tournament is the kind of mockery of religion that the Pythons did in their sleep. There's also Muslim reference in there to a team that don't want to play facing away from Mecca... what with that and The Goodies under threat of beheading by religious fundamentalists, it's quite a racy episode in 2015.
13
Cunning Stunts
Season five generally featured The Goodies' best work, and only the first three episodes in this ranking are perhaps below par. Featuring the Goodies setting up their own newspaper, and sometimes referred to as "Fleet Street Goodies", the title used on the camera scripts, Cunning Stunts, is the most daring thing about this generally lightweight and childish episode.
     Yet it's one that is elevated by its second half, in which Bill enters a death-defying competition in an attempt to commit suicide. Bill has suffered from mental illness in real life, and, without wishing to trivialise his condition, it's curious how it leaked into his work during the series. Oddie has remarked how he unwittingly used the series, unconsciously, as anger management, and that a doctor told him his bi-polar was obvious from just watching the programme. While it's not suggested that Bill was making a conscious effort to feature these darker impulses seriously in the programme, any artistic work is borne out of the creator's unconscious desires. Having such a dark ending to the episode (played out to his own composition "Crazy Man") perhaps illustrates that Bill was subconsciously influencing the direction of the show.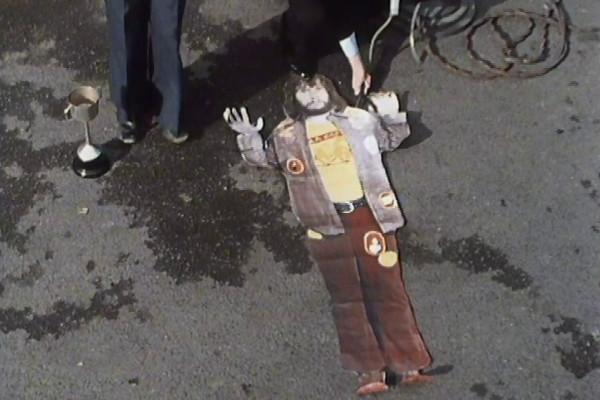 12
Chubby Chumps
Apologies for the poor quality image representing this episode, which was taken from a motion shot of Chubby Chumps used in the 2005 special The Return of the Goodies. Of the seven episodes featured on this page, only Lighthouse Keeping Loonies has been released onto DVD, limiting the availability of sources to use. A clip of Cunning Stunts was featured on the BBC website, and the other four episodes all have shots featured in various title sequences. While this does limit the choice (a shot of Jon Pertwee's guest appearance in Wacky Wales would have been preferable, for example) and the elements on film stock are grainy for screen captures, it does mean that the image quality is stronger for the other episodes.
     Image technicalities aside, then Chubby Chumps can be something of a childish episode, opening with giant spoons and Bill dressed up as a man-sized carrot, the show playing directly to its child audience. Yet the episode has decent points to make about body image, and there's something of a unique surrealness in an episode that ends with the Goodies being chased by obese women, and having a flattened Bill that is rolled up, then inflated and used as a human hot air balloon. The final resolution is a spoof of Benny Hill, not the last time an episode would end in such a way, and it's not altogether clear whether it's tribute or mockery.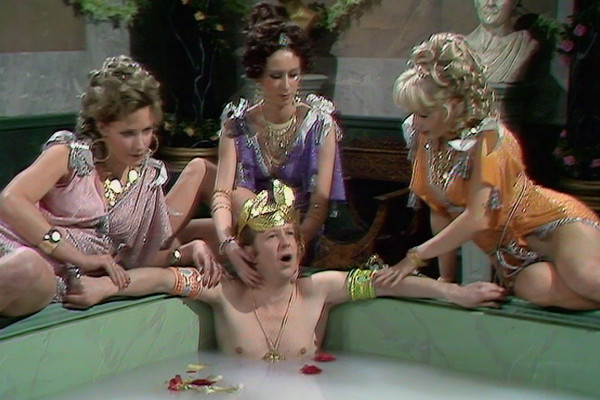 11
Rome Antics
For the first of just two instances (along with season eight's War Babies), The Goodies begin an episode as historical figures. Although still playing "Tim", "Bill" and "Graeme", it's the same three characters placed into ancient Rome, an odd conceit for a continuous sketch-sitcom, but one that had been visited years before by the team's beloved silent comedians.
     Wittily placing the leads into ancient Rome to use it as a parallel of the common market (which the UK had just joined in 1973), the organisation was created by the Treaty of Rome of 1957, so it's doubly apt. Roy Kinnear guest stars in an episode that's difficult to find unedited, due to sections of adult, innuendo-laden dialogue.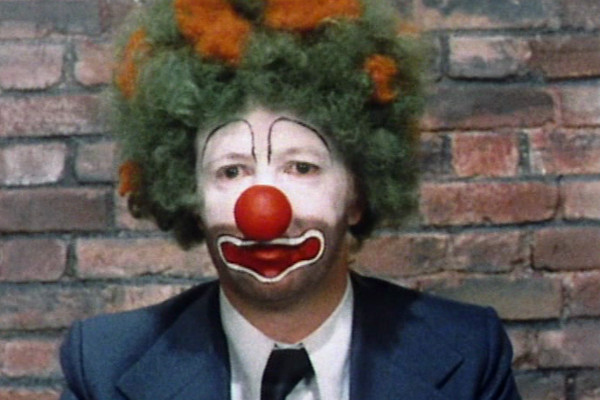 10
Clown Virus
There's an invention and variety of gags in this one, so much so that the titular "clown virus" doesn't even appear until 14 minutes in. A lesser episode would have coasted on the one joke, but Clown Virus keeps constantly moving, an unusually violent episode, even by Goodies standards, that sees the leads repeatedly slap each other, as well as offer up critiques of the US... in its own silly way.
     One unusual element of The Goodies is how loud the studio audience can be without it ever seeming to intrude on the programme's fictional narrative. This remains true here, even in an episode where the audience are called out to, and invited to verbally interact with Bill and Tim's turn as Italian clowns. The ending, with a Southern Plantation worker riding on and ushering soldiers away (who have been doused with oil, thus leading him to think they're escaped slaves) is both more of the "is it satire or is it just racist?" theme that floats through a lot of season five episodes, and an "out of the hat" ending, but does at least complement the episode's theme of criticising American foreign policy.
While not available on DVD, a digital copy of this episode can be purchased from The BBC Store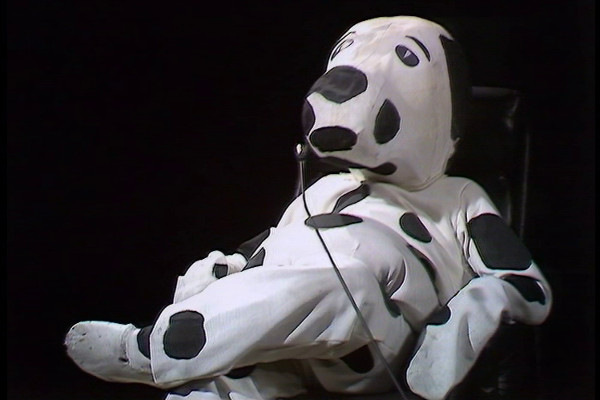 9
Frankenfido
By this stage there's a real confidence in the playing of the leads, pitching things just right. While Frankenfido maybe doesn't contain belly laughs, there's likable silliness at a Crufts show, where Graeme breeds a dog with an oven, and an intelligence test for the dogs is that they have to manually assemble a car. After such surreal wonders, the five minutes with the titular creature get a bit silly, but then things take an even blacker turn when it's revealed that Bill, dressed up as a dog for half the episode, has got so into the role that he had sex with Frankenfido when they were locked away together, the final punchline seeing a Bill-puppy hybrid calling at the door. Unfortunately, after delivering the Dadaish line of "dada", Bill can't help but ham it up, smiling at the audience and milking the laugh, though perhaps this was for the best... this was 1975, a TV show that was going to get a repeat in a family tea time slot, and they end an episode around the subject of bestiality. Pretty daring stuff, all told.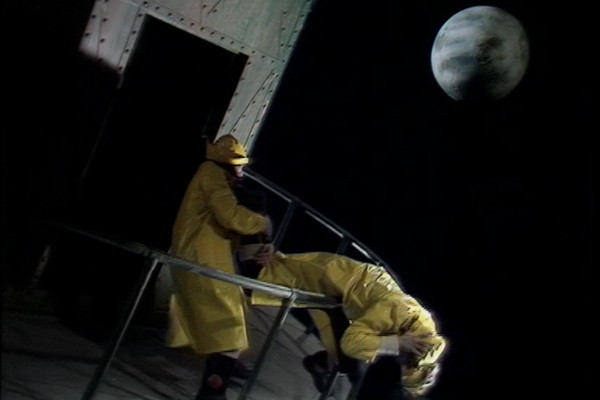 8
Lighthouse Keeping Loonies
One of two cost-saving episodes, Lighthouse Keeping Loonies sees the trio alone looking after a lighthouse, before events contrive to send it into space like a rocket. These character episodes can be rewarding, but also questionable. While it's nice to explore the characters of the Goodies in episodes, it also makes you realise that they don't generally have characters beyond the broadly-defined, and whatever characterisation they do display is generally dictated by plot. This is not an express criticism of the series, merely to acknowledge that the series set up forces the leads into being archetypes, and that in exploring them further they have to invent "depths", rather than reveal them.
     The programme also becomes unusual during season five in that the narrative consistency of earlier seasons is now completely disregarded. Not only do three episodes see them die at the final credits, but they also appear in the far future and in the far past... but tuning in the following week, the status quo is restored, and we're expected to accept them as the same characters. It's an unusual decision for a TV series of this type, almost Laurel and Hardyesque in that Stan and Ollie's marital and job status changed every short, but they were still "Stan and Ollie". Speaking of Laurel and Hardy, then Tim (who has a trussed up bandage in the same formation as Stan's in Leave 'Em Laughing... a shot which is now one of the most iconic L & H images thanks to appearing in Friends) gets to do a cry which appears to be a homage. The group were fans of silent comedians, and would often give tribute to their influences, most notably in The Movies.