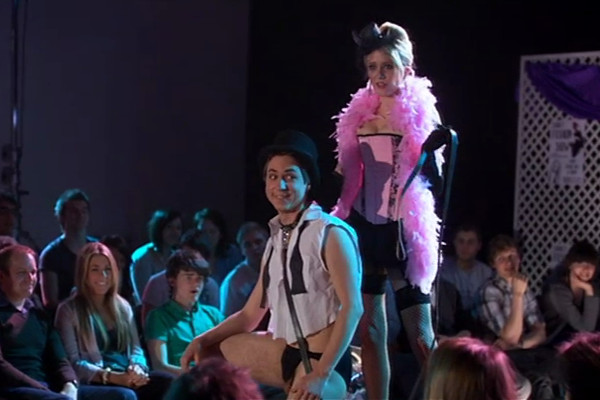 7
The Fashion
Show (2010)
With season three, this E4 sitcom went from something that, in its first season, hadn't even scraped half a million viewers, and into a major hit that saw a non-terrestrial channel bring in over 3.3 million viewers each week. Quite how it did this is open to question, though a high-profile trailer featuring Jay-Z's "99 Problems" and general word-of-mouth probably didn't do any harm.
     There is a sense, perhaps, that with the third season the show is sometimes trying too hard, and pulling towards the more "crowd pleasing" humour of the films, and not all of the material hits, with a lot of Neil's lines seeming misjudged. (While perhaps the least of the central characters, being generally just the "dumb friend" of the four, it must be acknowledged that Blake Harrison does a lot to make the character seem believable, and has had arguably the most successful post-Inbetweeners career, including a major role in the semi-classic The Increasingly Poor Decisions of Todd Margaret. Note that with the broader, more generic movies, the character of Neil got increased screentime).
     There's also a more "polished" look to proceedings, with all of the cast having a much more "rosy" complexion, suggesting that post-production work was more extensive than usual. Despite all this, it's an episode that works well, and contains some unforgettable moments, however much those moments might play to the crowd. One oddly prescient line of dialogue is Mr. Gilbert telling Will "unfortunately for you, it's not the first world war... you can't conscientiously object." Simon Bird would do precisely that three years later in the sitcom Chickens, though sadly for him, Chickens couldn't replicate the Inbetweeners' success. This strong episode also marks the final appearance of Emily Atack as Charlotte Hinchcliffe, the older girl who Will never finds love with.
     This episode is the only one to feature two commentary tracks; as well as the main cast members speaking together, Greg Davies performs a tongue-in-cheek commentary track by himself. Davies' quirky sense of humour can also be seen on the third season disc where he films his own behind-the-scenes video diary.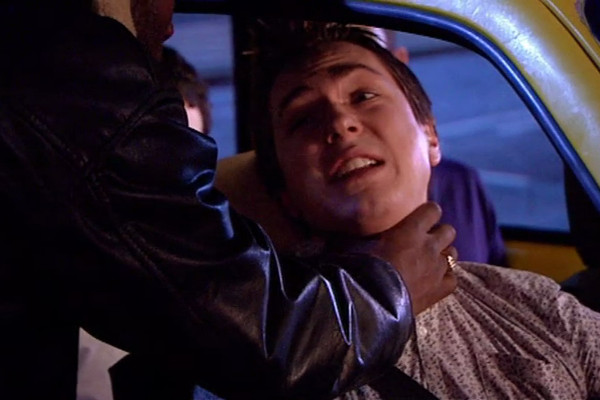 6
A Night Out In
London (2009)
Many words can be written about just how fundamentally misconceived the 2012 US remake of The Inbetweeners was. However, perhaps the biggest example comes with the third US episode, Club Code, which lifts scenes and dialogue wholesale from this script. There's a moment where a debate over who is the most sexually attractive between Will's mum and Neil's sister comes up, to which the dopey Neil in the UK version answers earnestly "I've thought about it, and I'd definitely rather fuck Will's mum." When Simon asks him if he's sure about this, Neil confirms, seemingly oblivious as to why the other option shouldn't even have been considered as a choice for him... this is what's known as the whole point of the gag.
     The US version, which has a dreadful emo version of Neil, terribly acted, has him conclude "that's an easy choice for me. That game sucks." It's the kind of inconceivable misunderstanding of the entire joke that demands a "head in hands" reaction, and makes you wonder why the US attempted to remake it, when series developer Brad Copeland demonstrably didn't understand the nature of the programme he was making, even with the original writers on board. While some of Copeland's work must be praised, such as Arrested Development and My Name Is Earl, it must also be remembered that he was responsible for the screenplay to the execrable 2007 movie Wild Hogs.
     Away from a truly appalling US semi-remake, then this one is packed full of classic moments, including the one pictured, the original "bus wankers" (and not, of course, the inexplicable "bus turds"). The episode also has a notable guest cast, including Daniel Lawrence Taylor as Adam, and Kacey Clarke making her debut as Neil's sister. Most notable of all though is Jonny Sweet as the young guy in the club who argues with Will. Sweet had a long history with Simon Bird and Joe Thomas, including all three forming a sketch troupe known as The House of Windsor, and, post-Inbetweeners, Sweet and Thomas co-starring with Bird in Chickens.
     Lastly, while an episode with some classic moments, the production side of the episode is quite poor by the usual standards of the programme, including some bad reverse shot continuity and some appalling dubbing in the final scene with Seok-Ha Hwang as the angry man banging on Simon's car.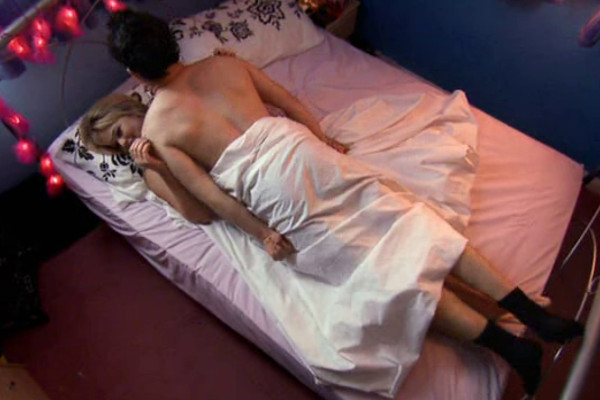 5
Will Gets A
Girlfriend (2008)
This is the episode with "fwend!" and Will getting his heart broken. Yet in amongst the crudity, there is a certain nostalgic heart to The Inbetweeners. Not for nothing was the original title "Baggy Trousers", and the initial 80s-set pilot shines through with, for once, a non-contemporary song: the 1985 Cure track "Inbetween Days".
     The Inbetweeners has 9 DVD commentaries with the four main cast members together. The cast commentary to Will Gets A Girlfriend does reveal an interesting character motivation: when Jay gives up Will's location to the angry Donovan, it can be taken as motivated by fear, or just stupid/lack of care. Yet in the commentary Buckley reveals that Jay would do anything to become part of Donovan's inner circle, including selling out his own friends.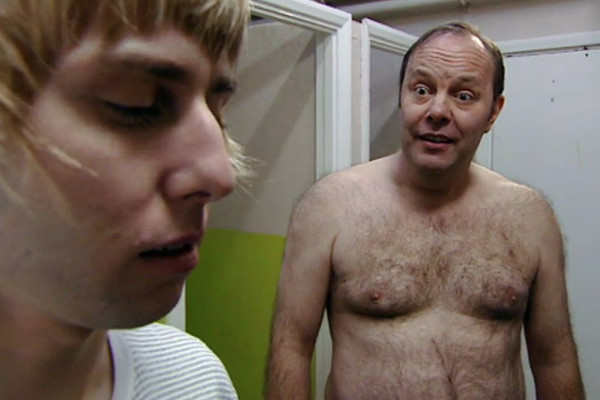 4
Caravan Club (2008)
A real turning point for the series, where everything begins to really click into place. As well as being, simply, a very funny episode, there's also depth added to the characters, providing some low-key pathos. Jay has up to this point been quite a selfish, crass individual, yet Caravan Club introduces his bullying father, making it clear that his pathological lying is borne out of continually being told he's not good enough.
     In some ways The Inbetweeners is a post-The Office kind of show, as are a lot of post-2002 sitcoms, and it can be heard in some of the dialogue here, as well as the early episodes revelling in "cringe comedy". This is also the episode where Neil first does his robot dancing, and it appears to have inspired the opening credits, which surprisingly showcase the character more than the others, featuring more solo Neil footage than any other Inbetweener. The core of The Inbetweeners is the relationship between Will and Simon, with Jay adding the coarse laughs. Neil is very much the fourth character of the group, though viewers tuning in and seeing him dancing all over the green screen title sequence may have been forgiven for thinking his was the central role.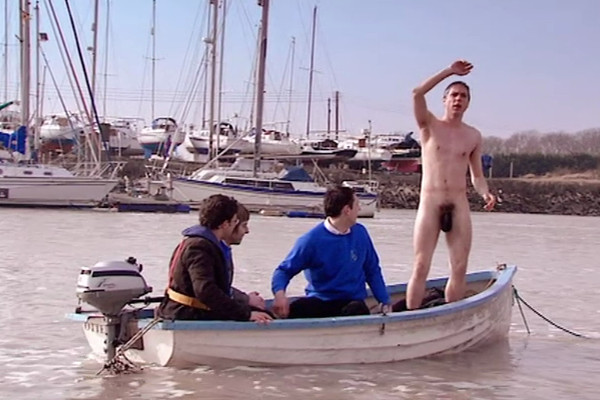 3
The Field Trip (2009)
The opening episode of season two, which sees Ben Palmer (Bo' Selecta!) take over from Gordon Anderson (Suburban Shootout) as series director. Although Anderson's work was fine (and he would work with Joe Thomas again with four episodes of Fresh Meat) the stars seem to feel more comfortable onscreen under Palmer. Possibly it's due to their familiarity with their characters after six episodes were in the can, though one notable change is that the "jump zooms" which Anderson used to punctuate many of the jokes are now removed entirely in favour of more naturalistic filming.
     Season two didn't quite reach 1.3 million viewers and wasn't the hit that the final season was, but word-of-mouth had already elevated the ratings by 275%. The amusing plot sees a proper escalation of events - that the episode ends with Simon naked and Neil punching a fish to death isn't the issue... everything seems to flow sort-of logically from one event to the next, so that it's a farce that can be traced back to a point of reality.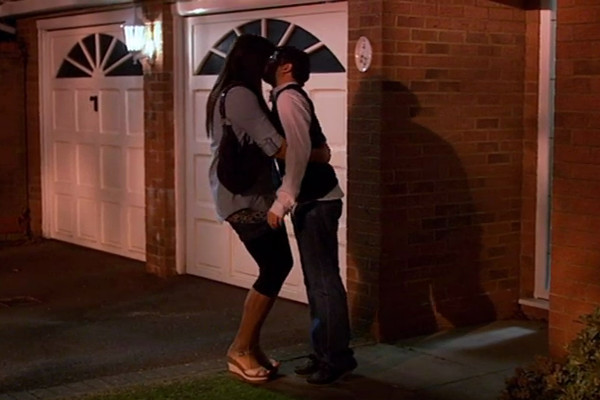 2
Will's Dilemma (2010)
Probably the most anonymous episode of the final season, where it doesn't involve Neil wetting himself, Simon's testicles, vomit kissing or a final goodbye. Fortunately for this episode, it does mean that it rewards more on repeat viewings, where a more low-key plot arrangement sticks in the mind less and so stands up to extra viewings. Sometimes it's the less "showy" episodes that have more to uncover when you get hold of the boxsets.
     There is the feeling that Will is a little out-of-character and cruel in this one, treating potential girlfriend Kerry quite callously just because she's a little taller. While "little" may seem to be overstating it, it's worth remembering that Simon Bird and Joe Thomas are both below 5'7, and so are dwarfed by the 5'11 singer and stage actress Abbey Mordue, making her only television appearance to date. The likeability of Will is severely taxed by his somewhat unkind desire to use Kerry just to get oral sex, but there are genuinely laugh-out-loud moments in this freefalling narrative. And although the "Neil's dad is gay" jokes had been dragged into the ground by the time of the movies, this is a standout episode for the genuinely funny Alex Macqueen as Neil's ever-perturbed father.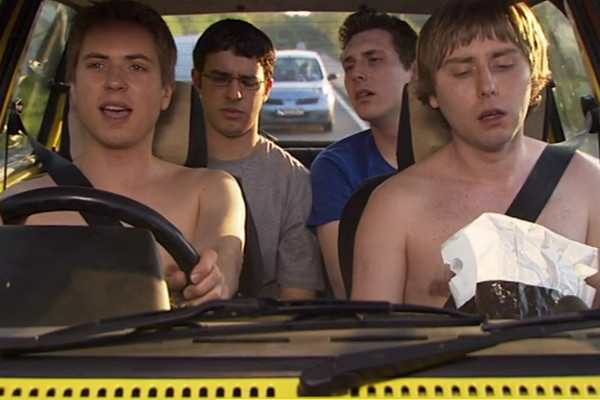 1
The Trip To
Warwick (2010)
No one has ever suggested that The Inbetweeners is sophisticated comedy. While it's often touted as "BAFTA award-winning", it's worth noting that it was nominated six times, and only won The Audience Award, and is also derided by some critics. In an interview with the British Comedy Guide Last of the Summer Wine producer Alan J.W. Bell pointedly singled out the series - and this episode in particular - stating: "I would rather be responsible for a scene where an old man rolls down a hill in a bath, than for a scene where a teenager pisses all over his bed. Give me good, clean humour any day. But it's not so easy to write."
     It is true that The Trip to Warwick, while arguably the most overtly amusing episode of The Inbetweeners, is also the most crass, revelling in the "gross out" humour it's often incorrectly associated with, including, indeed, a teenager (Neil) "pissing all over his bed." Once more it indulges in a subversion of typical sitcom mores, giving us a comic "Dutch housemate" of a university house, but also takes the series to its ultimate level, with all four Inbetweeners royally screwing up whatever lives they had.
     Perhaps the only really irritating thing about this episode is the lack of research involved - despite the name, Warwick University is over 7 miles away from Warwick, and is actually situated in Coventry. Although it's possible that Tara's sister would live in Warwick and commute, she'd be far more likely to live in the nearer Kenilworth (2 miles away) or Coventry itself. Such parochial, London-centric musings also extend towards Will's disdain of Warwick University, his "last choice"... this, despite the fact that when this episode was made and aired, Warwick was ranked in the top six universities in the entire UK.... and still, at date of writing, is ranked in the top 10 of 127 UK universities.
     Such anal fixations are, of course, the bread and butter of The Anorak Zone, a site which would downrate an episode for a misplaced apostrophe. Yet such anal trivia aside, this is a fine episode of a raucous, juvenile yet really quite charming series... just don't tell Alan JW Bell.