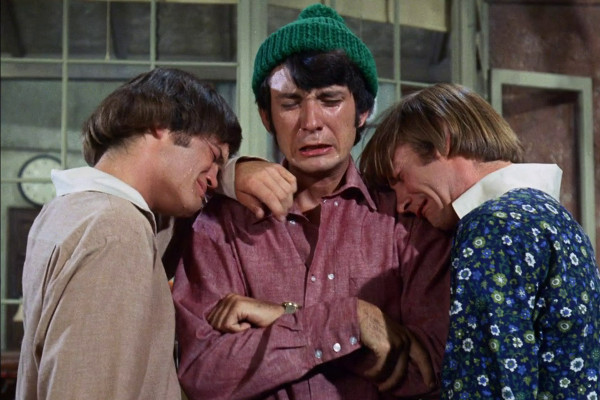 24
Success Story
When Davy's grandfather comes to stay, the other Monkees pretend to be his servants in order to convince the grandfather Davy is a success, so that he doesn't have to go back to England. This is in stark contrast to a tag-on interview at the end where Davy boasts about buying his father a house with all the money he's made on the show. Eventually Davy's grandfather decides that the Monkees are good, well-meaning people - despite effectively lying to him all episode - and leaves him in their care.
      One of the slightly odd things about the Monkees is the occasional moments where Davy will speak American English, such as talking to Mike about "popsicles". Here both Davy and his grandfather talk about how they "wrote" each other, whereas this particular Americanism would always be "wrote to" in England. Another slight oddity is that when Davy thinks he's about to leave the others behind, he genuinely emotes. When he leaves, the other three adopt a very cartoonesque depiction of crying, as pictured, yet the laughter still stops, as if the canned laughter machine still thinks it's sincere.

Songs: "I Wanna Be Free," "Sweet Young Thing"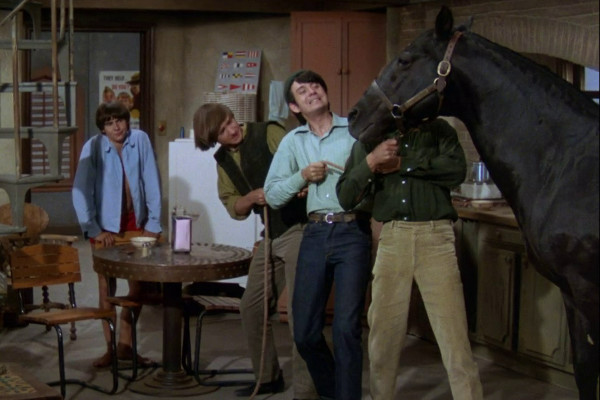 23
Don't Look a
Gift Horse
in the Mouth
Amiable, likeable nonsense as Davy is given a horse, resulting in some freefalling hi-jinks that would amuse the very young. The second half of the episode turns into one of the Monkees' "altruistic" episodes, as they try to help a young child keep the horse by helping out on a farm and then taking part in a race. It's all very light, inconsequential stuff, but it's harmless enough.
     The number of season one episodes where a shirtless Davy plays with small children he doesn't even know can seem a little disconcerting when viewed today, but this is the series viewed through a modern prism, where such things are viewed very differently... particularly in the UK, where there's the realisation that many of the children's programmes of youth had far murkier behind-the-scenes elements than could have been expected.
      Both songs featured are Nesmith compositions, and there's a large role for Henry Corden in one of his four appearances as the Monkees' tyrannical landlord. Although not the original voice of Fred Flintstone, Corden could be heard as his singing voice in 1966, and would take over the role in the 70s when the original voice actor died.

Songs: "Papa Gene's Blues," "All the King's Horses"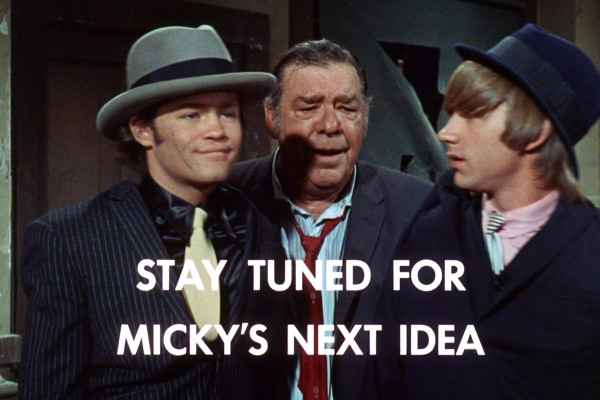 22
Monkees in a
Ghost Town
Where the wilder, less controlled second season had eight SF/fantasy episodes (making it more viable to this site's core audience), the first season had to make do with just four. Despite the title and the presence of Lon Chaney Jr., this isn't one of the supernatural instalments, the "ghost town" being just a deserted western town.
     More loose than many other season one episodes, the songs come before the halfway point, and it's the first filmed to feature action away from the beach house. Shot sixth in mid July 1966, the canned laughter is lower in the mix than elsewhere, and there's a slightly more restrained, realistic (relatively speaking) playing from the guest cast. Lastly, it marks the first appearance of Micky's James Cagney impression, something which would reappear three more times in the programme.

Songs: "Tomorrow's Gonna Be Another Day," "Papa Gene's Blues," "(Theme from) The Monkees"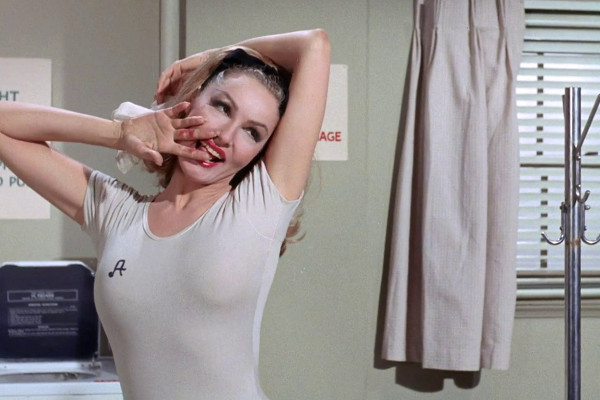 21
Monkees Get Out
More Dirt
Discussion of whether The Monkees was a sexist TV show is somewhat pointless, given that not only is it over fifty years old, and so very much of a different time, but it's also portrayed in innocence. While the far superior feature film HEAD may have had Mike whispering "why don't you come back later when the guys aren't here?" to Terri Garr, the TV series has Davy repeatedly fall "in love", despite the fact that it's clearly a byword for "horny".
      Here all four Monkees fall "in love" with laundromat worker Julie Newmar, who the group try to woo by trickery. Pretending to be involved with various activities (ballet, motorcycles...) in order to attract her, it does have more than a whiff of "the game" about it, and the innocent side finally tips over into something more overt when Newmar kisses Peter and asks what she can do to thank him. "That'll do for a start" comes the reply.
      As a story, it's very slight, though there are some corny jokes in there which can raise a smile, such as Mike's reaction to Newmar working on her doctor's thesis ("Why can't your doctor work on his own thesis?") and the Monkees' decision to divide their home, while brief, contains some level of innovation.

Songs: "(Theme from) The Monkees," "The Girl I Knew Somewhere"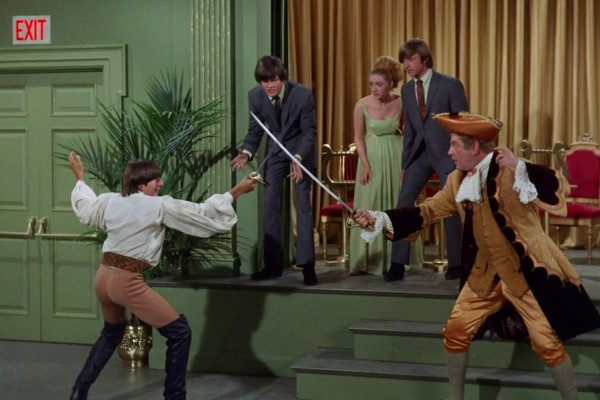 20
Royal Flush
While "Davy falls in love" seemed to be a highly familiar plot device in the series, it surprisingly only drives the main plot of just eight episodes, including the one here. It's a very odd choice for first episode in many ways, as it doesn't do a great job of introducing the four regulars, instead only really developing Davy. Cashing in on his "heart throb" status, it's over 4 minutes in before he's even put a shirt on, though the two songs featured, while good, are both very much "album tracks".
      One of the first four episodes to be filmed, along with Monkee vs. Machine, The Spy Who Came In From The Cool and the Pilot, at least one of which would have been a more striking opener. Despite such detractions, the episode was well-regarded, winning an Emmy Award for "Outstanding Directorial Achievement in Comedy", whereas the entire first season was the winner of "Outstanding Comedy Series". And, despite not being particularly unusual in regards the series' canon, it's a well-made (albeit badly edited in places) piece of television.

Songs: "This Just Doesn't Seem to Be My Day," "Take a Giant Step"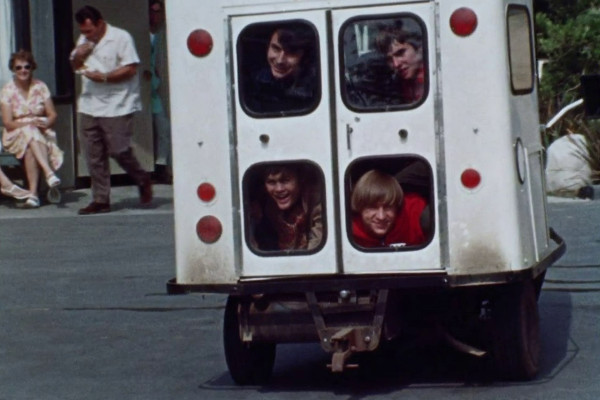 19
I've Got a
Little Song
Here
Although Mike was very much the leader of the group in their onscreen adventures, he was rarely the focal point of the plot. I've Got a Little Song Here sees him get a rare centrestage as he is naively fleeced by a crooked music producer. Although the series was only for fun, and about a fictitious band also called The Monkees (who were, unlike the real thing, unsuccessful and struggling to make money), Nesmith compromises himself somewhat in the set up.
      A talented songwriter who composed "Different Drum" before the show began, Nesmith wrote fifteen Monkees tracks during the 60s, including stand outs such as Sunny Girlfriend, You Just May Be The One, Circle Sky and Listen to the Band. He co-wrote another six, including Sweet Young Thing. Not one of these was the Boyce-Hart composition "Gonna Buy Me a Dog", which is, as the title suggests, very much a dog. The average Mary, Mary, one of the lesser Monkees tracks, is also featured in the episode, and is, ironically, one that Nesmith DID write.
      It's taking it all too seriously to hold it against the episode, a fine one with some decent moments. The Monkeemen make their first of three appearances here, and won't perhaps be of amusement to anyone over the age of six, but Micky Dolenz's James Cagney impression is funny (something I hadn't realised before) because it's so lame, which is kind of the point.
      In April 2017 Mike became the third Monkee to release an autobiography, with Infinite Tuesday. Originally to be called Listen to the Band, it's far longer and more detailed than the other autobiographies from the group, and, while sometimes overwritten, it's a great autobiography. The only thing which may disappoint fans is that it's not a great Monkees autobiography, featuring scant recollections of his time in the band, except to reveal that he didn't really know what he was doing, and wasn't the great musician that he's believed to be. The book is a story of a life, and perhaps fittingly for a man in his 70s, the Monkees feature for the equivalent amount that they featured in his life... which was, in its original incarnation, less than five years.
     There's no mention of Peter leaving the band, or of the various comebacks. There's discussion of how he and a partner came up with an idea for the Monkees to feature in a comedy skit during 1985, but no reference to the band reforming without him the following year, or writing and directing a 1997 Monkees special. The most interesting revelation connected to the group is Mike's admission that the Monkees outselling the Beatles and Stones combined in 1967 was a lie he told to see how the press would handle misinformation (it's been reported as fact ever since), but generally it's light on the group, ending in 2013.
     Consequently there's no reference to how "Birth Of An Accidental Hipster" from Good Times ties in thematically with the book... or, perhaps most disappointingly, there's no reference to Davy's death, which occured in 2012. Written from a very internal perspective, the book is like being inside Mike's mind, seeing and feeling things as he did, and the viewpoint of others is left vague. Ultimately it's a very good book, but if you only want to read about the Monkees, then Mike gives more opinions about Douglas Adams than he does Davy, Micky and Peter combined.

Songs: "Gonna Buy Me a Dog", "Mary, Mary"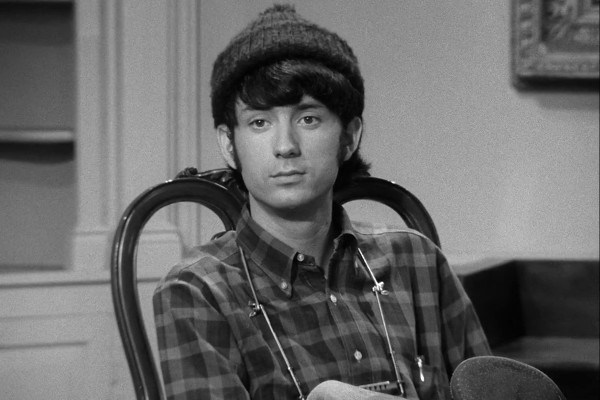 18
Here Come
The Monkees
The pilot episode for the series, which makes it an odd fit when broadcast in amongst the regular run. Sure, the plot is the bog-standard "Davy falls in love" trope, but even small details, like the beach house being a real one, or Mike being known as "wool hat", clash with the standard setting. The key difference though is the humour. While the fantasy sequence hi-jinks ensue, there's a more serious take on events, with the group veering more towards proper acting rather than the extreme mugging that made up their regular performances.
      The pilot was edited for eventual broadcast, where it aired tenth, though differences between the aired pilot and the unaired version are surprisingly superficial. The screen tests of Mike and Davy, introduced at the end by Micky and Peter, are instead placed at the start and introduced by voice over. The three Boyce & Hart songs, including the theme tune, are all sung by the songwriters, the group have a manager and Micky is credited as "Braddock", his stage name used during his time as the lead in Circus Boy.
      In terms of trivia, then look out for an astonishing break of the 180 degree line around 8.5 minutes into the episode... Vanessa, Davy's love interest, speaks to her parents as they play bridge on table. Her mother has to look left to speak to her daughter as she enters the room... before cutting to a close up where her mother is looking right.

Songs: "I Wanna Be Free" (fast and original album versions), "Let's Dance On"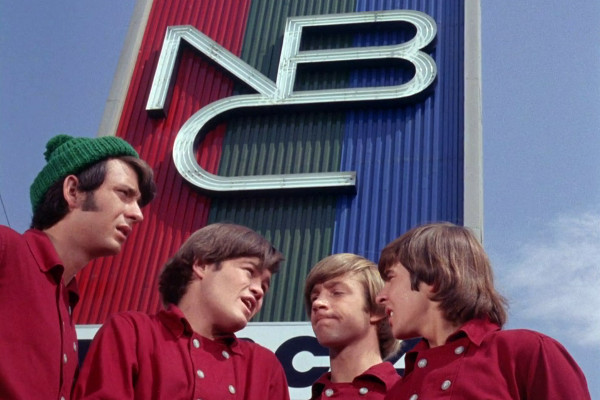 17
Find The Monkees
The most basic of plots sees the Monkees fail to get invited to TV auditions for a new TV show, while, unbeknownest to them, the TV producer behind it has heard their music and wants to track them down. While basic, farcical stuff, there's some fun to be hard with the rival groups vying for stardom (including "The Jolly Green Giants") and there's even more of a meta element than normal, as the fictional Monkees drive to NBC studios to try and get on TV.... in a sitcom airing on NBC.
      The ending sees the longest tag-on interview, as the group discuss at length the recent Sunset Strip curfew riots, which went on to inspire Mike's song Daily Nightly. Surprisingly for a very "safe" episode, it features some countercultural views, such as Micky's insistence that the so-named riots weren't riots at all, but demonstrations.
      Producer Robert Rafelson begins the segment by talking about fight scenes, and asking "you ever get into fights yourselves?", a question which draws conflicted results when reading the varying accounts in the Monkees' autobiographies. Davy Jones's They Made A Monkee Out Of Me (covered in slightly more depth in this site's Season Two Ranking) describes Mike Nesmith threatening "both Micky and Peter on a number of occasions when things got kind of tense around the set."
     Mike's account, while acknowledging the famous "fist through a wall" diplomacy of the Don Kirschner meeting, has him describe himself as a "man of peace" who never hit anyone, but concedes that "Davy and Micky and Peter all fought - verbally and physically. [...] The set would turn into a playground of entitled eight-year-olds at a private school." (Another example of differences of account comes with both Micky and Davy recalling that their weekly salary for appearing in the series was $450... for Mike it was $480 plus a $100 bonus negotiated by his agent).

Songs: "Sweet Young Thing," "Papa Gene's Blues," "Mary, Mary"