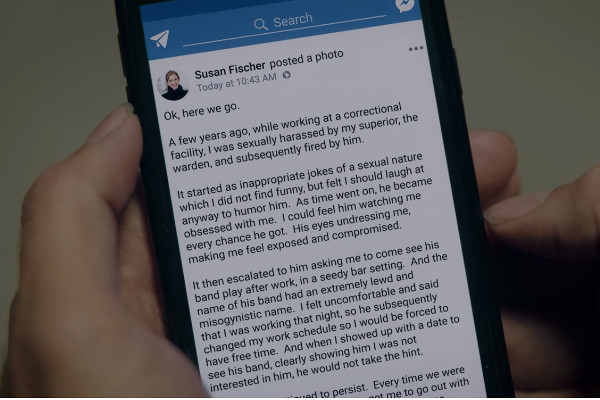 7
Trapped in an
Elevator (7.6)
With Fig and Joe now positioned as central characters and "good guys", one of the oddest storylines sees Fig get pregnant, then have an abortion, then go to adopt. Possibly I missed some details on a binge watch, but the most curious Fig-Joe scene occurs here, with Fig joyfully watching an episode of the UK Love Island. If it seems as out of place as Joe calling them "Brexit voters", then it's all down to creator/writer Jenji Kohan who admitted in an interview with The Guardian that she was a fan.
      Continuity on the series can sometimes be confusing. Elizabeth Rodriguez as Aleida always had the lack of vanity to play mother to an actress who is less than two years younger than she is, but whereas I've always made the assumption that Rodriguez is playing older, that's not the case: she states here that she's "37", which means that Daya is the one playing younger than her actual age. It adds up: a flashback in season five (#5.8) had a 14-year-old Daya and was set around 2005, judging from various cultural references in the episode. While it does mean that Aleida had her first daughter very, very young, it matches what we know about the characters.
      As with the image above, the season's reaction to #MeToo begins right at the end of the episode, with Joe Caputo in the spotlight.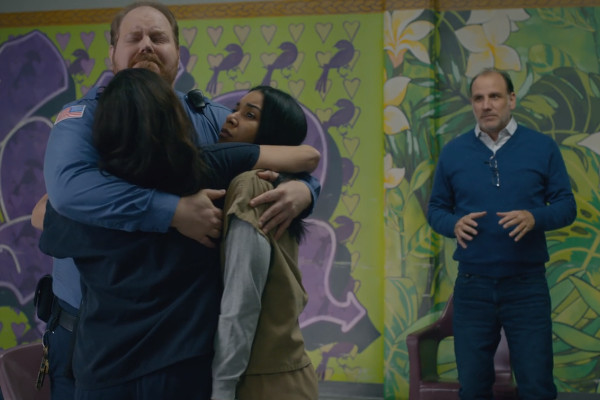 6
The Thirteenth (7.10)
A surprisingly good final season makes its first real misstep here, as a guard talks to Maria about how she made him feel after organising his sexual assault in season five. That this is partly played for laughs is a jarring contrast to Joe finally coming to terms with his past actions, and resolving them in one of two awkward dinner dates in the episode.
      Still, it's a decent instalment, as they all are, and we discover that the increasingly vulnerable Red has dementia. For long-term fans, we even get an answer to the whereabouts of the mysterious chicken from way back in season one.
5
The Big
House (7.12)
As possibly mentioned elsewhere in these articles, one distracting convention of US television is the way in which most of the key credits get placed at the start of programmes. Just as the X-Files episode Wetwired contained no genuine astonishment over the "surprise" appearance of Mr. X when Steven Williams's credit had already been onscreen, so too there's no real shock that we get another Poussey flashback when "guest starring Samira Wiley" has already been prominently on the screen.
      But away from such anal criticisms (I am The Anorak, after all) this is another strong episode, climaxing with the death of Doggett. Originally something of a cartoon cut out as Piper's nemesis, she evolved over the course of the series to become one of the most layered and sympathetic characters. That her ending wasn't a happy one is a great shame, though follows in the bleak traditions of OITNB at its best.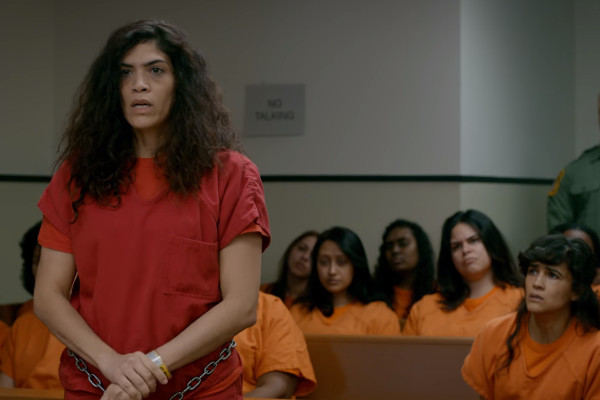 4
God Bless
America (7.11)
Despite my personal take over some of these articles that it's "not as good as it used to be", the show is still very popular, being Netflix's most-watched original show. Netflix don't release exact figures, but it's said this last season had over 72 million viewers in its first week of release, on a format where the series can be watched in a very different way to traditional television.
      The publicity for OITNB can be a little off-putting at times, as it does rely on self praise, as does most publicity, to be fair. Most of the talk around the series during its final run was how groundbreaking it was, as one of the first series to give the world a binge-watch experience. How true this is is open to question, but in a period where a fair number of Netflix shows get binge-watched here at Anorak Towers - Russian Doll, Bojack Horseman, Jessica Jones and more - then it's startling to remember what a long time six years has been in the development of the company.
      This particular episode has a cameo from Sophia, where they once again show they haven't got an idea what to do with her, but much better are the parallels with real-world politics, where the detainment of refugees goes from "tell" into "show". Having characters talk about what's happening in the real world isn't drama... but having them experience it is.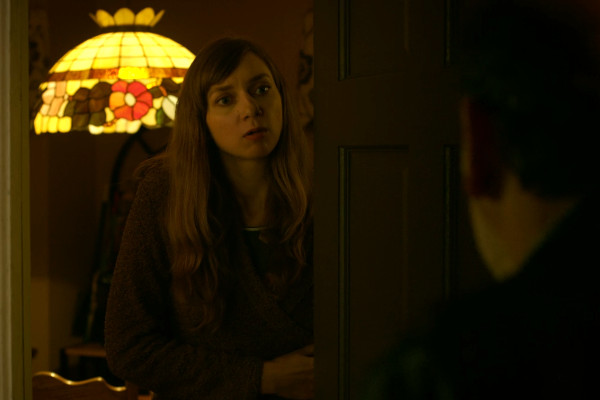 3
Me as Well (7.7)
One particularly commendable element of the final season is the sense that the writers realised how far it had gone off the rails, and wanting to "right some wrongs". Gone, as mentioned, is the painfully forced "komedy", at least for the most part, and there's a sense of trying to consolidate some questionable elements of past seasons with the world today.
      The exploitative nudity of previous seasons has been toned right down (this being one of just two season seven episodes where we see, however briefly, bare boobs), and here the disconnect between the perverted Joe Caputo of the early series and the "Saint Joe" of latter ones is finally addressed. Here Joe, called out by season two's officer Susan Fischer, has to confront his past.
      Whether the series is successful in marrying the two, or even taking #MeToo entirely seriously, is open to question. But the series at least tried to make these jarring plot strands fit together, and for that it must be commended. It even adds a coda, of sorts, to the story of Fischer translating Spanish calls in season two, and Fig talks about how Joe blackmailed her into giving him a blowjob.
      As related in the ranking of season two, actress Alysia Reiner said that she "couldn't find it very funny", and although Joe passes it off as "consensual blackmail", it's nice that the series tries to make amends with its own morally ambiguous past. There is a feel of "fan service" in this season, but it's good fan service, and Joe meeting up with Sam and Fischer provides two of the most rewarding scenes.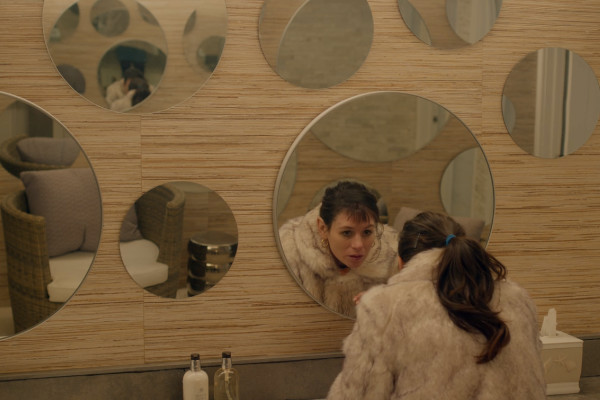 2
The Hidey
Hole (7.9)
While OINTB makes some nice points about the human condition, it can sometimes feel a bit like a pamphlet with the "issue of the week" printed on it. Nicki having a girlfriend who was the victim of FGM seems like one more extra piece of social commentary crowbarred into the narrative, with the greatest of respect for the cause. Similarly, Piper does have a habit of verbalising not only her own psychological motives but those around her, almost to the point that she's speaking everyone else's characterisation.
      But away from this, there's some of the best OITNB stories in years. While the flashbacks have become largely redundant, a flashback with Morello tells us the real story of why she developed psychological issues. While perhaps a little contrived, the telling is fractured, so that not only is it a flashback, it's a flashback that takes place out of sequence. And as this is Morello, it's told with a little more of a surreal bent than usual, with the viewer going directly back into her mind, and a soundtrack that permeates the experience, all directed by Natasha Lyonne. If nothing else, this episode is the only one to feature a closing song written by Mike Nesmith.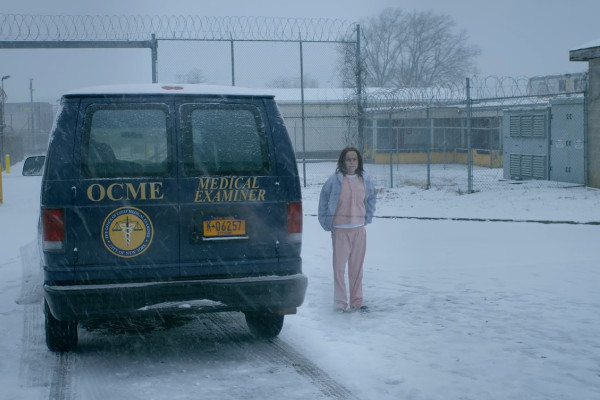 1
Here's Where
We Get Off (7.13)
Is the final, 89 minute episode of Orange Is The New Black indulgent? Sure. But, for the first time in a long time, the series has earned it. A bow out where we get to find out Suzanne can carry a note when she's not slapping her head, the return of the egg plant joke, and all of the old favourites have guest appearances... Big Boo, Chang, Norma... even Pornstache gets a "can you recognise him?" cameo.
      For a show that's frequently excelled in its use of music then we also get lots of striking musical choices in this final episode: an alternate "chamber" take of Regina Spektor's theme tune is used, while Taryn Manning, who appears as Doggett's ghost, gets an acapella version of her song "Chains". The whole thing is signed off by Danielle Brooks (Taystee) who sings her song "Seasons" while the credits play out to the cast, as themselves, waving bye to the viewers. Yes, it's self-congratulatory, but when the series is as good as this, it deserves to give itself a pat on the back. Thanks for the memories, folks.