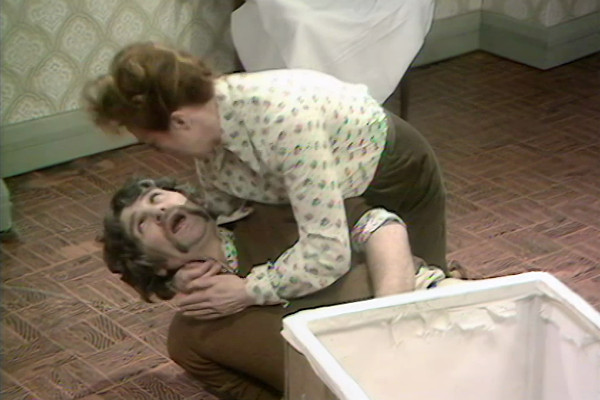 14
Episode 2.2
The first episode to feature Jonathan Cohen with incidental music, as opposed to the stock soundtrack of the first six episodes. Cohen gets a work out here, as the ghosts setting up a taxi/furniture delivery service means there's lots of montage footage.
      It's also the first episode to introduce Ann Emery as Harold's wife, Ethel. However, the Ethel seen here is not quite the same as the ear-splitting, OTT cartoon that blighted the programme in the '80s. 1980s Rentaghost is hard to hate, as it still has something, and, even if the viewers aren't enjoying themselves, the cast clearly are, and it's hard to begrudge them. Ann Emery loved appearing in the programme, saying on The One Show back in 2010 that it was her favourite children's programme and that "it was instantly magic, you know. I think that's what caught the childrens' imagination [...] we had a wonderful time."
      Ethel's introduction does add a more human dimension to Harold Meaker, a character who up until this point had been a bit of a dodgy landlord, owning multiple properties. Here we finally get to see Edward Brayshaw given more opportunities to use his comic timing, as he asks Ethel not to put a picture of her mother in with their budgie, as "he's got a weak heart".
      However, a sign that the Meakers are still not quite over-familiar in the programme is that both of them are credited as "Mr./Mrs. Meaker" in the end credits. It wouldn't be until series four that Emery would be credited as "Ethel Meaker" in the end titles, and Edward Brayshaw would have to wait until series six before he got to be listed as "Harold Meaker".
      Speaking of trivia, then Fred says to Mr. Meaker that he's been dead "nearly a year", which would put events around 5-6 months on from the first series, though two episodes later he would tell Mr. Claypole he's just been a ghost for "nine months".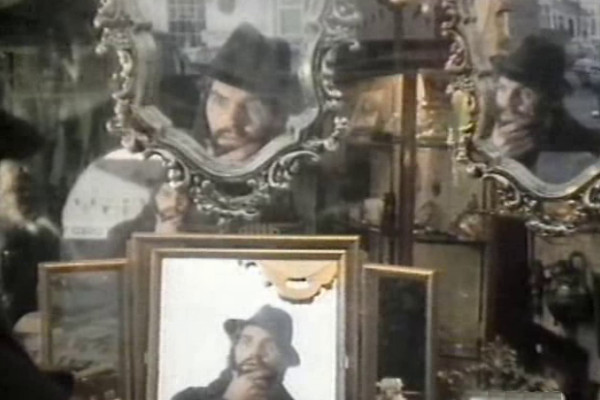 13
Episode 3.5
Catastrophe Kate returns for a visit, and brings with her foreshadowing of two future events. There's the horror of her broomstick making the same stock horse noise that would later be used for Dobbin, then there's her leaving in the astral lift to visit "this witch [...] she's a right kindly old battleaxe, and a dab hand at making potions for growing things". McWitch wouldn't actually appear until the following year, but it clearly illustrates that Bob Block must have had her in mind. (As trivia, then Claypole says that the unseen McWitch has "stronger psychic powers than mine").
      One thing about Catastrophe Kate is that, while it seems unlikely the snobbish Hubert would like her, it has to be remembered that they were contemporaries, albeit from very different worlds... Kate was alive until c. 1877, during which time, a continent away, Hubert would have been in his 36th year on Earth. If we assume that Kate's chronological age is the same age as the actress who played her, then she would have been 31 when she died, just five years Mr. Davenport's junior... even though, as with his mother, he lived on longer to widen the gap between them.
      Although any episode with Catastrophe Kate is fundamentally quite childish, there are some decent gags here and there which may go over the heads of the child audience. When Mr. Davenport goes to say the term "opposite sex", he stops at the word "opposite". Cued by Mr. Claypole as to what he was going to say, Hubert responds "that is something we Victorians never mention". (Actually lifted from an episode of Roberts Robots, to be strictly accurate, but it works far better here). Another potentially racier joke is Harold with a rapidly growing beard, tucking all the exposed hairs into his pants, much to the disgust of a lady at the bus stop. (It's surely a coincidence that a billboard ad for Cornflakes behind them features a schoolboy putting on a jumper, which dangles down like a long black beard).
      Although the idea of a hair-growing epidemic does bring to mind, somewhat, the 1971 Goodies episode "Pollution", or maybe the Pardon My Genie episode "Genie with the Long Brown Hair", it works well enough, even if the idea of a witch with potions is more fantastical than ghostly. Lastly, this is also the first episode where Fred's dad shows some affection and rapport with his son, rather than outright hostility and dismissal.
     A Rentaghost novel was released by Bob Block the year after the fourth series aired, a production rate which perhaps explains why all of the adapted episodes were from the first three years of the programme. A short novel at just 25,729 words (yes, with no kindle version I was anal enough to manually count the paperback - why do you think this place is called the Anorak Zone?) and costing 75p, or just under £4 in today's money, it adapted two episodes from each of the first three years, including, naturally enough, the very first episode.
      While continuity is played with, there are very few abject changes. We learn that Fred tried frightening wild animals in the jungle before the first episode, which seems a little cruel, and also that one applicant to join Rentaghost was a headless man who couldn't keep his head on. In terms of the regulars, then an opening write-up, presumably by Block, sees Claypole described as coming from the 13th century, while the first chapter has Fred refer to him as coming from the 14th. Both of these might seem a little strange, as dialogue in the eighth series clearly states that Mr. Claypole was born in the 12th century... while we don't have to assume that events in the book are canonical, it does raise the question as to whether Bob Block had different ideas for the character, given that this was published over four years before series eight.
      However, the reason for its inclusion here is that occasionally some situations had to be streamlined in order to fit into a small word count, meaning this episode saw the most fundamental changes when adapted. Introducing a new ghost character would have been too much in a 13-page, 4,332-word chapter, and so Catastrophe Kate is excised completely, and the potions seen in the episode are described as being Mr. Claypole's.
      15 of the 1980s episodes were novelised in three further books, all adapted by Hugh Morgan, but with Block's name still on the front. Rentaghost Unlimited (1982) featured two episodes from series 5 and three from series 6, with Tamara Novek's character changed to Nadia Popov throughout (admittedly not much of a stretch), while Rentaghost Enterprises (1983) contained adaptations of four series 7 stories, and one from series 8. Finally, Rentaghost Rules (1985) adapted the whole of series nine, the only series to be completely novelised, and also the only book to have the stories presented in order of transmission.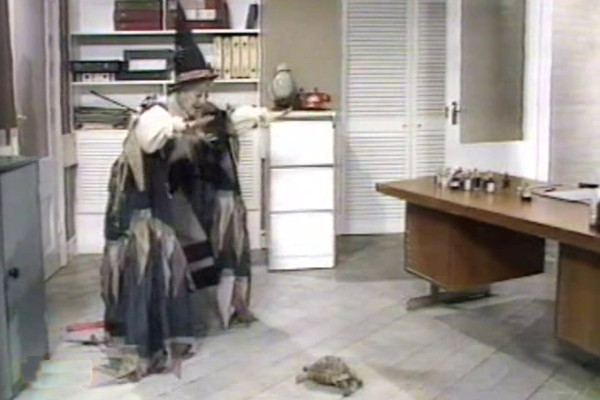 12
Episode 4.1
The first appearance of Molly Weir as Hazel McWitch, here as a guest character - and, for purists, credited as "Hazel the Macwitch" in this and episode 4.4. It's not quite known why Catastrophe Kate never came back in series five, but when McWitch did, she was not only credited with the more familiar spelling of her name, but went on to appear in all but four of the remaining episodes.
      To most readers of this site, Molly Weir is probably only known as McWitch, or, on occasion, Super Gran... a series in which she didn't appear, but for some reason corners of the internet insist she starred; heads doubtless exploding at the concept of two elderly Scottish ladies on television in the same era. (The actual Super Gran, Gudrun Ure, was, to an extent, "doing a Clive Dunn", as she hadn't even reached her sixtieth birthday when filming began on the show).
     It's not even that most of her work was of another age (although it was), it was more that it would fall outside the scope of interest for a lot of fans of cult TV. While she may have been seen in Flash adverts, or parts in Carry On Regardless or The Enchanted Castle, her main claim to fame was the radio-cum-television sitcom Life With The Lyons. Very much a sitcom of another age, it has its charms, but a Venn Diagram illustrating the crossover appeal between a 1950s MOR radio sitcom and Rentaghost is perhaps likely to heed little results, even though Bob Block did write some episodes.
      It's also perhaps not widely known how prolific Weir was as an author, writing multiple memoirs, childhood accounts and even a recipe book. While many of these understandably focus on her pre-Rentaghost days (she'd been in showbusiness for over thirty years before donning her cowl) she does speak very fondly of the series in the seventh volume, Spinning Like A Peerie, noting that "It would take another book to describe the fun and the jokes we enjoy making Rentaghost."
      Actually written while the series was still being made and published in 1983, Weir cites "eight million viewers" for the programme, and talks about being reduced to hysterics by a scene in this episode, where a tortoise hid in its shell when she attempted to "cast a spell" on it: "the unexpected reaction made me dissolve in helpless giggles. We had to re-shoot that!"
      Just 4'10 in height, Weir's energy is phenomenal, as, while the exact recording dates of the series aren't known, she would have been around 68 when she first appeared on the show - when it finally ended, she was running out of cellars covered in soot at the age of 74. She lived on for twenty years after the series ended, dying in 2004 at the age of 94, having reputedly amassed a £1.9m fortune, which she donated to charity in her will.
      The highest-ranked McWitch episode, she does begin a worrying trend when she causes Claypole to break the fourth wall and speak to the viewers... a rarity here, but by the time of series nine it was rare to find a scene where they didn't look into camera. Weir's energy and pace are praiseworthy, and her heated rivalry with Mr. Claypole works well, but when she became a regular the vaguely malevolent side of her nature was virtually removed.
      Weir also admitted that she suggested McWitch's silver facepaint look, inspired by Blithe Spirit, which does make her more of a "fantasy" character than a ghostly one. While the series did get sillier and far less dignified, it must be admitted that it was, on some level, still pretty funny at times, or even, in a very infantile way, even funnier. That level of "it's not quite worthy of the same respect, but it did raise a smile" humour comes with a scene featuring Harold having drunk a potion to make him act like a 10-year-old. With Brayshaw, as ever, giving it everything, he also gets most of the best lines, such as writing down the names of potions after seeing their effects on his wife. When Ethel picks up a mirror and admires how beautiful she is, Harold picks up the bottle and writes on the label "bad eyesight".


11
Episode 1.4
With episode four we get to the start of a huge continuity problem: Harold and his (as yet unseen) wife having a baby called Nigel. Despite Harold insisting that "we've got great plans for his future", XTC-style, Nigel was never seen again, and, although referred to four times during series 2-3, he's never mentioned after episode 3.6, leading one to wonder what happened to him throughout the whole of the 1980s. (Later series would also see the Meakers have/not have an unseen dog as a pet) Though this is a very different period of Rentaghost, with Meaker still in "aggressive cockney" mode, and not the broader London twang and put-upon foil he later became.
      Continuing a theme from episode three, Mr. Claypole is still identified as having entered an "occult phase", where his mischievous side has become dominant. There is the suggestion that it increases his powers, too, as he's able to perform a number of tricks, including making a dog grow to giant proportions, but these seem more like temporary pranks rather than the full-blown Genie powers he gained in later years.
     One of the racier gags for the series sees the "fish out of water" humour of Davenport and Claypole extended towards wondering what a bra is. Yet despite sometimes racy humour for a kids' show of the age, this is generally the most childish of the more sophisticated first series, with Fred Mumford written as purely shouty throughout. Though it is nice, for the first time, to see Mr. Claypole's sense of pettiness and him getting one up on Fred at the end.
     In terms of trivia, then we learn that Hubert comes from a family of six... he had brothers Albert and Marmaduke, along with sisters Charlotte, Imogen and Victoria, "and also the triplets". It's unclear whether these "triplets" are Hubert's own children or not, though in Episode 2.1 he tells Mr. Claypole that he "hasn't got a baby" after a Kojak impersonation is misunderstood. Either way, the idea of a children's programme referring to three dead infants is a pretty dark one. Lastly, a credit for incidental music wouldn't arrive until series two, as discussed in entry 14. So for series one, and the first episode of series two, TV library music is used. In particular, an incidental theme familiar to viewers of The Prisoner is used in the last three episodes of this first series, getting multiple plays here.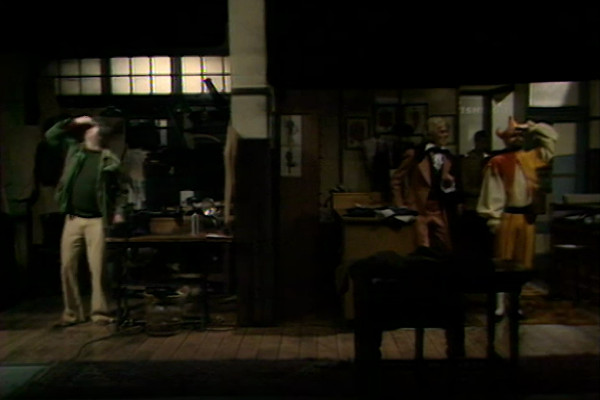 10
Episode 2.1
Rentaghost returned to screens for its second series just 3-and-a-half months after the first ended. The difference was that original producer Paul Ciani had moved on to another assignment within the BBC, so Jeremy Swan was given the role. In terms of ways the show could be said to have improved, depending on taste, then the familiar teleportation sound effect is introduced here, as opposed to a "pop" one in the first series, and the sets, while still pretty cheap BBC efforts, are a step up. As great as the first series is, it never particularly convinces that any of the single-coloured flats are real places, and the familiar Rentaghost office, seen here for the first time, is met by Fred with a "this new one's a real improvement".
      There's also the introduction of divergent plots; whereas most of series one had generally singular narratives, series two often has two divergent plots which tie together neatly at the end. Of course, this isn't necessarily Jeremy Swan's doing, as it was Bob Block doing the writing, and series one was setting up the situation, so it's not as if Block was writing his scripts specifically for Jeremy Swan. In fact, he was writing a lot of them for Daphne Shadwell, when they were still called Pardon My Genie.
      Yet while Swan may have made the odd refinement, and all of the pre-Dobbin era is generally fine, it must be acknowledged that he oversaw an increasing decline in the quality of the series. What's more, Swan was quite open about how he regarded the programme as very much just a children's show, commenting in BBC4's 2007 series Children's TV on Trial that "I didn't encourage too much acting in Rentaghost [...] I used to like that, that it was loud and sort of pantomime performances, which they were all more than capable of giving."
      It's also notable that the more "macabre" moments of the first series are downplayed... Claypole and Davenport are now out of greyface, and Mama Davenport no longer appears talking about dead infants. In fact, other than being referenced by Hubert in episode 3.6, Mama Davenport is never heard of again. Yet this is a pretty good continuation of the first series, with the ghosts investigating a suspected robbery. There's still the odd issue with the logic of the premise - Fred tells Hubert not to appear through a wall so the client doesn't see, despite the fact there's a massive sign saying "Rentaghost" on the wall - but it gets by with some fun moments.
      In terms of trivia, then this is the first time Mr. Claypole is seen reading a comic. However, unlike later years where he would be wilfully reading The Beano, the copy of Whoopee he reads here is just to disguise himself while undercover as a private eye. Lastly, there's an interesting directorial choice where a shot is filmed through where a partition wall should be, as seen in the screenshot above.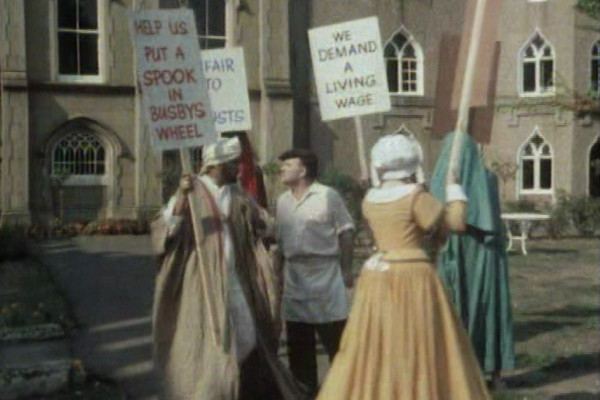 9
Episode 1.5
Television having high production values isn't a necessary requirement - if it was, half the shows on this site would be omitted. But while kids of the '70s grew up with their suspensions of disbelief having to work overtime, it's always a nice bonus if the effort was put in. The superb Catweazle, which ended less than five years before Rentaghost, was shot entirely on film, with care, and stands up today maybe even better than it did at the time.
      Rentaghost, on the other hand, is a different proposition. The bits shot on location at a large stately home still stand up really well, but the interiors recorded on video in a cheap BBC set fare far worse. This wouldn't normally be such a distraction, but there's a sequence with Fred as a "headless ghost", where there's been almost zero attempt to disguise the fact that he's clearly got a stocking over his head. Even the smallest child would fail to be convinced as the "headless" Fred bends down to pick up his "head", the side view clearly showing his stockinged profile under the armour. It's sloppily shot, and a really bad start to the episode.
      However, things pick up when Fred gets in touch with his dead uncle, a militant trade unionist who gets the ghosts to organise strike action. While the notion of unions and strikes were quite common sitcom fodder of the time, they weren't necessarily sitcom content in children's programmes. (Although Bob Block had already used the concept of a striking union in the seventh episode of Roberts Robots).
     Yet while it's pleasing that Rentaghost had a level of sophistication to make real-life political parallels, it's only relative compared to most of what followed; it's still a pretty silly episode in its own right, just with a few half-hearted political trimmings. A decent episode, but, sadly, not one that stands up as well as you may remember. If nothing else, it's tempting to feel sorry for the rival "poltergeist", an Indian snakecharmer ghost who gets a lot of the action, but, without any lines, doesn't get a credit. (It's still such a strong instalment that it comfortably fits in the top ten here, but I was expecting it to land in the top three.)
      Trivia, and it seems that Hubert started off the current social media trend of wishing a happy "birthday" (as opposed to anniversary of their birth) to the deceased. Here it's his 135th birthday, which does tie in with the discussion in previous episodes that he died aged 47 and his death was 88 years before the series began.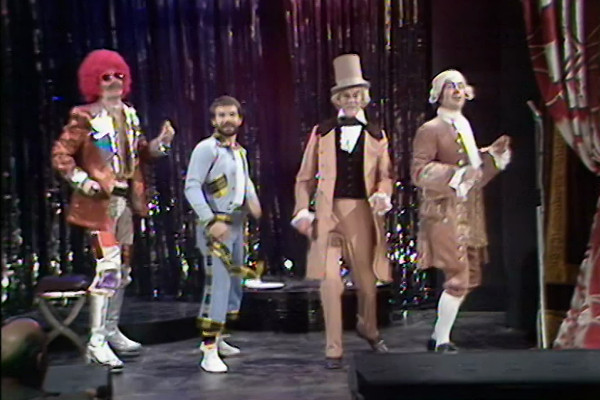 8
Episode 2.3
The 1970s series of Rentaghost had a real bonus in that there'd be a form of vague progression. Not just stuck in the same holding pattern of yelling that made up most of the '80s run, we instead get to see the business develop, and characters get to know one another. This is continued here, with an episode that effectively distorts the key focus of the series: Harold Meaker becomes the manager of Rentaghost for a 10% fee, rather than evicting them for non-payment of rent.
     The core drive of the programme had been Fred's desire to achieve self-respect, but eight episodes in and he's already failed and had to compromise. The promotion of Harold Meaker to the status of a regular is also a questionable decision. While Edward Brayshaw inevitably went down the same route of OTT acting as the rest of the cast, he's a naturally gifted comic performer, and some of the funniest moments in the entire series occur because of him. Brayshaw may be a huge favourite here, but it does, nevertheless, dilute the core concept somewhat, even if it briefly adds more humour. A debate for Rentaghost purists, perhaps.
     For trivia, then this is the first appearance of the astral lift, after younger ghosts lobbied for more "modern amenities". It's also the first episode to feature some musical numbers, as the ghosts rehearse for quite an entertaining pop concert.