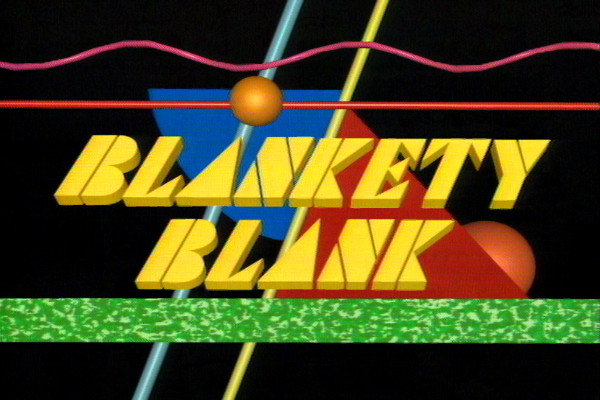 The 22 episodes ran until February 1988, and saw a rejuvenated Les having some childish fun with the show. Please join me as we look behind the scenes and rate the series from worst to best...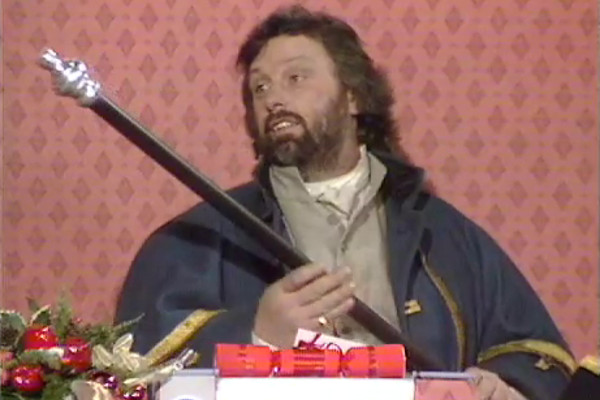 22
Christmas Special
Guest Panellists (in panel order): Roy Hudd, Lynda Baron, Geoff Capes, Lorraine Chase, Joe Brown and Wendy Richard.

All of series 11 is solidly amusing entertainment, rendering a "worst to best" somewhat redundant in this case. There are naturally some episodes where Les is more on autopilot than others, or editions where he has an extra sheen on his gags, but generally they're all strong examples of a light entertainment quiz.
      This Christmas Special is the nearest the run comes to being just mediocre, and some reasons why the festive specials don't work as well for Les have been referenced in other articles. Up to this point his Christmas Specials have averaged at 13th place in the rankings, as opposed to the 2nd place for Terry Wogan's. With Terry just a host with the odd funny line, the pretence of Blankety Blank being an actual quiz show was greater, so having an "end of term party" was fitting. With Les it's just a regular episode with a bit more tinsel thrown at it. (Or, in this case, the characters of Dickens.) There's also the blatant plugging of pantomimes for the panellists, something with seems at odds with the BBC's advertising rules.
      This Boxing Day special received the highest audience for the 11th series (albeit not the highest chart placing) ranking at 25th place with 11.6 million viewers. Not only was it the highest viewing figure for Series 11, it would be a figure unmatched by the final two series of the original run. What makes this episode just scrape past average is a moment where Geoff Capes (dressed as Mr. Bumble from Oliver Twist) threatens Les with his staff, only for Les to say in a fey voice: "Not again, Geoff!" The notion that Les would host a family show in a 5:20pm timeslot and make a blatant allusion to over 11 million people that Geoff Capes has sodomised him with a makeshift dildo is quite something to behold.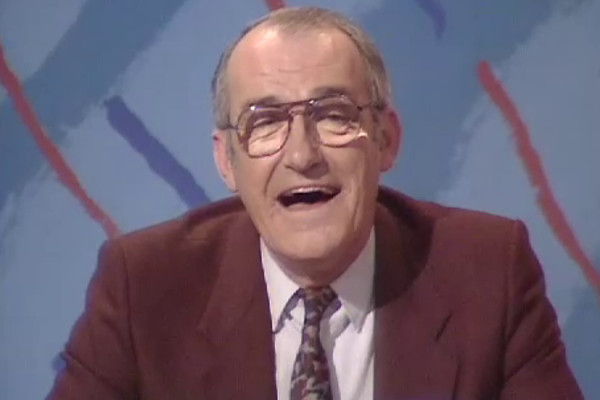 21
Episode Three
Guest Panellists: John Junkin, Rustie Lee, Jim Bowen, Linda Lusardi, Paul Shane and Linda Davidson.

The only episode to feature Linda Davidson and comedian-turned-quiz show host Peter Williams. Davidson was most well-known as Mary from EastEnders, while Williams was more known under his stage name Jim Bowen.
      "Jim" had risen to fame in The Comedians, but is probably most loved for his part as the faintly inept host of Bullseye, a darts-based quiz that was, in Jim's own words, "crap". The show had charm, and perhaps the most memorable anecdote was given by Jim on The James Whale Radio Show in 1991, where he recounted how his almost habitual use of the term "smashing" was said without thinking to a contestant who told Jim he was unemployed.
      Despite the title of the programme, the "Radio Show" was also broadcast live on TV, with Jim being asked what the contestant's response was. Although way past the watershed, Jim thought they were on a commercial break and revealed that the contestant had called him the C-word. Jim would ring up the show the following week to apologise after his wife had told him off and the incident had made tabloid headlines.
      Bullseye was a massive, inexplicable hit, the "rough" nature of the show perhaps its appeal, as with the later Countdown or, perhaps, Blankety Blank itself. Two days after this episode aired, an episode of Bullseye was 11th in the ratings with 11.2 million tuning in - exactly three million more than this show.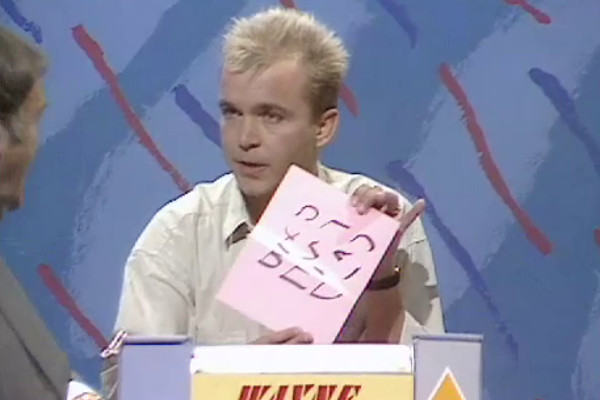 20
Episode Nineteen
Guest Panellists: Freddie Trueman, Floella Benjamin, Wayne Dobson, Suzanne Dando, Arthur English and Aimi MacDonald.

There's a wide variety on the panel with this edition. Actor Arthur English was enjoying something of a career renaissance with his role as "Arthur", a recurring character in the Alf Garnett revival sitcom In Sickness and in Health. It might be forgotten just how big a hit the revival was, a massive success for the BBC that averaged at fifth place in the charts during its 1985 comeback. By 1987 the ratings had dipped a little, but were still very strong, and the show only died off in 1990 when the station decided it was a Saturday night show. (It wasn't.)
      Then there's magician Wayne Dobson from Search For A Star, one of a number of comic magicians with blonde highlights that were around at the time. Dobson is amiable enough, but doesn't really bring anything new to the table, doing a "written the answer in Chinese" skit that Paul Daniels had done back in 1980, and a "squeaky voice projection" routine that David Copperfield (the one from Yorkshire) had as part of his act for some time.
     This episode ranks fairly low down, though, like all of the eleventh series, it's well above average entertainment. It must also be factored in the personal experience of reviewing these episodes, too - it's perhaps only natural that over the course of 22 episodes of essentially the same thing, the show will gradually begin to change from genuine enjoyment/half insane obsession to becoming a chore. it is, after all, just a throwaway daft quiz and not really something to be dissected and analysed to death years later. Oh, hang on...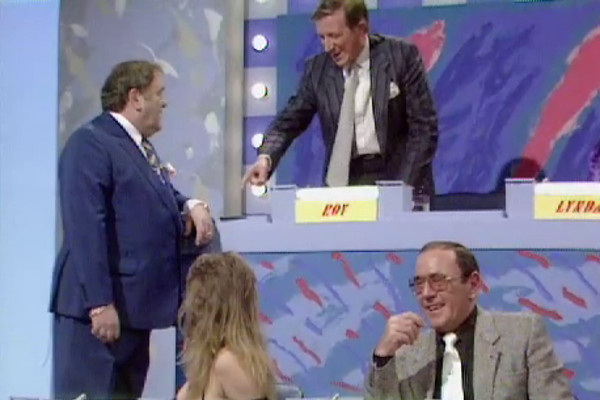 19
Episode One
Guest Panellists: Roy Castle, Lynda Baron, John Conteh, Linda Nolan, Mike Reid and Lena Zavaroni.

This run doesn't have as many autobiography quotes attached to it as usual, which is perhaps just due to the people involved. However, there is a somewhat bleak reference to Les from this edition's Roy Castle, who regretted having to miss Les's funeral because he was undergoing treatment for cancer. In 1994's Now and Then: An Autobiography, Roy wrote: "During this drip period I had to miss Les Dawson's memorial service at Westminster Abbey, which saddened me as I had worked with Les many times and considered him a mate."
     Roy's presence on the panel does produce one of the worst moments, a horribly contrived piece of humour where Roy plays instruments that Les takes off him and stamps on, before Roy tricks him by giving him a box with - so he claims - a Blankety Blank chequebook and pen inside. The quiz's strength has always been spontaneity, or at least the illusion of it - having pre-planned gags isn't really something the show should go in for.
      There is perhaps a dark undertone overall to this one, as Roy, making his only appearance on the show, is joined by another "one time only" panellist: Lena Zavaroni. Zavaroni was a child star from Opportunity Knocks, who suffered from anorexia and depression for most of her life. Twelve years after this episode was broadcast, she underwent neurosurgery to treat her conditions, ultimately contracting a chest infection and dying from bronchial pneumonia, aged just 35.
      There were actually 22 panellists who appeared just once in the eleventh series, along with four others (Jean Fergusson, Anne Robinson, Bill Owen and June Brown) who only appeared once in the original version of the show, but came back for the Lily Savage revival version. Yet in amongst the trivia, perhaps the strangest part of this series is that Les no longer kisses the female contestants, except on the hand.
     It's probably a good thing, as series ten saw Les getting so extreme he was almost stopping just short of slipping the tongue in, but it's odd that there's no onscreen explanation given for this sudden turn of events. There are six episodes where he goes for a kiss on the cheek, largely as goodbyes rather than "hellos", but only one where he seems to forget himself and goes for a kiss on the lips.
      While Les might control himself with his greetings, he makes the most of leering at a Linda Nolan with an extremely low-cut dress. Finally, the most surprising panellist may be John Conteh, a former light-heavyweight boxer. Conteh made a good living on the after-dinner speech circuit and was widely known as a joker - yet barely says a word for the entire show.