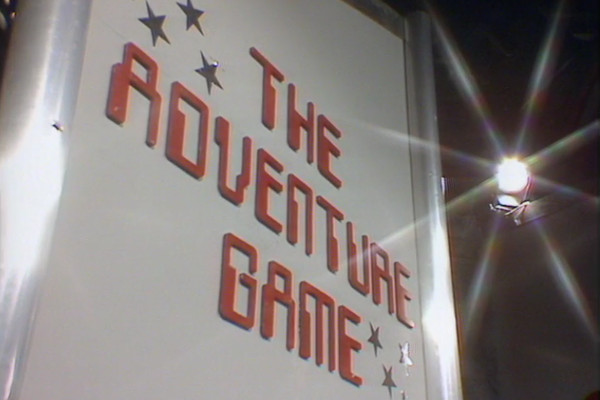 by
THE ANORAK
SEPTEMBER 2017

A DVD boxset of the entire series is now available to buy from Amazon. The final season is probably the most familiar to viewers, as it was repeated three times on the digital channel "Challenge" during the early 2000s. Please join me as I rank the episodes from worst to best...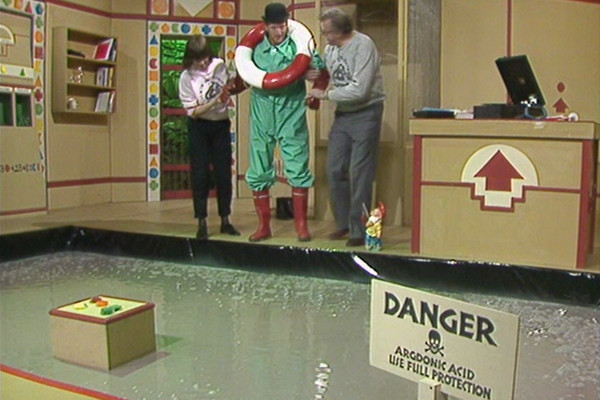 6
Episode One
Season four is, sadly, the point at which a lot of the indefinable "magic" of the show had expired. Why this is, is hard to pin down. It perhaps owes a lot to the fact that the programme's initial backstory featured the contestants as time travellers, stranded on Arg to deter visitors, and needing to compete in puzzles in order to get back the crystals that powered their ship. This was slightly diluted in later seasons, such as season three, where the series became "a programme within a programme" on "Arg-O-Vision", but the element of, for want of a better word, "danger", was still there.
     Season four, in contrast, makes no pains to disguise its fundamental nature of a kid's show for kids. The sets are brightly lit, games are presented as almost optional, and there's a tired, beige look to it all. With the off-beat and slightly sinister Charmain Gradwell leaving after season three, new presenter Sarah Lam has a tendency to play down to the role, rather than elevate it. A fine actress, but very much in the capacity of a "kid's presenter", it fails to make the series crackle as much as it once did. It doesn't help that interactions with the contestants is more limited than before, and while presenters Sheelagh Gilbey, Ian McNaught-Davis and member of the public Roy Kane are fine, they lack the spark of some earlier line ups.
     Maybe, as it was now 1986, the programme had just reached its natural lifespan and was starting to look a little dated in a faster-paced and more demanding age? Exactly four years after the series left the air, The Crystal Maze made its debut on Channel 4. While it was popular and more "of the time" than The Adventure Game, it was never as inspired, or anywhere near as much fun.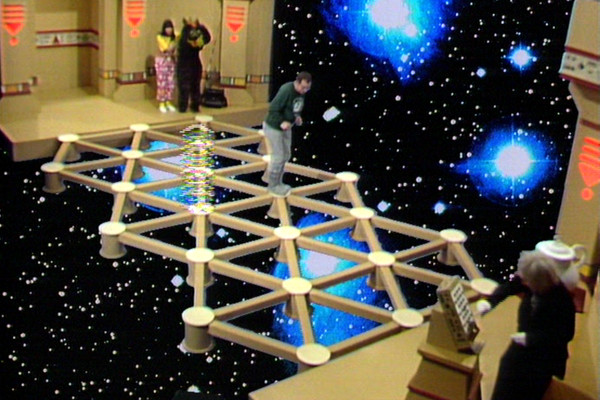 5
Episode Three
Presenter Fiona Kennedy, weatherman Ian McCaskill and round the world yachtsman David Sandeman take up the challenges in the third episode. All three are amiable and pleasant, qualities to be admired, but perhaps qualities that don't make the episode as gripping as ones with more "difficult" contestants. It doesn't help that the games have become incredibly formulaic at this stage. While the series always had a similar set up within each season, there was usually some random event or change in the line-up to give a more "free form" feeling. Here the screentime is more rigidly defined, and the feeling of spontaneity has gone.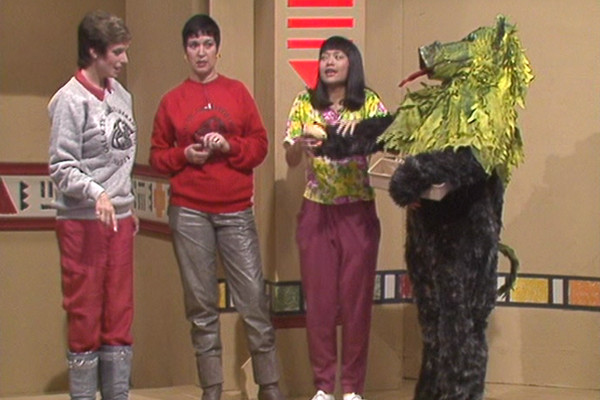 4
Episode Four
Presenter Professor Heinz Wolff, student Deborah Leigh Hall and actress Ruth Madoc all take part in another series of games, in an age where seven minutes of a Liverpudlian computer game was seen to be top TV entertainment. While The Adventure Game still retains a lot of its quirky charm, particularly in its first three seasons, it perhaps can't be denied that the pacing has aged badly in some, with some glacial length puzzles filling the screen. Speaking of age, Leigh Hall takes so long to cross the Vortex that it causes Ruth Madoc to get slightly testy after an otherwise easy-going episode. Unfortunately Ruth's hurried advice does send the contestant to her doom.
      There's a rare glimpse of the sinister undercurrent of the series at the end here, when Angord, a mute Argond, attempts to share a green cheese roll with one of the contestants. The others shoo him away as if he's just an irritant, but it's important to recall that the green cheese rolls were a way to defeat the Vortex, by placing them on steps to test if they were "safe". The Argond appears to be just a frivolous thing, but in reality is noble, swayed aside by its sinister masters. It's almost like Mr. Darcy in Pride and Prejudice, or a subtext from The Wire... all wrapped up in an 80's kid's show with a man dressed up as an alien dragon.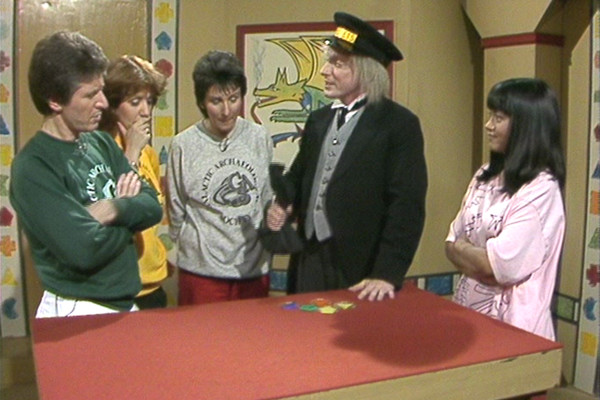 3
Episode Five
Actor George Layton and member of the public Val Prince are joined by Joanna Munro, who would have been known to the core audience from kid's sketch show Fast Forward, and perhaps to SF fans for a small role in Doctor Who story Planet of the Spiders. However, she's almost certainly most known for her time as a presenter on That's Life, and she manages to bring a spunky charm to proceedings, livening up events somewhat.
     Prince, a teacher, manages to figure out one of the series' trickiest games: "Argonds around the Pond". (It's unclear if this was ever explained onscreen, but it's how many fingers Chris Leaver has on the table, the coins irrelevant). All three pass the Vortex unharmed, even though two of them face what looks like certain doom as the Vortex simply has to pass in front of them. For a series that often doesn't clarify its own rules, and delights in giving oblique explanations, then we have to go back to season two, episode three for Charmain Gradwell to explain that the Vortex cannot return to the starting row as part of the game: "See, it can't follow me over there, so I've won and it loses." Which is all fine, except... in season three it can go back to the starting squares.
     Perhaps even more confusing is that this episode was postponed due to news of the Challenger Shuttle Disaster and, rather than being screened the following week, was pushed back to fifth in broadcast order. This is corrected for the DVD release, which has this in its original intended position of 'episode four', and episode four as episode five...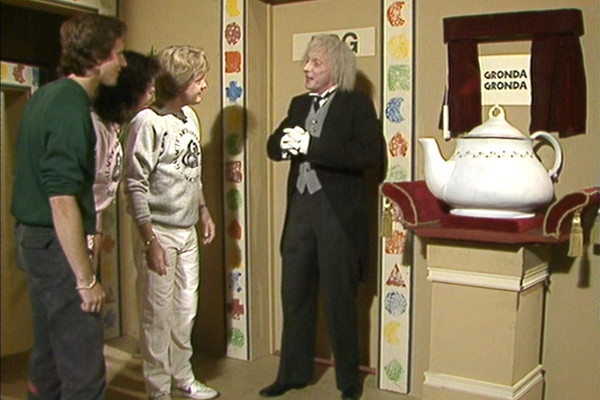 2
Episode Six
Producer Ian Oliver had worked at the BBC since 1962, and graduated to being the director of Saturday morning children's programme Multi-Coloured Swap Shop. Oliver had encouraged the use of all the presenters from the series during his time on The Adventure Game, and the final episode features Keith Chegwin, following on from appearances by Maggie Philbin, John Craven and Noel Edmonds in the first three seasons. Chegwin's affable, faintly gormless charm and infectious enthusiasm help add much to an otherwise generic episode.
     Series devisor (and season two host) Patrick Dowling had retired and left the UK after the second season, and after 1985 Oliver did the same. Christopher Tandy was promoted to producer, while Oliver MacFarlane was given the job of directing the season. It's unclear whether the BBC offered the new team the chance to continue the series, but with the two main creators behind it having emigrated, the series was discontinued. It's fitting, then, that this last-ever episode sees the Argonds take the time to wave their final goodbyes...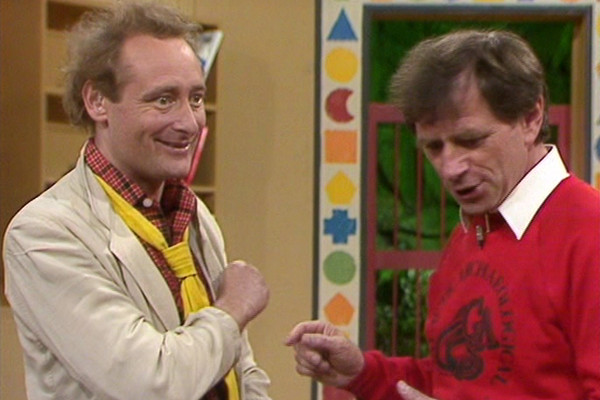 1
Episode Two
Bill Homewood had electrified playgrounds up and down the country in season three as backwards-talking Argond, Ron Gad. Rather oddly for such a popular and highly memorable character, this is the only season four episode to feature him.
     I asked Bill why he hadn't done more of the final season, and he assured me that his memory was that he'd done every single episode from when he started. While it seemed possible that TV repeats had edited for time, the June 2017 DVD release attests that this is the only season four episode where you'll get chance to see him, and that memories are faulty. A great shame. (For fans of trivia, this is also the only episode where he's actually credited as Ron Gad, with all the season three episodes, despite calling him Ron Gad, giving his credit as "Dagnor").
     The contestants here are Barbara Lott from Sorry!, and Liz Hobbs, who, while technically a "member of the public" was a world champion at sports and has gone on to have a long career in the radio industry, as well as being awarded an MBE. Both are delightful, Lott thankfully the opposite of her imposing sitcom character, and are joined by presenter Johnny Ball. Although a much-loved 70s presenter, Johnny is very much "on" throughout the episode, and tends to dominate proceedings. While Ball was a fine presenter of the age, it's clear that he's very much a solo act, and unable to adequately share the screentime. Consequently fans of his shows may want to give this one a miss, as it's a less flattering picture than seen elsewhere, even if just a little.