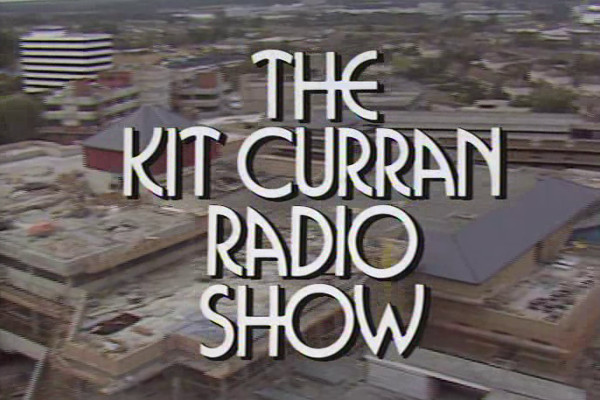 July 2016 marks the 30th anniversary of the follow-up series that aired on Channel 4 in 1986, simply titled "Kit Curran". A huge childhood favourite here at The Anorak Zone, will The Kit Curran Radio Show be a series that stands up to fond memories, or just a disappointment? Let's find out together as I rank the entire series, from worst to best...
12
The Street
of Shame (2.3)
Although Andy Hamilton had written comedy for television before (including Not the Nine O'Clock News and Shelley), The Kit Curran Radio Show was his first creator credit. He went on to create Trevor's World of Sport, and, with Guy Jenkin, co-created Drop the Dead Donkey, Outnumbered and Ballot Monkeys. Season two of The Kit Curran Radio Show (retitled as just "Kit Curran") was where Jenkin joined the series as co-writer, and seems to be generally regarded as inferior to the first.
     However, now the whole series is dated, the difference doesn't seem as marked, as some second season episodes stand up with the first. Yet the major problem is that, while Kit's still ostensibly a radio DJ, operating a pirate broadcasting unit after being fired from his legal job, it scarcely features in many of the episodes. Consequently the series becomes a sitcom with no "sit", and various desperate plotlines are created to fill the vacuum.
     This particular instalment sees studio engineer Les foil a bank robbery, with Kit selling the story as an "exclusive" to every tabloid and broadsheet. This leads to a satire on the print media, with then-topical references to such matters as that March's Sun headline regarding Freddie Starr eating a hamster. As an attempt to lampoon the ethics of Fleet Street it's commendable, but the whole thing is very broad, lacking real political bite. An example of how lacking in serious comic acumen the second season was can be judged by the fact that four of the six episodes - including this one - end with characters running away from each other into the end credits.
11
The Lucky
Break (2.2)
Denis Lawson was born in Crieff, Scotland, and while his accent isn't especially broad, he does speak with a Scots lilt, which makes his performance as Kit even more striking. The series does make use of his vocal talents, often allowing him to do impressions, and in this episode he dresses up as a Scots businessman, putting on a thick, mock-Scottish accent. More questionable are his antics as a "Greek" businessman, though for a series of this vintage there's little that would seem particularly galling by modern standards.
     Sure, the entire single joke of Les is his constant body shaming, and season one features a "queer", a "gender bender" and Lawson putting on a Jamaican accent. Oh, and that small matter of him putting on a fake moustache and impersonating Hitler. But generally, for a show from the past – a sometimes murky cultural world where even The League of Gentlemen were mocking transgender people in 2002 – it stands up reasonably okay on this front.
     While Clive Merrison is frequently funnier in the second season, a lot of his dialogue does extend towards verbose, ranting monologues that typified the weaker, less naturalistic episodes of Drop The Dead Donkey. The desperate struggle for laughs that is this second episode sees him taking work as a gorilla gram, a time-filling cheap laugh, followed by his later appearance as "Superman". There's a hair's breadth between this and The Street of Shame as the worst episode of the programme, but both are bereft of genuine inspiration.
     Incidentally, for a long time the only place to see any of the episodes was on I-Tunes, where the second season episodes (incorrectly listed as season one) could be bought. While it was these copies that made up half the images for this article, the files would only work on I-Tunes Player, with coding inserted to ensure they wouldn't play on any other device. While this, and the lack of season one, was frustrating, both series are now thankfully available to order from Amazon, meaning the screen caps on these pages have all been upgraded as of December 2018.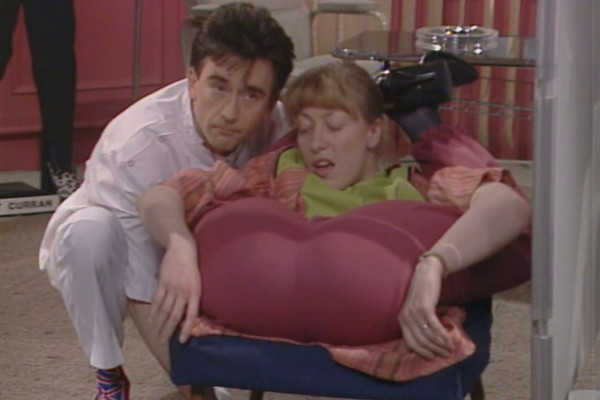 10
Doctors Can
Seriously Damage
Your Health (2.6)
An incredibly weak final episode, wherein Kit decides to set up his own health clinic, largely because he's a character in a sitcom, and that's what sitcom characters do. There is one line that has a deeper meaning than it had at the time, when uninterested love interest Pamela is in hospital for treatment ("Well, it could have been worse, I was very lucky... I didn't receive a single visit from Jimmy Savile.") but generally this is desperate, childish stuff, complete with a bright orange woman who was prescribed a carrots-only diet.
     Ultimately the series is left with nowhere to go: Kit and Pamela are finally on good terms, and his work situation is once more open-ended. Without any kind of situation at all, a third series would have been almost impossible.
     As a point of trivia, then while the first season was filmed in Bracknell, events took place in the fictional location of "Newtown". This follow-up season is set in Brentford, and, while there's no confirmation it was filmed there, the opening of this episode clearly shows "Olaf Street" on the side of the building where Kit supposedly works.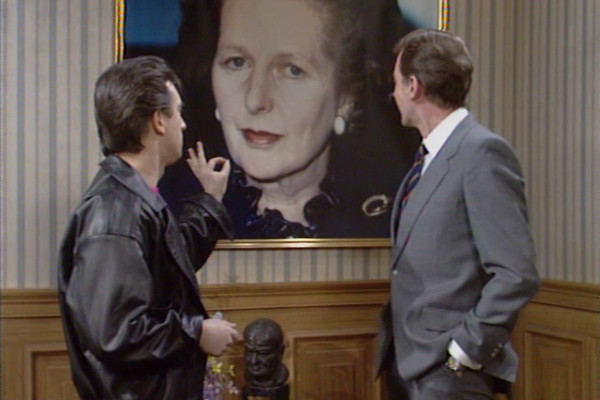 9
Election Fever (1.5)
The series tackles the world of politics, with Kit making up poll results that point to a three-way tie between all the major parties, and consequently making national news. It's perhaps a curmudgeonly, overly anal way of viewing the programme, but throughout there's events that simply defy logic. For example, one episode (Lucky Break) has Kit pretending to be a Greek businessman in order to open a bank account... a plan that would grind to a halt as soon as proof of identity was required. This particular episode expects viewers to accept the conceit that people would believe a local radio station's claims without verification, and the entire election process would be balanced upon it. Sure, the get out "it's just a sitcom" can apply, but with much of the content of The Kit Curran Radio Show, none of it seems "real".
     This extends towards Kit interviewing the local candidates, all of whom are naturally fictional characters. While later series by Andy Hamilton had created fictional media outlets – such as Drop The Dead Donkey's "Globelink" – Kit Curran lives in an entirely fictional place, the province of "Newtown". The second season opening credits see him looking at a road sign pointing in both directions to Brentford and London's West End, as if they had finally decided to stake Kit in a real world setting, even though the plots became even more outlandish.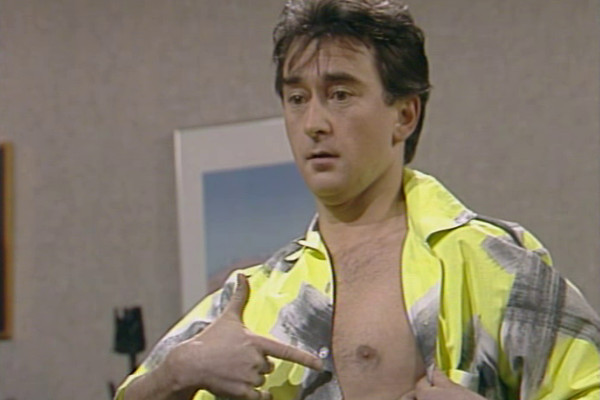 8
The New Broom (1.2)
While no one particularly remembers Kit Curran (if they remember it at all) as a gritty realist black comedy, it's surprising how "sitcommy" it is. Newreader Damien Appleby (Merrison) blasting a coffee machine to Hell will see a nun walk past him right at the most inopportune time, or Kit, suspecting that the new boss may be a Mason, exposes his nipple to him, as pictured, in order to try and get him onside. Such things are not organic comedy where the laughs grow out of the situation, but very contrived, cartoonesque attempts to get laughs, with many of the supporting players giving broad performances. (In fairness, the "nun" does turn out to be a set up engineered by Kit in one of his schemes).
     However, such desperation was not limited to Kit Curran, with many sitcoms of the time, particularly ITV sitcoms, plumbing the depths: Fresh Fields and Bottle Boys were polluting the airways, while a generation had no idea of Keith Barron's quality as an actor thanks to Duty Free. When aired amongst the likes of That's My Boy or Up the Elephant and Round the Castle then Kit Curran came off favourably.
     In terms of mainstream comedy then many comedians and comic actors died during 1984, including Eric Morecambe, Arnold Ridley, Lennard Pearce, Tommy Cooper and Leonard Rossiter. This sense of comedic demise continued with the so-termed "alternative comedy" also reaching a transitional phase: The Young Ones that made Kit Curran seem so passé in comparison ended, and the following year Nigel Planer moved onto his own MOR ITV sitcom with Lisa Goddard in Roll Over Beethoven.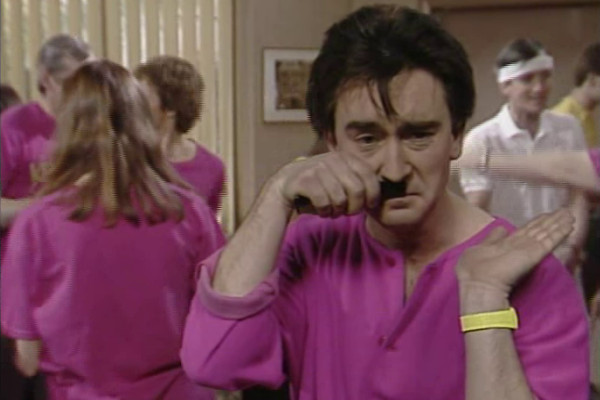 7
P is for
Positive (1.4)
Paul Brooke is a fine actor, and his role as Kit's lazy assistant, Les Toms, is a strangely endearing one. However, it's very much a one-joke part, the story of a long-suffering man who only exists to eat. When Kit decides to set up a "mind and body workshop", he encourages Les to take part, engaging in exercise. Eventually Kit transforms the entire radio staff, including making Damien nice to people, and other staff members (including The Fresh Prince's Joseph Marcell) more assertive.
     It's a fine, fun episode and maybe should be higher up in the rankings, but its resolution is not based on an escalating series of events, but on a group of one-dimensional characters behaving in a manner to elicit artificial mirth. There's no rule book that says sitcoms have to be realistic, of course, but without any grounding in reality at all, a lot of Kit Curran looks painfully dated in 2016.