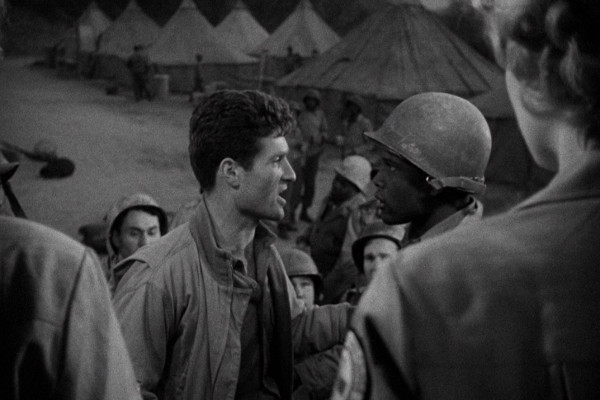 44
Red Ball
Express
(1952)
With the films in this article spanning a range of 55 years, then a wide range of acting styles can be gleaned. Red Ball Express clearly comes from an era before naturalistic acting was the norm, and broad playing mixes with variable performances and questionable material. Based on the true story of a military convoy in World War Two, it attempts to ease the tensions with moments like a comedy French family, complete with jaunty incidental music.
     One reality the film doesn't acknowledge is how many of the drivers were black, with Caucasian actors taking the majority of roles. The slack is taken up somewhat by Sidney, whose entire role is based around his race, whether it be striving for equality or being racially abused. It doesn't feel as progressive as later parts, as he's identified solely by his colour in an underdeveloped characterisation.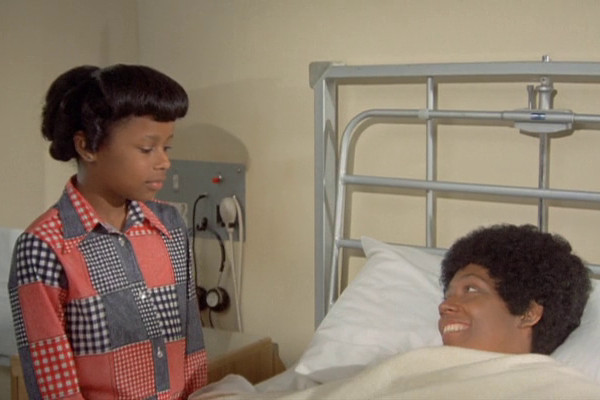 43
A Warm
December
(1973)
In 1969 a company was formed by the CMA agency, known as the First Artists Corporation. Barbara Streisand, Steve McQueen, Paul Newman and Sidney were the artists in question, given effective carte blanche to make their own movies, providing the budget came in at $3 million or less. While Poitier's First Artists work eventually went on to produce the profitable "Uptown trilogy" with Bill Cosby, his first attempt, A Warm December, failed to earn back its costs at the box office.
     A stilted love story with a tragic twist, A Warm December is a likeable afternoon's viewing, but far from an essential watch. Leadenly directed by Poitier himself, for a romance there's precious little chemistry on display, a very sterile depiction of desire, even by the relatively passive time in which it was made. Such a stiff depiction of romance is only expounded by the presence of Yvette Curtis as Poitier's daughter. While okay at general lines, she's unable to emote, and scenes where she's supposedly concerned over whether love interest Catherine lives or dies see her looking like she's just wondering whether to have jam or butter on her morning toast. While the film has to be commended for showing a romance between two black characters - still a novelty back then - in terms of entertainment it's sadly forgettable stuff.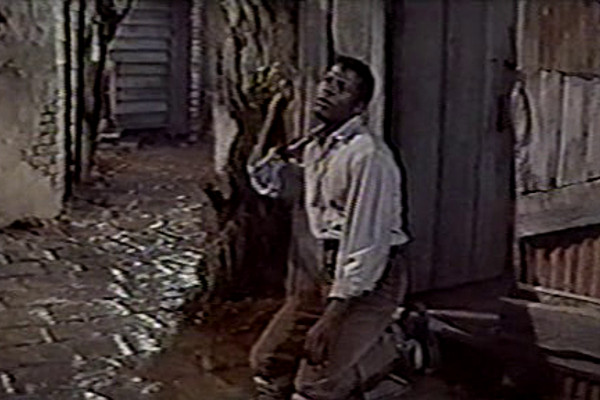 42
Porgy and
Bess (1959)
Turned down by Harry Belafonte, who found it "racially demeaning", the role of Porgy was then offered to the tone deaf (by his own admission) Sidney Poitier, who was required to mime to Bobby McFerrin's dad. Placed under enormous pressure to take part, to the possible detriment of his career if he declined, Poitier reluctantly agreed, giving a professional job while The Defiant Ones was waiting. He spends the entire film on his knees, both literally and metaphorically, at least spared the indignity of any close ups by Otto Preminger's stagelike direction. Perhaps adding further insult to injury was the irony that this was Poitier's first top billing in the movies, despite appearing in a dozen beforehand, and being nominal lead in many of them.
     Co-star Dorothy Dandridge was also unenthused to be taking part in this questionable play, with only Sammy Davis Jr. really wanting to be there. It's not an awful film, in fact it has its plusses in many ways. The $7 million it cost can be largely seen on screen, some of the songs are genuinely worthwhile, and the puerile might get a laugh or two out of the Crabman's song where he extols the virtues of crabs.
     Oddly, Belafonte released an album of tracks from the musical with Lena Horne the same year the film was released, as if to suggest that principle can only stretch so far. (As Sidney himself described it, "for the most part, black people responded negatively to that American opera, although they stood ready to acknowledge and applaud the genius in the music.") However, he was in good company as songs from the musical have been recorded by, amongst others, Billie Holliday, Ella Fitzgerald, Miles Davis, Louis Armstrong, Nina Simone, Sam Cooke and Ray Charles. And although a lot of the lyrics are somewhat patronising, it's hard not to tap your feet to "It Ain't Necessarily So". Ultimately the movie wasn't successful critically or commercially and is generally forgotten today, while films like The Defiant Ones and In The Heat of the Night live on. If anything, it stands as a film that saw one man make sacrifices in the name of greater future good.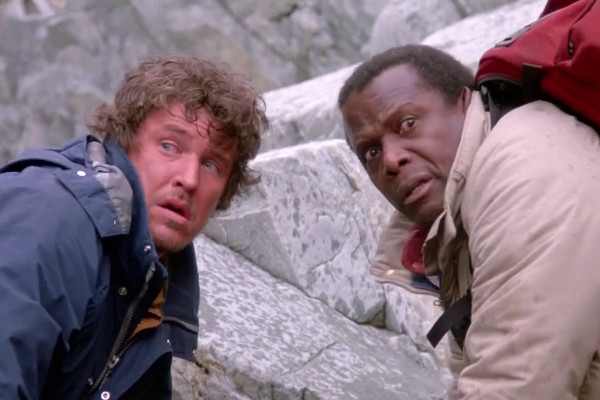 41
Shoot to Kill
(1988)
The film that brought Sidney Poitier out of acting retirement, along with, later that same year, Little Nikita. It's perhaps a surprising choice, given that Shoot To Kill is, while serviceable, very much a generic FBI manhunt movie. This said, it can't be many people who get to headline their own action movies at the age of sixty, so the flattering offer may have been too great a temptation.
     Sidney Poitier essays thoughtful, intelligent FBI agent Warren Stantin, though when the film requires him to travel into the mountains with guide Jonathan Knox (Tom Berenger) the film takes an awkward shift towards "buddy movie" tropes, replete with overt humour. It's an awkward shift, where what begins as a pained Stantin ruing the murder of an innocent during a heist suddenly turns into Poitier doing double takes at a moose, mugging shamelessly at a bear and pretending he can't ride a horse (something he showed he was more than capable of in Duel At Diablo and Buck and the Preacher).
     It's a huge tonal change half an hour in, with Berenger, on the trail of his missing girlfriend, angry and committed in one scene, wisecracking the next. Things aren't helped by the late 80s soundtrack, frequently using an electronic drum machine in jarring contrast to the "back to nature" theme of the movie. In all, Shoot To Kill (released in the UK as "Deadly Pursuit") isn't a bad picture... but it's indistinguishable from about a hundred others.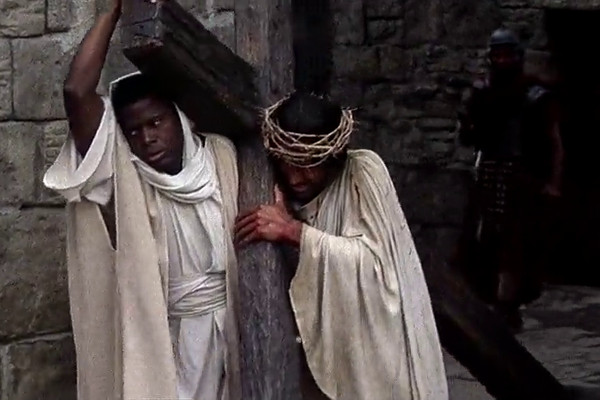 40
The Greatest
Story Ever
Told (1965)
Whenever discussion of this Biblical epic arises, two facts come to the forefront quicker than any other: one is John Wayne's misjudged cameo, and the other is the fact that the film was a flop. Surprisingly, despite claims that the film didn't resonate with audiences, it was actually the 11th biggest box office hit of the year in the US, its take greater than that of other notable films such as For A Few Dollars More or even Sidney's own A Patch Of Blue. However, whereas A Patch Of Blue was produced on a small budget ($800,000), The Greatest Story Ever Told offsets the success of its $15m+ haul by having bloated production costs of $21 million, a figure which would come to over $162m today, and one which it could never hope to reaccrue.
     Poitier's longest film, it originally ran to 260 minutes, though was eventually cut down in various territories. The DVD release runs to just 199 minutes, making it substantially shorter than the 240m of Children of the Dust.
     Cult favourites playing roles in the production include David McCallum, Roddy McDowell, Charlton Heston, Martin Landau and Claude Rains. Sidney's appearance is over three hours in, a silent cameo as Simon of Cyrene that lasts less than four minutes of screen time, recorded in a two-week break during the filming of The Long Ships. All told, this isn't actually a bad film. The John Wayne cameo is incredibly jarring and the picture would be better without it, though it still remains a ponderous presentation without any real chemistry or drama. As a production, it looks fantastic in parts, and has committed performances from most of the cast... however, as a movie to watch for entertainment, it's probably the least engaging film in this list.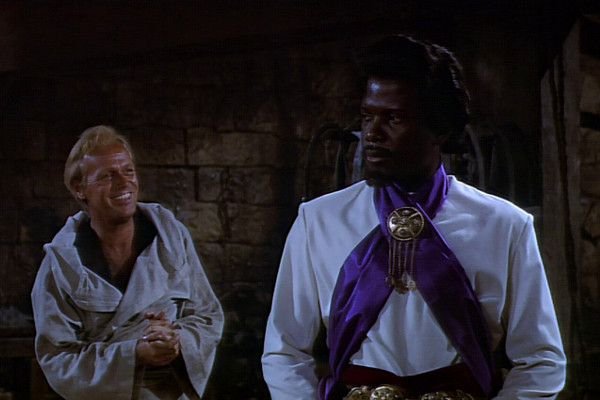 39
The Long
Ships (1964)
The ultimate "guilty pleasure" Poitier movie, The Long Ships is a dated Technicolor quest for a mystical golden bell that is offensive on several different levels. Featuring Sidney as the king of a legion of Moors (many of which are played by Caucasian actors), the standards of the time see him put on a vow of chastity so that cinema audiences wouldn't see a black man sleep with any of his twenty wives. Said wives take part in the film's comic centrepiece - their attempted gang rape by a group of vikings. That attempted rape was seen as a subject for humour 53 years ago says a lot about the times... though this misguided, often hilariously bad movie is the worth the price of admission just for a scene where a huge golden bell, probably weighing tons, is able to float on water.
     Sidney Poitier's parents hailed from Cat Island in the Bahamas, and only a visit to Miami saw him born in the States. Returning to his home as a small child, he grew up with a thick Bahamian accent, which caused problems when he first tried stage acting in the US. With his American accent largely self-taught from listening to radio broadcasts, Poitier has an endearingly idiosyncratic diction, and attempts to imitate foreign accents for film roles met with varying results.
     Such an issue has no real bearing on his standing as an actor – when did De Niro last do an accent? – but does make The Long Ships, with his "Arabic" accent and earnest delivery, somewhat difficult to take seriously. It's not just Sidney that suffers – while he had a great onscreen pairing with Richard Widmark in No Way Out and The Bedford Incident, their acting styles clash badly here; Poitier determined to take a hokey script seriously, Widmark on the verge of send up. Reportedly a difficult and troubled shoot, with many script revisions, Sidney was in Belgrade, Yugoslavia for twelve weeks filming the picture and described the city as full of racial hostility and "without doubt the worst place I had ever been to make a movie."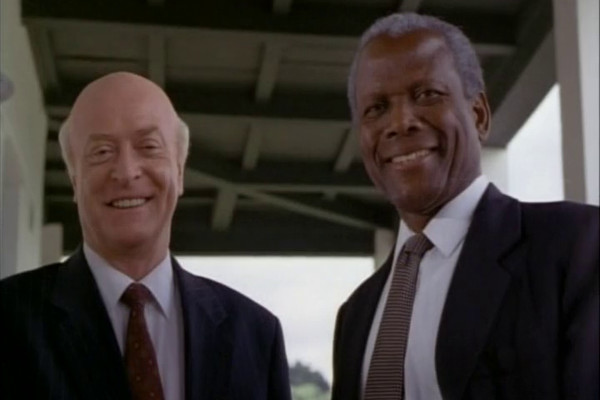 38
Mandela and
de Klerk
(TV, 1997)
As established with The Long Ships, then Sidney Poitier is a fine, fine actor, but not a chameleon. Nominated for five separate awards for his role in this Showtime TV movie (including a Screen Actors Guild and an Emmy) he nevertheless never really comes over successfully as Nelson Mandela. He'd adopted a South African accent opposite Michael Caine (also nominated for three awards) in The Wilby Conspiracy, but while there he was a still-hungry actor in his mid-40s, here he's just shy of his 70th birthday and too firmly entrenched in his regular acting style to break free. All the mannerisms are there... the speech patterns, the way his right eye squints when he wants to express himself, the body language... and it's never a fully formed performance.
     This said, the South African accent is one that can easily sound artificial when imitated, and other fine actors such as Danny Glover, Morgan Freeman and Idris Elba have also failed to do their best work when playing Mandela... like Poitier, they also fail to look anything like him. Michael Caine, another fine actor, but well known for largely using only his own accent in films, is even more hilarious as South African President F.W. de Klerk.
     Yet if we can accept that this TV movie isn't the finest hour for either of its two stars, then it can still be taken as a rewarding work. Mixing real life footage with dramatic recreations, often in the actual locations, it's informative and engaging, even if the film ends with the note that "some of the characters, incidents and names have been changed for dramatic purposes." It's a streamlined version of events, with many of the grey areas ironed out, and features the two stars playing their roles not as exact embodiments, but as emotional signifiers of the real politicians. On those terms, it succeeds.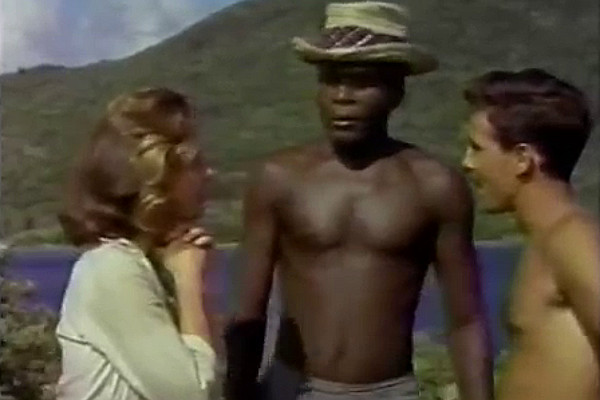 37
Virgin Island
(1958)
The second of eight movies Poitier made for a British company. In 1974 he was awarded (amongst many other honours, including Bahamian Ambassador to Japan and the US Presidential Medal of Freedom) the Knight Commander of the Order of the British Empire. His further British films were Cry, The Beloved Country, The Long Ships (a co-Yugoslavian production), To Sir, With Love, The Wilby Conspiracy, and a co-US/UK production on The Mark of the Hawk and The Bedford Incident. A Warm December, while produced by a US company, was also filmed exclusively in the UK, and The Jackal was a multi-national production, including finances from the BBC.
     Despite Poitier's involvement, however, Virgin Island is a starring vehicle for John Cassavetes and Virginia Maskell, both of whom seem to share genuine rapport and a love of improvisation. Playing two newlyweds who set up home on a deserted island, the film moves along pleasantly enough, though without real incident - it's almost 45 minutes before we learn that there is smuggling around the island, for example. In all this, Poitier just plays a secondary role as the part of a Jamaican-accented help in one of his more over-the-top performances.
     Yet for what is essentially a lightweight, incident-free movie, there is a sense that it's quite progressive for 1958: the concept of beginning independence on a small island is relatively novel (albeit one that Laurel and Hardy had bowed out on seven years earlier), and there are some small pleas to female equality. However, the basic simplicity of the film is its charm, with an almost fairytale quality to events. Just as an example, there's no real resolution to the smuggling subplot, and the couple decide to loan the whole island to Poitier and his fiancé at the end, pretty much "just because".
     Despite Cassavetes inventing his own alternative to method acting, this isn't a picture that extends towards overt screen realism, or attempts to. While entertaining for what it is, it's difficult to watch what is a somewhat dated movie without being reminded of the darker side of the two stars: Cassavetes died of liver failure before he was even sixty, whereas Maskell died from an overdose of anti-depressants before she'd even reached the age of 32.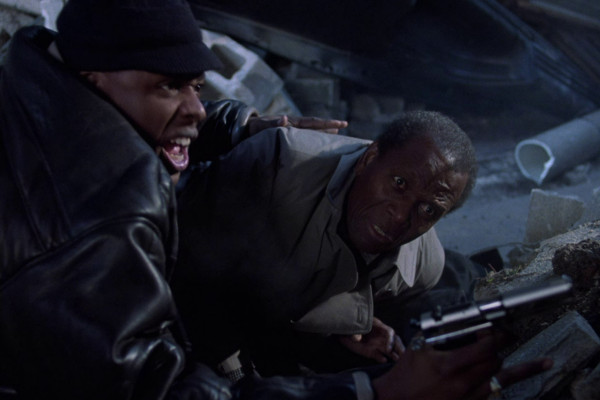 36
To Sir, With
Love II
(TV, 1996)
One of the better efforts of Poitier's eight TV movies, largely helped by having a cinema director behind it in the form of Peter Bogdanovich (The Last Picture Show/Paper Moon). While the Nelson Mandela biopic also had an experienced movie director behind it, the rest were helmed by directors with a background largely in television.
     Although only around ten minutes shorter than the original film, the passage of time doesn't seem as great here, so we never really get to feel like we know the classmates in the same way. Being far more incident-based, teacher Mark Thackarey finds himself drawn into a world of gang violence and prostitution, a world so dark that his inevitable deification at the climax seems jarring. Perhaps saddest of all is that he reveals he had a black wife who passed away in England... in so doing, closing the door on the open-ended romance between his character and Suzy Kendall's.