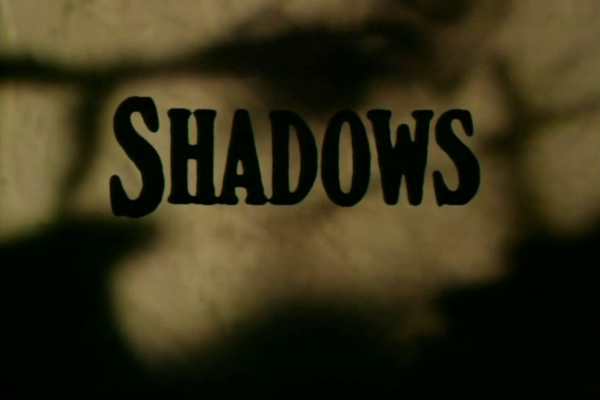 by
THE ANORAK
SEPTEMBER
2018

All three seasons are available to buy from Amazon. To celebrate the anniversary of the series, please join me as I look back and rate all 20 episodes from worst to best...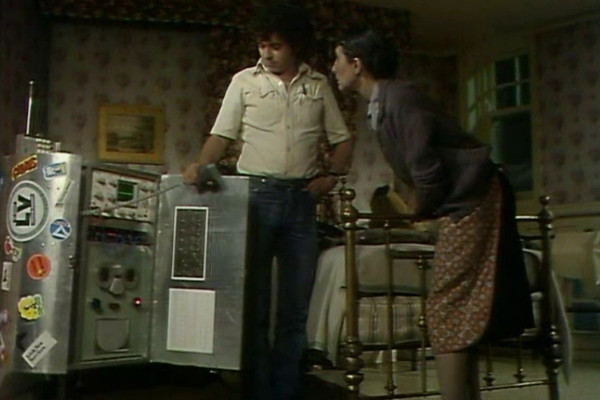 20
The Rose of
Puddle Fratrum (3.2)
The final series of Shadows aired after a two-year break, and saw more comedic elements in a lot of stories. The Rose of Puddle Fratrum is the worst offender, seeing Christopher Lillicrap literally falling into some lillies and having his face smeared with cr... er, mud, and an ending with two computers dancing a ballet. It's silly stuff, squandering the talents of all involved, including a top gueststar in Joan Greenwood. Lillicrap is one of the most underrated children's TV presenters of the period, but the material here does him no favours.
19
Peronik (2.5)
Season two had the most unnerving opening titles, a bizarre animated sequence that began with an industrial landscape and ended with a rocking chair moving by itself, the shadow of a ghost clearly seen. It was eerie stuff for the very young, making it curious as to why the stories themselves lacked the same scare factor. Possibly it's that the producer of the second season, Ruth Boswell, was more comfortable with fantasy and sci-fi leanings, having co-devised Timeslip and produced The Tomorrow People.
      A number of children's fantasy novelists wrote for Shadows, with Joan Aiken (The Wolves Chronicles), Susan Cooper (The Dark Is Rising), Penelope Lively (The Ghost of Thomas Kempe), Brian Patten (The Elephant and the Flower) and Josephine Poole (Billy Buck) among them. Two of the best-known names, J.B. Priestley and Faye Weldon, also wrote some children's fiction, though it was far from Priestley's main work, and Weldon wrote her three children's novels post-Shadows.
      Peronik was written by Rosemary Harris, who had written the children's novel The Moon in the Cloud, and, like all of the authors mentioned, other novels for children. Featuring Paul Aston as a teen believing the past is living through him, it's a perfectly serviceable piece of television, but in its striving for fantasy it misses out anything approaching scares. Only around half of the episodes present could actually be described as even attempting to be "scary", and most of the ones that don't feature low in this ranking.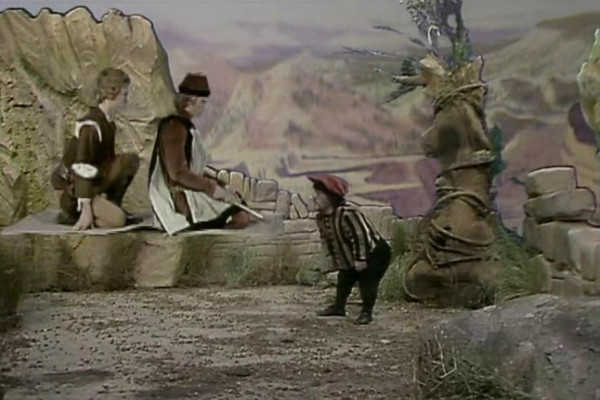 18
The Silver
Apple (3.6)
This one starts, inexplicably, with Brian Peck on a cartoon hillside, introducing the story to viewers. Said story features Peter Duncan as a prince with a flying carpet, wearing tight-fitting trousers that leave as much to the imagination as David Bowie's turn as the Goblin King in Labyrinth.
      It's hard to rate this one, a kid's show that's more We'll Tell You a Story or Jackanory Playhouse than an episode of Shadows. This isn't the series "dumbed down", this is the series with its age range lowered to meet a far younger audience than before. While many of the season one episodes rate lowly due to poor performances and misfiring scripts, they were a commendable attempt to sell fear to a young audience. This cheaply-made instalment seems completely out out of the remit of the show.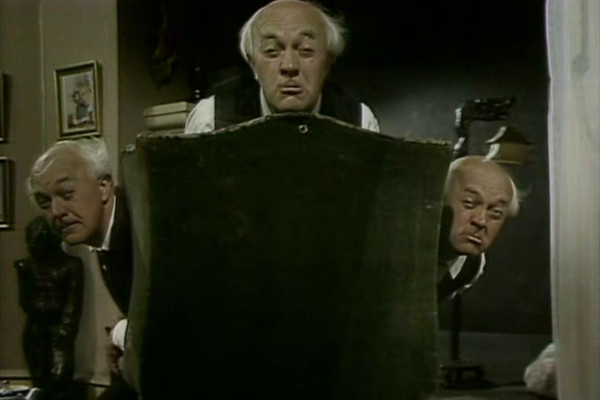 17
The Man Who
Hated Children (3.5)
A wonderful, Dahlesque title that sadly fails to live up to its promise. Starring George A. Cooper (best known as the caretaker from Grange Hill) and Brian Wilde (making his sixth appearance in a show covered in these articles) as they try to incriminate several noisy children. The idea of them both being trapped in a Peter Pan garden has some merit, but sadly it's dragged down into a coarse komedy episode. "It's not very subtle" says Wilde at one point, and it's a line that, sadly, could sum up the entire episode.
     However, there's perhaps a very logical reason why the story is played so broadly... a scene where Cooper is transformed into a living tree could, if played entirely straight, be absolutely terrifying for the young, and even in its jokey form here still manages to be far more unnerving than when Doctor Who tried the same thing six years later. A shot from this scene is used as the main image on this page, a moment of genuine unease in an otherwise very silly story.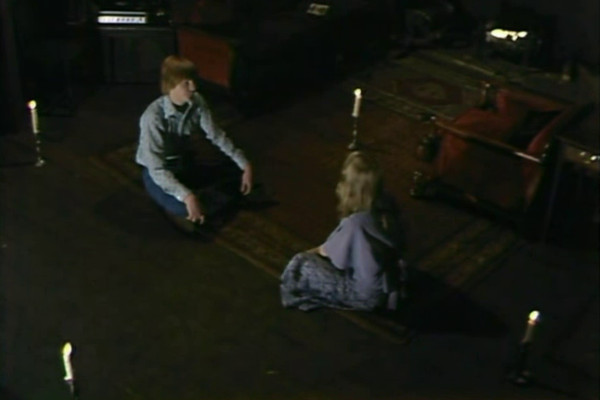 16
The Witch's
Bottle (1.3)
The first season of Shadows is the most revered, the one where, save for one comedy episode, the series actually attempted its goal of "a scary show for young children". Sadly, times have changed, and while The Anorak Zone loves and champions old TV of this vintage, it has to be acknowledged that a great deal of Shadows doesn't live up to its promise in terms of execution.
     The Witch's Bottle does bring to mind the somewhat mean-spirited Inside No.9 episode The Devil of Christmas, which reenacted some of the cheesier production and acting styles of 1970s TV. Though the episode is inoffensive, and it's rare to see a children's television programme dealing with a teenager being burnt to death, it's all so starch and staid. Most old television requires a certain suspension of disbelief to get past fashions and styles of production, but The Witch's Bottle does, sadly, require more than most.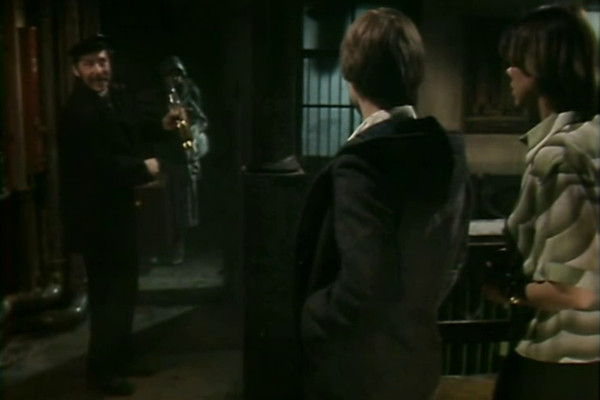 15
The Waiting
Room (1.4)
Screened 24 September 1975, this tale sees a brother and sister venture into a deserted railway station during February of the same year. Jenny Agutter gives an expectedly strong performance as Sue, but there's perhaps a reason why Paul Henley, playing her brother, never had a wide acting career. A "haunted railway station" story, where the most frightening thing is how predictable it all is. It might work for the very young, but would be unlikely to chill anyone above 12, especially as everything is spelt out in crass exposition by Jon Watkins.