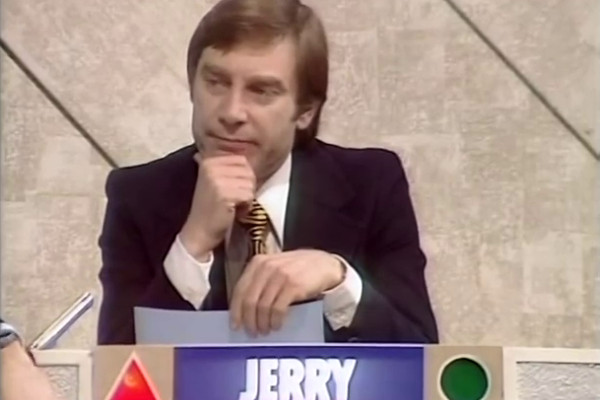 8
Episode 1.14
Guest Panellists: Pete Murray, Karen Kay, Jerry Stevens, Isla St. Clair, Keith Harris, Orville and Diane Langton.

One show which forms the backdrop of this first series of Blankety Blank is Lennie and Jerry (1977-1980), one of the attempts by the BBC to fill the post-Morecambe and Wise void after they'd left for ITV. Pairing Lennie Bennett with Jerry Stevens as a comedy duo, Jerry was more of a music man, briefly seen in A Hard Day's Night, and made two appearances in this first series, and another in an unaired pilot. Lennie Bennett also appeared twice in this first series and in an unaired pilot (though not on any of the same shows) and went on to be a regular over the next couple of years.
      Not much of Lennie and Jerry is out there to see, though what clips are available show a harmlessly "traditional" show. Lennie did feature as part of 2015 documentary The Best of Bad TV (shown, unironically, on Channel 5) for his role in hosting a TV launch party for Television South West in 1982, where he would tell production staff they were "attractive", and ask an elderly man if he "got laid" on holiday. However, for this site's demographic, Lennie is probably more known as a quiz show host, with Punchlines! and Lucky Ladders. It's not known what Lennie thought of moving into full time game show hosting, though a quote attributed to him is: "Showbusiness is possibly the only profession from which you retire without being told".
      Making up the panel on this good-natured edition is Keith Harris with Orville, beating the likes of Little & Large, Ray Alan and The Krankies to be the first guest panellist to share a seat. Keith would appear another five times throughout the series, often with Orville, but sometimes bringing along Cuddles the Monkey as his Plus One.
     Lastly, it's always worth checking out the panellists when they're not on camera to see their "genuine" reactions. Some of them sit like zombies on the bottom row, waiting for Wogan to get to them, or you might catch brief moments like in episode eight (around 25'30m in) where David Jason, not realising he's in shot, suppressing a belch. This aspect of the show is in full effect here, with Diane Langton always ready to break into a huge smile and attentive stance whenever she sees herself on the monitor.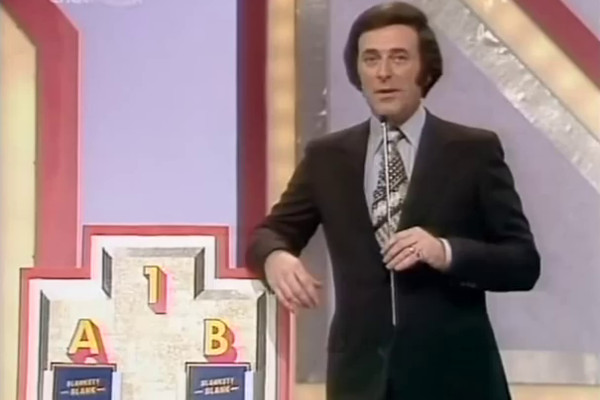 7
Episode 1.9
Guest Panellists: Jerry Stevens, Marti Caine, Bill Tidy, Karen Kay, Alfred Marks and Diane Keen.

There were two pilots recorded for Blankety Blank, neither of which ever aired, though do feature in their own article. Yet of the series one episodes that did get screened, this was the first to be recorded, with the original intention for it to go out as episode two.
     It becomes apparent when shown in amongst the regular episodes, as there are notable changes, if only just small things like production crew credits being smaller than usual, with not as many people getting cited onscreen for their work. But the real notable difference is that the Dawson era's somewhat old-fashioned concept of "as always, ladies first" originated here. A hangover from the pilots, it was quickly dropped, as in all other series one episodes the order in which contestants compete is decided by a coin toss.
     A nice, fun episode, with early Terry on a rampaging mood, berating the audience and telling Jerry Stevens "I'll smash you in the mouth". It's a lively, fun instalment that ends with the winning contestant, as always, wandering through the panel to shake hands with the celebrities as the music and credits play out... except this time, you can hear what the contestant and celebrities are saying, another thing that was later dropped.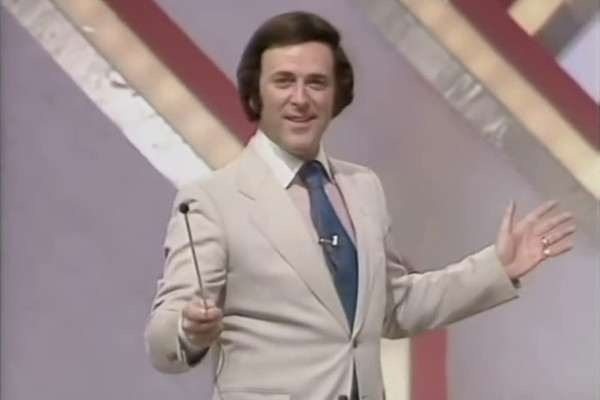 6
Episode 1.1
Guest Panellists: George Baker, Wendy Craig, Bill Tidy, Judy Cornwell, Lennie Bennett and Lorraine Chase.

The ratings for Blankety Blank have been sourced from newspaper archives for all but four of the episodes of this first series. Of those twelve confirmed episodes, then the average viewing figure was 16.4 million, with an average chart ranking of 6th place. TV was a different time back then, a place where this opening episode could get 15.6 million yet still not crack the top ten.
     Blankety Blank perhaps improved a little over the next two or three series, where the guarantee of a few laughs, or a serious "turn" was higher, but this first series does have a kind of more sincere, less self-aware charm. The game is taken a bit more seriously, while Terry isn't quite as "touchy-feely" with the female contestants as he would later become. It's a quainter show most weeks, a little more stuffy and old-fashioned, but quite likeable with it.
     Terry's era did have "regulars" on the panel, and from this first series, only fifteen celebrities had just the one appearance. An odd middle ground for this first episode is George Baker, who never appeared on the show again before the BBC axed it in the 90s, but did come back for one appearance in 2001, when it had been moved to ITV and hosted by Lily Savage.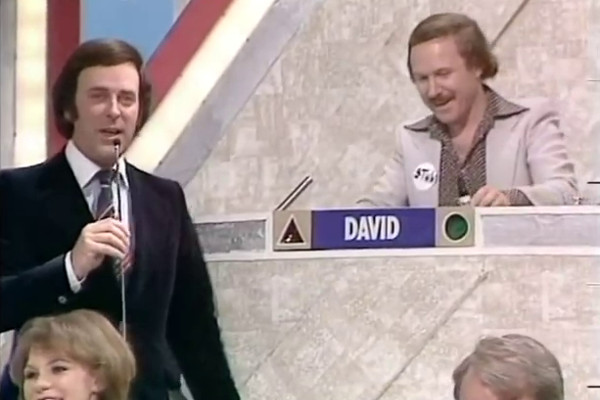 5
Episode 1.15
Guest Panellists: David Hamilton, Elaine Stritch, Val Doonican, Karen Kay, Dickie Henderson and Lorraine Chase.

The humour in Blankety Blank is, as befitting the time, quite "old school", and there's nothing wrong with that. No one needs to make a choice between preferred comic styles when so many are available to be enjoyed at once, though, to place the show in context, The Comic Store alternative comedy nights didn't open until 9 days after this first series of Blankety Blank ended. A slight mix of "the old and the new" can be gleaned with the penultimate episode of the original run, seeing Julian Clary as a panellist under Les Dawson, but generally you're going to get the likes of Norman Collier, Jimmy Tarbuck and Tom O'Connor.
      The only time this "old school" philosophy gets too much - after all, you can take it or leave it - is when one of Terry's fellow Radio 2 DJs comes on. Here "Diddy" David Hamilton sits on the panel, cueing much talk about things like Jimmy Young and cardigans... fine for the audience members caught in a Venn Diagram overlap between Terry's day job and Blankety Blank, but otherwise quite meaningless in the context of a light entertainment show pitched at a television audience.
      Yet despite this, and the fact that the edgiest panel member is probably Val Doonican, there's a very pleasant feel to this edition. It's not a particularly side-splitting instalment, and doesn't necessarily feature any particularly memorable moments, but it's 32 minutes of gentle, relaxing viewing, there to give you a smile.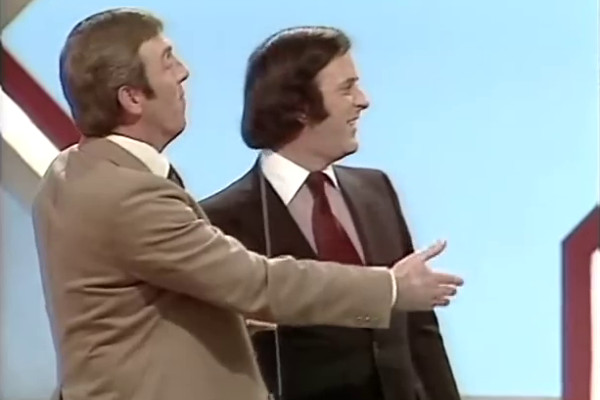 4
Episode 1.7
Guest Panellists: Peter Jones, Faith Brown, Bobby Knutt, Judy Cornwell, Windsor Davies and June Whitfield.

Although Blankety Blank was at the low end of the BBC's "prestige" scale, there's still an amusing amount of classism playing its part throughout the show. Through Wogan's interviews with the 64 contestants this series, we get to find out the occupations of 36 of them. Any of the five claiming to be a secretary is usually met by a ".... good", before moving on, while the four housewives get a more varied response. However, there's a real clash of different manners and styles here, as lovable toff Peter Jones (the voice of the book in Hitch-Hiker's, of course) gets asked for help by the Earthy nature of Alf Townsend, "Taxi Driver Of The Year 1979".
      One of the main games outside the major "match" game is the "Supermatch", where a contestant is given a phrase with a blank in it, and has to guess which was the most likely answer given by a studio audience. As there are three chances, from third most-given answer all the way up to the highest match, the contestants get to ask three of the celebrities for their guess as to what they think it could be, and then take a suggestion or choose their own. However, after Peter struggles and asks Alf if he has any idea, Alf raises his arm and says "I'm picking your brains, you're getting the fee, I'm not!"
      It's not entirely clear how serious Alf is being, though his "no nonsense" way of speaking causes a slightly awkward moment that Jones pretends to make light of. However, the suspicion is that Jones really didn't care for the attitude, as he doesn't applaud Alf along with the other celebrities afterwards. It's possibly a coincidence, as Jones didn't applaud everyone in other episodes, though it's a safe bet that if Alf gave him a cab ride home, he wouldn't have got much of a tip.
     Also on the panel is Bobby Knutt, a stand-up comic who later had success in acting, including Benidorm and as one of the Dingles in Emmerdale. Bobby tries to work laughs with a toy chimp, and it's easy for the cynical to look at him and think "Joe Beasley and Cheeky Monkey from Knowing Me, Knowing You". It might be even easier for the very nasty and mean-spirited to sit there and simply think "crap".
     Yet Knutt was a hard-working comic, having to ply his trade around clubs. He was actually the subject of a schools programme, Scene, called "The life of a stand-up comic", which aired the following month after this episode of Blankety Blank. A 20 minute documentary about Knutt, it provides a human side to the nature of these lesser-known comics who got on the series; hard workers trying to provide for their families, however sparse the results may seem onscreen.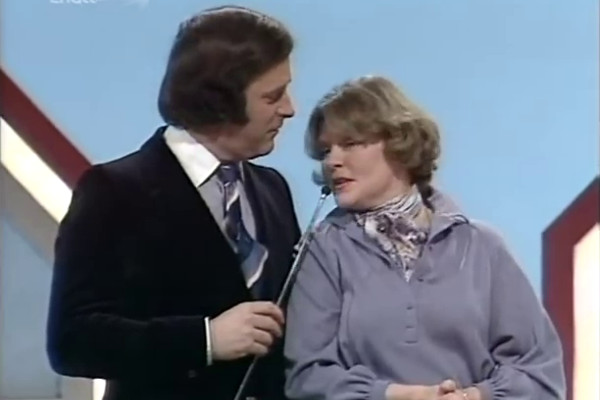 3
Episode 1.8
Guest Panellists: David Jason, Wendy Craig, Ted Moult, Isla St. Clair, Alfred Marks and Janet Brown.

The second series of Blankety Blank made two immediate changes to the first. One was that the electronic lights to indicate a correct match became the more familiar "flip over panels" on the desks, and the other was that the lights the celebrities pressed to indicate they were ready became little hand-held "ready" signs. The "ready" signs were quickly dropped and reverted back to the standard lights for the third series, but the "flip over panels" were retained, meaning that this first series is the only one you'll see where they're lit up externally, rather than having to rely on the honesty of the celebrities and contestants in flipping over the correct amount.
     This particular episode is a good-natured, fun one, including a contestant who amusingly wants to give a speech at the end of the show when Terry's signing off, and Terry doing his Columbo impression. Perhaps the only edgy moment is when Janet Brown does an impression of Wendy Craig, and Craig does her best not to look hurt at the somewhat loud, hysteria-drawn version that Brown depicts.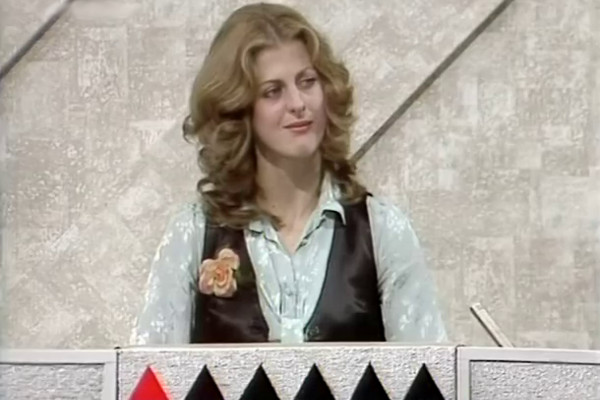 2
Episode 1.5
Guest Panellists: Peter Jones, Margaret Powell, Michael Barrymore, Kate O'Mara, Bernie Winters and Liza Goddard.

If there's anyone out there who likes to debate the relative merits of the Blankety Blank hosts, then one thing it's hard to deny is that, while Terry and Les Dawson were both very good in their own right, one area in which Dawson was clearly stronger was his ability to talk to the contestants, and make them feel at ease. Terry just doesn't seem naturally suited to eliciting and getting people to open up, which makes it odd that they gave him his own chat show three years later.
      It also doesn't help that this was very much a different time for television, with "real people" taking part still very much a part of the background; when Game for a Laugh made members of the general public effectively the "stars" in 1981, it was regarded as something fairly groundbreaking for British TV. But this isn't an element of the series to be derided; rather, a succession of uncomfortable-looking contestants being wheeled on in appalling 1970s fashions and engaging in stilted, dead-air "banter" with Terry are one of the highlights of the earliest shows. (A particular favourite from the first series is this awkward exchange between Terry and a contestant: "Have you any children?" "No." "Good.")
      Here contestant Jane Wheeler comes on the show with a face that can only be described as looking like "a smacked blank". It's not that she's a particularly bad-tempered person, or even to blame; it seems she simply cannot comprehend the stupidity of the celebrity panellists, and she doesn't have the poker face to hide it. Every little nuance and tic plays out over her face, as a variety of "WTF?" expressions fight for dominance.
      In a generally entertaining episode there's also antics from Bernie Winters and Margaret Powell, and while Michael Barrymore, in one of his earliest TV appearances, may try a little too hard at times, overall it's a spirited edition of the show, with a fair share of laughs... just not if you're a contestant, hoping for a serious chance to win a prize.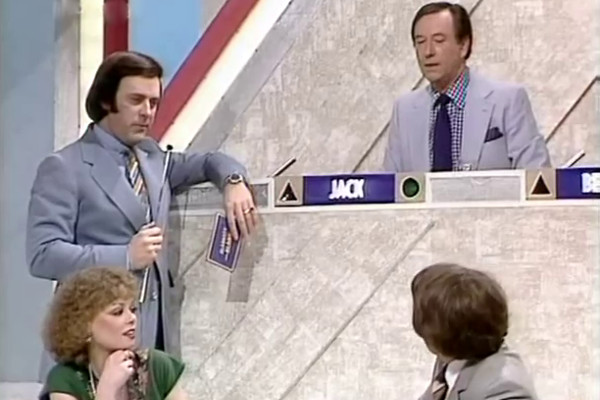 1
Episode 1.16
Guest Panellists: Jack Douglas, Beryl Reid, David Copperfield, Stacy Dorning, Paul Daniels and Wanda Ventham.

One of the big revelations of this inexplicable journey through Blankety Blank is Jack Douglas, here making his second of eight appearances throughout the whole show. A likeable and engaging presence, something unexpected given his tedious "dimwit" routines in eight Carry On movies. In hindsight, it might not be that Douglas is bad in Carry On - though the parts don't play to his strengths - but more just the low quality of the Carry Ons in question. Douglas joined the movie series when it was already in its death throes, and if you can say that you starred in Carry On England and not only was it not the worst Carry On you'd appeared in, but it didn't even make the bottom three, then you know something's amiss.
     There's a slightly awkward moment here where Jack talks about being a grandad, and Paul Daniels, as ever eager to interrupt, even though he's on a different row, asks "does his wife know?" Douglas has a serious expression, before claiming he didn't hear Paul's silly remark, which was basically implying that his grandson had had an affair. Turning to Terry Wogan, Douglas asks: "what did Charlie Drake say?" It's unclear if it's a crack at Daniels' height, or Charlie Drake being notoriously unliked in showbusiness circles, but Paul chooses not to repeat his remark. Daniels' popularity or lack thereof among the other panellists is open to question... Terry will often joke about him, and Arthur Askey fumigated his seat in series three after hearing it was the same seat that Paul had used. He came back a further six times after this, but never appeared again after series four.
     Also on hand is the kid-friendly David Copperfield, a likeable guy with a slightly old-hat style that jarred with the BBC's attempts to place him in a "hip" sketch series a couple of years later. Although still in his early 30s, Copperfield was teamed with Lenny Henry and Tracey Ullman, both of whom had a "fresher" comedic style and were, perhaps crucially, over a decade younger. Copperfield went on to make some fun shows for kids, including Lift Off and Coppers and Co!, but it's curious to wonder what path his career may have taken had he not taken the role as "the other one" in Three Of A Kind.
     For trivia, then this is a very low-scoring game, making it the first time in the series that a "tie breaker" is conducted with both contestants having scored zero points. It also saw the series bow out on a high in the ratings, charting at first place with 17.55 million viewers. It returned to the air just four months later, for another run of 16 episodes, followed by a Christmas special.