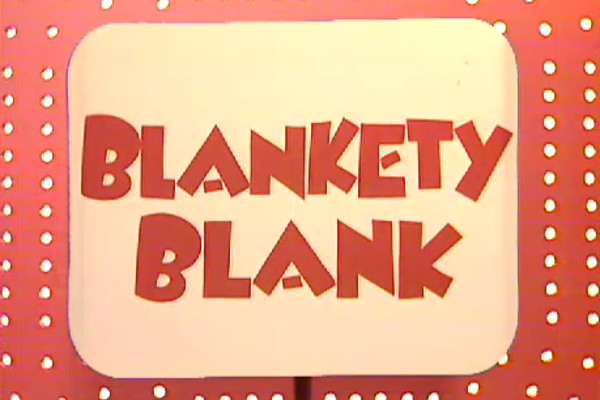 Before Blankety Blank ever aired, two "pilot episodes" were arranged to see how it would go. Produced in 1978, the two pilots had a very different look, and were never aired on television...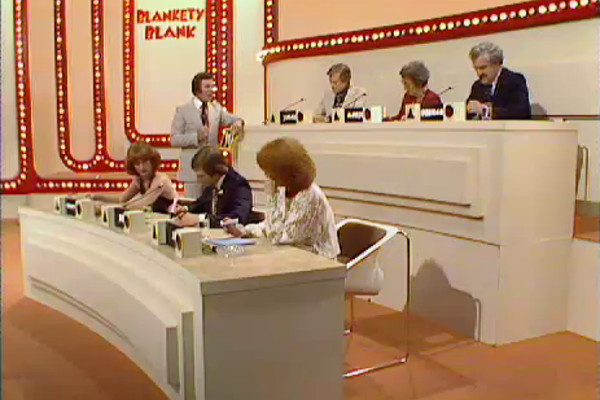 2
Pilot One
Guest Panellists (in panel order): Jimmy Perry, Marjorie Proops, Bernard Cribbins, Shirley Anne Field, Jerry Stevens and Lulu.

The pilot bears more relation to the American Match Game than the actual series did, even down to sets that are more of a replica, and a Hazlehursted version of the Match Game theme tune. For those who are unaware of the Match Game theme (a section of it was used by YouTuber GradeAUnderA, who was big about five years ago) then it's a jaunty instrumental that could presage a cheap 70s sex comedy with Robin Asquith. Yes, the grating but unforgettable "Blankety Blank" theme tune that Ronnie Hazlehurst came up with is better, something that's hard to comprehend.
      It's actually an extraordinary admission that as tatty and "low rent" as the first series of Blankety Blank looked, it's a huge step up in class from the pilots. The jokes are all pretty much the same - Terry calls the panel "hobbledehoys", pervs over the female contestants, someone makes a crack about his microphone, etc. But it's in a retroactively unfamiliar environment, a "busy" world where the red set is decorated by lightbulbs that never stop flashing for an instant. Particularly awful are the two seats for the contestants, one of whom is in the washing machine business, and points out that the desk he's sitting in front of looks just like one. (Speaking of Terry's microphone, strangely it's just an affectation in the pilots, as he has a clearly visible lapel mic throughout both, and his voice isn't affected by him moving the "wand mic" away from his mouth.)
      It's also surprising to see panellists who were involved in the pilot but not the actual transmitted series. Jimmy Perry and Marjorie Proops were "one and done", whereas Lulu only returned for a couple of series two episodes. Bernard Cribbins returned in series three, with no indication he was an original contestant. It's a slightly more sterile environment than a regular show, particularly the post-S1 shows, but it's one in which Cribbins manages to thrive more than in the shows that actually aired. One of Bernard's first appearances on the show proper was with Paul Daniels, where he was somewhat lost in the deluge of noise, and didn't look particularly comfortable. Here, in a show so characterised by silence that there's incidental music during the show, he gets chance to show more of the humour he's known for.
      In terms of how the game works, then there's no revolving set, there are panel lights, but none of them seem to work, and the panellists have to put their hands up to say they're ready. The idea of the "coin toss" to decide which contestant goes first is also yet to be established, so that, while Terry lets the female contestant go first during the first game, the second alternates to the male contestant. Finally, there's no prize for the "Supermatch Game", other than a Blankety Blank pen (a chequebook promised, possibly just as a joke), but the points won lead to the contestant with the highest number of points going through to the "Head To Head". Winning the "Head To Head" means the contestant gets to choose which of three prizes they want from a customarily terrible selection. (As seen in the second pilot, then losing the Head To Head means you get to choose a prize from the points range you achieved in the Supermatch.)
      Terry briefly refers to the two pilots in his 2000 autobiography, Is it me?, noting that: "We did a couple of pilot shows, which proved nothing - because, as cannot be said too often, nobody knows anything in this business until the red light comes on". Lastly, the inclusion of the pilots in this bizarre odyssey through the universe of Blankety Blank isn't meant to be some elitist "I've seen them, you haven't" missive, but just of hopeful interest to fans of the show. Had the opportunity arose, they'd have been included in the series one article, but it came too late, and they're perhaps impossible to compare with the actual show proper anyway. I've been very lucky to get the opportunity to see the pilots here at The Anorak Zone, and hope that one day you may have the opportunity, too.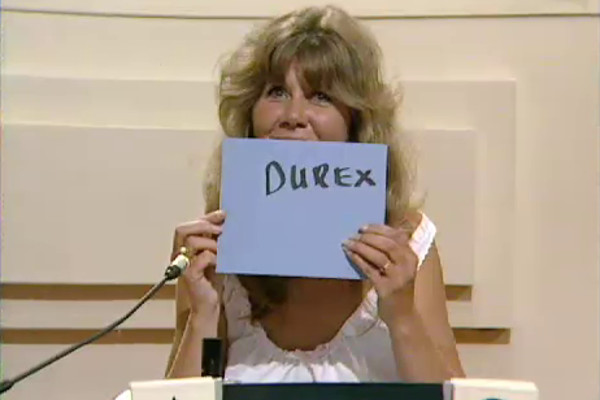 1
Pilot Two
Guest Panellists: Peter Jones, Wendy Craig, Bill Tidy, Judy Cornwell, Lennie Bennett and Jilly Cooper.

In terms of when the pilots were made, such things aren't altogether clear at this stage, though both notably have a 1978 copyright date, whereas the earliest series one episode is dated 1979. Jilly Cooper represents another "one and done", but otherwise this second pilot sees the show start to take a more familiar shape. The panellists here, if not exactly "regulars", did make some appearances in the first series proper, and here the heckling really begins.
     While there's some fun interjections in the first pilot, it's very much a show led by Terry as a dominant presenter, a stance which is less successful than his put-upon, weary host routine. Obviously this can go too far in the other direction (the word "Daniels" springs to mind), but Terry being heckled and the show struggling not to descend into chaos is what Blankety Blank's really all about.
     Yet at this stage it's still very much a show led by Terry, with the various celebrities not really factoring into whether or not it works. All, that is, except for a typically noisy Lennie Bennett, who as usual straddles the line between "adding to the fun" and "wanting to take over the show". Curiously, there does appear to be some recycling of material from this second pilot to the show proper. Not only are a number of the questions quite familiar, but Lennie Bennett jokes that if Terry was a domino, he'd be a double blank. The remark was made again by Jack Douglas in Episode 3.10, though Lennie, on the same show, chose to laugh, rather than say "I did that joke two years ago".
     In Is it me?, there's a kind of acknowledgement by Terry that some of the first guests were a bit... low key. With no disrespect to Bill Tidy, having someone who draws cartoons for a living on the panel as a "celebrity" doesn't quite fit the description. This is not to denigrate the illustration profession, far from it, and not to suggest that it's not possible for a cartoonist to be a good panellist, but that Tidy's job (and, to be fair, the jobs of the various writers on the two pilots) doesn't intrinsically require an outgoing persona.
     Terry's remark, which seems to unintentionally acknowledge this, stated: "After initial timidity, the stars began to rally around 'Blanks'. [...] As the show became more and more successful, we were beating off the great and the good". If such things seem like a backwards dig at the earlier shows, then Terry's more blunt in this second pilot, mock-spitting after he says the word "celebrities".
     Lastly, a significant change here is that rather than a "Supermatch Game" at the end of both rounds of contestants, the two Supermatches are played back-to-back at the end to see who goes on to the final. It's arguable that it makes for a more satisfying game, after a fashion, but years of seeing it being played the other way is an expectation that's hard to overcome. If nothing else, the presence of a Supermatch halfway through does provide a break from all of the various innuendo-laden questions, as fun as they are.
     In all, these two pilots have a different feel, with a very enclosed, almost claustrophobic set, and the dynamic and energy isn't quite there yet. But they're not as far removed as you may expect, and with just a few changes, the series proper came to air the following year.