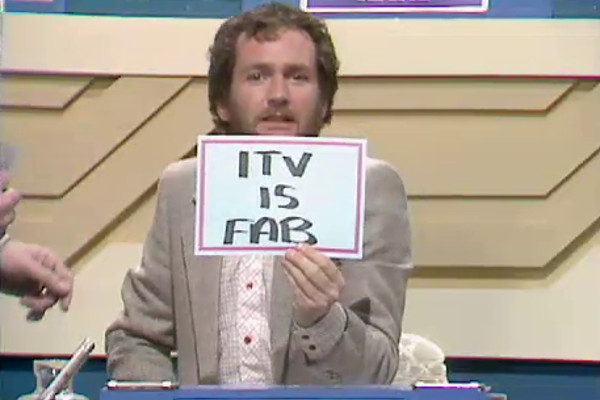 12
Episode Six
Guest Panellists: Alfred Marks, Katie Boyle, Ted Moult, Una Stubbs, Kenny Everett and Liza Goddard.

The debut on the show of Katie Boyle and the very well-remembered Kenny Everett makes for a surprisingly flat show. Possibly it's due to the editing, which seems a lot stricter than usual, and loses some of the formless, free-falling nature of events. But Kenny doesn't really seem to know what to do at this stage, and he's yet to come up with the thing that he's most famous for. Just before the 19 minute mark, he pretends to be inhaling his highlighter pen and getting high, but it's not noticed by the studio audience and doesn't get a laugh. So a couple of minutes later he repeats the gag, getting the notice and laugh he was aiming for.
     Kenny is much-loved here at The Anorak Zone, where his various TV shows featured a variety of amusing characters, a lot of which still stand up pretty well today. However, his performances on Blankety Blank may not be as wacky and novel as you may have recalled. Largely it's because a huge percentage of the men who sat in the centre bottom seat felt the need to be the "maverick", so Kenny's was just one of many flavours on the same theme. At the time, it may have seemed quite ground-breaking and genuinely "zany", but in hindsight it often feels all a bit pre-rehearsed, with Kenny merely following in a path that Paul Daniels and Lennie Bennett had first trod. The question of whether Kenny is funnier than Paul Daniels doesn't really come into the equation - the point is, whether it worked or not, Paul Daniels did most of it first.
     It's also that, as time has passed, a lot of his schtick is related to quite juvenile stuff; bringing on props of the laughing bag and chattering teeth variety, in place of any genuine wit. This is not to knock Kenny, or suggest that he couldn't be witty, but that he chose to go a more childlike route for laughs. Terry Wogan summed up Kenny in his oft-quoted autobiography, Is it me?, praising him and noting that "the younger viewers particularly loved Kenny's madcap ways".
     And therein perhaps lies the real issue. It's not that Kenny's terrible on the show - he's okay - but we, the audience, have changed. Many of this site's demographic would have still been children when this aired, an age that was ideal for Kenny's brand of somewhat infantile fun. With the passing of four decades, it maybe doesn't seem as amusing any more, but that's not Kenny's fault, and there's still his pretty good TV shows to enjoy.
     Despite all this, Episode 2.6 shows Kenny at his most subdued and least imaginative. Kenny only made slight reference to the show in his 1982 autobiography, The Custard Stops At Hatfield, but what he did say is illuminating, particularly in regard to this episode: "I've always wanted to be quiet, ever since I was very small — although you'd never guess from watching Blankety-Blank." Lastly, it may be forgotten that, although a former Radio 1 DJ, Kenny was still with "the other side" at this point. Eight of his appearances on the quiz took place before his BBC1 sketch show ever aired, with the comic still known at this stage for Thames Television's The Kenny Everett Video Show.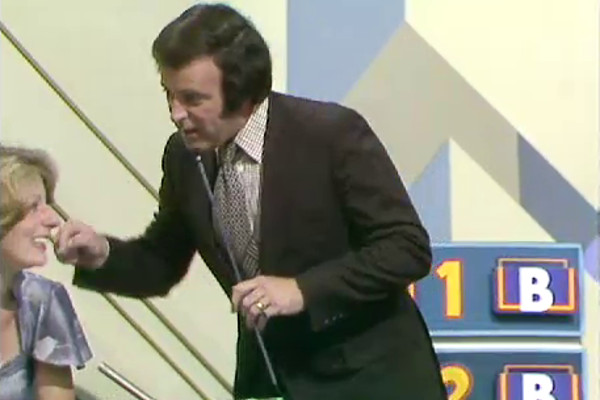 11
Episode Eight
Guest Panellists: Bobby Knutt, Julia McKenzie, David Bellamy, Shirley Anne Field, Alfred Marks and Sandra Dickinson.

Technically the first episode to feature Sandra Dickinson, however, confusingly for viewers, Terry makes reference to her having been on the show before. This would appear to be a reference to Episode 2.13, which has dialogue suggesting she's "new" there, and so was clearly broadcast out of sequence. As discussed with series three of The Adventure Game, Sandra Dickinson is a great participant in shows like these, doing what's best for the show with enthusiasm, rather than dragging it down for her ego. Although she occupies the "ditz" seat already perfected by Lorraine Chase, she brings her own off-beat take on things, really making it her own.
     Also on the panel is David Bellamy, one of just nine celebrities in this second run that made a sole appearance and never returned. Despite having an enormous and imitable personality, Bellamy doesn't really register on the show, seemingly a bad fit for the flippant mix of cheap nonsense and old-fashioned innuendo. Also making up the panel is Bobby Knutt, a hard-working stand up who was covered in the article on series one. Bobby and his monkey is back, and it would take the hardest of hearts not to feel for him when his patter continually fails to take with the same audience that found Lennie Bennett so amusing. It was Bobby's last time on the show in the Wogan era, though he returned for an episode in 1986 under Les Dawson. Bobby does, it must be noted, start off well with a gag about a miner marrying a commoner, a topical reference that's fairly lost decades on.
     Terry jokes about running the show with a tighter reign this time, and there's some slightly uncomfortable moments where he pokes a female contestant, and comes out with lecherous remarks about some of the panellists that go beyond his normal level, including propositioning Sandra Dickinson. But while such things may seem awkward to watch in the very different climate of 2021, they come from a man who was a virgin on his wedding night.
     Terry spoke regarding the period in an interview with The Daily Mail noting: "Things were a bit different then. You can't justify what went on, but it was a lot more lax in the sense of the way men and women, boys and girls, behaved towards each other. [...]  It was accepted [...] Obviously, in my case and in the case of the great majority of disc jockeys and presenters, we weren't that foolish."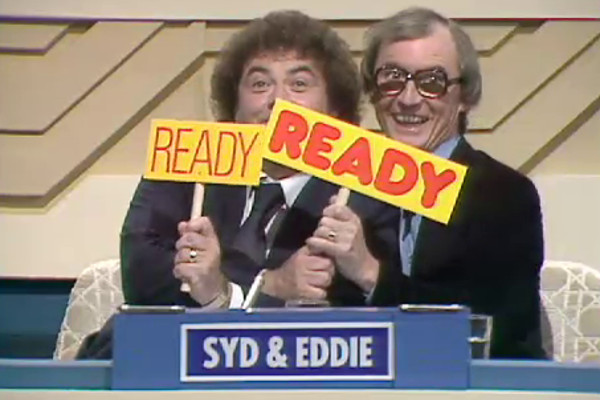 10
Episode Two
Guest Panellists: Jack Douglas, Wendy Craig, Patrick Moore, Judy Geeson, Eddie Large, Syd Little and Aimi MacDonald.

The only appearance of Little & Large in the Wogan era, a duo who would make just one more appearance as part of a Les Dawson Christmas Special six years later. A large percentage of this site's demographic probably, like me, grew up watching their shows on Saturday nights, and enjoying them despite their obvious limitations. There was a kind of harmless, inane appeal to their act, and, while their ITV rivals Cannon and Ball may have been technically more proficient, they had a coldness that Syd and Eddie didn't possess. (Bobby Ball was reported as saying that before he converted to Christianity, he used to enjoy knocking people out.)
     Yet while Cannon and Ball openly admitted to feuding while their show was on the air, Syd and Eddie's main fall out was post-show, and they conducted their spat in the pages of their respective autobiographies in the mid 2000s. Oddly, Syd had already written one, 1999's Little Goes A Long Way, which was a fairly bland tale that said nothing negative about Eddie, other than his irritation at Syd doing a bad performance one night. However, they were still working together in pantomime at the time... it wasn't until the split, with 2004's Little By Little that Syd began to criticise Eddie, though it was co-written with a Chris Gidney, which may explain why the content was "beefed up", even suggesting Syd had a heart attack as a result of being pressured. 2005's Larger Than Life saw Eddie counter: "I was hurt and angered by the suggestions in his autobiography that I had behaved badly towards him during our long partnership. He accused me of bullying him, which was a surprise to me".
     It's somewhat a shame, as they both seemed nice guys (Syd developed an adorable bond with New Kids on the Block singer Jordan Knight and a fatherly, caring attitude towards Jodie Marsh in 2005's Trust Me: I'm a Holiday Rep) and it's hard to see friends fall out. However, they repaired their friendship before Eddie's death in 2020, appearing together on some TV guest spots, and doing some speaker events about their time together. What happened in the interim, and whether they discussed their respective books in person, is a mystery.
     With Syd being mainly a reactive role in the Little & Large partnership, his involvement in the show chiefly involves looking nonplussed while Eddie calls him "Supersonic" and does a quick impression of Benny from Crossroads. But while this edition isn't likely to split anyone's sides, it's a pleasant half an hour's watch, something light and diverting from the troubles of the world.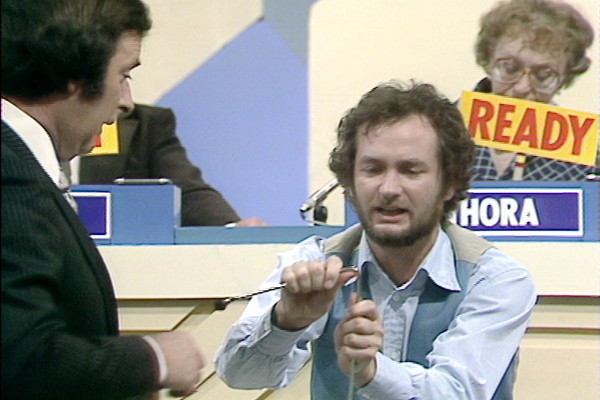 9
Episode Sixteen
Guest Panellists: Roy Kinnear, Thora Hird, Henry Cooper, Karen Kay, Kenny Everett and Lorraine Chase.

In 1997 the BBC brought a new series to afternoon television: Wogan's Best of Blankety Blank. Running until 1998, there were twenty-three episodes, five of which were dedicated to series two. The whole thing was launched with a cropped repeat of this one, topped and tailed with new introductions by Terry. It's an episode that's almost lionised, and probably among the top three or four things people most remember about the show... the theme tune, Les Dawson, chequebook and pen, and Kenny Everett bending Terry's microphone.
     So, what of that Freud-troubling act, Kenny's first bending of Terry's microphone? Well, it's not as seismic an event as may be recalled, with the audience laughing, but not exactly blown away by it. Possibly because it seems a little mean-spirted on Kenny's behalf in the way it's performed, rather than the wackier, zanier takes on the concept when he'd repeat the same joke in every subsequent appearance. Or maybe it's just that, at the time, no one knew it was coming, but on repeats, everyone knows it's coming, and is waiting for it. In fact, it's possibly not this first appearance of Kenny doing it that's so well-remembered, more every time he went back to that same well over the years.
     While this is a decent episode, there is the sense that everyone involved is trying a bit too hard, with some awkward dead laugh areas, and Lorraine Chase looking slightly non-plussed when Karen Kay does her impersonation of her to her face. That said, Lorraine was possibly just thinking "who was that supposed to be?" along with 90% of the audience.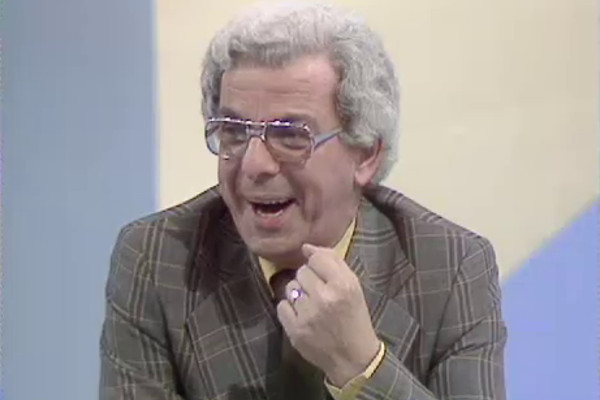 8
Episode Five
Guest Panellists: Barry Cryer, Beryl Reid, Russell Harty, Lulu, Michael Parkinson and Lorraine Chase.

There's perhaps a certain scale of celebrity on Blankety Blank, from genuine stars and performers, to those there to make up the numbers. While Barry Cryer is more than just someone there to fill an empty seat, he does flirt perilously close to the "chancer" category, a gifted comic writer who somehow also got gigs as a performer. Kenny Everett openly admitted that Cryer's writing was essential to many of his television performances, sometimes feeding him lines off the cuff in front of audiences. Yet there's the crucial delineation between the two: Cryer the writer, Everett the deliverer of the material.
     Barry Cryer's real opinion of Terry as host of Blankety Blank is difficult to determine. In 2016's Sir Terry Wogan Remembered: Fifty Years at the BBC, Barry was very complimentary, claiming: "He had a love of comedy. And he was never a flippant man. He was serious about serious things. But if there was a funny angle to any situation, he would spot it. He loved the other person getting the laugh [...] he would blatantly feed you, hoping you would come back at him." However, Terry wrote in 2009's Where Was I?! that Cryer "told me lately that his memories of me as the host of Blankety-Blank on television [...] are as of a blank page, on which the livelier wits, such as himself, could paint their lugubrious pictures. I don't mind telling you, it cut me, to the quick." Whether or not Terry took a joking remark to heart is unclear, but there are certainly no signs of animosity here.
     As for the rest of the panellists, then making their debuts with Barry are Russell Harty and Lulu, even though Lulu was technically one of the very first contestants, having featured in the unscreened first pilot. If you want to crudely break down the seating arrangements of Blankety Blank, then generally there's a pattern, with the top row for most shows being: old fart/character actress/eccentric. The bottom row, conversely, is usually comprised of: attractive woman for Terry to letch over/loudmouth loose cannon/professional airhead.
     Oddly, Michael Parkinson returns to the "loose cannon" seat for this edition, a man who is the sharpened pin to the balloon of laughter. However, "Parky" does give a bit of an effort this time around, leaving it to Russell Harty to be the panel's grump, with a waspish, catty performance that doesn't betray much sign of being ironic. Harty plays up the supposed "rivalry" between himself and Parkinson, though in 2012's The Unforgettable Russell Harty, Michael was full of praise for Harty's skills as an interviewer, and described what good terms they were on in real life.
     Lastly, the ratings for all but three episodes of this run have been sourced from archive newspapers. Of those confirmed 14 episodes, then the average viewership was 18.9 million (or 18.8857 if you really want to be precise), with an average chart ranking of fourth place. While the show was very popular, the BBC benefitted hugely from a 75-day ITV strike, which saw all its programmes get boosted ratings.
     This particular edition was the highest-rated from the 14 confirmed episodes, with 23.3 million tuning in, and ranking 3rd on the chart. The episode with the highest chart placing was Episode 2.3, whose 22 million viewers was enough for it to rank joint 1st with an episode of The Generation Game. While the viewing figures understandably dropped after ITV came back on the air (averaging 16.9 million in confirmed ratings, as opposed to 22.48m when ITV was on strike) the ranking generally stood firm, the series coming in at an average of fourth place, even when ITV returned to TV screens.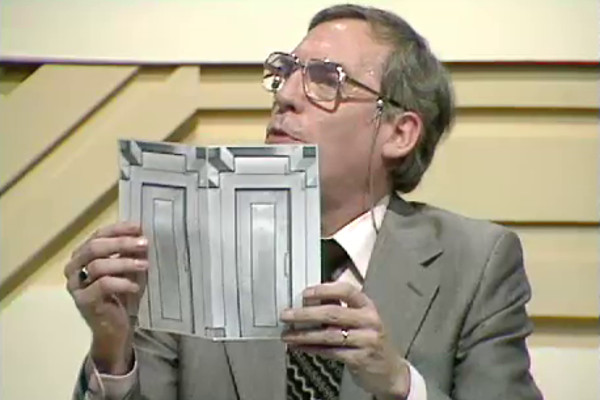 7
Episode Seven
Guest Panellists: Pete Murray, Moira Lister, David Jason, Isla St. Clair, Larry Grayson and Barbara Windsor.

The debut of Larry Grayson and Barbara Windsor on the show, along with the sole appearance of Moira Lister. Larry and Barbara didn't actually appear as often as might be recalled, just ten times each, not including Larry's "unofficial" appearance in Episode 2.4. Such a number only places them at joint nineteenth in terms of regular appearances, along with lesser-spotted celebrities like Joe Brown and Dana. What's more, Barbara Windsor only reached this amount by coming back for three episodes of the Lily Savage revival.
      Yet despite a relatively low number of appearances for a "regular", Grayson was viewed with an enormous amount of affection by Terry Wogan. In Is it me?, Terry cited Larry, Kenny Everett and Beryl Reid as "three special people" who always had a spot on the show whenever they wanted it. Larry brings his practised cattiness to the show, or, as Terry put it, "camp disdain", and it's a line of humour that works well with the audience.
      The big mystery surrounding this one is that when Barbara Windsor is encouraged by Larry to reveal a rude answer she'd written down and discarded, a cartoon panel reading "oops!" is placed over the screen, preventing the viewers from seeing what was written.