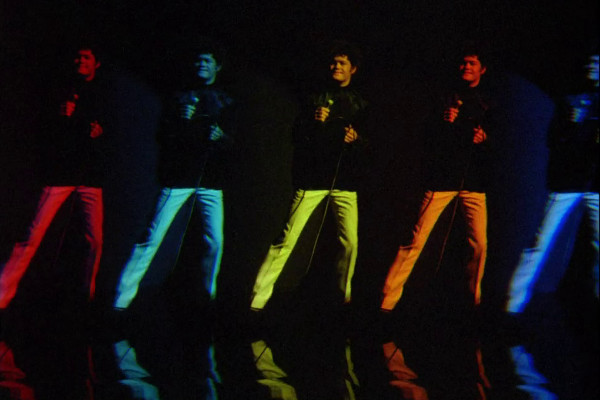 14
The Wild Monkees
The Monkees find themselves having to look after a hotel, only to discover that the guests are bikers. Things look up when they discover they're female bikers, but the band are still required to "toughen up" in order to attract the women, and things get even more complicated when their biker boyfriends arrive. It's all fairly broad stuff, but what gives this one its charm are the fluffs that begin to get increasingly left in the final edit. Look out for around 13'40m in, where Micky gets a line wrong and is jokingly corrected by Mike... Micky starts to laugh, and Mike looks off camera as a result.
     What might come as a surprise to many is which Monkees tracks are featured the most in the series. Predictable choices such as "I'm A Believer" are up there (with five appearances), and "Last Train To Clarksville"/"I'm Not Your Steppin' Stone" put in half a dozen each. But other famous tracks such as "Daydream Believer", "Pleasant Valley Sunday" and "Randy Scouse Git" don't make the list. Possibly unexpected is that "Goin' Down" notches up half a dozen appearances, and "Star Collector" gets five. Along with The Monkees In Paris, this is the only episode to feature both, though with a difference - the version of "Goin' Down" is sung live over a backing track, and "Star Collector" appears in an early mix without the later added Moog synthesiser. (Of course, strictly speaking, the songs that feature most in the show are the theme and "For Pete's Sake"...)

Songs: "Goin' Down", "Star Collector"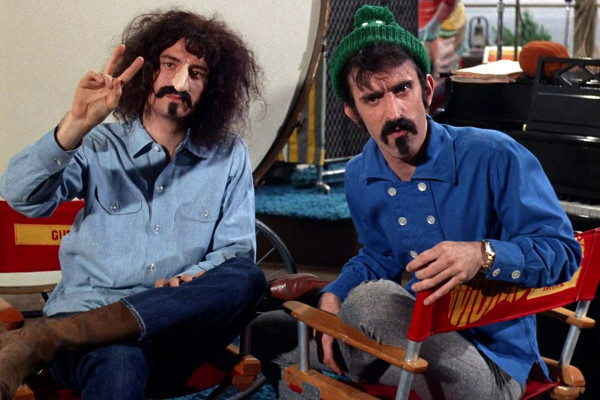 13
The Monkees Blow
Their Minds
The actual episode here is fairly bog standard, "Peter gets mind controlled" stuff, albeit with the odd chucklesome corny line ("Why don't you join me in a cup of tea?" "Do you think we'll both fit?"). However, what makes it stand out are the two bookends to the show, both of which illustrate the band's ennui with the TV series. The finale is a rendition of "Daily Nightly", moodily shot in black and white, and the opening is Mike interviewing Frank Zappa as "each other", before smashing up a car.
     On the DVD commentary Nesmith recalls that they all wanted to exploit the show to give a spotlight to their favourite artists, but many of those artists (such as having Jimi Hendrix support them on tour) were not popular with their target audience. Nesmith also gives credit to the editors who were able to make anything of the material ("we weren't very good improvisers") and acknowledges that the second season gets stranger and doesn't always make sense. Peter Tork was the only Monkee who never had a guest on the series... in the commentary to Fairy Tale, he reveals that they never got around to it, but his choice would have been Janis Joplin.

Songs: "Valleri" (1968 version), "Gonna Buy Me a Dog" (instrumental track), "Daily Nightly"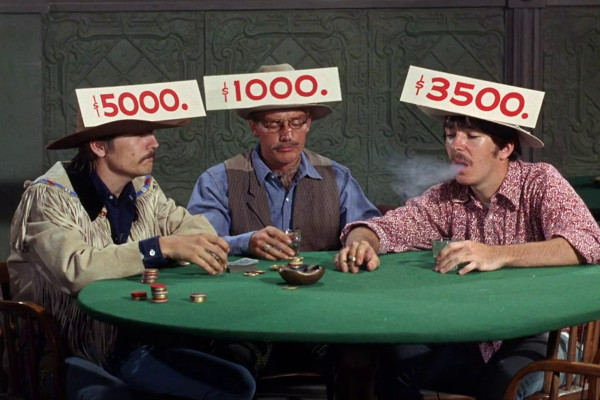 12
The Monkees In Texas
A fairly diverting western pastiche, complete with some silly but amusing gags. (As pictured above, at one point when Micky enters a bar and says he'd heard there are three men in there with a price on their head; it cuts to a shot of three men at a table with massive prices on their hats.) It's unusual to see them all, save Peter, firing guns, given the pacifist nature of their music, but then this is just an entertainment, even if the western storyline concludes without a real resolution.
     To date, only two members of the band have released autobiographies: Davy (with Alan Green) in 1987, and Micky (with Mark Bego) in 1993. As both only last around a couple of hundred pages and are somewhat padded out (including large type and photographs) they're no dense texts that will take time to pore over, but are readable enough. [Note that since this article was written, Mike Nesmith has released an autobiography, which is looked at in more detail in the season one article]
     Sadly, while Micky's brief story does give you a feeling of the man, Davy's They Made A Monkee Out Of Me rarely manages to get behind the public persona. While occasionally he touches on deeper themes, like his marriage breakdown, he glosses over a lot of events, including not referring at all to the huge dispute between himself and Micky in 1986, an event that was a pivotal part of Micky's book. With the content made up from conversations between Davy and Green over a seven-year period, there is a slight "bitty" feel to it, as if you're not reading a text to be consumed, but eavesdropping on snatches of somebody else's conversation.
     What's striking is how little Micky or Davy were interested in taking over control of the Monkees' musical direction - Micky states that they only did it to please Mike and Peter, and Davy scarcely mentions it at all, only that all the legal suits going around between parties were "really starting to piss me off."
     Although Davy describes how, while filming the second season "all the feeling was gone", he doesn't discuss the music side of the business in any great detail; while Micky's charmingly name-dropping book paints the picture of many meetings with the rock stars of the day, from Hendrix to the Beatles, Davy saves the most of his literary praise for Harry Secombe. Although Davy and Micky were the experienced actors of the group, it's surprising that he appeared, at least in print, to have no large interest in music, not even discussing his own compositions.

Songs: "Words", "Goin' Down" (sung live over the instrumental track)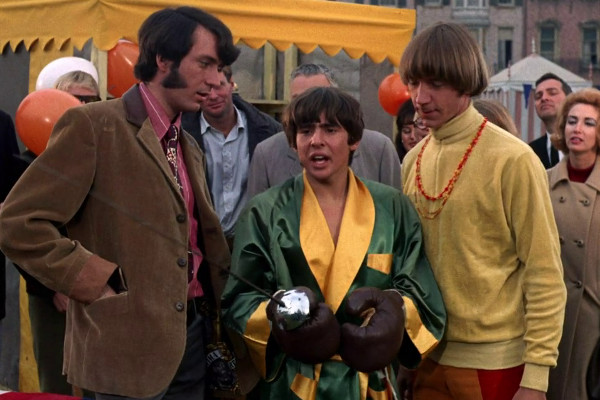 11
Monkees Mind
Their Manor
A decent story with a nice pace, as Davy stands to inherit an English manor off an old eccentric, with a lot of the episode set at a medieval fair. Trivia abounds: the prop manager was given a small role, and, when called upon it, sings a tune... it was directed by Peter H. Thorkelson (the real name of Peter Tork)... and the writer not only crafted five other episodes (including the subversive The Monkees Watch Their Feet) but wrote every single episode of Sport Billy.
      Nesmith clearly doesn't care throughout, talking off camera, sticking his tongue out in long shots and sarcastically promising viewers more "riotous fun" next time. It adds an extra layer, with Tork noting on the commentary track "Mike's a contrary son of a bitch. [...] Couldn't get him to participate, he was so annoyed that I was directing." Tork also contradicts Nesmith's suggestion that improvisation was done as it rolled, stating that such things were done during rehearsals and that "we almost never improvised on camera."

Songs: "Iranian Tango", "Greensleeves", "Star Collector"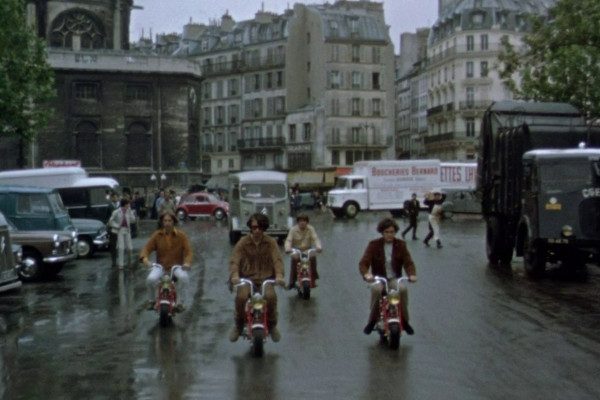 10
The Monkees In Paris
Genuinely filmed in the French capital, The Monkees In Paris has no existing film masters and so went for years existing only in a bleached, almost monochrome form. Thankfully the 2016 BluRay release from Rhino has restored the episode to a high quality, presenting the episode how it should have looked at the time. With the vastly improved colour and picture quality, appreciation of the episode may increase among its fans... indeed, when this article was originally written, this was the lowest-rated episode on the Internet Movie Database. Perhaps not coincidentally, since the BluRay release it's now risen to joint-last place along with Monkees Race Again, at least sparing the episode some indignity.
     The Monkees In Paris begins with deconstruction, as they lament the repetitious nature of the programme, Mike claiming "You've seen one Monkee episode, you've seen ALL the Monkee episodes." Playing the director left without a cast is James Frawley, and there's a nice running gag where he's more concerned about getting a close up on a prop than he is his missing stars. Although he didn't actually direct this one (that fell to writer Bob Rafelson), he was the most prolific director on the series, helming 28 of the 58 episodes.
     Despite such positives, it is indulgent, and, as it's largely dialogue free (there's a 13 minute sequence that's just silent, save for songs, with no break in between), it's a sure way to annoy a mainstream audience who were expecting a more traditional sitcom format, rather than a show wittily homaging the French by going full new wave. Although rated highly here, it has to be said that it doesn't offer a real feasible alternative to the standard show, but is certainly a rewarding curiosity.

Songs: "Love is Only Sleeping" (album mix), "Don't Call on Me", "Star Collector", "Goin' Down"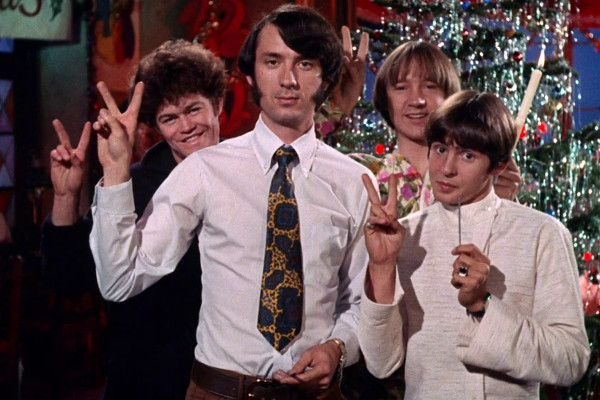 9
The Monkees'
Christmas Show
Aired on Christmas Day 1967, the festive competition saw it get by far the lowest viewing figures for the series, the 7.11 million who tuned in over a million less than the next lowest rating. (Should you care, the highest rated episodes of the season were Hitting The High Seas/Some Like It Lukewarm with 11.14 million tuning in. The highest rated episode of all was season one's Monkees At The Circus, with 12.08 million viewers).
     As a Christmas special, this doesn't do anything particularly unusual, with the boys assigned the task of bringing the Christmas spirit to a young boy (Butch Patrick, aka Eddie from The Munsters), though it's notable that the only message is "peace and love", with no religious element present. Perhaps even more notable is the cheekiness of Davy this episode, trying to get laughs out of the line "gay abandon", attempting to make Pete and Mike laugh at Micky's earnestness while singing "Riu Chiu", and introducing one crew member to viewers with the line "'e's a poof!"

Songs: "Deck The Halls", "Riu Chiu"
8
The Monkees
On The Wheel
Perhaps more of an interesting episode than a great one, The Monkees On The Wheel sees a significant change in the comedy used in the series. While the story about crooks and casinos still utilises elements like Micky's somewhat painful Cagney impression, there's a more self-aware/deconstructive humour at play.
     With greater use of jump cuts and flash cuts, the episode ends with Mike explaining how the episode was supposed to end with a "laugh riot", demonstrating the planned conclusion and sarcastically urging "isn't that funny, kids?" To finish things off, we get a rendition of "Cuddly Toy" (a song reputedly about a promiscuous girl) and then a blooper reel where Mike is unable to get through a scene without laughing.

Songs: "The Door Into Summer", "Cuddly Toy"