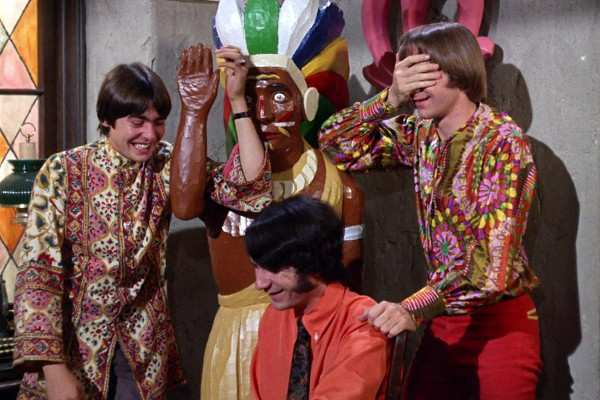 7
The Monkee's Paw
A fun, fascinating example of both how out of control the Monkees were getting at this stage of the programme, and how many drug references were beginning to creep into the series. An early scene sees Micky travelling to the mountains of Tibet to meet "the High Lama". "I'm afraid you're out of luck," explains Mike, "he's out back sleeping it off." "You don't mean...?" "Yeah, that's what I mean, that's how he got his name." Later Mike performs a lesson on a blackboard and reads out the phrase "legalise wisdom Frodis." Anyone who has seen the final episode of the series will know that "Frodis" is a term with added meaning. This is also an episode where Davy and Peter came to blows, with Davy having to be sent to hospital for seven stitches.
     What's also great fun is the amount of fluffs left in the episode. There's an early one where Micky stumbles and laughs over his own goof of "Dans and seserts... er, sands and deserts", but best of all is the moment pictured where Davy, who is distracted by Micky off camera, tries to hold back his mirth, until he ends up crying with laughter. In I'm A Believer, Micky Dolenz's autobiography, Micky describes how the group were encouraged to improvise and be as wild as possible, something that guest stars would often find hard to cope with.
     This reached its lowest point with Hans Conried, an established actor guest starring as "Mendrek", who can be seen at the end of the episode in a (bleeped) take saying "*** I hate these kids!" (The bleeped dialogue probably being a strict network attack on the word 'God', but Micky (mis?)remembers the line in his autobiography as the more explicit "God I hate these fucking kids!") Seeing the outtake, it appears as if Conried may be saying it as a dry, deadpan aside, but in I'm A Believer Micky recalls that they were "well on our way to meltdown" and regretted upsetting the veteran actor.

Songs: "Goin' Down", "Words"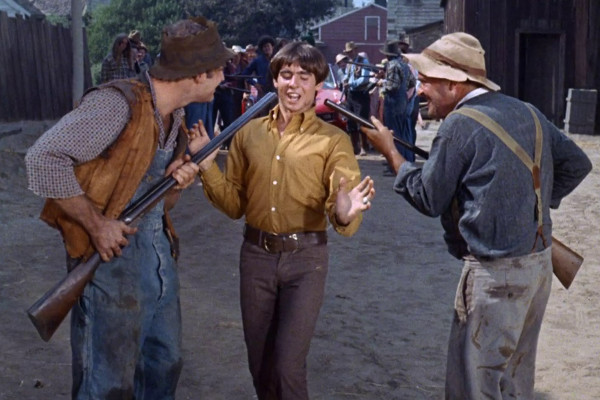 6
Hillbilly Honeymoon
There's basically only one real joke in this episode, and how much you like it will depend on how funny you find that joke. Basically, the Monkees travel down south to what Mike calls "my people", and then we get a procession of OTT Southern American stereotypes. It's so full on it's irresistibly engaging, even though you get the feeling that most of the energy was achieved in the edit suite.
     One gag that's a bit racy for the time but perhaps wasn't meant to be was Peter showing someone a photo of his wife, only to mistakenly hand over a picture of a coyote. His response "Well, it gets lonesome in the hills" was probably intended as a silly nonsense gag for small kids and not taken, as it would be today, as an explicit reference to bestiality. That said, a lot of the episode does take pains to go pass the line, with a young girl trying to marry Davy, who is later revealed to be only 15.

Song: "Papa Gene's Blues"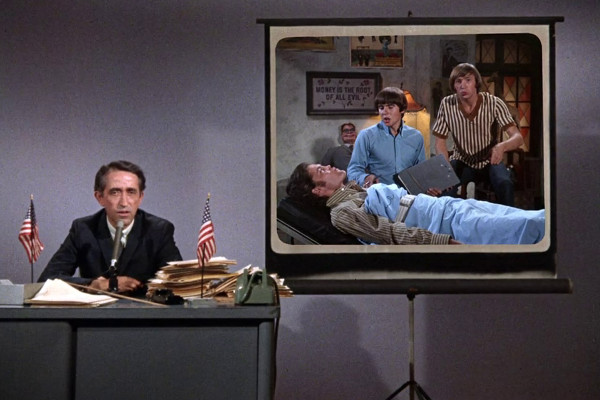 5
The Monkees
Watch Their
Feet
Arguably the most subversive episode of The Monkees, The Monkees Watch Their Feet (aka "Micky And The Outer Space Creatures") is one of several scripts that was left over from season one. However, while the initial filming dates occurred in May 1967, with a canned laugh track and Micky still in his original straight hair mode, additional wraparound footage was shot four months later with comedian Pat Paulsen. Although little-known in England, he was a popular comedian of the time who appeared in the Smother Brothers TV shows and repeatedly stood for President for humorous purposes.
     Paulsen presents the show as a documentary to illustrate alien invasion, lamenting that what was probably a standard runaround isn't funnier, and talking about drugs and violence. In one notable moment he satirises Vietnam with "Take the war, for example. Whose fault is it? Certainly not our fault. We're not fighting. It must be those crazy kids." He ends his segment with a satirical call to arms, urging America to take military action against space.
     Nesmith only appears in tags at the beginning and end, introducing Paulsen with "... usual lack of cooperation from the National Broadcasting Company." It's an instalment with some suitably trippy moments, and was initially much higher in the rankings, but another revisit of the episode reveals that the meat of the story is more straightforward than the narrative tricks used to dress it up.

Song: Star Collector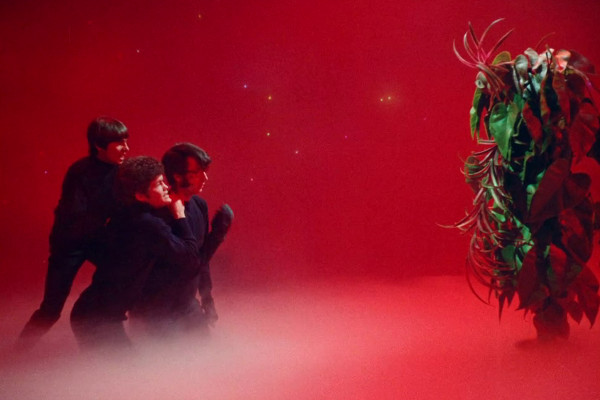 4
The Frodis Caper
One major reason why the second season is covered here and not the first (apart from the very real reason that I haven't got round to rewatching all of season one...) is that the second season has more fantasy/sci-fi/horror episodes, ideal for a cult film & TV website. In all, 9 of the 26 episodes feature these elements, with The Frodis Caper based around an alien bush used to hypnotise the population via TV sets.
     Micky co-wrote the episode with Dave Evans (from a story by Jon Andersen and Micky) and directed it. As opposed to Peter's very traditional helming, we have pseudo arty direction, with a hectic pace, and numerous jump cuts/freeze frames. It's not quite the missing link between the TV series and Head, but with elements like the ending glossed over with the caption "Typical Monkee Romp" and three separate stoner gags, it's clearly a show that's been outgrown by its stars. The ending sees Tim Buckley perform a striking version of "Song to the Siren".
     In regards trivia, then thirteen of the Monkees episodes have alternate titles, largely due to repeat episodes being billed with different names, or early working titles being confused with the finalised ones. The Frodis Caper's alternate title was named after Micky's childhood dog, a name which also came from the first letters of his family: "Mijacogeo". It was also the last episode to be aired, although not the last to be filmed.

Songs: "Zor and Zam", "Song to the Siren" (performed by Tim Buckley)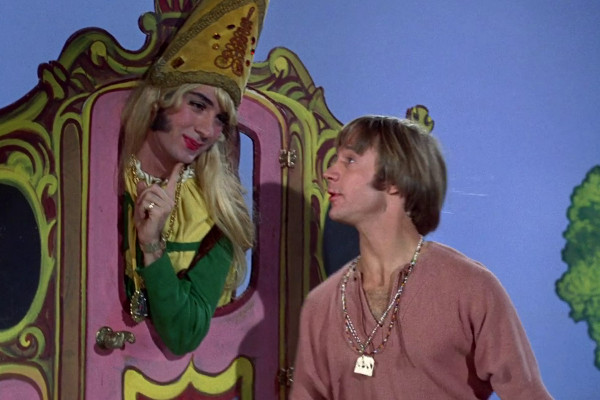 3
Fairy Tale
As a child, Mike Nesmith was always my least favourite of the band, appearing aloof and detached; a feeling enhanced by him not properly appearing in four of the season two episodes. However, seen again through the eyes of an adult, not only is he a much underrated musician, but his cynical, bitingly sarcastic reading of the material is hilarious. It's a nuance lost on younger audience members, but a rich reward if you're watching the formulaic TV show through jaded eyes.
     Here all the Monkees dress up in various guises, with Mike as an OTT female princess, in full "couldn't give a damn" acting mode. His final tongue-in-cheek declaration of "Well that wraps up another laugh riot for this week..." is the perfect sign off.

Song: "Daily Nightly"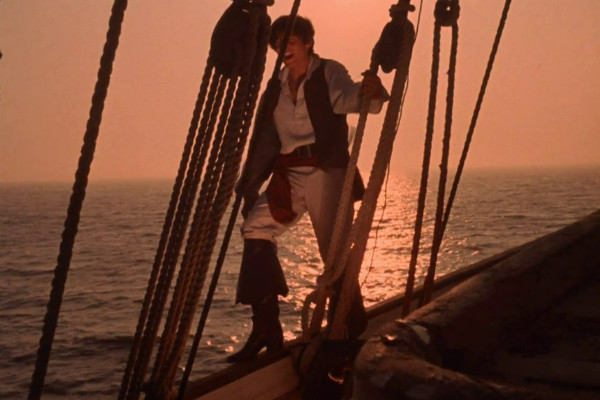 2
Hitting The High Seas
There's a fun vibe to this episode, possibly due to the slightly off-kilter, unique feel: it's set on a boat, and, as Mike is written out in the first four minutes due to "sea sickness" (reputedly also the real reason why he doesn't appear) it's largely just three Monkees. Whereas normally Mike's absence can be felt, there's a certain free-flowing zest that keeps him from being missed too much here, and the episode coasts by amiably. Although one of their most commercial and least "cool" songs, sometimes all you need is to see a swashbuckling montage with "Daydream Believer" over the top.
     As well as the listed songs below, there's also a brief work through of a then-unreleased song, "Tear the Top Right Off My Head". Peter Tork didn't get a lot of writing or singing contributions on the albums, and the track shows that his talent in this area was underrepresented. Probably his most famous composition was the track used as the end credits song for season two: "For Pete's Sake". Lastly, the DVD commentary track with Davy Jones is great fun as he laughs throughout, though it does contain a bittersweet moment as he talks about how he'll be able to watch the shows as a fond memory for many years to come when he gets older. Sadly, he passed away just fourteen years after recording the commentary.

Songs: "Daydream Believer", "Star Collector"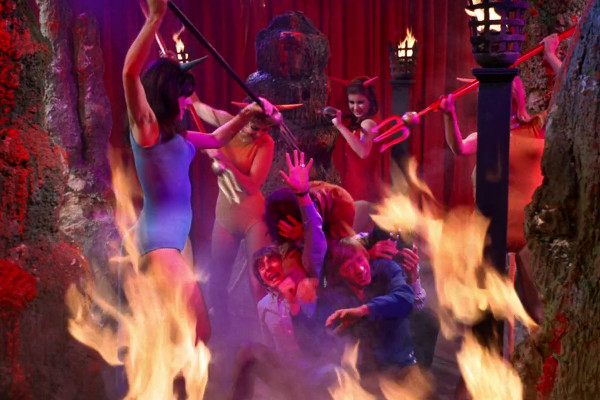 1
The Devil And
Peter Tork
James Frawley was Emmy nominated for this episode under the category of "Outstanding Directorial Achievement in Comedy". Pushed back in broadcast order due to its mocking of network censorship, this gives us the irony that the top-ranked season two episode was actually made for the first and held back. Although this is ostensibly a "trad" episode, it's weird to see a primetime family show advertising "Yardley Of London" having a middle section that represents damnation in Hell set to a song with the explicit lyric "He's sailing so high, high, sailing so high..." (On the DVD commentary track for this episode, Peter concedes "I actually have to say that I think that the show suffered a little bit from pot use.")
     The storyline here is reputedly a satire of the band's own real life struggles for artistic freedom, as Peter is taken from the band by the Devil in return for a harp. Of the 51 album tracks released while the series was on the air, then Tork was given lead or co vocals on just 6 of them, largely novelty tracks. It's a nice touch that even if he wasn't given his due shot on the records, he was at least given credit in the series, with them suggesting that the band couldn't function without him. The Monkees rarely did sincerity in the TV show, and the heartfelt plea for freedom at the end could only be delivered by Mike.

Songs: "Salesman", "Pleasant Valley Sunday" (harp instrumental), "I Wanna Be Free" (harp instrumental), "No Time"