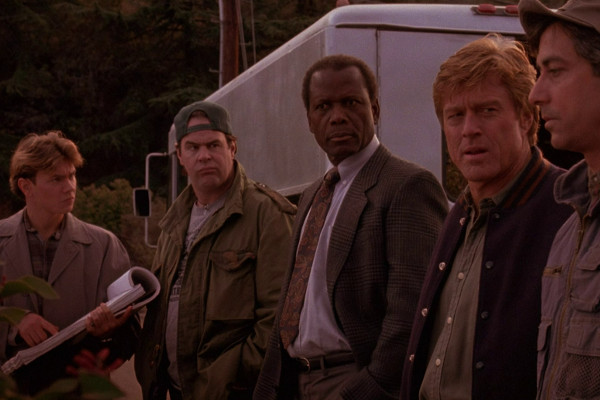 35
Sneakers (1992)
There's something unsettling about hearing Sidney Poitier, cinematic embodiment of purity, swearing. Free of Eden has him utter a couple of BS, Little Nikita a "shithead", Shoot To Kill a handful of "shits" and an "ass", while A Piece of the Action has an inexplicable "titty sucker". But if you want to watch a film where he knocks out two guards with a rifle butt while shouting "motherfuckers, mess with me, I'll split your head!", then Sneakers is the one. All this said, his first autobiography is half thoughtful philosophy/half F-laden street talk, so it perhaps shouldn't come as such a surprise.
     A box-office hit that celebrates its 25th anniversary this year, the humour involved in Sneakers can seem very glib today, and the surveillance plot does seem dated and frequently contrived. An ensemble picture with Robert Redford as the nominal star, Poitier mixes well with the varied cast, and gets to reprise his acting relationship with River Phoenix after their first work together in Little Nikita.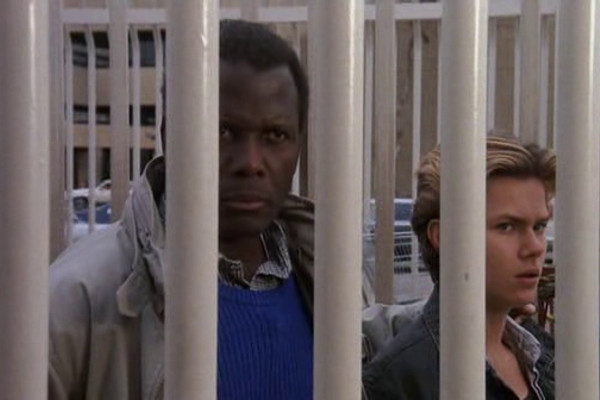 34
Little Nikita (1988)
The last theatrical film to feature Sidney Poitier as the headlining star, the secondary support in Little Nikita is a 17-year-old River Phoenix. Phoenix was a much-credited actor, Oscar nominated for a supporting role in 1988's Running on Empty. Cult fans may also recall him as the lead in Explorers, or in Stand By Me. Sadly he died of a drug overdose aged just 23. He appears here as the unwitting son of two KGB sleeper agents, in a fairly likeable albeit never quite convincing film.
     One of the highest-ranked of Poitier's post-70s movies, his return to acting does come with the dismaying feeling that he was no longer strictly relevant in the cinematic landscape. Although things hadn't changed so drastically in his absence - there was still only one black actor in the top ten box office - that box office star was Eddie Murphy, a completely different proposition. After Driving Miss Daisy, it seemed that Morgan Freeman took on the very small amount of "elderly black man" roles that Hollywood had available, and Poitier, then his sixties, became confined to television roles.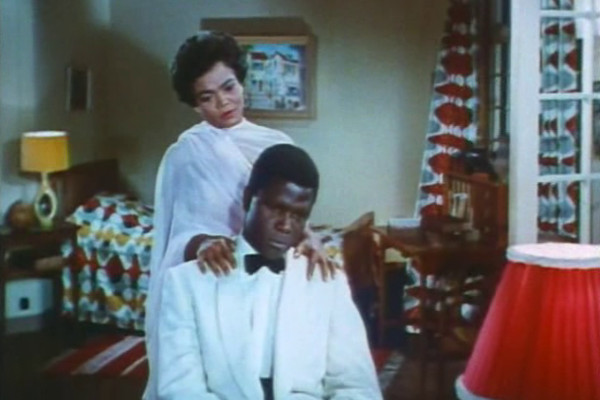 33
The Mark Of
The Hawk (1957)
Cheaply made and often badly staged, The Mark of the Hawk is nevertheless a worthwhile venture despite its failings. With its wordy script, in some hands it can seem poetic, notably Sidney's, yet in lesser hands it can seem leaden, ham-fisted and trite. Certainly David Goh was unlikely to take any Academy Awards for his work here, and he's not alone. Parts of the film look like one of the best dramas Poitier was ever involved with... other parts look like an amateur home movie.
     The film begins with an air of sophistication, but the longer it runs, the more it starts to unravel. Poitier's intelligent militant African Obam begins to turn his back on the idea of independence when he learns of the love of Jesus, the film's concept of exploring all sides of the argument evaporating for a syruppy get-out. While many of the themes are looked at from a mature perspective, the film's tagline "Against Voodoo Fury... The Flame of Faith!" was something which set out to unintentionally undermine it.
     We go from a manor house party with elegantly crafted lines and gradually descend through the ranks of amusingly kitsch flashbacks, all the way down to Eartha Kitt deciding to make this political message film a light musical. Ultimately The Mark of the Hawk goes from a lesser-known gem in Sidney's career and down to something of a missed opportunity.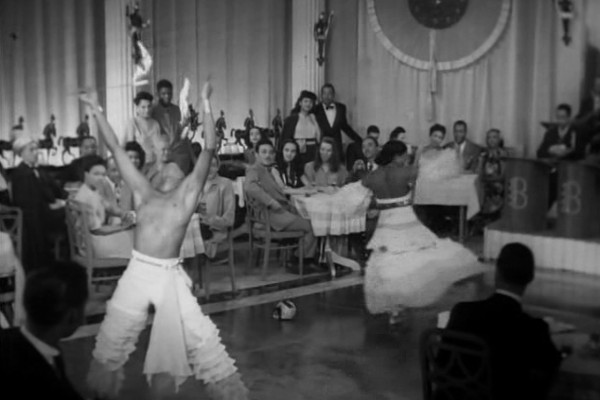 32
Sepia Cinderella (1947)
A likeable jazz comedy that includes a bizarre cameo from child star Freddie Bartholomew (as himself), Al Young questionably playing a "Chinaman" and ex-Ink Spots singer Deek Watson with his soundalike band, the Brown Dots. Acting is variable, and there's nothing particularly groundbreaking here, but at 70 minutes it makes pains not to outstay its welcome.
     Sidney's involvement comes with an uncredited cameo as an extra in the nightclub, his first role in the movies after acting on stage. After this he appeared in a non-acting role in the 1949 army training documentary From Whence Cometh My Help, before beginning his acting career proper with 1950's No Way Out.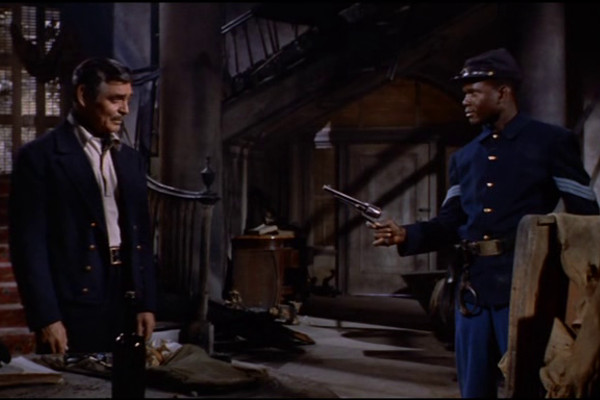 31
Band of Angels (1957)
Band of Angels had a negative critical response upon its release, and it's hard to defend it against much of the criticism. Starring Clarke Gable as Hamish Bond, a man who owns slaves, but treats them with dignity and kindness, it drew unfavourable comparisons to his most famous film of Gone With The Wind. Poitier plays Rau-Ru, a slave Bond treats like a son, but who he resents anyway because he can never have his freedom. However, the main plot is the daughter of a wealthy plantation worker, Yvonne De Carlo (aka Lily Munster), who finds upon her father's death that her mother was, as unlikely as it seems, black, and that she too is now a slave. Bond buys her to spare her indignities, but she resents him until an unlikely love affair blossoms. As Gable was over twenty years older than De Carlo, it can be an unsettling experience.
     The depiction of black people in this picture is archaic to the point of almost being offensive; a dated style of acting and stilted writing that would have been acceptable two decades earlier. Lines like "time for darkies to sing and dance!" may not have seemed so extreme nearer the dawn of cinema, but feel impossibly outmoded when made at the tail end of the 1950s. The entire thing is drenched in Technicolor and a loud orchestral score, the sexual politics are suspect, and kitsch rewards are Gable giving a tour of his manor house (which cuts to stock footage of "the view") and Poitier once more forced to shakily lip synch to another man's voice as "Rau-Ru" adorns a visitor with a song. One of his more arrogant characterisations, this is also one of two films (the other being Buck and the Preacher) where he hits a woman.
     All of which makes it sound terrible, and the film's many flaws are, if well-meaning, still largely indefensible. There's nothing that happens in Band of Angels that's particularly believable, and it's no work of art, yet there's still, almost despite itself, something likeable about it. Gable rarely gets out of first gear, there's an appalling Irish stereotype and plot logic is nowhere to be found. But as Poitier's first colour movie, there's an endearing storybook quality to it all, and it's always nice to look at, even if what plays before your eyes doesn't quite make any sense.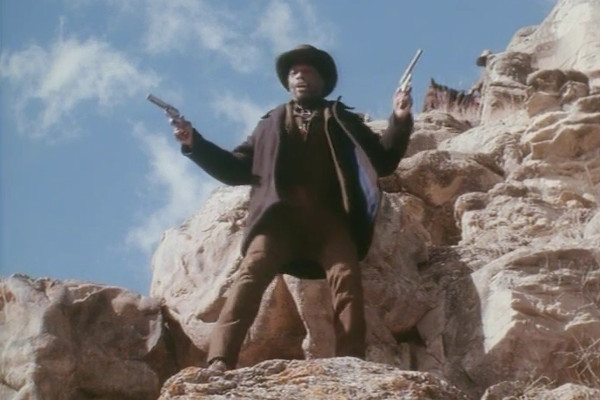 30
Children Of The Dust
(TV, 1995)
Poitier's third and final western, following Duel at Diablo and Buck and the Preacher. The content here, unlike the previous two movies, is less concerned with mainstream entertainment and more with the darker side of history: a family friend is raped, and Poitier's Gypsy Smith is castrated by the KKK. The acting is variable, though credit must be given for the attempt at gritty realism, despite the sometimes languid pace. (Originally broadcast as a two-episode mini-series, the entire project runs to 240 minutes). Poitier does well in a physical role as a half-Cherokee gunslinger, though at age 67, he does look tired.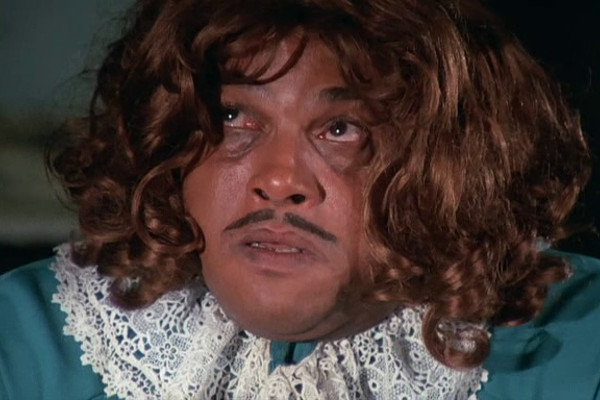 29
Uptown Saturday
Night (1974)
The first of three feature films that saw Poitier team up with Bill Cosby as a comedy pairing. Although Cosby is ostensibly the funny half of the double act, Poitier the straight man, it can still be somewhat painful to see Sidney trying desperately hard in these movies. While he can be amusing in his earlier film roles, his attempts to try an out-and-out comedy see him mugging desperately at the camera, overselling many of the jokes and playing up the humour, his now-staid persona too deeply entrenched to overcome.
     Said humour was increased here at the suggestion of Harry Belafonte. According to Belafonte's autobiography, he claimed that Sidney told him of the somewhat thin plot, and Harry advised him that audiences would be one step ahead at all times. Belafonte's suggestion was to insert as much overt comedy as possible to keep the ticket buyers laughing, even if they knew where it was going. Belafonte himself joins in the good-natured yet broad fun, playing a send-up of Brando in The Godfather.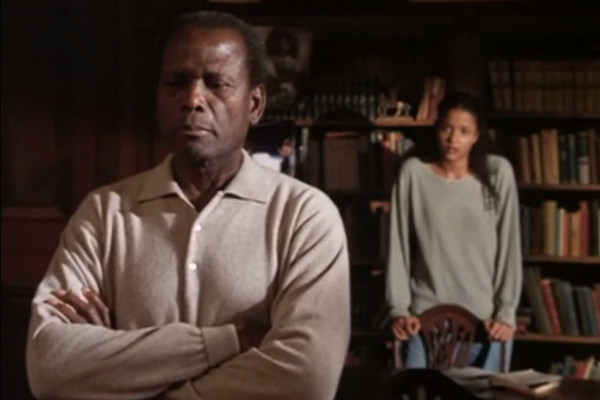 28
Free Of Eden (TV, 1999)
Free Of Eden marks the only time Sidney shares the screen with his daughter, Sydney Tamiia Poitier. The actress actually has more of a cult caché than her father, with roles in projects including Veronica Mars, Knight Rider, the 2003 Twilight Zone and Tarantino's Death Proof. The youngest of his six children (all girls), she appears here in her second screen role as Nicole Turner, a girl from the projects determined to further herself after witnessing a violent robbery.
     She enlists the help of ex-teacher Will Cleamons (Poitier in full speechifying mode), amusingly puncturing his verbosity with lines like "wow… you don't need much breath to talk, huh?" Eventually her secret fear of identifying the robber and Cleamons' own personal demons meet head on. Although the screenplay isn't always entirely realistic, Sydney makes an engaging lead, and there is, quite naturally, a good on screen chemistry between her and her father. Rather charmingly, there's a scene after the end credits that sees the two laugh over a blown take, then embrace.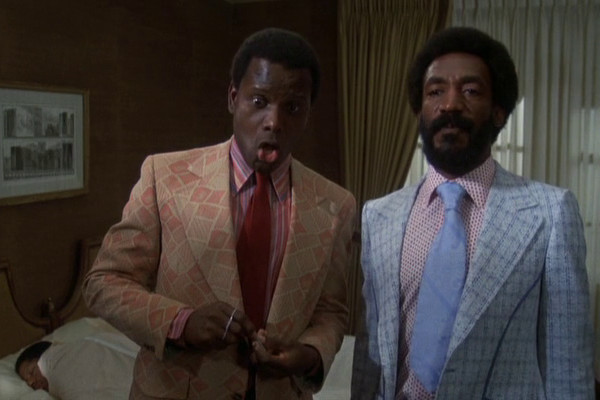 27
Let's Do It Again (1975)
The follow-up to the successful Poitier-Cosby pairing of Uptown Saturday Night. Technically Poitier only filmed three sequels (two for In The Heat of the Night and one for To Sir, With Love), yet the three films he recorded with Cosby are regarded as an unofficial trilogy. Although their characters have different names in each of the films, they're spiritually the same, a factor given credence by the title of this second entry.
     In discussing the three comedies I've debated whether or not to discuss the allegations surrounding Poitier's co-star. It seems remiss not to mention it, as it's unavoidable that one of the two stars is now viewed by the public in a very different way to how he was at the time of the film's release. Perhaps it's fair just to say that what was, at the time, a humorous albeit relatively unsophisticated film, is unlikely to be regarded with the same affection in 2017.