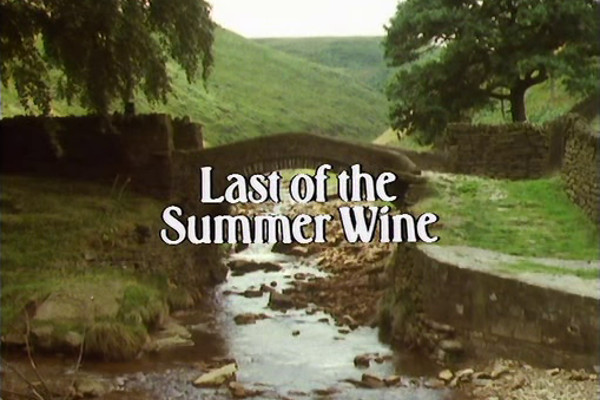 The DVD of the series can be ordered online from Amazon. In the meantime, please join me as I rank the episodes from worst to best...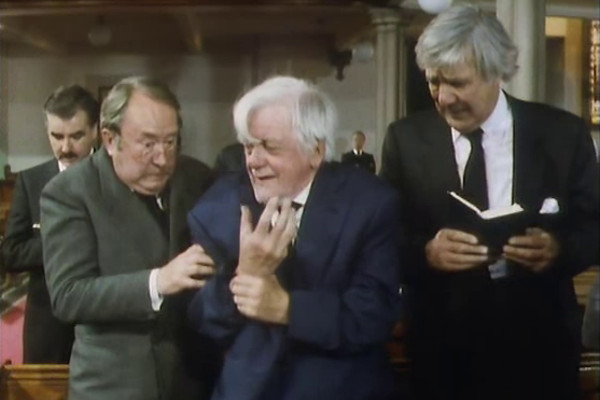 7
The Day of
the Welsh
Ferret (10.6)
Anton Chekhov died almost seventy years before Last of the Summer Wine started, so history will never know his views on the programme. However, what would be curious to know is what Chekhov would have made of The Day of the Welsh Ferret.
     Anton made the famous declaration known as "Chekov's Gun", whereby it was stated that "One must never place a loaded rifle on the stage if it isn't going to go off. It's wrong to make promises you don't mean to keep." Now, the "gun" wasn't meant to be completely literal, but could apply to any object, or plot point, or even character piece. It could even apply to Mike Grady, struggling with Roy Clarke's more left-field lines, talking about penguins for no real reason but never getting to see one.
     However, the "gun" here is an escaped ferret, only the second to actually feature in a plot despite the series having been on the air for almost 16 years, and having exhausted multiple other plotlines. The "gun ferret", for want of a better term, does actually satisfy Chekhov's conventions, as it interacts with the plot and forms a significant part of it. However, other than a brief, 4-second insert shot of what was probably a trained handler touching it, the ferret is all down to prop hats and Bill Owen's ability to mime.
     So it is, that the "gun" is fired, but we have to use our imaginations to visualise what said gun looks like. It's something of a dour, underwhelming episode if you're not prepared to buy into the situation, and twenty minutes of Bill Owen flailing around in a plot-convenient large suit isn't really a high point for the programme.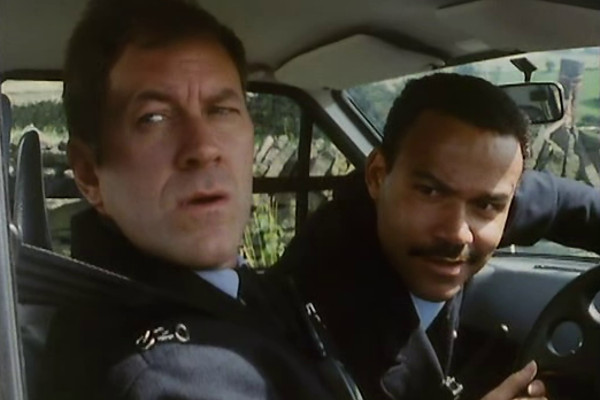 6
Downhill
Racer (10.5)
At this point it's exactly five years and five days before Compo and a certain bath-related incident, yet the generally impressive tenth series seems to return to the more dialogue-based antics of old. It may be that Roy Clarke had lost inspiration for a "big finish" - all of the climaxes are fairly weak - but he largely falls back onto the series' real strength of speech over spectacle. Rather than the series progressing towards more overt silliness, it's as if it's rolled back the years to a simpler time.
     This episode is one that bucks this trend, though one "Compo goes down a hill on a contraption" episode per series isn't excessive. Seemingly there just to keep the very obvious stuntmen in employment, it's a particularly inept payoff that sees Seymour invent hill skiing because... well, because there's half an hour to fill. Ronnie Hazlehurst's incidental music is so overpowering at this stage that when Seymour breaks into song, rather than a moment of embarrassment, it makes the episode feel like it's actually turned into a musical. It's irritating, in that it doesn't allow the principle performers to generate the laughs, but takes over the work for them - a later song and dance routine from Compo is almost drowned out in the mix.
     Yet even in a weak episode like this one, there are occasional moments in the dialogue that shine. Sometimes it's just the odd turn of phrase, like Nora Batty's view that "I always think tidy but unattractive is the soundest base for an unblemished reputation." - not the kind of thing that's going to have you in hysterics, but pleasant, amiable stuff.
     The episode is also significant in that it introduces Walsh and Cooper, two policemen characters that became supposedly so popular attempts were made to launch them in their own spin-off series after the show was cancelled. Ken Kitson's PC Cooper had previously appeared in Getting Sam Home, but this is his first return appearance, and first with Louis Emerick's PC Walsh. Although it's tempting to point and go "Look, it's Mick from Brookside", this appearance by Emerick actually pre-dates his Brookside debut by five months.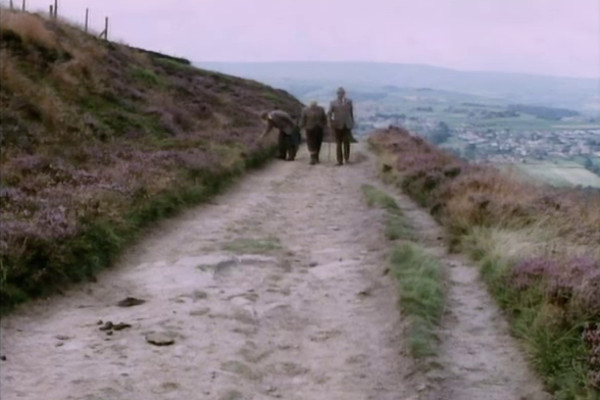 5
The Experiment (10.1)
One major difference for series 10 and 11 of the show is that both were "led in" by Roy Clarke's new spin-off series, First of the Summer Wine. After a test-cum-pilot in January 1988, a six-part series ran from September to October, followed by the tenth series of Last of the Summer Wine - an act that was repeated the following year.
     Rather than stick Bill Owen in a dark wig and make-up, they got a new cast to portray the younger versions (including a Seymour who knew them when they were young, which presses against continuity established elsewhere) and Peter Sallis played his own dad. The idea of taking a series about elderly men going through their second childhood and showing them as young men lacking maturity may seem to be missing several key fundamental points of the programme, almost akin to screening the tales of young Columbo, where he was at college, not yet an investigator, and had no desire for any additional information.
     The spin-off wasn't unpopular, but its first full series averaged at 48th place in the chart, a marked contrast to the average chart position of 29th for this tenth run of the regular show. This first episode saw the ratings jump 2.9 million and 36 chart places, just a week after the end of First Of. With the second series of First of the Summer Wine in 1989 averaging at 50th place, it was clear that viewers wanted the real thing, and no third series was produced. While Last of the Summer Wine would never again be the ratings giant that it had once been, it's arguable as to what was the biggest factor in the slight rise of the show's viewing figures in 1990 - Foggy returning, or it not having to follow six weeks of a prequel show?
      Perhaps the most significant element of The Experiment is that four of the women (Nora, Ivy, Pearl and Glenda) have their first coffee morning, a chance for their characters to develop. Yet as good a writer as Roy Clarke can be - and lines like "there's no good comes out of a layby on the way to Huddersfield" are some of his best - he could never be claimed to be a particularly strong writer of women. The Bechdel test had only appeared in a comic strip three years earlier and would take some years before it got wider attention, but, even if it had been well known, it's unlikely any of Clarke's women would have passed it. A collection of thinly-written harridans, whereby the performances flesh out what's not on the page, 90% of their dialogue seems to revolve around ruminations like "Men are only good for two things - being wazzocks and needing a kick in t'balls."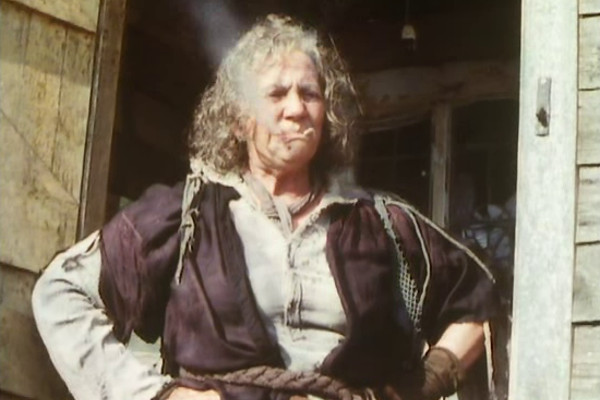 4
Dancing
Feet (10.3)
This isn't a particularly funny episode of Last of the Summer Wine, even by its usual "six chuckles a show" standards. However, it's amiable, meandering stuff, with plenty of pleasant countryside walks, ideal scenery for a world trapped indoors. The standout moment has to be Nora detailing how she couldn't see a neighbour's new sofa as she got it delivered in the dark.
     Yet as with most of the episodes in series ten, it seems as if Roy Clarke's plotting has gone a little slack, missing out key pay offs. Considering Clarke is a man who never went up a hill without meeting a runaway vehicle on the way down, then Roy gives us a curiously flat ending where smoke from Compo's boots gets a laugh from the studio audience, but doesn't exactly put them away, and the prospect of Clegg dousing everyone with a fire extinguisher is left purely in the imagination.
     Although this is passable for a flat ending, the real curiosity is Betsy Thrumfleet (pictured), a local healer who they suspect may be a witch. The entire middle section of the episode is given over to building up the mystique of "Old Betsy", an anticipation build that lasts for no less than 7 minutes of screentime. Then, finally, we get to see Betsy - she says "whadda ya want?" and it cuts to a fresh scene in the café. It's moments like these that do give a certain "first draft" feel to events, or, at least, the sense that disused ideas from several episodes have been bolted together.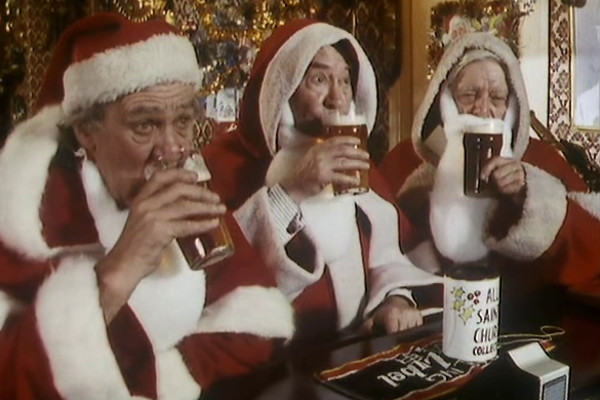 3
Crums
Jean Alexander makes her debut as "Auntie Wainwright" in this Christmas special, and, like #10.4's Clem Hemingway, was initially just a one-off character. She would return in the following year's Christmas special, and eventually become a regular, clocking up over 160 appearances. Yet however talented Jean Alexander was, her final episode of Coronation Street as Hilda Ogden was just the previous year, after playing the part for over 20 years and more than 800 episodes. That's a long shadow, and one that's difficult to come out from under.
     Perhaps the real problem is that the inclusion of Auntie Wainwright takes the regular cast up to 13 people, only one of whom (Jean Fergusson as Marina) was actually born in Yorkshire. While it's not usually a problem (and Sallis and Owen have always been great at it) it's just too much overload, where various versions of a "Yorkshire" accent have to be filtered through other strong accents. Mike Grady often sounds like someone impersonating a Last of the Summer Wine character, while Jean Alexander has to bring hers out through a strong Scouse timbre. What we're left with is approximations of supposedly the same accent, but all from a different location, with varying degrees of quality behind them.
     Yet such begrudging complaints would only have real merit if this was a terrible episode, and... well, about half of it isn't. With Clegg setting up a Christmas Resistance Underground Movement, there to make sure Christmas stays miserable, it's a nice place to start, though is somewhat tempered by non-plots about waterbeds, and Ronnie operating at Peak Hazlehurst. it's also interesting to note that the cast are often distracted by the audience response, seemingly surprised by how big some of the laughs they get are.
     Where the episode rewards is in rare moments of continuity. There's an odd bit where Yvette Fielding plays Crusher's girlfriend, as if to suggest that the unseen Crusher still works in the café but has been on leave all year. Yet better is Nora and Ivy, reminiscing over their deceased husbands. It's an oddly touching moment in a special that definitely has its plusses.
     Lastly, a fresh source of archive data has been found, meaning that all of the ratings for this run of the series have been located. (And many for earlier episodes, too - series nine's article has a postscript edit). In all, the six episodes making up series ten were watched by an average of 10.45 million viewers. The Christmas Specials were always a high point for the series in terms of audience engagement, and Crums is no exception - it was the fifth most-watched programme of the week, with 17.1 million viewers.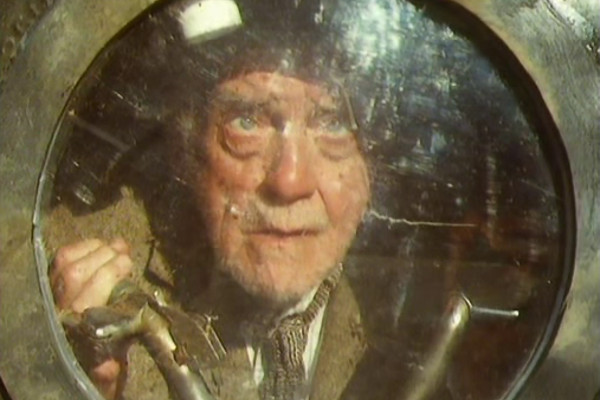 2
The Treasure of
the Deep (10.2)
As discussed with Downhill Racer and Crums, a serious issue with Ronnie Hazlehurst at this point is his growing need to try to use his music to deliver the comedy, rather than just underscore what's on screen. The word "need" is perhaps unnecessary, as it's unlikely Ronnie wasn't instructed or encouraged, but it does bring up serious distractions, such as the sound of "bumping" when Compo's turned upside down in The Experiment.
     Here, a scene with the three main players in a launderette is underscored by Ronnie doing a copyright-worrying homage to "I Heard It Through the Grapevine". It's curious to know where such a decision originated - was it Ronnie, Alan Bell, or had Roy Clarke written in the script "the music reminds viewers of that Nick Kamen Levi's advert that came out three years ago"? A later scene with the Jaws theme is also unnecessary... let the comedy provide the humour.
     Hugely exterior-based, even by Alan Bell's normal standards - a launderette scene is shot on location, leaving us with just a brief 3'20m café scene for studio work - the episode rewards, even if part of said location work involves Howard and Marina. For once, an episode ending with Compo going in an invention doesn't feel contrived, because the idea of building an oil drum bicycle submarine for Compo is so ludicrous, and so over-the-top, that it almost feels believable within the piece.
     It helps that the reason for it - they believe that there's hidden loot in the bottom of a canal - is established very early on, giving it a more organic feel as part of the plot, rather than just a "the end credits are three minutes away, time to dress up Stuart Fell in Bill's costume" endeavour. Yet the ending - stuntmen dressed up as Howard and Marina fall in the canal, while Compo sails away in his submarine - feels similarly flat and lacking.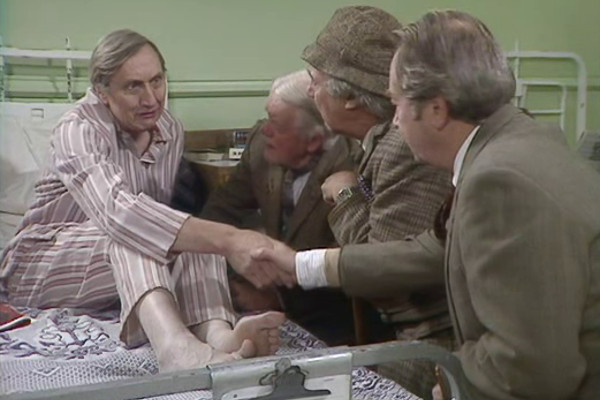 1
That Certain
Smile (10.4)
The best of the tenth series, a run of the programme that is, despite complaints listed, generally quite a strong set of episodes. Seymour is now fully integrated into the show, his "eccentric inventor" persona scaled right back. Although many of the scripts have more than a hint of Foggy about them, Michael Aldridge's natural charm seeps through the cracks and makes for a comfortable show.
     There's a great little scene where Compo and Seymour debate how much to spend on a patient's get well present, Seymour conscious that it'll be a waste of time if he dies. One thing that has always been consistent, even in the weaker moments of the show, has been the performances of the three leads, but oddly, Peter Sallis gives a below-par performance here, his "laughter" sounding unusually fake in an otherwise lovely exchange.
     The patient they're visiting, Clem Hemingway, turns out to be Stephen Lewis, still most famous as the only really decent part of On The Buses, but making a good effort to develop a different character here. As with Jean Alexander as Auntie Wainwright, he was initially just a one off guest character, before becoming a regular and eventually taking part in 135 episodes, even more than Foggy. With a drugged pet smuggled in to visit Clem, there's a slight sense of the perverse that works really well here, even if it's just giving viewers the brilliantly unlikely line of "it's a funny feeling, Norm, to have a dog up your jumper."