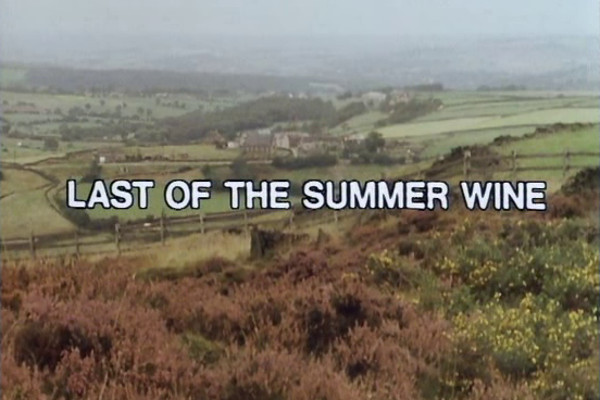 The DVD of the sixth series can be ordered online from Amazon. It was the last post-watershed series, after which the programme was placed into its familiar Sunday teatime slot. Please join me as I rank the episodes from worst to best...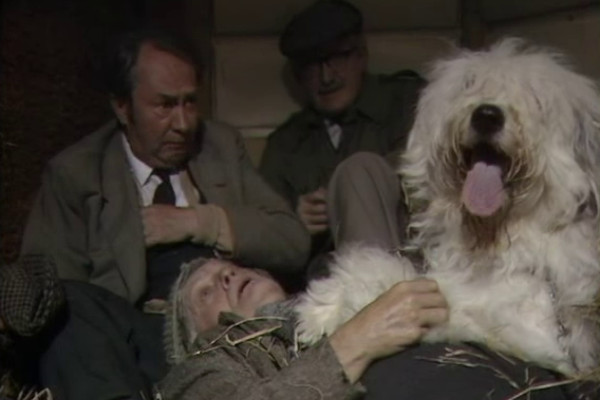 8
The Odd
Dog Men (6.3)
The first known dog-walking services occurred in America during the 1960s, and, while perhaps still a novelty in 1980s Britain, they're a regular staple of newsagents' window advertising in the modern day. With this in mind it's not clear which is the stranger development: why Foggy decides to take up dog walking (other than the fact that he's a character in a sitcom) or why audiences would be expected to find something so mundane in any way funny.
      The incidental music oversells every small "joke", and the final payoff is all three men in the back of a van, as pictured, terrified by an incredibly calm-looking sheepdog. No one would suggest that they should have set a rabid pit bull on Peter Sallis in the name of comedy, but the striking disconnect between fiction and reality causes a very poor finale to a very poor episode.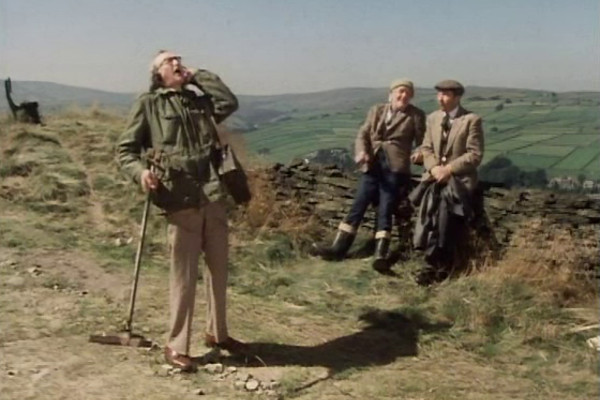 7
Serenade For Tight
Jeans and Metal
Detector (6.6)
One of the finest sitcoms of the modern age was the 2014-2017 BBC4 comedy Detectorists. Written and directed by Mackenzie Crook, who starred alongside Toby Jones, it was a more gentle, easy-going form of comedy, that charmed with beautiful locations and laid-back introspection. With this in mind then an episode of Last of the Summer Wine where the group buy a metal detector should have been a perfect fit for the programme.
      Sadly, it's played out not in the more internalised, earlier series, but in an era where Bill Owen looks to steal every laugh with increasingly over-the-top acting, all based around the second sub"plot" of Compo buying a pair of jeans. Whereas Detectorists adopts the current trend of no laugh track, this episode is drowned by roaring, whooping and screeching throughout, often for the smallest of reasons.
     While trends in television come and go, and the current leaning towards single camera filming with no studio audience is very much in vogue, there's a chance that one day it may seem every bit as archaic as the age where canned laughter was the norm, particularly with US sitcoms.
     Yet what's unlikely to change is just how childish this particular episode is. The concept of elderly men having their second childhood is the entire point of the series, of course, but here it's more likely to irritate than amuse, as a sequence of underdeveloped segments draw towards an underwritten ending. Considering the success of Detectorists, this particular episode can be drawn up as a missed opportunity.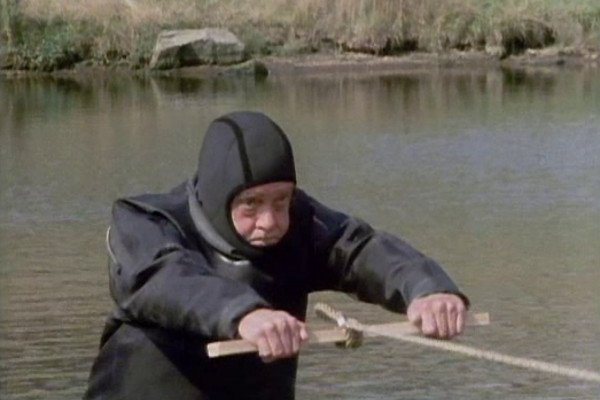 6
From Wellies
To Wet Suit (6.7)
Unusually for the programme, this episode's traditional opening discussion between the three leads is not based around non-sequiturs but almost exclusively around water. The discussion of H20 gets so single-minded that it brings to mind the "boring" motif in the Young Ones episode of the same name, as the entire thing builds towards Compo buying a snorkelling outfit on a whim. It's almost as if Roy Clarke realised how fundamentally ludicrous this concept was, and wanted to introduce it early.
      Several sequences go by with Bill Owen's increasingly over-the-top performance as he hams it up for laughs in a wet suit. Both Clegg and Foggy repeatedly remark on how things are "hilarious", seemingly in order to convince the viewers. When the entire situation devolves into Compo deciding he wants to water-ski (with, admittedly, a little coercion from Foggy) it reaches a point the show should never have gone down.
      Four and a half years earlier the Fonz had performed a water-skiing sequence in Happy Days which retrospectively came to define a term for TV shows betraying their own roots. However, despite such silliness, it would be almost twelve years before Last of the Summer Wine would reach its own shorthand for a nadir in the form of a tin bath. Cementing the misery is musician Ronnie Hazelhurst, on bad form all series, here descending to giving viewers almost circus-like music and the theme tune to Jaws. Suddenly the incidental music is there not to help underscore the bittersweet mood, but to crassly "sell" the jokes, one of the elements that made the series so painful to watch towards the end of its run.
      Beneath all this, the best moments come with Brian Wilde, neglected in the scripting stakes throughout the year, getting to deliver playful monologues against Clegg. The gentle and affectionate company they share while Wilde talks wistfully of the age of brutal teachers and beetles down trousers is Roy Clarke at his best... sadly, he didn't appear to realise it, and it was only a couple of series before Compo decided to become a daredevil motorcyclist and a marathon runner. That this particular episode isn't the worst of the year speaks volumes about how low the overall quality of series six is.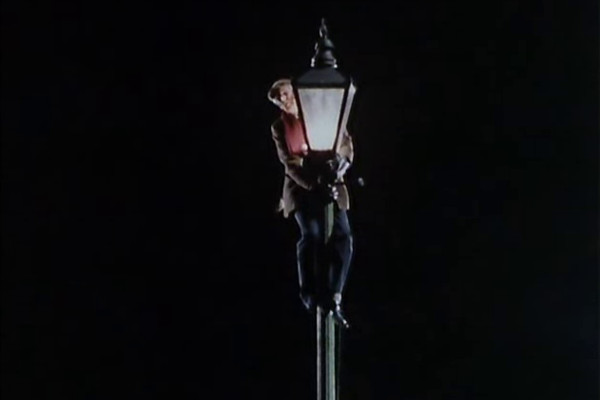 5
Whoops
A Christmas special that aired ten days before series six, this was the first of three occasions where the series actually aired on Christmas Day itself. This means that, unlike the series that followed, it was a pre-watershed programme, going out at 7:15pm on a Friday night. Whoops also marked the debut of Alan J.W. Bell as director and producer. Although Sydney Lotterby (series 3-5) would return the following year for series seven, it was a one-off, and from this point on Bell led the show, directing 250 episodes.
      The audience continually roar at Compo's crowd-pleasing antics, while Brian Wilde's brilliant performance fails to pick up as many easy laughs: "Why don't you wear that outfit you hardly wear?" "What's that?" "Your working clothes." Sadly, with these episodes broadcast at the onset of Thatcherism, this branch of humour doesn't seem as amusing as it did at the programme's genesis. When Last of the Summer Wine started, unemployment was low, less than 4% of the population. But seven months after series six aired, unemployment in the UK reached an all-time high of 14%, making it far less funny seeing someone chastised for being out of work when 1 in 8 of the audience watching were in the same predicament.
      There's some fairly terrible bits in this episode - including shoes on sticks that are very obviously not the cast walking on their hands - but it retains enough of the bittersweet qualities of the series at its best to make it worthwhile. The episode ends with a choir singing special lyrics to the theme tune, with melancholy observations including "The colour of summer's gone, of golden days when I was young." It's a touching moment in a series that was beginning to increasingly abandon them.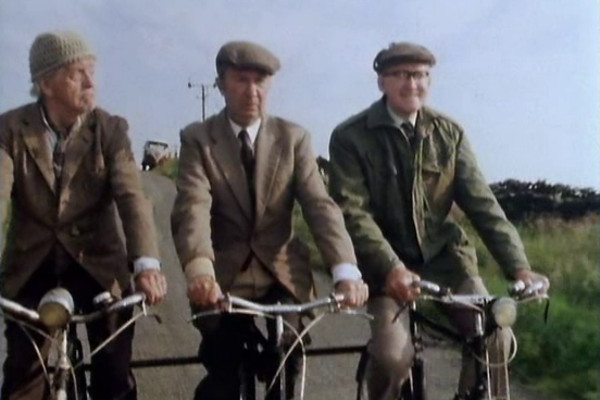 4
A Bicycle
Made For
Three (6.4)
The decision to begin watching Last of the Summer Wine was part of a challenge here at The Anorak Zone, and so most of the episodes are watched without any real foreknowledge of what came after. There's no telling at this stage how many episodes were based around cycling - this isn't even the first - and even as late as 1995 Clegg, Compo and Foggy were involved in series 17's Bicycle Bonanza.
      The quest for three bikes begins after Compo, Clegg and Foggy fall off a group bike when they're not sure who's supposed to be steering. Given that they're not riding a trandem, this makes precious little sense, as surely the two at the back would know they're not in control? (Speaking of trandems, then while Last of the Summer Wine still feels like a very "old school" show at this point, it outlived The Goodies, whose final series was airing on ITV during the same months as series six of LOSTW.)
      Perhaps the most notable moment occurs when Jane Freeman (Ivy) has to deliver a wordy line about dark corners of the universe... the line is so unwieldy she places an unnatural break in the sentence and it receives a muted response from the audience. A very tame and uninspired episode ends with the trio trying out three linked bicycles down, of course, a hill... with predictably disastrous results.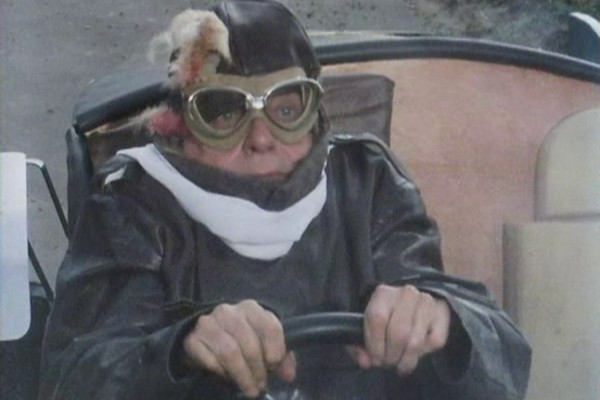 3
Car and Garter (6.2)
One major change that Alan J.W. Bell made to the series was that, instead of being performed in front of a studio audience with the outside filming "played in", he began to shoot everything on single cameras (the "fourth wall" of the café is noticably changed) and then played the entire episode into a theatre with an audience to get a post-production laugh track. Although this isn't canned laughter, the disconnect between audience response and performance can be felt in many of the later years, and it is a distancing effect... though as around 75% of the programme is exteriors, it's not that marked.
      Bell notes that his own memories aren't completely reliable, so it's not known exactly when this change in production format took place, though it doesn't appear to be in his opening run - the audience can be heard roaring at Sid dressed up in a driver's uniform before he's seen on screen, so clearly have a view that they wouldn't be afforded with the "camera edit only" view of a cinema screening.
      Some of the gags are slightly "off" in this instalment, such as Sid mistaking the phrase "finishing touch" as a reference to his impending death if he races a car, and not, as you'd expect, a common, frequently-heard expression. (This may be due to John Comer's timing, and poor direction, as he delivers the line so seriously). There's also Brian Wilde getting the almost unFoggyish line of calling Sid a "big dick", and Compo, taking over the racing theme at the end, noting that it "always ends up" with him, almost as if he's seen the programme. Yet for once the show wrongfoots the viewers, with a "Compo in a racecar" climax not ending with some hill-based shenanigans, but instead somewhat flatly concluding with the car breaking down before it can set off.
      Also a worry is the first appearance of Wesley Pegden, a one-off character who would return as a regular in 1985, going on to appear in another 138 episodes. Wesley, an inventor and mechanic who is clearly one of Clarke's more self-conscious "eccentrics", was popular with the show's core fanbase, but is symptomatic of how the programme changed from something that's proved to be quite watchable and into something that was a much-avoided part of the BBC schedule. But in this instance it's all worth it for the opening line, and one of Compo's great philosophical queries: "How do you get marmalade off a ferret?"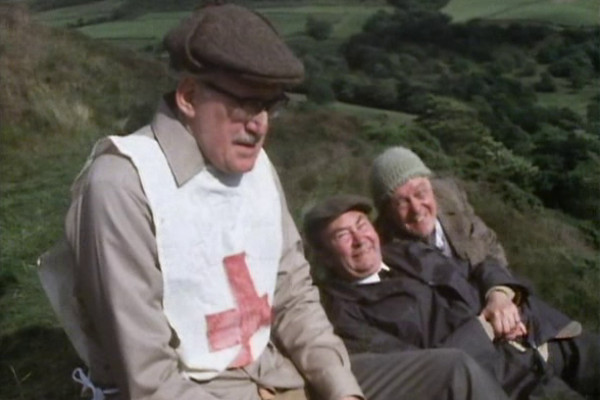 2
In the Service
Of Humanity (6.1)
While Foggy is a pompous character, he's not horrible, more delusional, and so it's often hard not to feel sorry for him when he's mistreated. Here he decides to become a rescue aid in the community, only to get punched in the face while his "friends" laugh. That this is seen as humorous is almost as inexplicable as the series getting laughs from Compo trying to molest women.
      Interestingly, there are also places where the audience, seemingly more discerning than given credit, give only muted laughter. Ivy's ruminations on Darwinism don't seem to interest many, and Joe Gladwin runs into a rare "dead laugh" area where he has to talk about yodelling. Unfortunately for him, he's called upon to repeat the yodelling motif several times, each time to zero laughs.
      There's good in this episode, though, explaining its high placing. One of the better lines actually brings up the political divide that existed in real life in the show... when Compo says he blames misfortune on God, Foggy says "that's right, blame it on the Conservatives". It's also nice to see that the cast genuinely seem to be enjoying it in lots of places, almost on the verge of breaking character.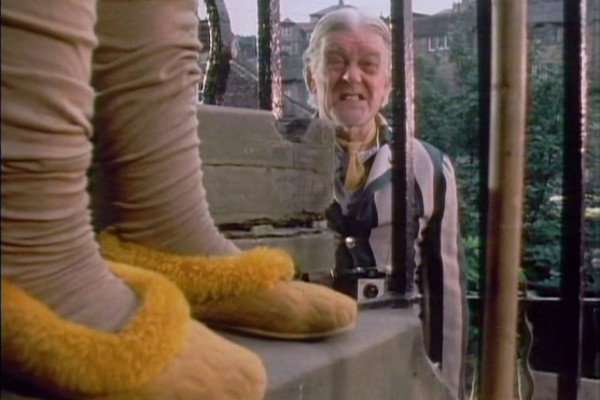 1
One Of The
Last Few Places
Unexplored
By Man (6.5)
The quality of a Last of the Summer Wine series can be gleaned not from what episodes are ranked last, but which ones come out on top. Former years have seen solid episodes like Of Funerals and Fish, Spring Fever and Isometrics and After rate highly, and are testament to a decent programme. However, series six sees an episode rise to pole position more by default than any real indvidual merit.
      Despite having had a genuine chance with Nora Batty in series two and turning her down, Compo decides that he wants to have a picture taken inside Nora's bedroom. This involves various shenanigans, helped along by Nora's downtrodden husband, Wally, and it ends so underwhelmingly that the audience don't even seem sure it's over until the titles come on. (In fairness, the customary round of a applause to mark an episode's end would be "cued" by technicians on the floor anyway).
      Yet perhaps what makes this one so highly rated, for this year at least, is the affection on screen between the regulars. Despite Compo's "gay" jibes towards Foggy, he's so comfortable with himself that he's able to show naked affection towards Clegg, hugging him regularly. And, despite talk about how they clashed during filming, there's a scene 16 minutes in where Brian Wilde looks over at an (off screen) Bill Owen and appears to involuntarily chuckle, then avoid eye contact to keep his composure. It's a touching moment of what appears to be a genuine emotional response.