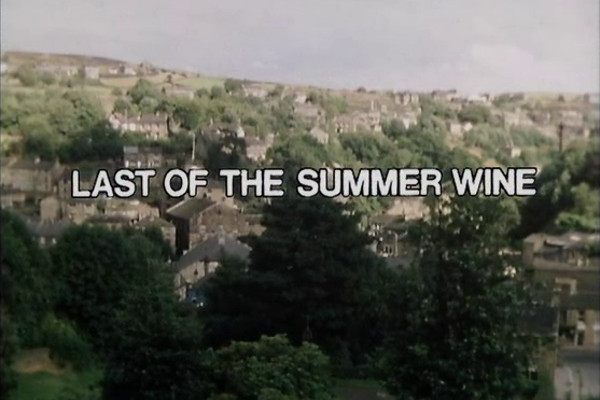 by
THE ANORAK
DECEMBER 2018

Airing from September-October 1979, the DVD of the fifth series can be ordered online from Amazon. In the meantime, please join me as I rank the episodes from worst to best...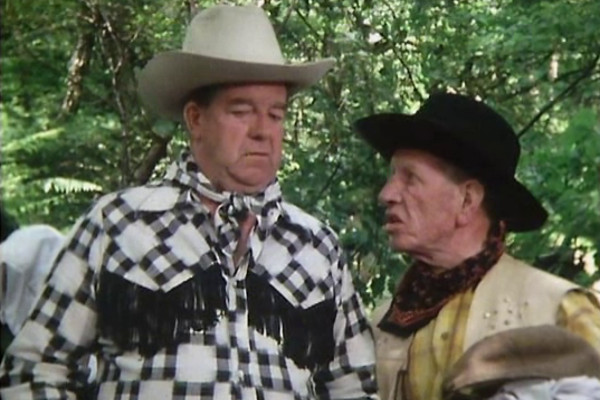 6
Deep In The Heart
Of Yorkshire (5.4)
A twenty month break took place between series four and five, with only a Christmas special between them. In the interim, writer Roy Clarke had seen his name on Arthur Lowe comedy Potter and the second series of Paul Greenwood sitcom Rosie. The break from the series seems to rejuvenate Clarke's Last of the Summer Wine scripts somewhat, with the material being generally stronger than that in series four... however, here he descends to "funny costume" humour in a desperate bid for laughs.
     The plot involves Sid and Wally – now pushed together as a new "double act", as are their wives, Ivy and Nora – dressing up as cowboys for charity. That said charity is run by the local vicar says all about what a 1970s staple this is, though it's not without moments of charm. On a last note, look out for a boom mike in shot during the scene in Sid's café... one of several times this series that a boom mike can be seen in the café set.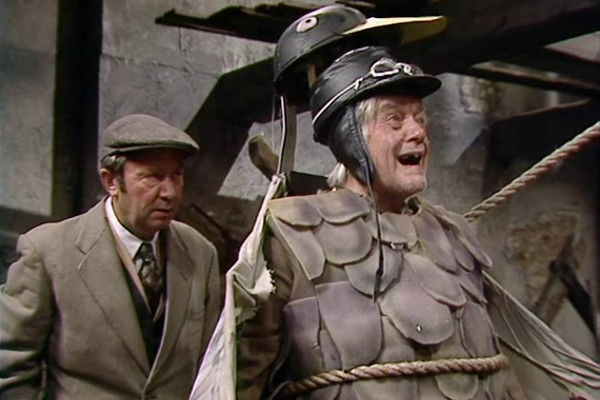 5
Here We Go Into
The Wild Blue
Yonder (5.6)/Here
We Go Again Into
The Wild Blue
Yonder (5.7)
"I don't see what's so funny about me going hang gliding."

Series five marks the true dawning of the stunt era. The aptly-named stuntman Stewart Fell had been asked to take part in the show as early as Greenfingers (4.6), but was too busy to do more than advise. His first real appearance was the 1978 Christmas special Small Tune On A Penny Wassail, with Compo on a skateboard. After this there was no turning back, and here a series ends with a two-part story about Compo deciding he wants to try hang gliding. Such inexplicable plotting undermines the character, but it opened the floodgates, with just the next three series featuring Compo water-skiing, stunt biking and entering a marathon.
     Stuart Fell seems like a really warm-hearted man, but what this unfortunately does to the programme is take it away from its vague Beckettian leanings and into a human cartoon whereby each week a shot of Bill Owen would suddenly cut to a shot of a stuntman who doesn't look anything like him, before being crudely cut to another reaction shot of Owen. Fell, to his credit, does look more convincing than the stuntman for Brian Wilde, who has hair about five inches longer than the actor. Look out too for Owen pretending to be "Japanese" in the first of this two-parter... a reminder that this programme was, for better or worse, made in a very different time.
4
Earnshaw
Strikes
Again (5.5)
An odd episode to rate, as Earnshaw Strikes Again marks both the best and worst of the programme. The opening is a nicely-directed scenic walk, as all three men stroll around discussing the various emptiness in their lives. This does stray uncomfortably close to the show pulling the threads of its own modus operandi, particularly when Compo remarks on how nothing happens. However, the general setting – the talking, the scenery, the languid pace – work well, and are what separates the series from others, giving it its own identity.
     However, during the second half, things get stranger. There's some slightly out-of-character anti-Yorkshire speech making, followed by Foggy jokingly imagining a Yorkshire God called "Earnshaw". While the current Wikipedia entry would have this as an invention of Compo and Clegg's, it's they who pray to Earnshaw, and it's never made entirely clear whether they're joking or they really do believe it... especially when Clegg is seen spitting in deference to Earnshaw when Foggy isn't even watching.
     Foggy, for his part, continues to deny the existence of the "God" right up until the climax... a clumsy, badly-staged "burst water pipe" sequence that's more Some Mothers Do 'Ave 'Em than vintage Last of the Summer Wine. Strangest of all though is David Ryall as a motorist in a body cast, trying to mend his car with one good arm, and having a "black out" where he tries to strangle Foggy. The randomness of these events throw the entire thing out of kilter, projecting an incredibly off-beat happening into the mundane.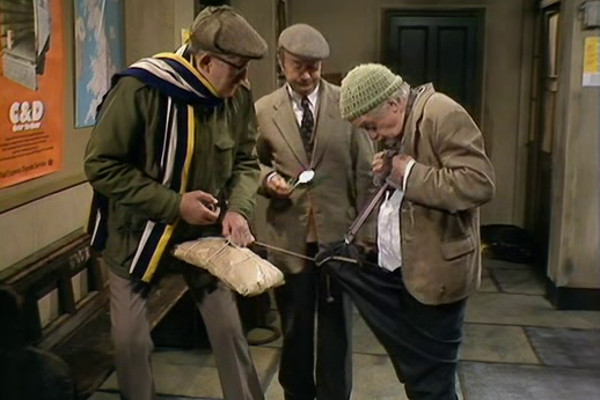 3
The Flag And Its
Snag (5.2)/The
Flag And Further
Snags (5.3)
Bill Owen appears to have lost weight before this fifth series was recorded, something which is mentioned when, as pictured, we get a slapstick bit with his stretched trousers. The two-parters in this series do have the advantage of not seeming like two-parters to any casual viewer who may have missed an episode... there's no particular cliffhanger for either first part, and the second instalments begin almost as a new story. Sadly, both episodes of this particular story do have weak endings; the first where some incredibly bad camerawork makes it obvious that stuntmen, not the cast, are involved in climbing on mules, and the second when a flag saying "bullocks" is used for its full comic potential as sounding quite a bit like a word for testicles.
     With such a lowbrow concept of comedy, this one could be written off as too broad... however, as with the best of the series, there's subtler themes at work. Foggy is now becoming rendered as too obviously a buffoon, but his face-saving insistence that "I always feel better when I stand to attention for a while" hints at depths. Foggy is clearly a man almost on the verge of mental health problems, and this low-key moment shines. Rather oddly, Clegg and Compo don't want to take part in any of Foggy's schemes during the first three episodes, which, as they involve the exploration they usually get involved in, does undermine their characters somewhat.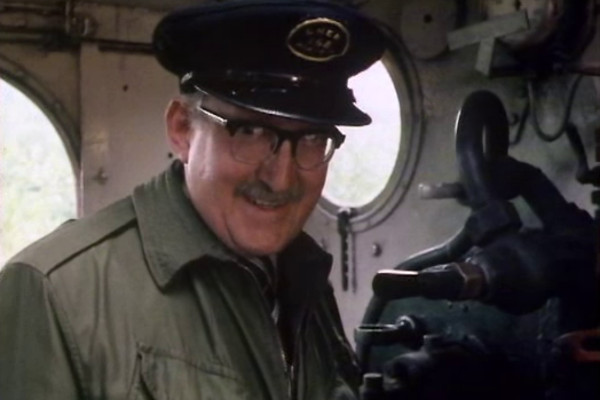 2
Full Steam
Behind (5.1)
Peter Sallis's personal favourite episode, as Foggy suggests a day looking at steam trains, with predictably disastrous results. Although Foggy's habit of staring into space has now been completely discarded, Roy Clarke once more gives him strong material after somewhat squandering him in series four. Often this will result in cheap "instant reverse" humour (such as here, with Foggy warning the others not to panic, before immediately doing just that), but Wilde is such a talent he's able to make the most of it.
      For series five, the programme was brought forward in the schedules to Tuesdays at 8:30pm, just after Rolf Harris's Cartoon Time and It's A Knockout with Stuart Hall...of which perhaps the less said the better. Despite now being in a family, pre-watershed timeslot for the very first time since the pilot, the content can still be surprisingly adult, including Compo with a naked woman calendar and demonstrating how much punishment bed springs can take.
     Series five is generally quite a strong one, even if, overall, the episodes don't add up to much. Full Steam Behind is the best of them, though Compo being dropped tens of feet off a railway bridge does make you wonder how he managed not to break anything... like the rest of the series, the programme has now taken one step to the left into a more fantasy-orientated setting.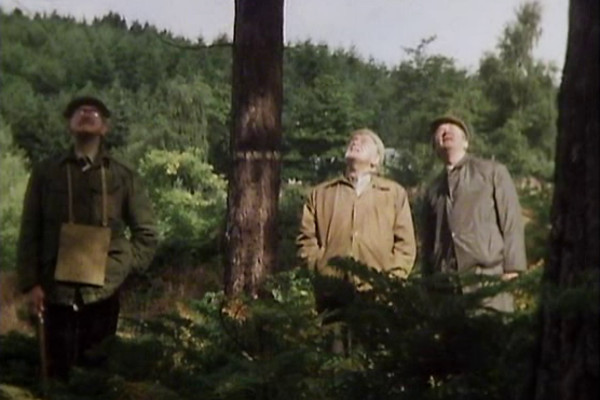 1
And A Dewhurst
Up A Fir Tree
And a Dewhirst Up A Fir Tree was that year's Christmas special, airing on the 27th December 1979, a couple of months after series five had finished airing. Roy Clarke's subversion of a traditional Christmas special is once again much in evidence, as this one sees Foggy attempt to buy Christmas goods ahead of the season. In effect it's almost a retread of series four's A Merry Heatwave, with Foggy buying 100 trees mid-summer from a man in a pub for £10. Yet as pompous as Foggy can be, it's hard not to feel sorry for him, with his naivë trust and hopeless ambitions.
     As with the rest of series five, it aired at 8:30pm, and contains a number of surprisingly racy jokes for the timeslot, suggesting that Roy Clarke perhaps wasn't made aware of the change beforehand. This said, it's all wrapped up in impenetrable doublespeak for younger members of the public, such as Compo's revelation of an Uncle who got his Auntie pregnant, despite her warning that "I hate people who leave things till the last minute".
     What makes this episode rank in the top spot is that Clarke once more delights in the rhythms of his dialogue, and there's a charming moment where all three leads go down a hill in a sack race for the joy of recapturing their childhood, rather than the need for a "showstopping" stunt ending. A scene where Compo is debagged is there as a sop to the broader audience, but generally this is a brief return to a gentler type of episode.