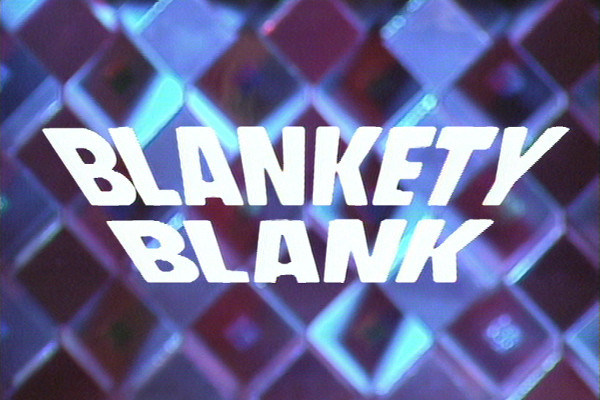 The second series of Blankety Blank ran from September-December 1979, an autumn pattern that became the show's regular slot for the next five years. Another 16 episodes made up the series, and, because of the new seasonal slot, a Christmas Special was added to the run, something that became a popular annual fixture for the show. Please join me as I rank the second series, from worst to best...
17
Episode Fourteen
Guest Panellists (in panel order): David Hamilton, Wendy Craig, Derek Nimmo, Diane Keen, Arthur Askey and Liza Goddard.

Something of a dud episode, the only below-par entry in a consistent second series. There are multiple jump cuts throughout, with Terry seeming to teleport around, as video editor Steve Murray has clearly tried to save the show in the edit. One of the three shortest episodes to this point, what scant material is present falls just short of 29 minutes. Blankety Blank wasn't strictly a half hour show; episodes would often go nearer to 35 minutes, but not so here.
     The major issue is just the sheer amount of answers the panellists get wrong. Out of 48 opportunities in the main game, they get just 3 matches, with a tiebreaker game having to be played with both contestants having zero points, only the second time this had happened in the show's history. The panel are all very pleasant, including a debuting Derek Nimmo, but for such a disastrous game it really needed some of the "larger" personalities to salvage it. Even the wrong answers aren't particularly amusing or diverting, they're just... wrong.
     "Try and make it again next week", says Terry at the end, almost begging the viewers. Amazingly, they did - another half million tuned in for the following episode.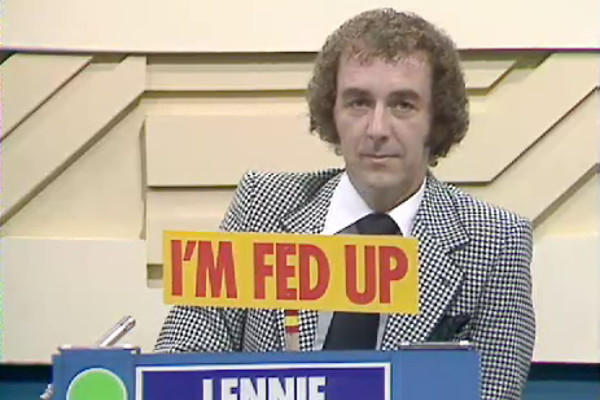 16
Episode Twelve
Guest Panellists: David Hamilton, Barbara Windsor, William Rushton, Una Stubbs, Lennie Bennett and Gemma Craven.

In terms of the main celebrity guests for the second series only, then it's perhaps not unexpected to see Beryl Reid and Lorraine Chase out in front with 5 guest spots each. But while there were ten celebrities who all had three appearances, the runner-up with four separate episodes in series two was Lennie Bennett. It's perhaps unkind but slightly accurate to suggest that Lennie Bennett was a bit of a hangover from the early days where they struggled to get bigger names, and after a couple of series three episodes, he faded away from the show, only returning for a one-off with Les Dawson.
     Yet part of this may not have been a reflection on his performances on Blankety Blank, but his role as host of the 1981 ITV quiz show Punchlines!, which was popular enough to run for four years and 80 episodes. While even the Anorak Zone isn't quite sad enough to work out the ratings for every episode of Punchlines! (just...) then it must be noted that it was very popular, sometimes attracting over 13 million viewers. But ITV's gain was also Blankety Blank's gain, as Bennett's inclusion in an episode usually veers the show towards the kind of self-satisfied laughter that blights modern panel shows, whereas Blankety Blank should be about wider appeal. A basic rule of thumb for any comedy panel show should be: if the people making the "jokes" are laughing more than the audience are, then something's gone wrong.
     Also on the show are Gemma Craven in her only appearance, and Willie Rushton in his first of three, credited as "William". Then there's Una Stubbs, making her third series two appearance, and her final guest spot on the show. Making up the numbers is "Diddy" David Hamilton, once more trying but stinking the place out, causing Barbara Windsor to tell him "that went down like a pork chop" after one of his attempted witticisms blows a tumbleweed through the audience.
     Perhaps one of the most curious elements of Blankety Blank with Terry is when he tries to rough-handle the contestants. Some episodes see him poking women in the arm, or punching men on the shoulder, with one episode even seeing him slap a man's face during a "Head To Head". Such moments of alarming physical contact aren't solely related to Terry - Episode 11.20 saw Les Dawson grab a female contestant in a headlock - but do occur more on Wogan's watch. This produces the most watchable moments here, as Terry jokingly throws his weight around with contestant Ray Wilkins, who disses Terry's version of "The Floral Dance".
     Although Terry gets close and insists Ray give him a better version, Ray refuses. Throughout the rest of the show, Ray looks at Terry with mock glares and sneers, but it's not entirely clear how much joking is really involved, and how much Ray wants to meet Terry outside the hospitality suite after the show's over.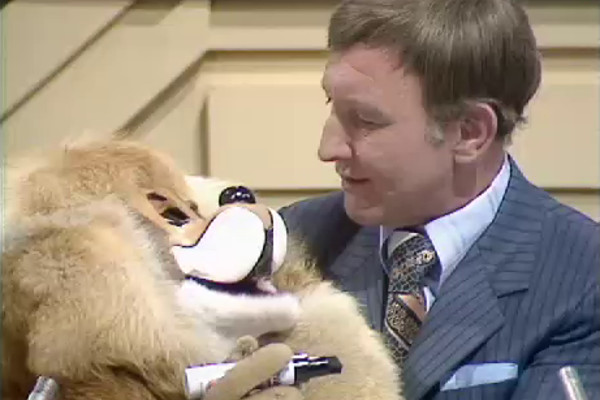 15
Episode Thirteen
Guest Panellists: Johnny Moore, Beryl Reid, Arthur Askey, Anna Dawson, Lenny the Lion, Terry Hall and Sandra Dickinson.

There are going to be some names and references that will feature in the shows and be hard to recall all these decades later. Dr. Marcus Welby's nurse, for example, is a running gag where Terry gets to impersonate a character from Marcus Welby, M.D., an American medical drama that ended in 1976, and, strangely, was shown on ITV. Then there's the second series' corny gags about the "ready" signs being "Helen Reddy", or the many responses of "Tessie O'Shea" AKA "Two Ton Tessie" to a question about weight. Multiple references to Cyril Smith are also retroactively uncomfortable, even if Smith is more remembered.
     Here a panellist perhaps falls into this area, as a ventriloquist in his 50s, and with an act from the '50s, Terry Hall, joins the show. It's possible some may have experienced a late 70s resurgence, as he hosted a children's educational series, Reading with Lenny, for three years from 1977-1979. (A follow up series, Let's Read With Basil Brush, was launched three years later.) But, for a certain demographic, the name "Terry Hall" is more likely to conjure up a response of "the guy who sang 'Ghost Town'?"
     Terry and his puppet, Lenny the Lion, is quite an old-fashioned act, as befitting a character who became a break out star in 1957. Lenny (unusually, operated by both hands) is a very camp lion, and it's notable that when he got a guest spot on Emu's Wide World in 1987, Lenny and Emu were revealed to be "friends", presumably because Lenny's brand of harmless, innocent fun wouldn't work in the more savage, cynical (yet frequently hilarious) world of Rod Hull and Emu.
     This was Terry's sole appearance on Blankety Blank (and Lenny's, for that matter), an episode that also marked the debut of Arthur Askey on the show. Arthur's a good sport, and appeared in the following episode, plus one from series three. Sitting next to Arthur is Beryl Reid, who this week insists that the "little man" below her is washing, with bubbles underneath her desk. When you've got a 60-year-old making stimulated noises to suggest that bubbles are entering her vagina, it's perhaps something of a no man's land for an innocent children's entertainer to exist in.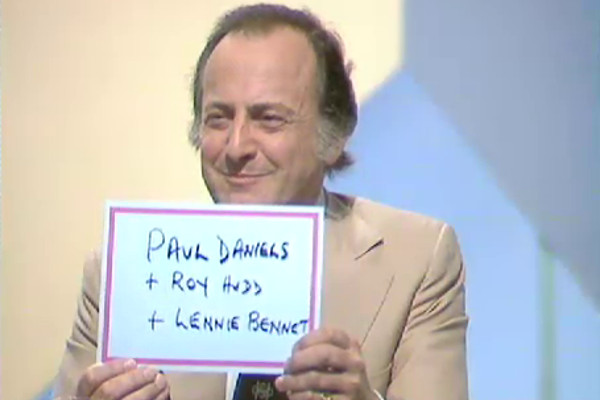 14
Episode One
Guest Panellists: Roy Hudd, Beryl Reid, David Jacobs, Shirley Anne Field, Lennie Bennett and Patricia Brake.

A fairly mundane start to the new series, given that it features a lot of regulars, and the two newcomers - Patricia Brake and David Jacobs - while serviceable, don't really stand out. It's not a bad episode, far from it, but it lacks the draw of a batch of brand new celebrities to really entice on "opening night". Possibly the intention is to assure viewers that it's the same show, a safe pair of hands, where the only real difference, apart from a logo and set update, is the new hand-held "ready" signs to indicate that the panellists have completed their answers.
      But it's very much "business as usual", even if Beryl's "little man under her seat" gets ruder, as she claims he's got a headache after she crossed her legs. There's also the first sign of digs at Paul Daniels, as a contestant with backchat is likened to him by Roy Hudd, before Lennie Bennett claims the contestant is "not that boring". It's quite an odd moment from the two, given that not only did they never appear on the same episode as Daniels, but both fit comfortably into the same "incessant smart arse" category as Daniels himself. In fact, newcomer David Jacobs later groups all three together on one of his answercards.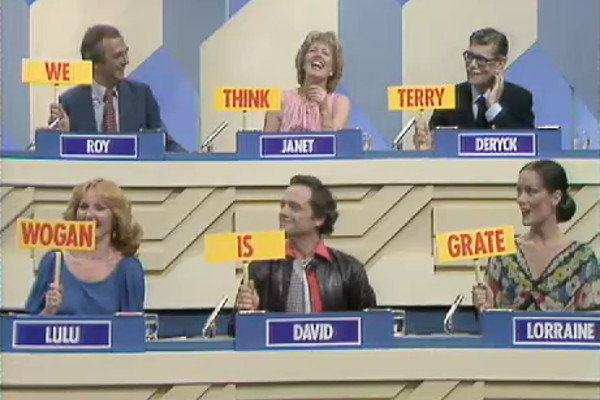 13
Episode Ten
Guest Panellists: Roy Hudd, Janet Brown, Deryck Guyler, Lulu, David Jason and Lorraine Chase.

An episode where the artifice of the situation is flagged up only too clearly. The two big changes the second series introduced to the show were flip over panels to indicate a correct match (as opposed to electronic lights) and a "ready" sign for the panellists to display when they'd written their answers. The flip over panels were retained for the show, but the ready signs were quickly discarded.
     While it's kind of a novelty to have something different for a run of the show, the ready signs do, unfortunately, flag up just how contrived the whole thing can be. Sure, it's obvious that David Jason has walked into the studio with pre-planned lines and gags, and Lorraine Chase overplays her "airhead" routine to the point where it's scarcely believable. (Is anyone really daft enough to mistake "Tutankhamun" for "Tooting Common"?)
     But with the signs, they're regularly altered each week, to the point where Terry is "surprised" by things like Kenny Everett having a five foot long version, or the panellists, as here, having a special message written on them. Lorraine Chase having one with a misspelt word on it is just playing up to her panel persona, and too contrived to really be funny.
     An Arthur Askey episode sees him hastily write down the word "not" on a piece of paper and stick it to the top of his ready sign, something that's very believable as an off-the-cuff addition. But with all the other, more professionally "altered" signs, it suggests that they may have been done so at a producer's request, and probably not even made by the stars showing off their "handiwork". Sure, it risks taking Blankety Blank way too seriously - and who'd ever do that, right? - to read into such things. And it is, after all, supposed to be "just a laugh". But the illusion of spontaneity is the series' lifeblood, and the signs frequently curtail this.
     Lastly, the notion of so-called "political correctness" and its effect on the programme's place in history will be looked at in more detail for series three. But, for now, it's notable that this is an episode where Terry gets to do a "Chinese" voice, telling contestants that there's a "brank" in the question, with Roy Hudd stating that he's "leady" after completing his answer. David Jason has to get in on the action, of course, giving "rice" as an answer... though no prizes for guessing how he spells it.