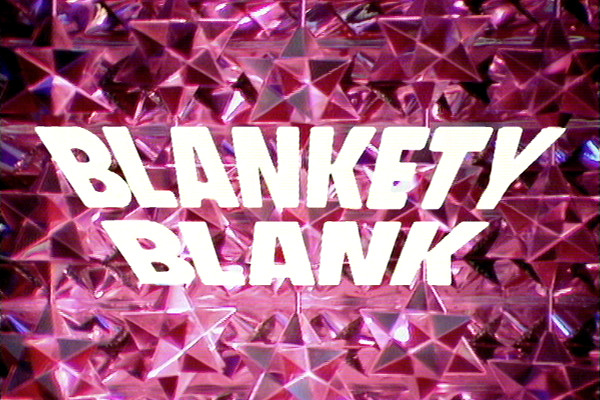 So why did Terry leave? And how did the viewing figures drop to five million? These questions and more will be discussed, so please join me as I rank the sixth series, from worst to best...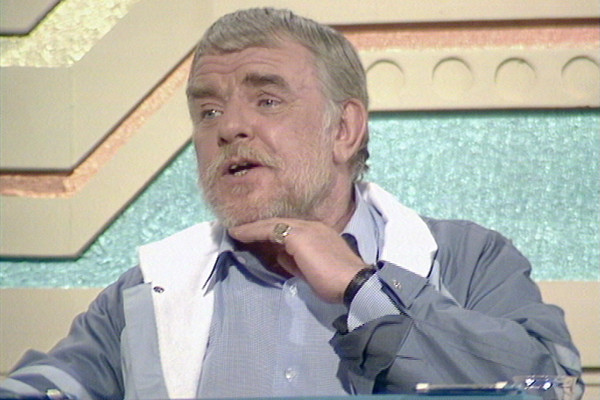 15
Episode One
Guest Panellists (in panel order): Windsor Davies, Beryl Reid, Larry Grayson, Anneka Rice, Kenny Everett and Sandra Dickinson.

The sixth series of Blankety Blank is actually quite engaging overall. It's not vintage Blankety Blank by any means, but some of the energy returns with an influx of new faces, and it's certainly a step up from the generally flat fifth series. This first episode, however, is a different matter entirely.
     This is the only episode of Blankety Blank to feature all three of Terry's cited favourite panellists together - Beryl Reid, Larry Grayson and Kenny Everett - and, probably soul-destroyingly for Terry, none of them are making an effort. Kenny's lower energy works better, and he's more likeable as a result, but Larry isn't even trying. Usually a great panellist, Larry spends much of his time whispering and giggling with Beryl Reid, causing Terry to laugh "They've their own private show up there, you know. Just between the two of them." Because God forbid they'd try and entertain the audience.
     Talking of indulgence, then Larry Grayson recorded what might well be the worst novelty record by a Blankety Blank panellist, a 1983 paean to Terry. "Terry Wogan" is not without some form of amusement, but the flaw with Larry's multiple attempts at releasing records (other songs throughout the years included "Shut That Door" and "What A Gay Day", none of which troubled the charts) is that, no matter how talented he was as a comedian, he wasn't a singer. A country and western style song, it is kind of amusing, and does feature the phrase "Blankety Blank", but is also almost unlistenable.
     One panellist not really mentioned so far in these reviews is Windsor Davies. This is his sixth appearance on Blankety Blank, yet nothing he's done so far has really met with comment, or, at least, not been overshadowed by the antics of others. It's not that Windsor isn't amusing, it's more that he's just kind of... there. Yet he doesn't qualify as a "supporting panellist" because he tries to be funny. And, as loveable as Windsor was, you really want him to succeed. But for some reason, a charming, really quite adorable man who can make even the lousiest sitcoms vaguely amusing just isn't able to generate a laugh on Blankety Blank. He's not exactly unfunny, but his efforts to produce belly laughs instead produce smiles, and it's faintly heartbreaking to see.
     This isn't a bad episode of Blankety Blank by any means. Certainly it's something to pass the time and it'll probably put a smile or two on your face, but it's painfully lacking in energy or anything that hasn't been seen on the show before. Anneka Rice, making her debut, tries, but is very much the aforementioned "supporting panellist" and not a key player, so her influence on events is pleasant but negligible. Terry laughs and jokes and tries to convince people that everyone is having a good time, but he's straining with all the heavy lifting he's forced to do here. After six series, it's only natural that elements of the show would come to the end of their lifespan, and this appeared to be the last dying ember of the show before the shake up in series seven. Thankfully it was, at least, something of an isolated case, a lifeless edition in a generally quite good sixth series.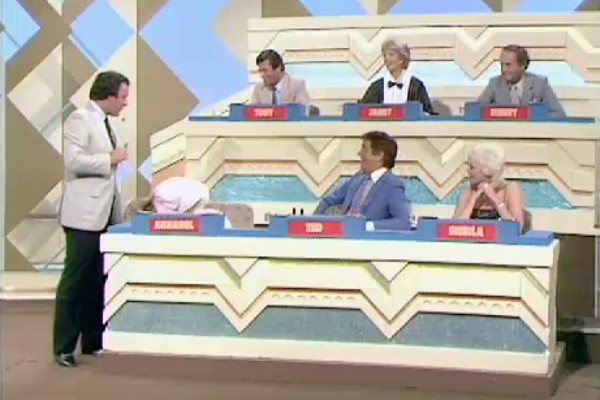 14
Episode Five
Guest Panellists: Tony Blackburn, Janet Brown, Henry McGee, Annabel Etkind, Ted Rogers and Sheila White.

So, why did Terry decide to leave the show? In one of his autobiographies, the 2006 Mustn't Grumble, Terry spoke of his tendency to move on from roles, and how he'd made a mistake by staying on his chat show too long: "[...] one of my defining virtues, or perhaps vices, is to leave; and sooner, rather than later. [...] I gave Blankety Blank the elbow when I felt the public had had enough (Les Dawson proved me wrong)."
      Terry was, perhaps, only half right - there's definite signs that the show was coming to its natural end at this stage, but Les keeping it going for another six years after Terry left wasn't proof that the show still had life in it, in and of itself. Rather, it was the injection of a whole new vibe and energy brought by a completely different host and largely new panellists that gave it the second lease of life it badly needed.
      This is not to disparage Terry's role in proceedings, as he works overtime on some series six episodes to keep it from flagging. But nothing can last forever without change, and by this stage we've heard every joke Terry has to make about "who won the toss?" and every wisecrack about Lorraine Chase and Sandra Dickinson being air-headed.
     The show still had some life left in it, but the regularity of the panel was also strangling the show. As good as Chase, Beryl Reid and Patrick Moore could be, by the end of series six Reid and Chase had appeared on it 24 times, and Moore - the only one of the three not to cross over to the Les Dawson era - had put in his 19th appearance. Thankfully, such things don't apply with this particular episode, a fairly fresh edition that includes the sole appearances of actress Sheila White, and harpist Annabel Etkind, who these days is a child food nutritionist under the name of Annabel Karmel.
     Speaking of trivia, then the aforementioned "coin toss" sees the men win out this series, with an 18-12 margin, or 60%. Last time around the statement was made that "counting every single coin toss throughout the entire run of Blankety Blank would be too anal, even for The Anorak Zone" - which sounds very much like a self-challenge, on reflection. So, here we go, then: throughout the first six series of Blankety Blank, the coin tosses were won marginally more by the women, with a 97-91 rate. Men only won out in this series and series three (which had the largest margin) and series four saw the only draw. If you want more details on this vital and world-saving piece of information, then extra details will be put as hidden captions under the next few images, starting with this one.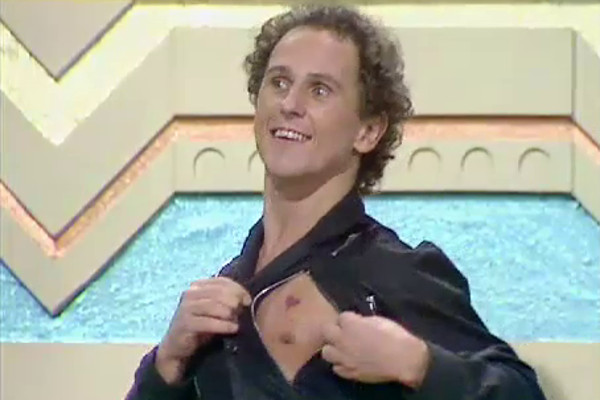 13
Episode Twelve
Guest Panellists: Jonathan King, Sheila Steafel, Wayne Sleep, Anneka Rice, Ted Rogers and Nerys Hughes.

While much is made elsewhere of the increasing ennui of the "old guard", having regulars who know what they're doing on the show is also a crucial element, even if they're just there to show the newer panellists the ropes. This is the "freshest" edition of series six, with no panellist having appeared more than three times before, and two of them - Wayne Sleep and Sheila Steafel - making their debut. Steafel would appear again much later in 1988, though Sleep, engagingly inept at the game, never returned.
     It's a vaguely amusing edition where a series of generally very easy questions are continually met with wrong answers by a panel who just can't get it right. Jonathan King makes his second appearance on the show, and this time his schtick is much more engaging, with even his "Wogans" there just in jest. Terry observes the change, describing him as a "big tease" and "winning" with his more mellow, positive outlook.
     In terms of the ratings for the sixth series, then the average viewing figure for the run (barring the Christmas special) was, it appears, 9.97 million. This particular edition wasn't available in the newspaper archive, but was printed in the book Television's Greatest Hits, which, in its other examples of BB ratings, is consistent with what's verified elsewhere. The book stated that this was slightly the highest-rated of the run at 11.1 million, just edging the 11.05 million who tuned in for Episode 6.11.
     As full newspaper verification isn't available, then a chart position for this one won't be stated as fact, though the book does suggest that it made it to sixth place in the national TV charts. If this was indeed the case then it would join the first episode in being the only two that made the national top ten. The 10.3 million who tuned into the opening week saw #6.1 ranked joint ninth, along with an episode of ITV's News at Ten. While the series was still extremely popular in terms of BBC programmes, even topping the BBC chart four times (or probably five, with this edition) the channel was still taking a battering from ITV, with Coronation Street leading the way, and Give Us A Clue/Name That Tune inexplicable monsters in the chart, capable of attracting over 14 million.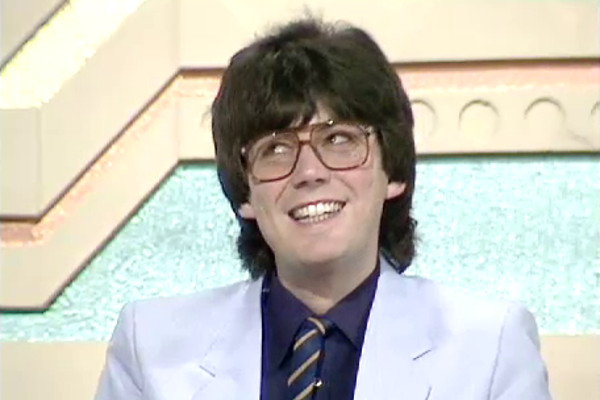 12
Episode Four
Guest Panellists: Mike Read, Beryl Reid, Cyril Fletcher, Leslie Ash, Bernie Winters and Dana.

Mike Read makes his sole appearance on the panel here, the fourth and final DJ (or, at least, primarily/well-known for being a DJ) guest during Terry Wogan's time on the show. Although Janice Long, a friend of Les Dawson, appeared the following year, that still only made it five DJs after seven series. Oddly, a sudden influx of DJs, particularly Radio 1 DJs, began when Stanley Appel took over as producer in series eight - odd, because he was most well-known for taking Radio 1 DJs off Top of the Pops.
      It gives an insight, perhaps, into how Appel saw both shows, with the once-trendy Pops being cleared of the old-hat DJs, and the batch of them shovelled off to Blankety Blank. What's perhaps even more shocking is that, while they became tarnished as "middle aged", none of them were actually that old, at least in this year. Even Tony Blackburn had only just turned 40, while the Mike Read who appeared on this edition was 36. Maybe old to the target audience, but not quite the age of said target audiences' dads.
      All of which begs the question as to how good a Radio 1 DJ can be as a panellist. Not all of them were bad, but the '80s batch produced some of the blandest radio presenters of all time, so much so that by 1990 they became fish in a barrel for Harry Enfield and Paul Whitehouse, even using elements of Mike Read's style and experiences for some minor inspiration. Obviously Read was far from the main target of "Smashie and Nicey", with Simon Bates, Dave Lee Travis and Tony Blackburn just three of the men that were bigger targets for these composite parody characters.
      But if not quite the dullest of the '80s Radio 1 DJs, Mike's certainly at the more tedious end of the scale. His only moment of (unintentional) humour was in 2014 when he decided to record a "calypso" record in support of UKIP. Read actually had two charting singles roughly around the time of his BB appearance - January 1983 saw him reach No.91 with a mutilation cover of the Chris Montez track "Let's Dance", while in May 1984 he made No.87 with a better track called "Tell Me I'm Wrong", which, while not completely awful, is still probably the sort of thing you'd want to listen to one less time than Larry Grayson's "Terry Wogan" single. Or, for that matter, UKIP Calypso.
      All this being said, Read does actually get four big laughs from the studio audience. One major one comes when Terry's voice goes squeaky and he says his voice must be breaking - the obvious "about time" gets said by Read, which is odd as the exact same line and response happens with Roy Kinnear in #6.2. What makes this highly suspicious is that this was the very next episode to be recorded, albeit with a two-week gap between recording sessions. Did Terry start the show by saying to Mike "This got a laugh a couple of weeks back, so I'll let me voice go all squeaky like an eejit, and you crack the gag"? Or are we to believe in the power of extreme coincidence? Can Jungian theory be applied to Blankety Blank?
     Despite Read's successes, however questionable their origins, there are other moments where he's so unamusing he makes you pine for the days of David Hamilton, and there's what sounds like clear canned laughter (yes, the "ha-ha-ha-ha-ha" man) to paper over the gaps.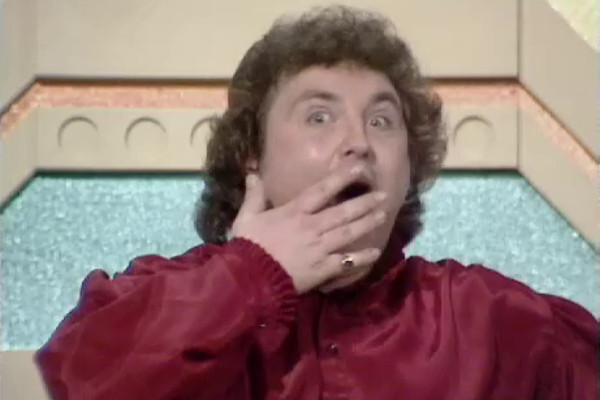 11
Episode Two
Guest Panellists: Roy Kinnear, Gloria Hunniford, Russell Grant, Anita Harris, Ted Rogers and Wendy Richard.

Talking of novelty records from the panellists, then tracking down which ones recorded singles, other than the established musicians, is a hard task, as most of them were released without troubling the charts. Yet for one entire week, Russell Grant (and The Starlettes) snuck into the UK Charts with a cover of the Supremes track "No Matter What Sign You Are". Reaching a mighty No.87, it's not actually completely terrible, and is at least better than the tracks mentioned so far.
     Russell makes an effort in his first appearance, but even he seems shocked after he's made references to being big downstairs and an elderly female contestant having large breasts, a rare example of a panellist maybe being a bit too rude on the show. He tries, and he's by no means awful, but his only other Blankety Blank appearance would be in Episode 6.6.
      Yet look out for Steve Craner, an underground electrician who appears as a contestant. There's a range of amusingly unenthusiastic contestants this year, all perhaps a little unimpressed by Terry's now well-worn stock phrases. Yet none are as brilliantly miserable as Steve, a man who sighs, appears irritated when Terry gets his name wrong ("Kramer?") and gives one-word answers to most of his interview questions. It's a tour-de-force of appearing like you'd rather be anywhere else but on the show.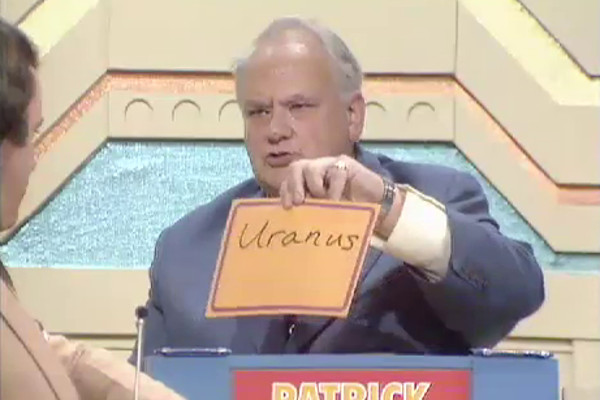 10
Episode Six
Guest Panellists: Russell Grant, Lynda Baron, Patrick Moore, Janet Ellis, Kenny Everett and Lorraine Chase.

The two panellists who appeared the most during series six were Patrick Moore and new face Sabina Franklyn, with four episodes each. One thing noted but not referenced until now is that whenever Patrick shares the panel with Kenny Everett, there's very little interaction between the two of them. It's possibly coincidence, and it's not to suggest that there was any bad blood between them, but more that Kenny's somewhat juvenile antics on the show perhaps occupy a different world to Patrick's "grumpy uncle" panel persona.
     It's most notable in just small moments like Terry trying on Patrick's monocle in Episode 3.14, where Kenny watches but doesn't get involved in any way, or make any comment. But most significant is Episode 5.2, where Kenny does one of his big grandstanding moments, taking over the show with microphone bending, music and champagne... all watched expressionless by Moore, with his arms folded. Of course, such things could be Moore keeping "in character", but when Kenny starts handing out the champagne (to celebrate bending Terry's microphone again) Patrick is the last one he was due to go to with the bottle... which then gets taken off him by Jack Douglas, so we'll never know for sure.
     It's as if Kenny instinctively knows that his childlike routines won't be received well, and so avoids any potential conflict... or it could just be more of that aforementioned coincidence. But, as with these other examples, there's no real interaction between the two again here, with Kenny just holding up his answer to a Blankety Blank about Patrick, without saying a word. All this said, it's a subdued performance by Kenny's normal standards, and there may have been a reason for that, as we'll explore in a later entry.
     In terms of trivia, then one notable change during series six is that Terry has begun to phase out his need to find out undisclosed answers. Earlier series had always seen Terry do things like ask each panel member to find out what their answer was, even after a contestant has already lost and they didn't need to be shown, or asking the loser of a tie breaker what they'd written down. In this run he only occasionally bothers, and it's phased out altogether for the Les Dawson run, with only any remaining Supermatch answers asked to be revealed. It's perhaps a good thing as it gets the game moving faster, but Blankety Blank nerds who need to know every single anal detail (whatever they might be like) may find they're missing out.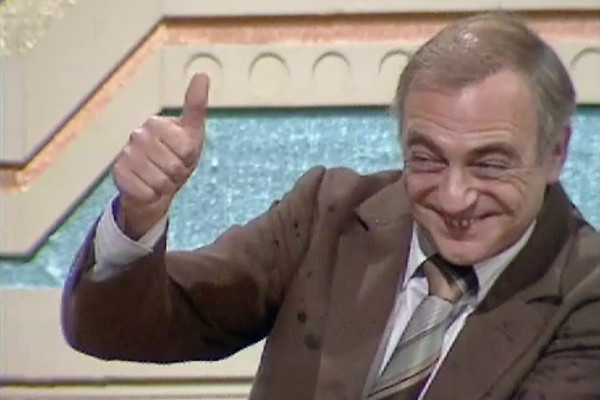 9
Episode Thirteen
Guest Panellists: Roy Hudd, Judith Chalmers, Henry Cooper, Sabina Franklyn, Freddie Starr and Diana Moran.

An indulgent episode, in that most of what happens on screen is kept from the viewers, and various in-jokes litter the room. Ultimately, Blankety Blank exists as a television programme, and should serve that purpose. But around the 11'40m mark, Roy Hudd can be seen with water splashed over his jacket, and Terry joking that he's "bedewed with perspiration". But whatever caused Roy to get soaked (and the sensible money is on Freddie Starr) isn't shown on screen.
     If there was a wild water fight, why wasn't it shown as part of the episode, given that Blankety Blank has long since abandoned even the slightest pretence of being a proper quiz show? Or, if not, why wasn't Roy dried off and the sequence edited out? The episode also ends with Freddie Starr talking about a contestant wanting a scooter, with Terry joking that "No, the scooter was... several weeks ago." As the only episode all series to feature a scooter as a prize was 6.11, it suggests that this was recorded the same day and Freddie was watching. Such inter-episode referencing also occurs in Episode 6.10, which we'll get to in due time.
      Freddie Starr was, of course, one of the panellists embroiled in the Yewtree investigation, accused of groping a 15-year-old's buttocks back in 1974. Although no charges were brought against Starr for the incident, or another 13 allegations, he was undoubtedly a tactile individual, placing his hand on the leg of Breakfast Time's fitness motivator, Diana Moran, aka "The Green Goddess". The tragic thing is that while such things are frowned upon today, they wouldn't have been that unusual for the society of the time, as evidenced with TV moments such as an episode of The Sweeney where Carter leers over schoolgirls, or The Sun, in February 1983, printing topless photos of Samantha Fox when she was just 16. Let's not even mention Bill Wyman...
      Starr's case was a legally murky one... although charges were dropped due to lack of evidence and time elapsing, his attempt to sue the claimant for slander and libel resulted in him losing the case, with the judge involved in the libel hearing saying the allegations were "true". Starr retired to Spain, virtually penniless, where he died of heart disease in 2019, aged 76.
      On a lighter note, then series six marks the return to panellists being listed in the end credits in alphabetical order by surname - except here, where Henry Cooper's name mistakenly appears before that of Judith Chalmers.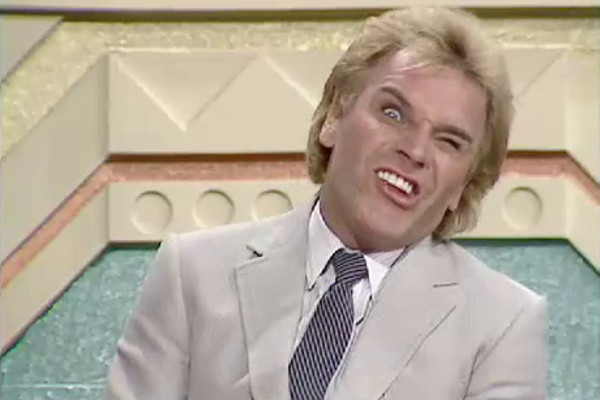 8
Episode Three
Guest Panellists: Tim Brooke-Taylor, Kathy Staff, Nicholas Parsons, Ruth Madoc, Freddie Starr and Lynsey de Paul.

Earlier articles have referenced panellists who people may have forgotten were ever regulars on the show, such as David Jason and Lenny Henry. This episode has the reverse effect, as it's another with someone who - if only thanks to a 2003 spoof sketch by Peter Serafinowicz - is maybe assumed to have been on the show more than they actually were: Freddie Starr.
      Yet Freddie's three appearances are all in this sixth series, and even Terry Wogan had forgotten that he'd ever been on Blankety Blank. Terry spoke about Starr at some length in his 2000 autobiography Is it me?, noting that he was a guest on late night Wogan when it was pre-recorded and able to be edited, but he'd never have him on the live show, due to the high risk involved. Providing captions for some of the photos in the book, Terry labelled a shot of the Christmas 1983 BB with: "I'd forgotten about Freddie Starr. They say the body has no memory of pain ..."
     Whatever one's thoughts about Freddie Starr - be it amusement, irritant, or something else entirely - he brings an energy to the show that is lacking from some of these later Wogan episodes, even organising a walk out, or demanding Terry deliver a question on one leg with an eye closed. Freddie had begun taking Valium in 1974 for his nerves, and by 1981 he confessed to the press that he was addicted, which had a detrimental effect on his career. Already having a reputation as being difficult to work with, his opportunities of appearing on TV had all but faded to nothing, until Des O'Connor had him on his BBC2 chat show in December 1982. It began a career resurrection for him, with February 1983 bringing the Wogan appearance when it was still on post-watershed.
     Freddie's 2001 autobiography Unwrapped gives insights into his upbringing, including stories of his father watching dispassionately as five policemen broke his ribs to teach him "a lesson". While Freddie describes his father as a "strict man with Victorian values", he still writes admiringly of him throughout. The book talks about his appearances on Des O'Connor Tonight, where he became a regular guest, but sadly doesn't mention Blankety Blank. But the real anomaly is that all through the book Freddie mentions never having drunk alcohol, without ever saying why. Yet in 2007 he gave a press interview where he was alleged to have said that when he was a child, his father broke both his legs while drunk, and that "My father, brother, sister and my mother were all alcoholics." Such revelations, not in the autobiography, give a clearer view of why he was the person he was, and why there's always an element of "danger" whenever Freddie is on TV.
     Also new to the panel, but understandably more low-key, is Kathy Staff. Pleasant company, Staff would return for five appearances during the Les Dawson run. It is notable that a lot of the "bigger" personalities from Terry's era didn't cross over into the Les Dawson version of the show, with this series being the last showing from Lenny Henry, Larry Grayson and Kenny Everett, to name just three. However, this could have just been another of those coincidences, as Les certainly controls the disruptive Frank Carson better than Terry did, and Les's breaking of the "wand microphone" in his first episode would have taken away 90% of Kenny's act. (Jokes aside, in fairness Kenny doesn't touch a microphone during this sixth series.)