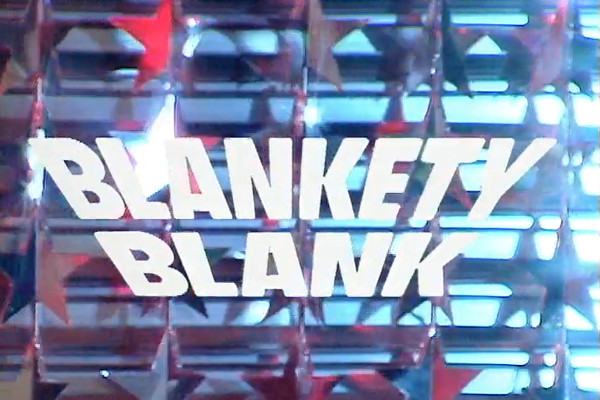 The fifth series of Blankety Blank ran from September-December, and introduced 20 new panellists to the show. Please join me as I rank the fifth series, from worst to best...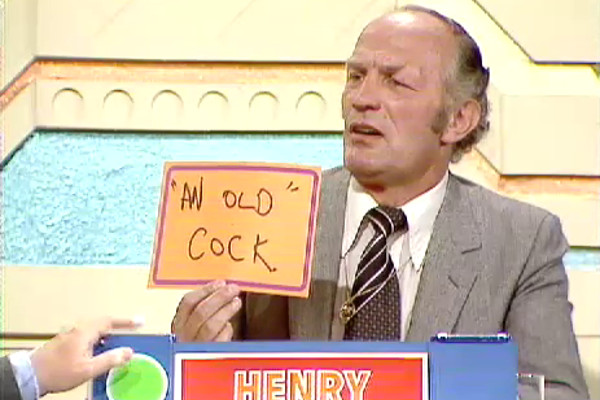 14
Episode Three
Guest Panellists (in panel order): Roy Hudd, Gloria Hunniford, Henry Cooper, Nerys Hughes, Jimmy Tarbuck and Lorraine Chase.

A horribly indulgent episode of the series, where the panel joke among themselves, often seeming to forget that there's a TV audience looking in and hoping to be entertained. Rather than say anything funny when Terry approaches them, most of their input is chat among themselves when Terry is trying to speak to the contestants, or bursting into song six times in the mistaken belief that there'll be a time when it's actually funny.
     Jimmy Tarbuck makes his final appearance on the show, ushering in a wave of inanity before he leaves. Even before the programme's started, his greeting during the opening title sequence (each panellist introduced by name, and trying to smile at the camera on cue, often failing to time it correctly) sees him mime a golf swing. Within seconds we're into a world where mentioning Radio 2 or pointing out that people have grey suits on is a comic goldmine.
     Gloria Hunniford joins the show, a new panellist who would appear three times more under Terry Wogan (including this series) and another four times under the Lily Savage revival version. Perhaps most significantly to Terry, she sat in on a dozen editions of his chat show to give him holiday cover in the '90s, but that's another story.
     In Blankety Blank terms, Gloria gets full credit for at least trying, but her efforts to amuse are like an unfunny auntie trying to be "down with the kids" rather than a genuine wit. There are moments in her appearances with Lily Savage where she can out-awkward David Hamilton, but in amongst this environment she actually does quite well in her first appearance. After all, this is a panel who believes saying "grey suit" is the height of hilarity, so the bar is set particularly low. This is not, of course, in any way to suggest that the Lily Savage version was better or even comparable to the show's prime years, but as it was a lot coarser and ruder, Hunniford stood out even more.
     The humour in the original run of Blankety Blank doesn't vary widely, it's pretty much all set around the middle of the road, for better or worse, but this is almost certainly the most "establishment" it ever got. Easily the worst episode broadcast up to this point, it smacks of the unfortunate "in jokey" direction that Blankety Blank began to head into during this period, and shows signs of the kind of indulgence that could only be generated by people becoming too settled and comfortable in their roles.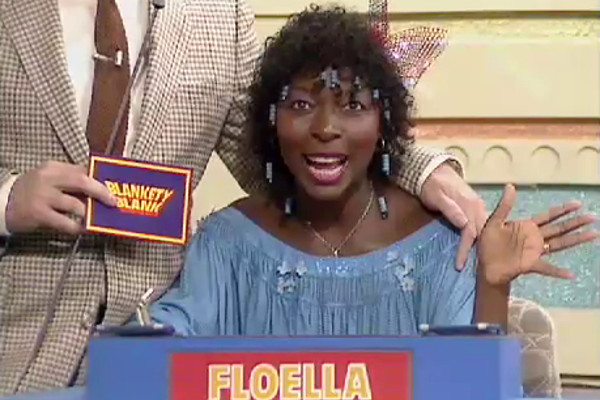 13
Episode Eleven
Guest Panellists: Norman Collier, Beryl Reid, Patrick Moore, Floella Benjamin, Kenny Everett and Lorraine Chase.

Floella Benjamin makes her debut in this episode, a terrific children's presenter who can, perhaps, be accused of always acting like she's presenting for children no matter what show she's on. The real standout in a very by-the-numbers edition comes when Floella decides to do a Jamaican accent. For obvious reasons this is a world removed from Jim Davidson doing the same thing, though it turns awkward when Terry asks her if she's got a watermelon, and Floella says that she hasn't, but does have a banana.
     Yet if you've been watching these episodes as we go along, this is the 79th edition (including the pilots) and so by now you'll perhaps be more surprised if an episode of Blankety Blank doesn't have something dodgy in it. If you've read this site's article on Rentaghost you'll have also seen that Floella was doing the same thing two years later, putting on the accent in a kid's pantomime and calling herself "Black Magic".
     In a fairly bland edition without much incident - Kenny Everett doesn't even bother to do what he normally does, and Norman Collier's microphone barely breaks - one of the most notable elements is the increasing level of baldness on the back of Terry's head. The use of wigs has been widely discussed in these articles, and only a somewhat sexist, old-fashioned attitude will prevent me from mentioning it later in the episode with Fenella Fielding.
     Discussion has ranged from full wig, to wig on the front, or a frontal weave. There are a few gags in the fifth series about Terry's hair, and he doesn't seem to take them all that well, but at this stage at least it's possibly still all his own, the increasing gap at the back a testament to his lack of vanity in this regard.
     Speaking of trivia, then - spoiler - Beryl Reid gets the Head To Head question wrong in this one, though as the contestant states they don't want to win the "star prize" (a tropical fish tank), it's possible she does it on purpose. As she's asked to take part in the Head To Head in all of her series five appearances, she ends this run with a tally up to an 11-3, 79% success rate.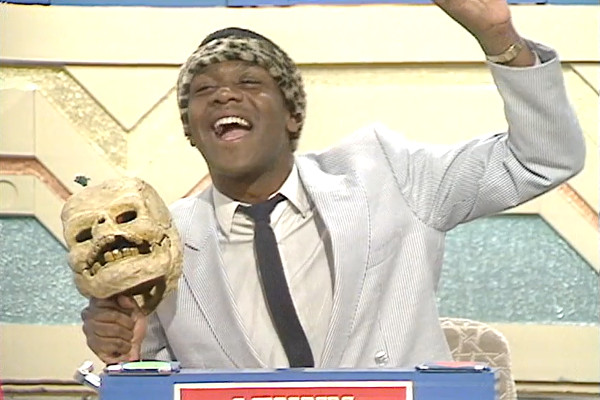 12
Episode Twelve
Guest Panellists: Henry McGee, Janet Brown, Larry Grayson, Suzanne Dando, Lenny Henry and Sandra Dickinson.

The debut of gymnast Suzanne Dando, who would reappear five times during the Les Dawson era. What's notable about this half amusing/half so-so episode is that the potential for humour is frequently curtailed; there are multiple instances where Larry Grayson goes to make a remark or interact with the other panellists, only to be interrupted or for Terry to press on with the game.
     Lenny Henry does his "witch doctor" routine, and Terry refers to the character as a "primitive", but, as with the previous entry, we're so fully ensconced in the world of the 1980s that such matters have perhaps lost their ability to shock. A note for trivia lovers is that the fifth series largely abandoned crediting the guest panellists in alphabetical order by surname: this is just one of five to do so. But even more of note is that around 29'15m, you can see a crew member walking round the back of the Supermatch Gameboard, presumably the man who pulls back the cheap "reveal panels", and is referred to by Terry as "Eugene".
     Talking of trivia, then Blankety Blank had always been a Thursday night show, a schedule format that seemed to fit it well. The previous year's Christmas special had gone out for the first time on a Saturday night, and this entire series follows suit, a dangerous risk to take with any programme. Some series just simply have their "night", or "nights", and when the BBC's very popular 1985 resurrection of Alf Garnett (In Sickness and In Health) was moved to the distinctly un-Alf-like Saturday night, the ratings dropped on average by almost four million, leading to the eventual cancellation of the show.
     Blankety Blank is a light-hearted, even banal programme, but it doesn't possess the true vacuity (or prize power) of a genuine Saturday Night show. While this particular episode attracted ratings of 11.7 million, it began during the last five minutes of Game For A Laugh on the other side, a show which was still at its peak and drew 12.8 million.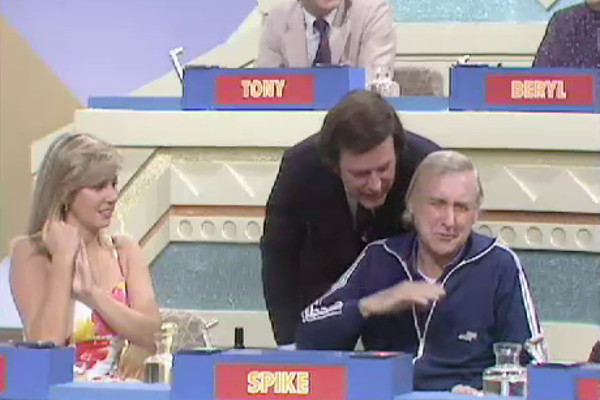 11
Episode Five
Guest Panellists: Tony Blackburn, Beryl Reid, Cyril Fletcher, Sarah Greene, Spike Milligan and Anita Harris.

A pretty amusing edition, with Spike Milligan on good form, and there's a definite argument to be had that it's ranked a little too low here. However, many of the series five episodes are less distinct and "much of a muchness"; all of the entries from, say, 6-13 could be moved around with no real debate, they're all generally the same standard.
     There are definite signs of the show become a bit too "familiar" and in need of an injection of new energy, or Terry's pending regeneration into Les Dawson. Beryl Reid only appeared on a single episode when Les took over, and while it's tempting to think that this was because of her confessed love of Terry, her increasing ennui is already palpable in this fifth series, with her not saying much, or even bothering to mention her "little man under the desk".
     As this was the year that Beryl appeared in a Doctor Who story she claimed to not understand, then maybe she's still just shellshocked, and she is a little more lively in episode eleven. Yet for two of her appearances, including this one, she seems subdued, almost openly bored. Yes, Blankety Blank was getting a bit tired in 1982, but was still a special and unique kind of show... a show where you could judge if the panellists were finding it tedious by whether or not a 63-year-old was pretending she was the recipient of cunnilingus.
10
Episode Seven
Guest Panellists: David Hamilton, Gloria Hunniford, Tom O'Connor, Susan Hanson, Jim Davidson and Dana.

Jim Davidson's sole guest spot on the series, and a discussion of Jim's act and its ramifications in the modern day won't be covered in much depth here, as such matters have already been looked at in earlier articles. What is of note is that, despite what modern history may tell us, Jim's act wasn't unique for the time, and was, in fact, symptomatic of a fair degree of the material of the age. While of course not everyone was going around doing Jamaican accents (or even saying "nick nick" for that matter), blackface was not a rarity in BBC light entertainment shows, and the following episode's Ted Rogers was doing gags about rapists on 3-2-1. Jim and his act can be pilloried, but it should be acknowledged that he wasn't performing such routines in isolation.
     Blankety Blank was a very small part of Jim's career, so he didn't talk about this one-off appearance in his 2001 autobiography, Close to the Edge, but did mention Terry Wogan being in the running to take over The Generation Game around the mid 1990s. Jim observed: "The newspapers had printed a huge list of names who were allegedly in the frame to take over as host. One was Terry Wogan. Now I am not a big fan of old Wogan, nice bloke that he is. I think he is always too pleased with himself. I don't think The Generation Game is a show about being too pleased with yourself. You have got to try to get the best out of the people and Terry is not a comedian. I didn't think it was right for him."
     Jim, well known of course for his humble and down-to-Earth nature, took over as host of The Generation Game in 1995. Currently titling himself "the people's comedian", there is an argument to be had that Jim's style of humour never really dated for the majority, but that a certain style of humour is enforced on an indifferent public. While people slate the humour of the '80s, and often with good reason, millions of people were tuning in to Fresh Fields, with it sometimes even topping the charts, while more niche, cult comedy, highly touted, gets pushed out into a mainstream that doesn't appreciate it. You may have enjoyed at the time, for example, French and Saunders on BBC2, but would your granny have understood it when they moved it onto BBC1?
     In this age, television was aimed at more elderly viewers, as can be seen by shots of studio audiences, and it wasn't until later years that things like demographics really took hold and television became more youth-orientated. The pejorative "political correctness" often gets trotted out to explain such matters, but the harder reality is perhaps that such old-fashioned humour, born from variety halls and working men's clubs, simply wasn't as popular with the generation that were more likely to buy stuff they saw in the adverts.
     Retrospective shows like to champion the idea that such shows weren't popular with a majority, but, no matter what you or I may think of Jim and his questionable humour, the indisputable fact is that he was popular. The end of the year saw Blankety Blank's Christmas special watched by just 9.6 million (beaten on the BBC by Kenny Everett and Hi-de-Hi!, incidentally) and in a week where ITV dominated the entire top five, Jim's show was the fifth most-watched of the week, with exactly three million more tuning in.
     It's less than 90 seconds before Jim's got a black stocking on his head and doing his "Chalky White" routine, and it gets a huge laugh from the studio audience. Such points are not, of course, to defend Jim, or praise him, or even suggest that this style of "comedy" should make a comeback. But instead, the objective, Devil's Advocate position is to imagine a UK where such things didn't become fazed out, and whether they would still be popular with a majority who laughed then.
     Certainly, this kind of revisionist, intellectual snobbery can be seen today whenever the popular Mrs. Brown's Boys ever trends on Twitter, and it is curious to wonder if the population who are over 55 (almost a third of all people in the UK) would still rather be watching stuff like Terry and June. Again, this is not to praise these shows, but this is mainstream broadcasting, and just because a section of the audience isn't as blessed intellectually as another, it doesn't mean they haven't paid their licence fee like anyone else and don't deserve to be entertained.
     This particular episode of Blankety Blank under discussion charted at eleventh place in the charts, with 12.1 million viewers, in a landscape largely dominated by ITV. In third place, just behind two editions of Coronation Street, was a forgotten sitcom called Tom, Dick and Harriet. No retrospective show is going to look back on Tom, Dick and Harriet and cite it as a landmark of British television, but 13.15 million tuned in that week, and it was regularly in the top five most-watched programmes of the day. (No, I'd never heard of it, either.)
     More significant to the show's future are two more new panellists in the form of Susan Hanson and Dana, but a so-so episode is made quite interesting by the males on the show having some vague posturing about who is the alpha. Tom O'Connor, removed from the bottom centre seat, seems to try and crack more jokes as a result, as if to prove his worth, while "Diddy" David Hamilton tries a few jokes, and we've seen how that goes. There's no particular tension between Terry and Jim as such, and Jim had some appearances on his chat show, though when Jim pretends to be about to headbutt Terry, it lacks the fun and chemistry that was seen in series four when Lenny Henry similarly mock-threatened physical violence.


9
Episode Eight
Guest Panellists: John Junkin, Fenella Fielding, Clement Freud, Wendy Richard, Ted Rogers and Lynsey de Paul.

There's a somewhat morbid air to this episode as it is, at date of writing, the only episode of Blankety Blank where none of the panellists are still alive. Fenella Fielding, the voice of the Village in The Prisoner among other parts, passed away in 2018, the last surviving member of this edition.
     It's the first of two appearances for Fenella, and also new to the show is Ted Rogers, who would become a semi-regular over the next few series, clocking up six appearances in total. Ted's okay and makes an effort, but if you've hired Ted Rogers for the "comedic wildcard" it's a bit like producing your own adult movie and getting Mary Whitehouse to direct it.
     Also new to the show is Clement Freud, who would appear again in a Les Dawson episode. Freud's inclusion is a bit of a retrospective concern, as we're again in Yewtree territory, a situation that arises surprisingly little, considering the vintage of the show. In his 2000 autobiography Is It Me? Terry cited the amusing Freud as "the most congenial of men, while preserving an outer carapace that would repel a tank. If you do not know him he will frighten you to death."
     It should be noted that Terry's praise of Clement came before posthumous allegations against Freud appeared in 2016 - in fact, Terry had died five months before the allegations broke. Sigmund's grandson, and the father of Emma, such revelations saw Clement Freud go from a "national treasure" to something quite different overnight, though such matters won't be looked at in too much detail here. Not only do these articles wish to avoid legal murky waters, but they also bring to light just how trivial the programme is... after all, allegations meaning that an episode of Blankety Blank is posthumously difficult to watch are the least of the concerns relating to this issue.
     To return to the cheery subject of death, then while this became the first all-deceased panel in the 21st century, panellists were already beginning to pass away during the 1980s. The first panellist to go was Arthur Askey, who died between the screening of episodes 5.11 and 5.12. One of the last people to work with Arthur was future Blankety Blank host Les Dawson, who wrote about a pantomime they'd appeared in together in 1981.
     Les noted in his 1985 autobiography A Clown Too Many that: "The old boy was in pain and I had to make a decision, to write him out of the main plot and leave him to make one appearance to do his act. I knew in my heart of hearts that dear Arthur would never complete the pantomime run and he agreed with my decision to free him from making more appearances on stage." Aged 82 and in ill health, Askey passed away on the 16th November 1982.
     By the time the series ended its original run in 1990, panellists Diana Dors, Noele Gordon, Dustin Gee, Russell Harty, Jimmy Edwards and Roy Kinnear would have also died, while Ted Moult took his own life. In the years since Blankety Blank was originally cancelled, then panellists have obviously continued to pass away, with the most recent being Tom O'Connor in July 2021. Out of a total of 184 separate panellists during the Wogan era (not counting the pilot episodes) then only 92 are still with us.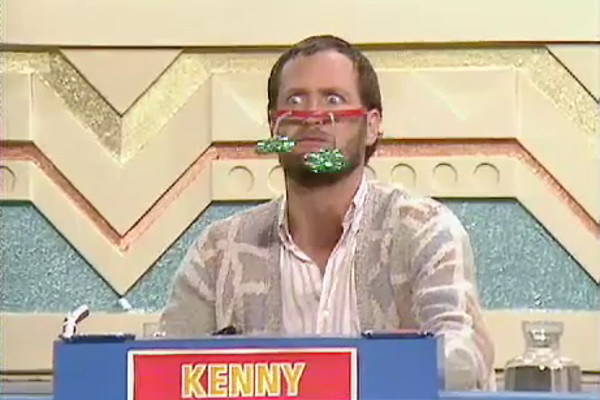 8
Episode Nine
Guest Panellists: Barry Cryer, Noele Gordon, Danny La Rue, Dana, Kenny Everett and Maggie Philbin.

The sole appearance of Maggie Philbin, and the first appearance of Danny La Rue, who would go on to be a bit of a semi-regular, with six return appearances. It's also the first chronological appearance of Dana, but, as 5.7 was screened out of sequence before it, it does make Terry look foolish when he says it's her first time.
     Also on the show is Kenny Everett, often talked up as a "wild maverick", yet indulging in really quite twee "sad uncle at a joke shop" routines like wearing Deely Boppers. An enormous hit in America in 1982, where they reputedly sold two million of them, this bouncy headwear came to the UK in July the same year, where, so Twitter tells me, they were also a huge fad for a time. Although the appeal of the Rubik's Cube can still be appreciated, this particular trend - a piece of plastic tat stuck on your head - is one that I've blotted from my memory. The counselling bills cost a lot.
     Kenny also, of course, does what Kenny is known for, and the show's one time love of spontaneity, or at least the illusion of it, crumbles when Terry has a special spare "water squirter" microphone stashed away, a moment of clearly pre-planned nonsense that ties in with the growing suspicion that some of the panellists are now being given scripted lines. The end of the episode sees Kenny break his desk lights at the end of the show just for that extra desperate bit of attention.
     The ratings for series five showed a slight decline from previous years, along with further domination from ITV. Although the average viewing figure for this run was 10.42 million, this ninth episode was the only one to make the TV top ten. Coming in at joint tenth place, it, along with an episode of Crossroads and The Paul Daniels Magic Show, had 11.75 million tuning in.