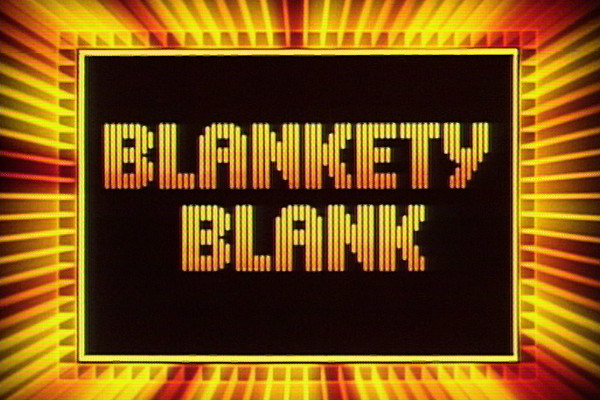 The seventh series of Blankety Blank aired from September-December 1984. Please join me as we look back on Les's debut run of Blankety Blank, from worst to best...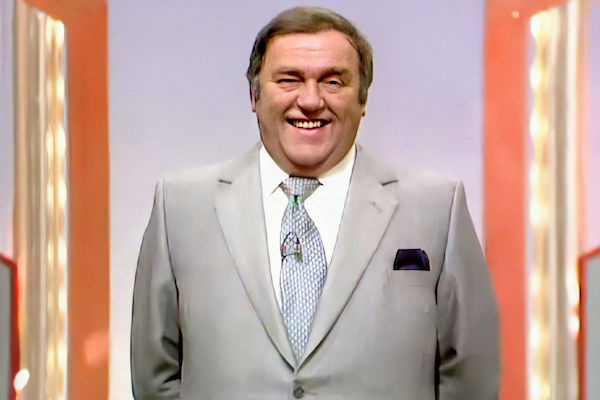 14
Episode Seven
Guest Panellists (in panel order): Jeff Stevenson, Sheila Ferguson, Johnny More, Anneka Rice, Dennis Waterman and Lynsey De Paul.

All of Les Dawson's first series has entertainment value, so this edition only comes last because one has to. It's perhaps the most "by the numbers" episode of the run, but still has more than a fair share of chuckles. One interesting aspect is that impressionist Johnny More is back on the panel for the first time since 1979, and his impressions, as usual, are ropey. So much so that a painfully lacklustre "Kenneth Williams" appears to make Sheila Ferguson ask "What are you doing?"
      Yet this seems to bring about a competitive streak in Les, who watches Johnny do a fairly terrible Prince Charles impression, then less than two minutes later Les does a much better impression of the same person. Les did have the advantage of having met the Prince on more than one occasion, in his autobiography admitting to being drunk in his presence on at least one of them.
      Speaking of Les's autobiography, then his 1985 tome A Clown Too Many will see a few quotes throughout this article as it does open up serious insight into Les's own insecurities surrounding his debut on the programme. One of his issues was taking over from Terry Wogan, a man Les held in high regard: "Terry Wogan is a legend in broadcasting, and I don't think there has been a more popular figure in this country for years. He possesses everything I haven't got: good looks and charm. How could I, a dumpy, craggy-faced comic, hope to take over from such a man?"
      One notable trivia point in Les's run is that the contestants do seem to score more points on average. Whether this is down to the panellists or Les's delivery is unclear, though a lot of the questions do seem easier, with many only having one logical answer. In this edition the contestants match 24 out of 30 possible answers with the panel, with all four gaining the maximum six points. In this case one of the answers very clearly is the result of the panellist, with Lynsey De Paul loudly asking Dennis Waterman for the name of clothing worn in church ("cassock") and even miming the item in full view of the contestant.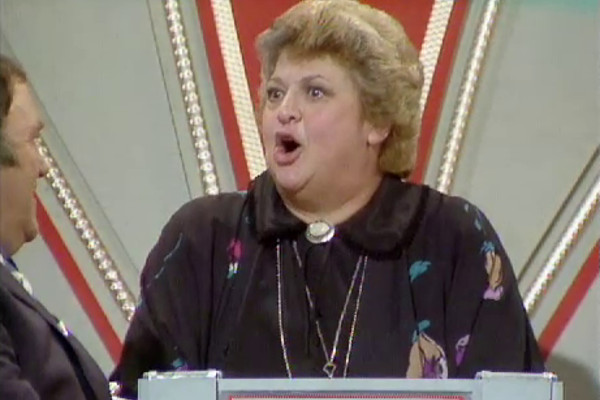 13
Episode Six
Guest Panellists: Don Maclean, Claire Rayner, Geoff Capes, Jan Leeming, Spike Milligan and Lynsey De Paul.

There's perhaps a naive assumption that the panellists on Blankety Blank really want to take part, a feeling that isn't dissuaded by the realisation that many are involved during times when they're less... "busy". Yet as we saw with series four, Maureen Lipman was not a fan of the series, and "agony aunt" Claire Rayner, making her Blankety Blank debut here, was another.
      It's something of a surprise, given that Claire has superb rapport with Les, and made another eight appearances after this. Yet in her 2003 autobiography How did I get here from there? she revealed that the rapport with Les was one of the few factors that got her involved, lamenting the quizzes she was regularly involved in: "[...] some amazingly ridiculous with titles I can't now remember and which I would never have thought of doing normally. Shows like The Pyramid Game and Tell the Truth and, heaven help us all, Blankety Blank. It was my adoration for the brilliant Les Dawson that got me on that."
      After explaining the major reason why she did it (money, basically), though admitting she did have fun while making them, her one regret was stated as "The only drawback is that they will insist on transmitting the bloody programme." It's a belief that's not reflected on screen, with Claire ably joining in with a somewhat mediocre episode.
     This edition was recorded on the 13th June 1984, the same evening as the previous entry. The second show that night to be recorded, the fact that it was shown first out of the two does make Les's joking remark to Lynsey De Paul somewhat nonsensical: "Lynsey De Paul once again, how quickly the week has flown."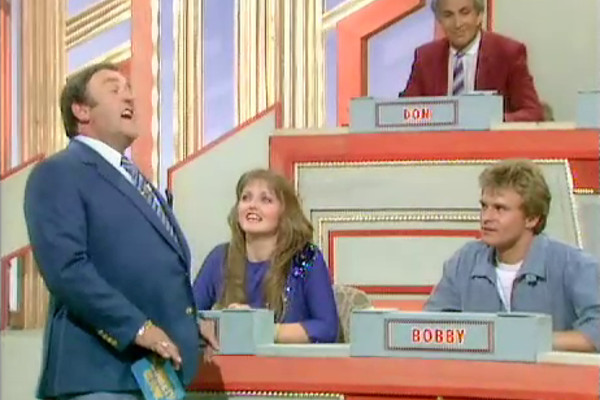 12
Episode Four
Guest Panellists: Don Maclean, Sabina Franklyn, Windsor Davies, Linda Nolan, Bobby Davro and Dana.

The panel debuts of Linda Nolan, Don Maclean and Bobby Davro. Although Linda would go on to be a Les semi-regular, making 7 appearances, Bobby and Don would appear just twice each. It's also the final appearance of Windsor Davies, after half a dozen showings in the Wogan era. A high-scoring game, with the contestants achieving a 79% match rate, it must nevertheless be noted that a lot of the questions are exceptionally, almost childishly easy, with some only having one logical answer.
      Overall this is an amusing but not exceptional episode of Blankety Blank, possibly because the atmosphere is so chilled. There's no egos or upstaging, just everyone happy to be in each other's company. Bobby Davro has a nice rapport with Les (a trivia point is that his name is misspelled as "D'Avro" in the end credits) and does several impressions, which range from pretty good, to passable, to quite poor.
      Such matters bring us to a perhaps overlooked and little-remembered part of Les's comic arsenal briefly touched upon in the first entry: his impressions. While many impressionists stretch themselves too thin by trying to do a wide range and exposing their limitations (such as Davro doing Bobby Ball and Jimmy Cricket on this edition, in fact) Les has a small pool of regulars he likes to bring into the show. So while his bag of impressions may not extend much beyond 1930s Hollywood, his regular turns as Humphrey Bogart, James Cagney, John Wayne and Charles Laughton are actually incredibly well done.
      Les noted his love of cinema in the post-war 1950s, a time when cinema was booming but rationing was still yet to end. In A Clown Too Many, Les gave a reminiscence that perhaps overshared details of his love for Hollywood movies, suggesting it was the start of his technically skilful and overlooked talent in this area: "I'd spend hours in front of a mirror trying to comb my hair like Alan Ladd, pulling my face in an effort to look like Robert Mitchum or Turhan Bey. I masturbated over Rita Hayworth and Veronica Lake, I tried to drink like John Wayne, and there is many a back street in Manchester where my vomit has lain."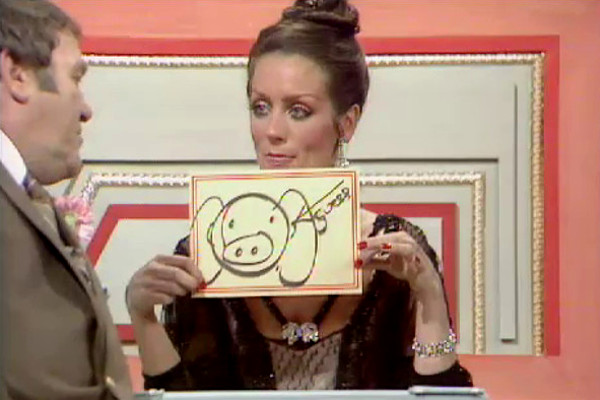 11
Episode Five
Guest Panellists: Les Dennis, Sabina Franklyn, Dustin Gee, Anneka Rice, Kelly Monteith and Lorraine Chase.

One crucial change in the Les Dawson era of Blankety Blank is the breaking up of "the old guard". At the start of these articles, a look at the most-recurring guests was given, a large number of which were mainly Wogan era panellists, despite Les hosting 27 more episodes. This is illustrated by Beryl Reid, the second most frequent panellist (after Lorraine Chase) yet one who only made a single appearance in the Les Dawson era.
      Suddenly we're into a world where, whether by accident or design, the "regulars" aren't as regular, and there's more variety from week to week, rather than a checklist of familiar faces. This is not to say that Les didn't have his own list of regulars - 39 panellists appeared in five or more shows during his run - but that the most frequently-occurring "Les only" panellists, such as Duncan Norvelle, don't even break the top twenty for most guest spots. That Terry's regulars can outnumber Les's despite there being less episodes shows how comparatively jam-packed Terry's run was with the "same old, same old".
      Lorraine Chase holds on as the last regular here, making three appearances in series seven, but then only returning for a couple of appearances over the following five years. Les seems to acknowledge this line of enquiry when he introduces Lorraine, telling her "You're more regular than Andrews." Chase went on to the sitcom Lame Ducks during this time, which may have been a factor in her not appearing as often, and she was highly complimentary of Les as replacement host. In the 2016 ITV documentary Les Dawson Forever, Chase recalled: "Of course for Les, I could have been fodder that he could have been very overly sharp with. But he was always kind. [...] He never joked at you, he joked wlth you."
      Making up the panel on this varied edition are Les Dennis, Dustin Gee, and Kelly Monteith. Monteith had his own successful BBC2 sitcom that was in the middle of its final series when this edition aired, and he'd previously appeared with Les Dawson almost four years earlier on Des O'Connor Tonight when it was still a BBC show. But despite his familiarity with both the institution and the host, Kelly seems a touch out of place, as if not quite grasping why the man sat behind him keeps doing impressions of Mavis Riley. And, let's face it, he probably wasn't alone. Kelly spends most of the episode talking to Lorraine Chase, who had been a guest star on the first series of his sitcom.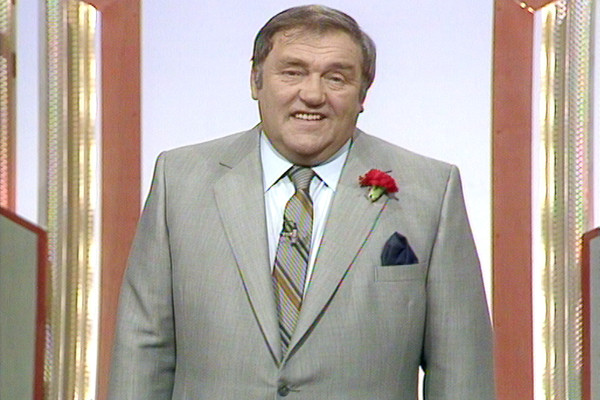 10
Episode One
Guest Panellists: Barry Cryer, Sheila Ferguson, Henry Cooper, Stacy Dorning, Tom O'Connor and Lorraine Chase.

Les's first episode, recorded on the 21st May, over three-and-a-half months before transmission. There are some genuinely iconic moments in this first episode, most significantly Les's breaking of a wand microphone after he assures Terry that he'll do his best to keep the show on the "high level of asininity that you created".
     However, such highlight moments are also matched by some moments where Les looks slightly lost, and his opening remark "I feel about as comfortable as a lame turkey, sat on a pile of Paxo listening to Christmas carols" is clearly more than just a jest. Les would be the first to admit that his jokes are often recycled; his opening monologue was taken, almost word-for-word, from a 1973 Royal Variety Performance.
     Henry Cooper noted Les's uncomfortable start in his 1984 autobiography H for 'Enry: "I am sure he will get the hang of it eventually, but there was a lot of chin-pulling and desperate ad-libbing when I was there. That kind of thing sometimes vanishes in the editing, but some of this was so funny I hope they keep it in. Les and I, by the way, are Brother Water Rats, so we have had one or two good evenings together."
      The editing cited by Henry is very apparent, with gales of laughter from the audience often seeming to come from nowhere, clearly a response to off-the-cuff remarks from Les that weren't deemed fit for broadcast. Les does show nerves in an increase of two regular habits: sweating, and touching his face. Les would admit that his first go was a little awkward (albeit endearing), but his learning rate was rapid, and by the time Sandra Dickinson comes on for show 7.9, recorded in October, she's remarking on how he'd already made the show "his own". Barry Cryer noted that Les effectively reworked the show around his own persona in Les Dawson Forever: "I think, brilliantly, he made Blankety Blank his vehicle. In a show that apparently was a game show. But it became The Les Dawson Show under another name."
      Although the panellists are still involved and join in the fun, the series is more host-centric than before during Les's run, where suddenly the show is hosted by a professional stand-up rather than just a presenter who could sometimes be funny. This does mean that your personal enjoyment of Blankety Blank will be reliant on whether you find Les's package of gurning, shouting and somewhat old-fashioned, verbose humour amusing or not. Although I personally find it very funny and find it still holds up very well, if you don't share that view, it means that it's a long five-and-a-half years to sit through.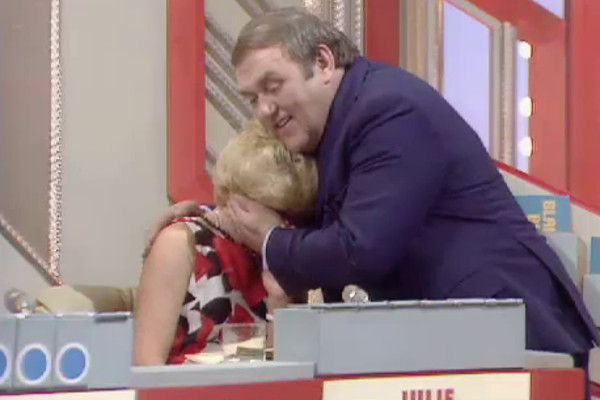 9
Episode Ten
Guest Panellists: Mike Reid, Mollie Sugden, Nicholas Lyndhurst, Finola Hughes, Cuddles the Monkey, Keith Harris and Cheryl Baker.

Although it might not be apparent from reading it, this look at series seven has required more research than any previous Blankety Blank article, which is why there's been such a large gap between this and the last one. Yet despite this research, which has hopefully dug up some interesting information, there are still some mysteries.
     One is that Les claimed to have done a pilot, then came back to make the series when it was accepted he was a good fit for the job. It's not clear if this "pilot" actually aired as the first episode, or whether it was stuck in a vault, like Terry Wogan's pilots. Certainly, there wasn't a gap between recording sessions after the first aired Les episode - it's believed another was recorded the same night as the first, and episodes 7.5 and 7.2 were recorded just five days later, along with another four episodes before the end of June. It's possible that Les's memory wasn't entirely accurate, as there was a sizeable gap between the recording of the first eight and the remainder being picked up four months later in October.
      This particular edition was recorded on 20th October 1984, just over a month before its broadcast during that year's Children In Need programme, and saw the panel debuts of Nicholas Lyndhurst and Cheryl Baker, plus the sole appearance of Finola Hughes. A fun, cheery edition, where the only sign of a downturned mouth comes with contestant Julie Owen, who looks genuinely upset when she doesn't get a single answer right. After some of Les's customary ribbing ("But don't worry... it really was awful.") she looks on the verge of tears, possibly through embarrassment, and get a reassuring hug from him.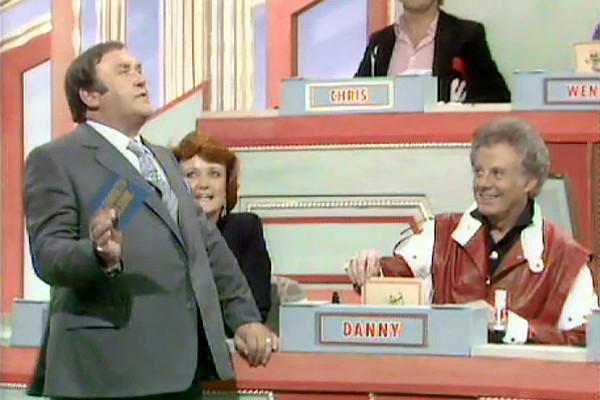 8
Episode Three
Guest Panellists: Chris Tarrant, Wendy Richard, Johnny More, Janice Long, Danny La Rue and Dana.

The panel debut of Janice Long, who would become a Les regular, appearing six times in total, and also the first appearance of Chris Tarrant, who would put in another couple of guest spots over the next two years. Les has a good rapport with both, though sadly Janice Long is a panellist who (along with Barry Cryer and Lynda Baron) has passed away since the last Blankety Blank article, meaning that of Les's 340 panellists, only 212 are still with us.
     Wendy Richard clearly adores Les, and his relationship with Dana is fine, though lacks the mock combative edge she had with Terry. There's also the return of impressionist Johnny More, who appeared in the first two series, and whose impressions were politely indulged by Terry, but are openly lambasted by Les. Despite the stick Les gives him, Johnny appeared in an episode of The Les Dawson Show three years later, and, as with performers such as Karen Kay, it does appear that Johnny's full potential isn't realised on Blankety Blank. While Johnny definitely needed a quality controller to tell him which impressions worked and which didn't, he got to show considerable skill as a singing impressionist on a 1978 edition of Des O'Connor Tonight, and the wit and imagination to do things like "Johnny Cash does George Formby". Sadly, More's true talents are really buried in the format.
     Finally, there's Danny La Rue, who would appear with Les five times. Most of the quotes about various performers on the show are taken solely from autobiographies, so they're straight from the source and not third party recollections. However, perhaps worth a mention is that, while Les and Danny never wrote about each other, Les Dennis recounted a story he'd heard about the pair in his 2008 autobiography Must the show go on?. As the story was one that Les was told, it lacks the same element of veracity of a tale he may have witnessed himself, but Les stated that: "Another time, [Danny La Rue] was in summer season at the Opera House, Blackpool, and Les Dawson was at the nearby Grand Theatre. Dan wasn't doing great business, but Les was, so one evening Les got a call from Dan. 'Les, darling,' he started, 'could you please get your queue to line up the other way. They're blocking my box office.'"
      This element of Danny's grandiose behaviour is mocked by Les, and you can witness Danny looking into the monitor whenever he's not required to speak. Although Les is in decent form here, there are still signs that he's in his third series persona, where the idea of a "family audience" has yet to truly dawn on him. In statements that almost presage the Lily Savage era, he has a surreal comment about a "porno tape" featuring geese called "Deep Gander", and, if you turn the sound up really loud, you can hear him say what sounds like the word "dick" in Janice Long's ear.
      Lastly, it's notable that Les not only stumbles over some of the questions, but gets most of the details about the contestants wrong while introducing them. Stanley Appel, who took over as producer the following year, noted in Les Dawson Forever: "The thing I do recall, very much so, [Les] hated rehearsals. Even the questions that he read out during the show, he never saw them, you know? It was a surprise as he picked one up." As Appel had worked as a director on the third series, this does, by implication, suggest that Terry Wogan rehearsed all of the questions for the shows, despite his many claims otherwise.