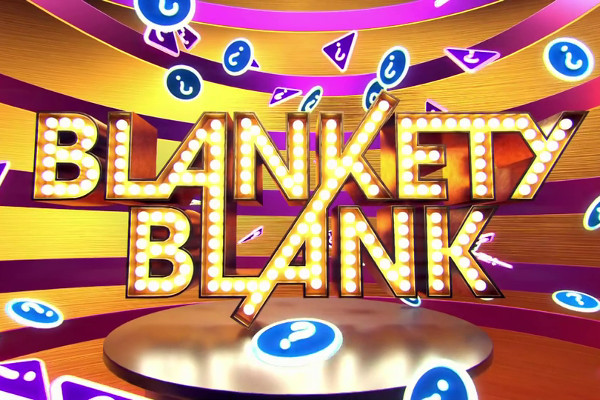 The series was launched off the back of a 2020 Christmas Day special, and also ended with another festive edition for 2021. Please join me as I rank the whole series, plus both specials, from worst to best...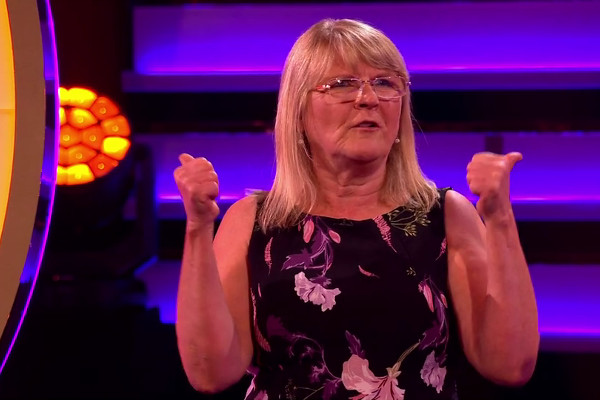 11
Episode One
Guest Panellists (in panel order): Adjoa Andoh, Martine McCutcheon, Johnny Vegas, Jimmy Carr, Chizzy Akudolu and Joe Swash.

If you've been enjoying these Blankety Blank articles with all the research, autobiography quotes and so on, then I'd suggest you skip this one and wait for the upcoming Les Dawson articles. Not only is this version of the series produced in the current age, thus allowing us no reflective words from panellists, but it's also a series about which there's very little to say. It's a revival version that doesn't really contain much substance, which is odd, as the original show was obviously the work of Henrik Ibsen.
     The reason for this article's existence is simply that you can't really run a series of articles about a programme and then, when the show is suddenly revived, ignore it. So, after sitting through over 140 past episodes for these articles, here's the almost-mandatory take on the new stuff.
     While the original show could be diverting by having a guest genuinely irritating the rest of the panel, here the show is some far more homogenic, sanitised product, where every episode lasts 33 minutes, and nearly all of the panel deliver lines in that mock ironic, "knowing" style, no matter what their comedic background. Or even if they're not comedians at all. Essentially it's not people being funny, but people performing an approximation of being funny; a horrific world where any panellist starting a sentence with "Can I just say..." presages a gateway to Comedy Hell where Satan is only held back by the canned laughter machine. Fundamentally, it's humour for people who like to say the word "literally".
      Perhaps the worst offshoot of this is that the prizes on offer will be displayed by the panel members in that "we're in on the joke" style, something which would have been unthinkable in the old days. Would panel grumps like Patrick Moore or Willie Rushton really have gotten into that? It also highlights how the show is still in thrall to the original version, with Bradley Walsh introducing it as "legendary" most weeks. The "joke" that the prizes are bad doesn't really work outside of an era where the BBC aren't under such financial scrutiny as they were back in the early 1980s, and so the prizes are "bad" only because it's part of the "gag". There's also cash prizes as part of the line-up, which shows a disappointing lack of imagination.
      It doesn't make a great deal of sense, given that a lot of the target audience would have never seen the original show anyway, the original version of the series ending over 31 years before this revival came to light. Even the first revival version with Lily Savage was last on the BBC almost 22 years beforehand, and was axed by ITV over 19 years before this edition. Into all this, the contestants are also all forced into the same mould, coming on the overlit show dancing and whooping, their brains doubtless rotted by a television generation that thinks saying "smashed it" is a viable form of critique.
      This edition was covered on a 10th October edition of Points of View, where four viewers' letters were presented - two positive, one negative, and the fourth complaining that it was scheduled opposite another Bradley Walsh quiz on ITV. In regards newer viewers, the show also asked a 25-year-old for his opinion on the show, with Nels Hilton from Catford saying he liked it, and wanted it to be stretched to an hour(!)
      Despite the positive review from Nels and company, the viewing figures told a different story (of which more later). While some of these episodes are watchable albeit forgettable, this opening edition was an incredibly bad choice, as it's the only one that's actively irritating. With the contestants hyped beyond levels of tolerance, and the entire panel competing to amuse, supported by what sounds like post-dubbed laughter, it's a dreadful start to a series that could generally be regarded as... inoffensive.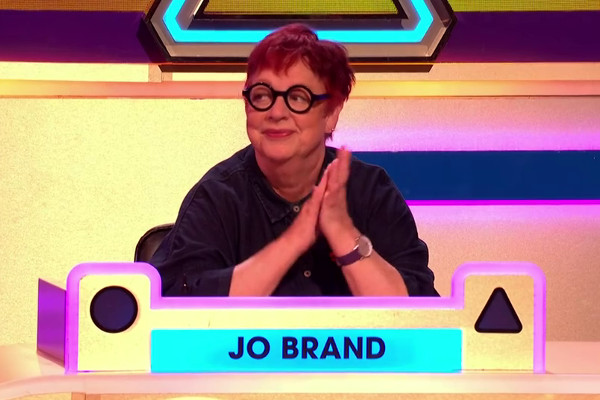 10
Episode Nine
Guest Panellists: Fay Ripley, Louis Smith, Sara Pascoe, Jo Brand, Janette Manrara and Martin Kemp.

Blankety Blank slumps to an end in a dreary series finale. Panellist Sara Pascoe was one of many highlights in one of the most striking sitcoms of recent years, The Increasingly Poor Decisions of Todd Margaret (2010-2016). Outtakes show her ad-libbing and causing star David Cross to break into laughter, but Blankety Blank isn't a strong vehicle for her talents. Small things like Pascoe trying to see the other answers of the panel cause the canned laughter machine to nearly break a gasket, but it's a lacklustre outing, even by the standards of this version.
     Most of the rest of the group are good sports, but really there to just fill a panel, while perhaps the biggest disappointment is Jo Brand. Comedy is, as often stated in these articles, subjective, but it's the belief of The Anorak Zone that if you had a time machine and went back about 25 years you'd find a time when Jo was still funny. But even though her comic acumen may have faded with age, she still has, as a former psychiatric nurse, something about her, a little bit beneath the surface. Sadly, neither funny Jo nor thoughtful Jo are present, and it often seems like she doesn't particularly want to be there.
     Bradley Walsh has a recurring joke about the prizes, asking the contestants what they'd like to win, only to then tell them they'll be disappointed when their dreams don't match reality. In this case it's a contestant who wants a speedboat, but the "joke" has already been run into the ground, if it was ever funny at all. Possibly it's that the series simply insists upon itself too much; whereas Terry Wogan's ongoing gags about coin tosses, while over-familiar by the end, began more just as polite, "small talk" humour, rather than something to repair the canned laughter machine over, Bradley presents this predictable bait as a showstopper.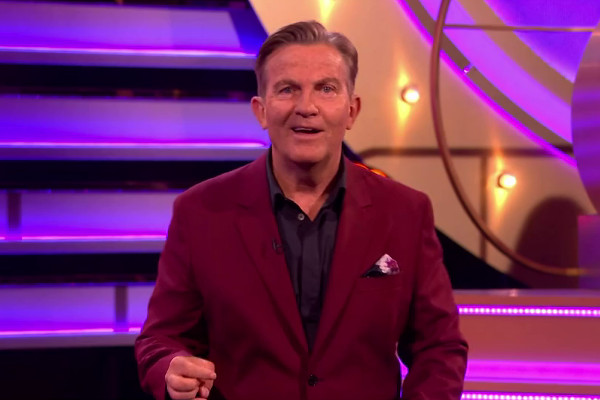 9
Episode Eight
Guest Panellists: Tess Daly, Adil Ray, Roisin Conaty, Sue Perkins, Gregg Wallace and Mark Wright.

There's unconfirmed suspicions that this entry was recorded much earlier in the run than it went out. Not only does Bradley introduce it by saying "Yes folks, the iconic show is back!", but he seems far less relaxed and sure of the game than in the prior few episodes. Most notable is a policeman contestant, who jokes that he once chased a streaker who looked like Bradley, a joke which completely throws Walsh off his stride.
      On the subject of trivia, then there's the topic of the ratings. Made during an age where such things are readily accessible, there's no trawling through archive newspapers in a quest to get a full set, though one thing the ratings do show is how much things have changed. Now the UK is in a multi-channel world with hundreds of options to choose from, what is required for a hit show is very different from back in the days of three channel television, with sometimes only the Top 3 most-watched shows breaking six million viewers.
      Perhaps even more shocking is the nature of that Top 3. Coronation Street still hovers around the Top 10, but is far from the goliath it was for the rest of Blankety Blank's existence, while Eastenders, the show that helped the BBC crack ITV's dominance in the mid-80s, is now a barely-acknowledged relic that struggles to get above four million tuning in.
      So, what of this Eastenders-besting revival? Well, the ratings (not counting the two Christmas Specials) averaged at 4.97m, which is reasonable by modern-day standards. The chart position wasn't bad, either, averaging at just under 14th place for the first seven weeks. (This eighth, and, possibly, the ninth, were the only two to fall out of the Top 30. Exactly where they placed is a harder question, thanks to BARB's "Top 15 per channel" display.)
      However, most significant is that for the first eight weeks the show aired directly after Strictly Come Dancing, which, in 2021, was the most popular programme in the country and topped the charts for all but one of the nine weeks Blankety Blank was on air. The ninth episode had a Michael Macintyre quiz The Wheel sandwiched between it and Strictly, but for those first eight weeks an average of 5.28 million viewers were switching off after Strictly's end credits, or 51% of its audience. (Take away the first week, where 62% of Strictly viewers gave it a chance and were confronted by an awful opening episode, and these stats change to 5.52m switching off from weeks 2-8, 53% of Strictly's audience.)
      It's hard to imagine having a better lead-in than following the most popular show in the country, and, although the show's lightweight appeal is an odd fit for a post-9pm slot, it's still something of a disaster for the show to eventually fall out of the Top 30 altogether.
     Yet it wasn't only Blankety Blank that didn't "take" with the majority of Strictly's audience - the show had a week off on the 13th November for a Festival of Remembrance, which saw a drop of 5.55m/55%. Then there's the final week of the series, which saw The Wheel drop 4.8m/47%. (Episode 19.9 of Blankety Blank managed to largely maintain what was left of the viewers, going out at an earlier 8:40pm and attracting 4.49m, which was only a 16% drop off from Macintyre's quiz.)
8
Episode Two
Guest Panellists: Tamzin Outhwaite, Craig Revel Horwood, Rob Beckett, Josh Widdicombe, Lady Leshurr and Ade Adepitan.

One way in which this second revival scores over the low point of the Lily Savage years is that it brings back panellists that you may have realistically heard of, and always at least one or two comedians on the panel, too. Anyone who read the article on the woeful series sixteen may recall that comedians made up less than 9% of the panel there, a shockingly low number for a comedy game show.
      This particular edition is quite high in the "who?" factor, but this may also be a generational thing, where the show is often pitched to a slightly younger audience than before. So while musician Lady Leshurr may not register for those old enough to have been around when Blankety Blank first aired back in the '70s, it's someone the Tik Tok generation may have heard of.
      While there's the feeling that Bradley Walsh frequently says the word "celebs" as part of some Derren Brown-style mind trick to convince the audience that they've watched famous people when the programme's over, it's a show with reasonable names, and it's perfectly reasonable to have one or two "who?" panellists a show. Let's not forget that when the show first started they were using cartoonists just to fill the panel.
      This edition isn't perhaps the most convincing in terms of "star power", but does have room for Craig Revel Horwood, a judge on Strictly, and Tamzin Outhwaite, formerly of Eastenders, back when people used to watch it. While the show might not contain a murderer's row of the famous, the series overall featured familiar faces such as Richard E. Grant, Brian Conley, Mel B, Angela Rippon, Johnny Vegas, Martine McCutcheon, Jimmy Carr, David Haye, Sarah Millican, Sophie Ellis-Bextor, Peter Andre, John Thomson, Sue Perkins, Rachel Riley, Liza Tarbuck and Amir Khan.
      While some of the comedians are fairly middle-of-the-road, the decision to go for, in the main, slightly more "hip" acts is an unusual one, in that it not only goes against the original show, which was very "trad", even for the time, but also goes against Bradley Walsh's own comic sensibilities. While he's now known as a so-so actor and a quiz show host, back in the '90s he was an gran-friendly stand up appearing on shows with Bobby Davro and Neil Sedaka. Not that there's anything wrong with a Davro and Sedaka line-up, of course, but the concept of a man who once did an ITV special with Joe Pasquale entering his 60s and then saying words like "podcast" to Channel 4 comedians young enough to be his kids is a little anathema.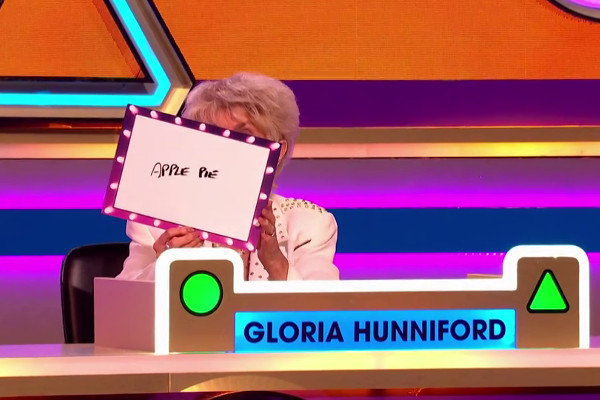 7
Episode Three
Guest Panellists: John Thomson, Karim Zeroual, Sue Perkins, Joel Dommett, Gloria Hunniford and Judi Love.

One thing that becomes clear with this third episode is that the established rules of Blankety Blank have been changed. Back is a contestant choosing card A or B, though the reason why one contestant gets to go first is never revealed. But more significantly, and frustratingly, is that all of the answers are now written down.
      Why the contestants have to write down their answers and not just speak them verbally makes no real sense, but it's the prerogative of the show to tweak certain details if it wishes, no matter how pointless it may seem. But even more ludicrous is that a tie-breaker game doesn't see the celebrities say their answers verbally and wait for a contestant to hold up their match, but instead the panellists have to write down their tie-breaker guesses as well.
      For those who may have forgotten, the tie-breaker is, as the name suggests, a game between two contestants with equal points, where they play to go through to the next round by writing down an answer and seeing which one will match first with the panel. In the old show, the panel would say their answers, so you'd get the sensible resolution that if one panellist was going to say the same answer, they could quickly think of another one to keep the game moving. Not so here, where a tie-breaker question of "[blank] pie" sees no less than four panellists write down "apple".
      The other major change is that both winning contestants go through to a final tie-breaker round regardless of the outcome of their respective Supermatch Games. This is particularly irksome, in that the tie-breaker is rarely one of the standout parts of the quiz anyway, but it's also incredibly unfair on the contestants. Here - spoiler - a contestant who had guessed the top answer in their Supermatch loses out on a chance to go for the top prize against a contestant who had scored zero in theirs.
      Lastly, in terms of trivia, Gloria Hunniford returns to the panel, meaning she's the only panellist to date to appear on all three main versions of the show. (She mistakenly says she'd appeared on the show when Les Dawson was the host, but had appeared four times each with Terry Wogan and Lily Savage.) Looking very lively for someone now in her 80s, Gloria fits in well to a show based on easy, undemanding laughs where the sun not only always shines on TV, but even comes on doing a dance act.