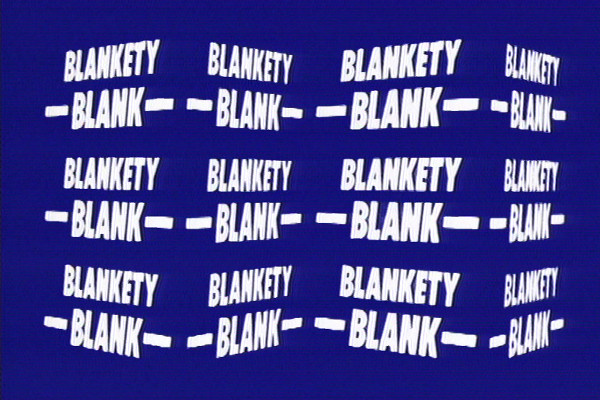 The first 16-episode series ran from January-May 1979, and, although hated by critics who saw it as the BBC "dumbing down", was well-liked by the public who watched in their millions.
At date of writing the show is unreleased on legal streaming services or other media, so that, while you can buy the Board Game or the DVD Game, you'll have to look online at video sharing sites to see the actual programme. In the meantime, please join me as I rank the first series, from worst to blank...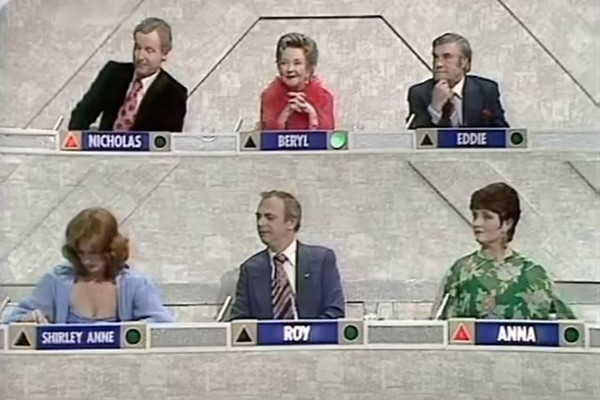 16
Episode 1.10
Guest Panellists (in panel order): Nicholas Parsons, Beryl Reid, Eddie Waring, Shirley Anne Field, Roy Hudd and Anna Dawson.

Terry Wogan allowed the celebrity panellists more chance to shine than the later hosts, playing a slightly reactive/butt of the joke role to bring them out of themselves, rather than dominating proceedings. The idea of producing the show with the host in a more dominant role is an equally valid one, if you had the patter and character of a Les Dawson to carry it off fully. However, if you restyle the show entirely as a vanity vehicle for the presenter, as with the later Lily Savage revival, it can seem odd to pay for six celebrities if all you're going to do is put on a blonde wig and tell them to shut up for half an hour.
      Not that Terry's not capable of bringing the funny, or injecting a lot of enthusiasm into the programme, but he understands the need to give whoever's on that week their turn in the spotlight, too. Both methods have their strengths and weaknesses; if a host-centric show is to work, it requires the host to be "on" every week in order to truly be effective. (Les Dawson admitted to battling ill health and depression during some of his run, making some of the shows feel "forced"), whereas if you've left space for the celebrities to get involved, they have to be interesting enough to justify that airtime.
      Bearing in mind that the term "celebrities" has been used as an overall descriptive here, not placed into quotation marks for sneering irony, but does, in fairness, include such "celebs" as Radio 2 DJs, easy listening singers, cartoonists, rival quiz show hosts, professional panellists, and a bloke who does the commentary for rugby. Ultimately you can only stretch so much so far, and, while this is a perfectly pleasant, time-passing half-an-hour of the series, it's a little flatter than others from the first series, with no one really getting out of first gear.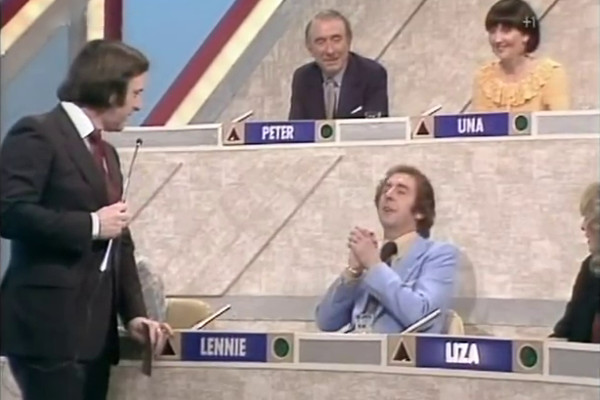 15
Episode 1.13
Guest Panellists: Peter Jones, Una McLean, Patrick Moore, Nerys Hughes, Lennie Bennett and Liza Goddard.

So, why the decision to run articles on Blankety Blank on this site, given that it doesn't fit the usual remit of the Anorak Zone's "cult TV" coverage, and is really pretty disposable television? Well, while it's true that Blankety Blank lacks the cultural prestige and intellectual depth of other shows covered, such as Bagpuss or Space Sentinels, the answer is simply one of fun.
     I never intended to even watch Blankety Blank again, much less run an article on it, but living in a world that's been locked down, with ill-health throughout the winter, suddenly this simple-minded world of celeb egos and puerile innuendo is the ideal tonic; an easy watch that doesn't require too much effort of thought or will to get through it. So while this site could have some quiz shows that feel more a part of its remit (more Knightmare than Bullseye, for example, although Bullseye is a laugh), this is likely to remain only the second quiz show featured on the site for some time... the other being the "escape room", alien planet antics of The Adventure Game.
     The main game of Blankety Blank, of course, involves the host reading out a statement with a word or words missing - the "blankety blank" of the title. Six celebrities take turns to write down what they think the answer is, and reveal them in turn after Terry has taken the guess of one of two contestants. Sometimes the lack of matches can produce laughs, or disbelief, as the contestants (who are members of the general public, and sometimes nervous under the cameras) come out with ridiculous suggestions, often throwing away the chance of easy points.
     As there's no "correct" answer, then, by definition, there can't be a "wrong" answer, either, but a number of the questions have a possible response that is clearly more likely than another. Episode 1.3, for example, sees a question about Tarzan having something starched by Jane, only for the contestant to guess "fig leaf". As Tarzan doesn't even wear a fig leaf, the contestant pretty much reduces his chances to zero with an answer that's so remarkable in its stupidity that Michael Parkinson even admonishes him for it.
     However, here the opposite is sometimes in effect, as, while the contestants do come up with more than their fair share of inexplicably incomprehensible answers, even when they do give one that should, most weeks, pick up a lot of easy points, the panellists seems almost incapable of getting one right, either. Overall, there's 42 possible matches to be made in the main "blankety blank" games this week; the number of correct matches rises no higher than four.
14
Episode 1.12
Guest Panellists: Peter Bull, Mollie Sugden, Bill Tidy, Dilys Watling, Paul Daniels and Alexandra Bastedo.

Finding the perfect mix of panellists for a show is hard. Although it's good to always have at least one live wire (within reason), if you've got too many C-list egos hammering it out for attention, you've just left with a directionless show with everyone yelling, and Faith Brown bouncing up and down in her seat with laughter to make sure the focus remains on her, even when she's not the source of the laughs.
     Generally speaking it's nice if the panellists stick to their own "lane"... when Terry's trying to do schtick with one, it's hogging the spotlight if another interrupts, or jumps into shot. The focus is on you, do your funny bit, don't drag it out, let the host move on. Not that someone trying to "take over" the show can't produce laughs, but it's a tightrope to walk, where there's at least an equal chance the guest attempting to be a maverick will just as easily set your teeth on edge. All of which brings us to Paul Daniels.
     It's hard to recall just how popular Daniels was at the time. Towards the end he was the butt of many jokes, so much so that Mark Lawson could post a "well, at least he wasn't a nonce"-style obituary in The Guardian. Yet back in 1979 the studio audience show how much-loved he was with their enthusiastic and warm response to his antics; the month after this first series of Blankety Blank ended, the very first Paul Daniels Magic Show began, a run that ended in the UK top 4, at a time when 12 million viewers was needed to break the top 5.
     Not only is Paul's input so relentless he'll even talk over Terry's introduction, he adds an element of distinct seediness, that, regrettably, may not have seemed as bad at the time. Some episodes will see him propositioning the female contestants, or turning his face at the last second so that a kiss on the cheek can become a stolen kiss on the mouth.
     Paul combines both "attention demanding" and "sleazy" traits in a particularly obnoxious moment this episode, where Alexandra Bastedo speaks to Terry in a French accent. Because the camera's no longer on him, Paul invades the screen, claiming the French accent drives him wild, and kissing Bastedo from the hand to the shoulder.
     Now, no one's suggesting that Terry Wogan should have dragged Daniels over the desk, smashed his head repeatedly into the panel lights until they were plastered with blood, and said "never interrupt me again, ye feckin' eejit!" No one's suggesting that. But Terry's a man who wrote that he struggled to keep control when a ... happy... David Bowie came on to a live Wogan. Yet Paul came on nine times during the first four series of Blankety Blank, and never once felt Terry's wrath. That is, as Paul himself once said, magic.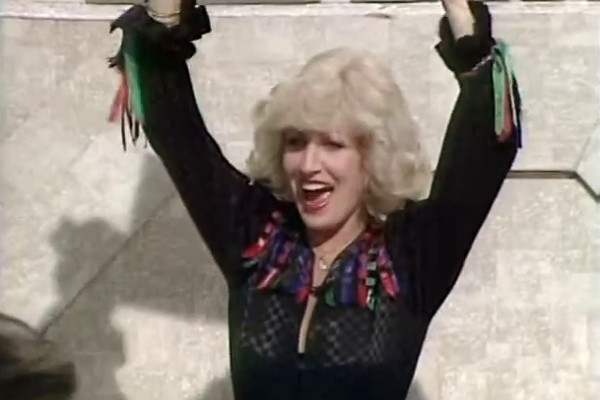 13
Episode 1.11
Guest Panellists: David Jason, Faith Brown, Humphrey Lyttelton, Kate O'Mara, Johnny More and Lorraine Chase.

So many of the panellists on Blankety Blank fit under the guise of state-imposed "national treasure", that it seems almost heresy to say anything bad about them. So, let's just say that David Jason, star of... everything... has always struck the Anorak Zone as way too "self conscious" an actor. A "funny" character shouldn't know when he's being funny, but when we get to the later episodes of decent-but-overlauded Only Fools and Horses..., there's more than enough mugging going on there, drowning the part. But still, people liked it, and they like him on this, but, really... he does try way too hard.
     Also trying way too hard is Faith Brown, another panellist who wants the show to be about them, rather than contributing to the overall humour of it. Never too far from breaking out a ropey "Margaret Thatcher", "Marilyn Monroe", or even breaking into bursts of operatic song, Brown will bounce up and down in her seat at the slightest impulse, making sure the attention never leaves her. A particular low point here is, after a response to David Jason, she tells the audience "I didn't know what he was gonna say", lest any of them be in doubt that her half-hearted "bon mot" was a genuine ad-lib.
     Much better and working for the good of the show is Lorraine Chase, philosophising over the non-phonetic spelling of English words: "whoever first discovers the word does it all wrong", and existing within her own private universe. Chase is always value and justifies her status as the most-featured guest.... although her Ingénue routine may pall for some, she offers wittier input than might be remembered, and performs the crucial service of not talking when it's not on her.
     Lastly, there's Johnny More as the "who?" contingent of the panel, doing impressions so fourth-rate anyone down your local pub could do better. He came back once more under Wogan the following series, then twice during Les Dawson's first run. Dawson had a great introduction prepared for him in 1984, which summed him up perfectly: "the last time he was on the show, Johnny More made a big impression, we brought him back to find out who the impression was of."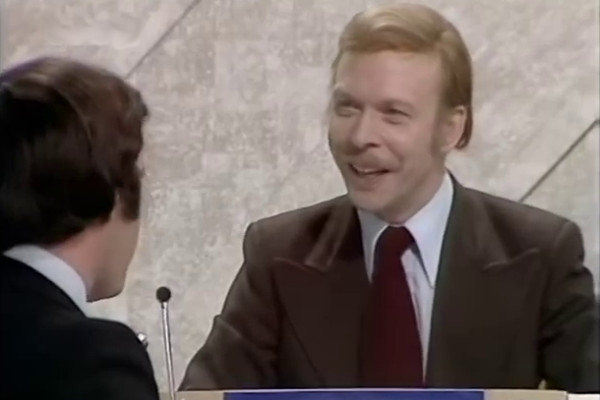 12
Episode 1.4
Guest Panellists: Brian Murphy, Beryl Reid, Bill Tidy, Shirley Anne Field, Jon Pertwee and Isla St. Clair.

The final judgement over whether or not Terry Wogan is sporting a hairpiece has never been regarded as an easy decision to make here at The Anorak Zone. After all, if you were buying a wig, why would you buy one that looks so much like a wig? Whether this is some subtle reverse psychology Terry was hoping the nation would fall for is unknown, though the real hairpiece shocker here is Brian Murphy, then a huge star in George & Mildred. George, of course, had Murphy's own naturally balding head, though Murphy turns up with a Shredded Wheat stuck on top of his brow, seemingly under the belief that the 20+ million that tuned in for the previous G & M episode would all sit at home going "oh... he must shave it for the part, then".
     Also on the show is Jon Pertwee, answering one question with "Dr Who" and joking that it's "never been the same" since he left. While he's okay and has his moments, Pertwee is always more of a wit and raconteur inside his own mind, and is really just the guy you'd avoid at parties. Holding up the rear guard of bores is the inoffensive drudgery of Bill Tidy and his cartoons, a series one regular who never appeared again after this first run. It's actually possible to feel the life draining out of your body as Bill explains his reasoning behind each of his squiggles, time seeming to stand still whenever Terry gets near to his desk. Yet, to be fair to Bill, he does have the grace to shut up when his bit is over, something which other show bores could at least take note of.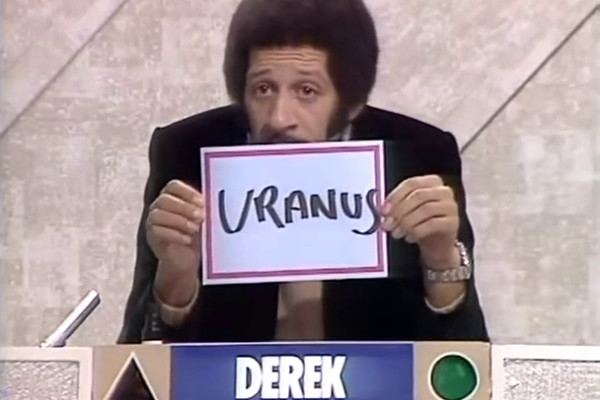 11
Episode 1.6
Guest Panellists: Derek Griffiths, Peggy Mount, Patrick Moore, Anna Dawson, Paul Daniels and Lorraine Chase.

There was sniping about the BBC bringing Blankety Blank to British television, a quiz format based on the American Match Game. It's a fair point, particularly in the landscape of the time. The same evening that this particular episode went out, BBC1 had a showcase on Beryl Bainbridge, and BBC2 was offering a perspective on Buster Keaton and modern architecture.
      This is not to suggest that the BBC of the time was wall-to-wall sophistication (the show here did, after all, follow Top of the Pops and The Circus World Championships) but this was still far from the 80s where the BBC had really sunk heavily into imports of US and Australian soap operas, or began its own soap to enter into a protracted ratings war with a commercial channel. Yet it's possible to argue that the show could have only existed in this kind of environment, where its mixture of tat and derision would stand out on a channel that still had a semblance of class. As good as the Les Dawson years could be, by the time the show was axed in 1990, it had begun to look very "old hat", the prizes on offer less ironic, more just cheap in a channel that was, by then, specialising in cheaper television.
      Match Game had already been adapted by another country, where Graham Kennedy hosted an Australian version called Blankety Blanks from 1977-1978, before deciding to end the show while it was still on a high. The Australian version obviously gave the UK series its name, though other elements, such as the "ridiculous" microphone sported by Terry (his own words), came from the original. Terry delighted in the freedom that the microphone gave him on a technical level, cutting out the need to hit marks, or stand in certain spots of the studio; this level of spontaneity made him feel comfortable in front of a camera for the first time in his life, a radio presenter who had never felt at ease on a TV screen.
      As for this particular episode, then there is, as pictured, the sole appearance of Derek Griffiths, but mainly it's dominated by Daniels again, being a pain and propositioning one of the contestants. Glenys Willis, the contestant in question, looks uncomfortable as Paul holds a sign up asking for her number, and repeatedly mouths the words "I love you" at her. It's notable that when given a choice of three celebrities to chose from in the Supermatch Game, Paul isn't one she asks.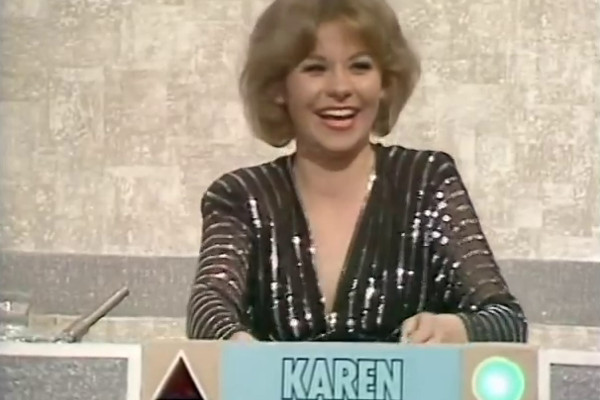 10
Episode 1.2
Guest Panellists: David Hamilton, Wendy Craig, Patrick Moore, Shirley Anne Field, Ron Moody and Karen Kay.

The six most-featured panellists throughout the entire run of the programme were Lorraine Chase (29 appearances), Beryl Reid (26), Patrick Moore (19), Wendy Richard (18) and Roy Hudd/Sandra Dickinson (16 episodes each). However, not all of them appeared from the outset: Wendy Richard didn't even make it until the fourth series, while Dickinson waited until the second. (For the record, Kenny Everett, often the subject of the "do you remember...?" discussions related to this programme, didn't turn up until the second series either, eventually clocking up the joint-eighth most number of appearances with a respectable 14.)
     Yet if we look at the most-featured guest panellists for this first series only, then they turn out to be: Lorraine Chase (5 appearances) and Beryl Reid/Bill Tidy/Karen Kay (4 appearances each). Out of them all, Karen Kay is perhaps the most curious, a forgotten comedy star of the era. As a site that loves to remember obscure old TV and TV personalities, from Roy Jay to Doris The Cat, from Bruce Morton to Aubrey, she should be a delight. But sadly, Kay isn't remembered at all here.
     It's not that she wasn't popular: her self-titled BBC2 series was a hit for the channel, getting nearly 4 million viewers, and often outplacing the subject of the previous article, Kelly Monteith. But while she now stands as a trivia question regarding whose mum she is (Jay Kay, lead singer of Jamiroquai, if you didn't know) during the early to mid-80s she was a legitimate name in her own right, with her impressions and singing making up a show that was genuinely watched... but not, it seems, here. Kay's presence on the series is generally one of harmless, inoffensive tedium, breaking into impressions of Frank Spencer or Cilla Black for no real reason, but then at least having the good grace to shut up and let Terry move on quite quickly.
     Lastly, there are six other panellists who made three appearances each in this first series: Patrick Moore, Paul Daniels, Isla St. Clair, Peter Jones, Wendy Craig and Shirley Anne Field. Craig and Field feature here, and both, Field particularly, form the basis of that much underappreciated panellist: the one that's "just there". You can't run a show with all six celebrities vying for attention and yelling over each other, and the more pleasant, "passive" voices serve their due purpose in allowing the more dominant figures their turn in contrast. If nothing else, if you get sick of them, you know they'll never be hogging the camera too long.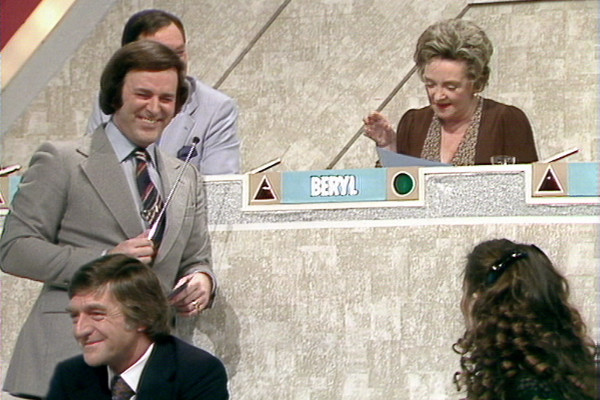 9
Episode 1.3
Guest Panellists: Jack Douglas, Beryl Reid, Ian Wallace, Diane Keen, Michael Parkinson and Lorraine Chase.

Beryl Reid made her debut on the panel in this episode, and in their autobiographies both Beryl and Terry spoke warmly of one another. In 1984's So Much Love, Beryl described how she'd met Terry on an occasion before she ever did the series, and "instantly got a great feeling of being at home with him". In Is it me?, Terry noted that Beryl "could be difficult, temperamental, with others. With me, and on Blankety Blank, she was perfect".
      As this is Beryl's first episode, then she and Terry concoct a long-standing, mildly surreal joke, where she pretends that a man is under her desk, ostensibly there to clear away her used question cards, but inadvertently giving her pleasure. Any time the show will flag, or her spot will drag, she'll talk about what a "lovely time" she's having "underneath". Essentially what you're watching is a family entertainment programme with a lady, approaching her sixties, pretending that she's being fingered while they're filming. It's that kind of show.
      Just in case things get too light-hearted, Michael Parkinson is on hand to judge the spelling skills of his fellow contestants, and, as previously mentioned, tell off one contestant for a particularly stupid answer. In the latter case he's got a point, but things like Lorraine Chase's "innocent oblivious" act aren't as effective when you've got someone trying to kill the party.
     Regarded as a legendary chat show host for his ability to interview Billy Connolly 6,578 times, "Parky" does have a somewhat parochial attitude when it comes to women. There's the Helen Mirren interview where he pitches most of the questions about her breasts, and, of course, the infamous Meg Ryan interview, where, clearly nervous, he only set about making her even more uncomfortable, before spending the next 17 years slagging her off for it. Quite the gent, this is his only series one appearance.