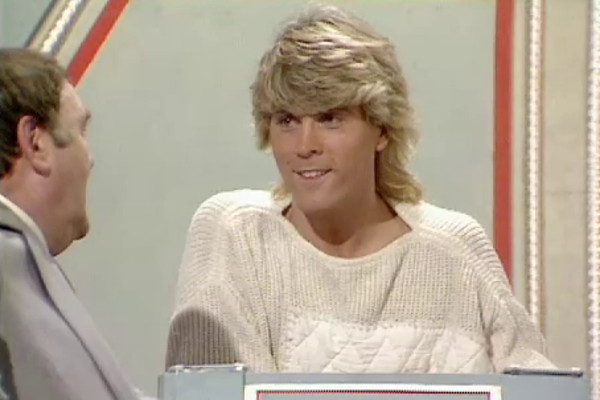 6
Episode Eleven
Guest Panellists: Duncan Norvelle, June Whitfield, Mike Nolan, Sarah Greene, Jimmy Cricket and Bella Emberg.

Recorded on the 12th November 1984, this episode was the final one of series seven to be taped (barring the '84 Christmas Special), and was scheduled to be broadcast on the 14th December 1984. While the reason for another episode being aired in its place wasn't disclosed - or, if it was, that admission is now lost to time - it's almost certainly due to the presence of Buck's Fizz singer Mike Nolan on the panel.
     Three days before the episode's intended air date, all of Buck's Fizz were in a coach crash, with Mike the most seriously injured, entering a coma. He was still unconscious the day the episode would have aired, and only emerged from the coma the following day. Thankfully, he recovered, and even returned to Blankety Blank again in 1987. However, band mate Cheryl Baker stated in the early 2000s that "Mike was never the same again. Initially, he suffered from severe depression. Thankfully that has eased off, but not completely. [...] His personality has changed, as has his self confidence. I love Mike like a brother and would do anything for him, but I miss the old Mike and so does he."
     Mike's presence in this episode is indistinct, as he seems, like Lyndhurst, sweet but shy. Sharing the panel with two professional stand-up comedians, two comic actresses and a TV presenter, he's a little lost as his regular job as a singer obviously doesn't require high levels of spoken interaction, but he's a pleasant enough edition to a pretty fun show.
     In terms of trivia, this is a rare instance where the seating arrangements are openly acknowledged, with June Whitfield, top centre, stating that she's sitting "in the dowager duchess's seat".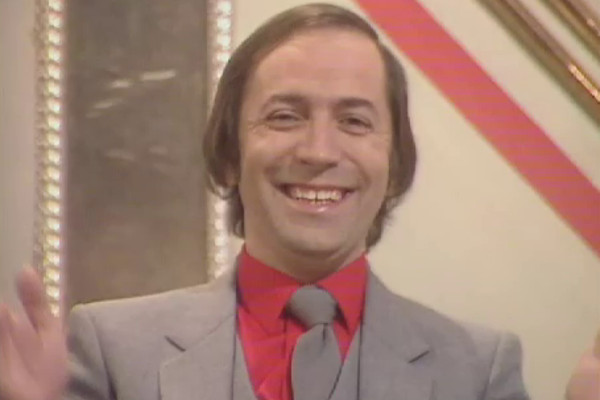 5
Episode Two
Guest Panellists: Stan Boardman, Mollie Sugden, Paul Heiney, Tessa Wyatt, Gary Wilmot and Wendy Richard.

Stan Boardman's second of four appearances, though it was only on his third guest spot that Stan took the "maverick comedian" centre bottom seat, here deferring to Gary Wilmot in that regard. Such was Stan's fame for those who were around in the '80s that it's difficult to recall that he was still relatively new to television at this point, and it was the best part of two years before he achieved infamy by going on a live edition of Des O'Connor Tonight and telling a routine about Focke-Wulfs.
     What might also be forgotten is that, like Les himself, both Boardman and Gary Wilmot got their breaks through talent shows, Opportunity Knocks and New Faces respectively. Wilmot is a likeable and talented presence, though is perhaps the epitome of "middle of the road". This isn't an express criticism, but more to note that he's a "gran-friendly" presence on the panel.
      A contestant talking about selling marital aids makes the show feel like the Lily Savage era before its time, but better is Les's relationship with Brian Black, a contestant who can be accused of simply trying too hard, playing up to the camera. It's always something of a perverse delight when Les takes a dislike to a contestant, and poor Brian gets a torrent of abuse, from being told he's an "idiot", how he's brought "boredom" to the show, and the quite lyrical "Don't compound the felony!" after he tries to explain away a particularly bad answer.
     Les's overly tactile nature with the female contestants and Stan Boardman doing a "black watch" gag about Gary Wilmot aren't things that have aged particularly well, but generally this is a pleasant enough edition. One thing to note for fans of trivia is that Gary's name is misspelt as "Garry" in the end credits.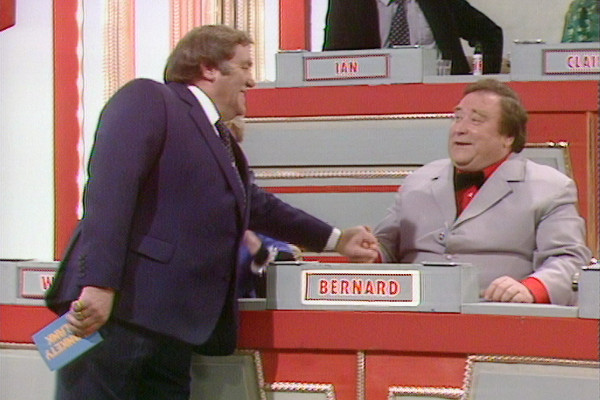 4
Episode Seven
Guest Panellists: Ian McCaskill, Claire Rayner, David Jacobs, Wincey Willis, Bernard Manning and Aimi MacDonald.

An episode that's most notable for being the sole appearance of Les's fellow Mancunian comedian Bernard Manning. After rumours of a long-standing rivalry between Les and Bernard, a full dispute broke out in 1991, something which Les's manager Norman Murray tried to gloss over, claiming there was "no rivalry". It was actually Les that first openly criticised Bernard, at least in print, telling The Guardian that year: "He draws his own people and they flock to see him, but it's not my cup of tea. I would sooner play to half an audience who like the turn of phrase than play to a packed house of gum-chewing morons who've got tattoos."
     Manning hit back in The Stage in October that year, with comments including "I have never looked upon him as a comic. He's mostly a dame in pantomime." However, Manning's role in interviews has always been defined by his own insecurities, his need to boast seemingly not there as genuine vanity, but his feelings being hurt, probably the most famous example of which was his relentless attack on Richard Wilson for an imagined slight in The Mrs. Merton Show in 1998.
     While they may have had hard words for each other in print, upon Les's death, Manning claimed to be "devastated", and spoke to LBC radio about how they'd "started together in 1947", and how Les would be "sadly missed". Possibly without the need to compete, Manning's ego no longer had a need to emerge.
     Although the episode also marks the debut of Ian McCaskill and Wincey Willis, all eyes are on Bernard for his sole outing. Yet in the end event, while it's one that keeps you glued, nothing actually happens, with Bernard clearly holding back and on his best behaviour, almost muted. Discussion of Bernard's stage act and the implications of it won't be gone into here, simply because it forms no part of the episode. If you'd tuned in to Blankety Blank with no idea who Manning was, you'd still have no real idea after watching, Les's acknowledgement that Bernard avoids rude answers having no meaning when devoid of context.
     There is the feeling that it's a very enforced politeness, despite Les's insistence of affection. Bernard doesn't bite to Les's rare digs in his direction, whereas other shows have seen him demolish comics who dare to throw down the comedy gauntlet. Instead, Manning becomes arguably the quietist "centre bottom row" panellist of all time. As Les himself puts it: "The whole of showbiz's waiting for an explosion, what they don't know is we're actually good mates."
     Lastly, on the subject of trivia, then many episodes of this run have badly spliced "establishing shots" of Les standing stock still by the panel, usually mixed in with the events of the show. This is particularly notable during Les's entrance, where he talks to the camera with his hands behind his back, before it cuts to a long shot of Les and the entire panel, his arms right by his sides.
     Possibly this is due to the murderous production rate of the show at this stage... while Terry Wogan often had the luxury of months before broadcast, this edition was recorded exactly one month before it went to air, while other editions were edited and broadcast less than a week after taping. This recording pattern also showcases the oddity of the episode being based around St. David's Day (March 1st 1985), complete with multiple Welsh contestants, as it was always recorded for the intention for it to air on February 26th.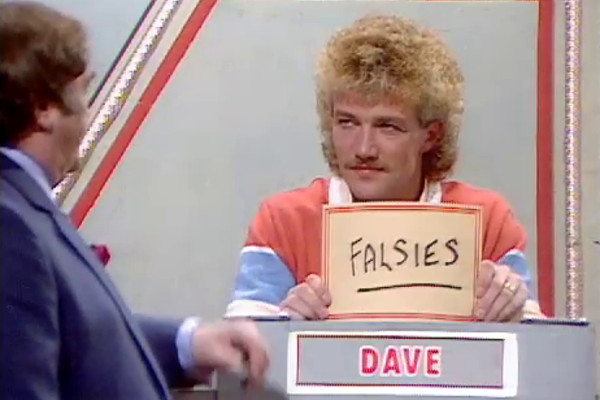 3
Episode Eight
Guest Panellists: Fred Feast, Katie Boyle, Dave Wolfe, Lynsey de Paul, Jonathan King and Lesley Judd.

The final appearance of Jonathan King, the sole appearance of Fred Feast, and the debut of Lesley Judd and Dave Wolfe. Dave is the one to focus on here, simply because he might not provoke any memories even for those of us who were around at the time.
     Research has shown that Dave was one of the comedians who got their break on ITV's Search For A Star, a talent show that ran to three series between 1979-1982. It didn't have the longevity or success of New Faces or Opportunity Knocks, though did produce a couple of legit 1980s TV stars in Joe Longthorne and Jimmy Cricket, plus the likes of Rose-Marie and Paul Squire.
     Dave won the very first episode, then appeared in the final, a sample line being: "Try a bit of audience participation, eh, I'll tell a joke, you all laugh, alright?" Although Dave's turn in the TV spotlight didn't last long - and that quote should give you a hint as to why - he went on to be an enormous success on the after dinner circuit, at least according to his personal website.
     Les doesn't actually seem in a particularly good mood this episode, his normal dismissing of contestants and the panel tempered with something a little more real. Accordingly, Dave - who claims it's his first time on children's television - gets blasted by Les, who tells him he can't wait to see his career go down the pan, and that "You've made a big impact on this show, up to last week it was funny."
     Les admitted to dark moods during this time, as his first wife's cancer, diagnosed in 1979, had progressed, and she would pass away the following year. In A Clown Too Many Les confessed: "Frequently now, I found myself sliding into fits of depression and a feeling of 'What the hell is life all about' soured my outlook. After taping a show, instead of driving back home soon after a programme, I would get the driver to take me into the West End to the clubs, and there in those dimly lit places I would drink to excess... I was at a very low ebb."
     Although Les with depression is still funny - his humour is, after all, heavily based around miserablist deadpan - and he does his best to disguise it, it still can't help but seep out. Note that the expression about a "low ebb" gets echoed here, when he talks about a terrible contestant as having reached "the lowest possible ebb". This is not to suggest that everything Les says in an episode of a light entertainment quiz show should be analysed to death or taken literally, but the old adage about "truth in jest", sees him claim "I can't take much more [...] God knows what I've gone through." Even fantasy skits about a man with a body full of peas see Les ask questions like "Do you still enjoy life?", or ruminations on "was it worth getting up?"
     The fine line between Les jokingly insulting people and it being taken for real can be seen with the genuinely perplexed expressions of some of the contestants he insults, as his timing is a little "off", and many of his jokes don't land like they normally would. Les's battle with Dave Wolfe isn't an especially nice spectacle, as it's not only tempered with something with a little more edge, but it's also a comedian with many years experience going after an up-and-comer. Both had appeared in different episodes of variety series The Main Attraction in August the previous year. An oddly flat, lifeless show which only ran to two series, Les was the star host of one edition, while Dave was a lower-down-the-bill guest act on another.
     While it's not one of Les's better moments, there is a fairly pleasant resolution, as Wolfe finally manages to get a laugh and a round of applause from the audience, with Les later saying "No more gags, you've proved your point."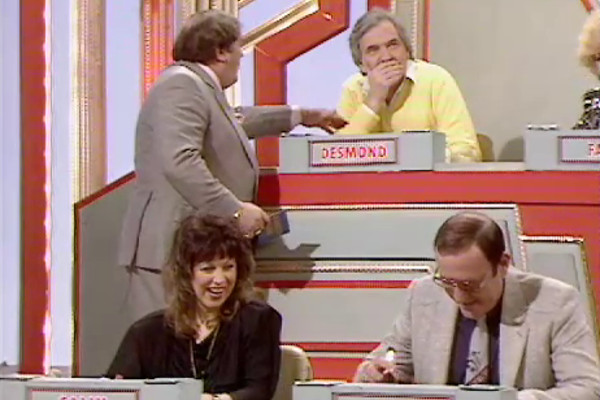 2
Episode One
Guest Panellists: Desmond Lynam, Faith Brown, Chris Serle, Sally James, Mike Reid and Pat Coombs.

The real interest in this opening episode, shot just six days before broadcast, is the lingering tension between Les and panellist Des Lynam. (Or Desmond Lynam as he's credited at this time.) Despite what one may think of the Lily Savage revival version of the show, it has to be acknowledged that everyone who spoke about Lily's run said what a great time they had being part of it, Des included.
     In his 2005 autobiography I should have been at work!, Des recalled: "Years before, in the early Eighties, when Les Dawson was the presenter, I came on as one of the celebrity contestants (sic), and it was obvious that my television appearances on Grandstand and the Commonwealth Games hadn't made much of an impression on Les. He kept getting my name wrong."
     However, this recollection opens up a two-handed, light entertainment-based Rashomon, as Les's reactions seem to indicate this wasn't the case, but that he had deliberately called him "Desmond Lineman" to set up a corny gag. Like picking at a scab all throughout the show, Les won't let it go, mentioning that Des had "screwed the whole gag up", while Des is always on hand with remarks about how Les is "close" and "nearly right" whenever he says his name. Les ends the show by calling him "Mr. Desmond" and saying "I won't repeat the second name 'cos I'm sick of it". Meanwhile, Les's usual acerbic comments also see a would-be witticism of Des's shot down with "That was a good idea at comedy, but forget it, keep to sport."
     The strangest part is, this initial mispronouncing of Des's last name doesn't even appear in the show, as there's a very obvious edit point during the introductions. Lynam stated that this was all on the editing room floor: "'It must be difficult for you,' I said. 'After all, there are two syllables in each word.' The producers cut my remark out of the finished programme. My son Patrick, who was only about ten years old at the time, had come to the recording, and he got it absolutely right afterwards. 'That was embarrassing, Dad,' he'd said."
     After the edit, Les does say "Lineman" again, but this time it doesn't appear to be a set up for a punchline, but one of the genuine errors Des wrote about. While such things seem like trivial matters - and Des's response to it an overreaction - it's an interesting look at celebrity egos and how one small thing can take over an entire show.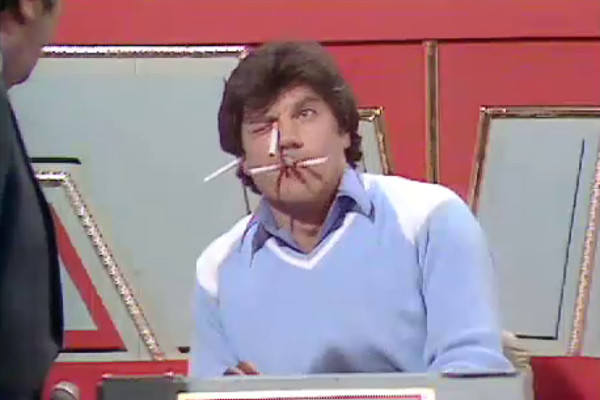 1
Episode Six
Guest Panellists: Barry Cryer, Bertice Reading, Guy Michelmore, Sharron Davies, David Copperfield and Anna Raeburn.

An episode that has the distinction of being the first to be broadcast after Les was admitted to hospital - it aired the following day, in fact. Despite real life drama, in TV land things were much brighter, with Les in a buoyant mood, and Bertice Reading again proving to be an excellent foil for his humour. David Copperfield returns for the first time since series one, and frequently fails to get a laugh, though it's endearing. During his many insults in David's direction, at one point Les suggests "Say something funny, or do your act."
     One unfortunate element of Les's run is that the BBC began to expand it, not only through extra episodes, but also through repeats. Often the repeats were mixed in with new episodes, which couldn't have done much for audience engagement, not knowing if they were tuning in to a fresh episode or something they'd already seen. But it did push Blankety Blank more towards "televisual wallpaper", where, as amusing as the show could be, it was sometimes on the channel for over half the year. Although Series 8 was cut short, Series 9 came along in September and, with repeats, it meant the show was on for 31 weeks during 1985.
     With this in mind, then why are "Series 7" and "Series 8" classed here as two separate series? After all, the following three series all ran from September to spring the following year, lasting 22 episodes each, and "Series 8" started on 11th January, less than three weeks after the 1984 Christmas Special. There's not even any aesthetic difference, with the same set and logo used, whereas each following series would see an updated design. There was the changeover of producers, but even that was negated by having a held-over Series 7 episode to end it.
     So, the simple answer is that this block is called "Series 8" because... that's what the BBC called it. No more, no less. The paperwork says it's a different series to the last one, so a different series it is.